Key Points:
Deepverge shares plunged 11.1% after reporting a greater than expected loss.
Investors ignored the multiple positive milestones achieved by the firm.
DVRG shares look pretty attractive at current prices after last year's fall. 
The Deepverge PLC (LON: DVRG) share price plunged 11.1% on weak 2021 fiscal results despite launching Skin Trust Medical, an extension of its Skin Trust Lab launched in Q2 2021. 

The environmental and life sciences AI company also released a trading update for the 2021 fiscal year, although the results are still unaudited.
The company revealed that it received orders worth £10 million but could not deliver all the orders due to some of its staff being infected with the coronavirus and also due to supply chain bottlenecks created by the pandemic.
Investors reacted negatively to the company's unaudited results after it posted a pretax loss of £3.50 million compared to the 2.87 million pretax loss recorded in 2020. 
Deepverge revealed that it had the strongest balance sheet in history after raising £10 million via a share placement in June 2021. 
The firm noted that the higher than expected losses were due to the delayed execution of some orders as explained above. 
Investors ignored the launch of Deepverge's Skin Trust Medical app extension that allows users of its Skin Trust Lab to opt-in to a remote medical consultation and diagnostic services.
The new functionality creates an additional revenue stream for Deepverge and is set to be rolled out in Q2 2022. 
Since its launch in Q2 2021, the Skin Trust Club has over 30,000 registered consumer members, with 58% of the users suffering from various skin conditions.
DRVG has since launched a marketplace service that allows Skin Trust club members to buy skincare products recommended to them via the app. The company has multiple revenue streams associated with its labskin products and the Skin Trust Club app.
Deepverge is also set to launch Modern Water Mobile Services that allows water utilities to install miniaturised water surveillance systems in last mile locations to monitor for COVID-19 and other pathogens in water.
These are just some of the highlights of Deepverge's press release that make me think today's decline is an overreaction from investors who chose to ignore all the progress made by the firm. 
Gerard Brandon, DeepVerge's CEO, said: "DeepVerge has delivered another year of triple digit percentage revenue growth, with higher margins and an increase in recurring revenues despite supply chain delays and reduced production staff due to COVID infection and isolation in Q4." 
Adding:
"The injection of capital from the £10m placing in June prepared the Group for an increase in staff, upgraded laboratories, and expansion of our offering of innovative products and services across all divisions. The Group has the strongest balance sheet in its history and a solid foundation for continued strong growth through 2022."
Deepverge shares look pretty attractive at current prices having fallen 40.6% in the past year. The shares are currently trading at a crucial support level, which provides an excellent entry opportunity.
*This is not investment advice. Always do your due diligence before making investment decisions.
Deepverge share price.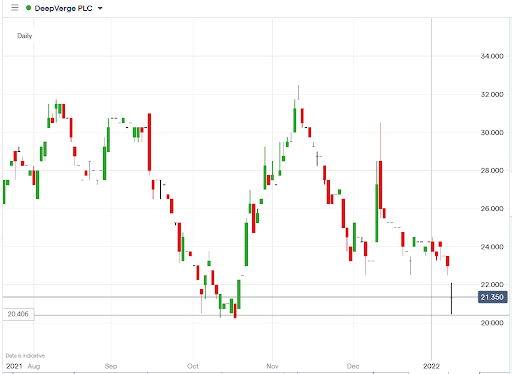 Deepverge shares plunged 11.09% to trade at 20.45p, falling from Friday's closing price of 23.00p.