Key points:
ReNeuron shares crashed 51.8% after the phase 2 hRPC clinical trial failed.
The company unveiled a new strategic direction that is yet to catch on.
The firm's shares might look cheap, but I would not buy after today's selloff.
ReNeuron Group Plc (LON: RENE) shares crashed 51.8% after announcing that it was discontinuing work on its hRPC (human retinal progenitor cells) drug treatment for retinitis pigmentosa (RP).

The last phase 2 clinical trial data was inconclusive after a higher dose of the hRPC provided to be less effective than a lower dose despite patients having to go through more complicated surgeries.
Investors reacted negatively to the company's change of strategy after the firm said that it would not continue developing the hRPC drug, given the additional financial commitment did not add up for the company.
ReNeuron has decided to reallocate all its existing resources to advance its Exosomes proprietary drug delivery system, which has significant potential compared to the hRPC programme.
The company's management team expressed confidence that they would attract new partners to develop its current portfolio of Exosomes using its tissue-for-tissue matching programme.
The company is recruiting employees to focus on the project given its potential in a bold move that demonstrates confidence in the project.
While investors will breathe a sigh of relief now that the hRPC drug will be licensed-out, many were disappointed that the project did not prove successful, as evidenced by today's massive selloff in the company's share price.
Olav Hellebø, ReNeuron's CEO, commented: "While it is disappointing that the RP clinical data achieved so far has been inconclusive as to which patients respond best to our hRPC therapeutic candidate, we believe that the programme still offers promise. However, we believe this would be best further investigated by a partner. We are very excited about the market opportunity in Exosomes and, importantly, our tissue-for-tissue matching expertise that gives a truly differentiated offering to partners."
Iain Ross, ReNeuron's Chairman, added: "This has been a tough decision, but it is clear from the clinical data generated to date we cannot justify further substantial investment in the RP programme and that its future is better served in the hands of a third party. This decision allows us to increase our resource and investment in our Exosome technology platform and create increasing and sustainable shareholder value."
It may take a while before ReNeuron shares can recover from today's selloff. Therefore, despite the shares looking sheep at current prices, I would not buy them until we get some positive news from the company in future. However, I'll continue monitoring the stock.
*This is not investment advice. Always do your due diligence before making investment decisions.
ReNeuron share price.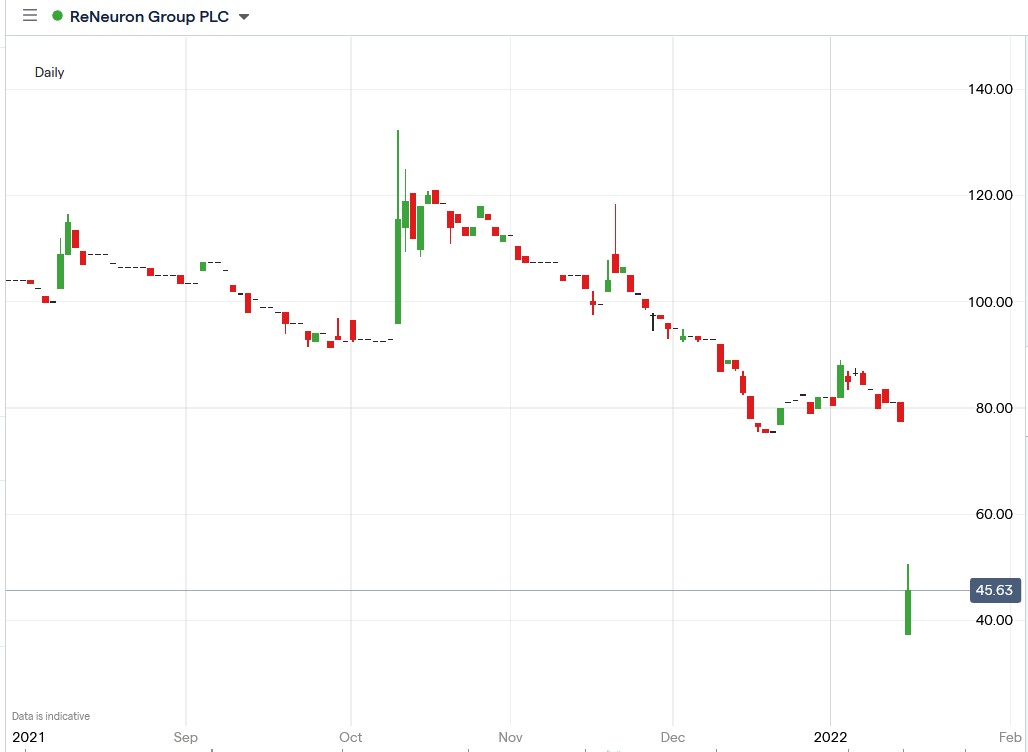 ReNeuron shares crashed 51.77% to trade at 37.38p, falling from Monday's closing price of 77.50p.