Key points:
ProShares UltraPro S&P500 (UPRO) fell 50.1% today after a split.
Many investors were caught by surprise by the move.
The forward split makes UPRO and TQQQ shares more affordable.
The ProShares UltraPro S&P500 (NYSEARCA: UPRO) stock fell 50.10% during premarket trading, while a similar move was witnessed in the ProShares UltraPro QQQ (NASDAQ: TQQQ) stock, which fell 50.03% during premarket trading.
While the above might be shocking for investors unaware of the forward splits being implemented by ProShares, the issuer of the above ETFs, those in the know, took the moves in stride.
ProShares announced the forward splits three weeks ago, on December 22. 2021, probably to make the ETFs more attractive to investors by lowering their trading prices.
Therefore, UPRO stock fell to trade at $74.18 from Wednesday's closing price of $148.63, which brings the shares within reach of most retail traders who do not have massive trading accounts like their professional peers.
The same thing happened to TQQQ stock, which fell over 50% to trade at $76.30 from Wednesday's closing price of $152.68.
Investors unaware of the planned forward splits that were scheduled to come into effect earlier today before the markets opened for trading can now rest easy knowing that their investments were not affected by the forward splits.
Those who are not familiar with forwarding splits are similar to stock splits where a company can split its shares using ratios such as 1:2, splits, which create two news shares for every single existing share.
By creating two news shares from one share, each of the two shares will now be worth half the price of the previous single share. Therefore, the total value of an investors holdings will remain the same.
However, newer investors who want to acquire the shares can buy shares at the new prices, but the value of their holdings will be much lower compared to if they had acquired the shares before the split.
Many companies tend to split their shares if they think that the prices have risen and have made the shares inaccessible to many investors with smaller portfolios interested in owning their shares. 
Some of the leading companies that have implemented stock splits include Apple Inc and Tesla, which are trillion-dollar companies with shares that are trading within reach of most retail investors. 
However, other companies such as Berkshire Hathaway have no issue with their shares trading above $450,000 because they mainly target high net worth investors and institutions. 
*This is not investment advice. Always do your due diligence before making investment decisions. 
UPRO stock price.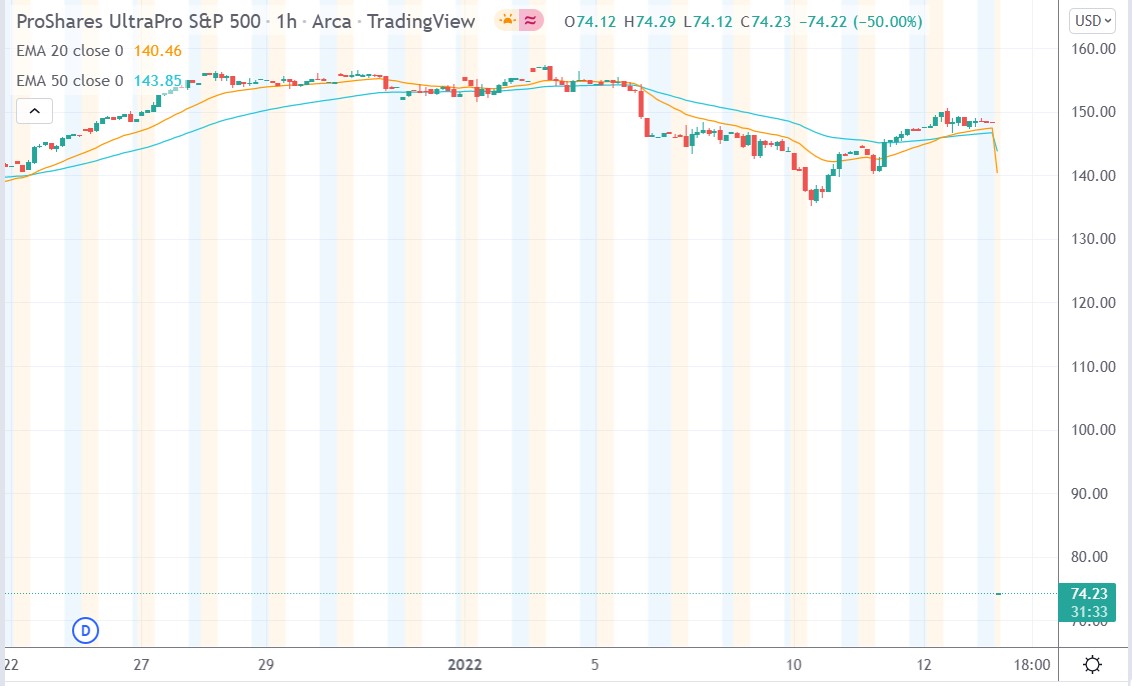 UPRO stock fell 50.10% to trade at $74.18, falling from Wednesday's closing price of $148.63.