IQ-AI Ltd (LON: IQAI) shares rallied 7.4% after a recent study in Neurosurgery Open detailed the clinical impact of its neuro-oncology software solutions.

Imaging Biometrics, LLC (IB) has developed a non-invasive, timely and quantitative imaging solution that addresses a significant challenge with the current treatment of brain tumours.
Currently, patients must contend with many weeks of follow-up imaging or an invasive surgical biopsy to confirm their diagnosis because new or recurrent tumours can appear the same as the treatment effects on MRI images.
IB Clinic®, IB's non-invasive neuro-oncology platform, was used to distinguish brain tumour tissue from treatment effect and can be used for neurosurgery and tissue diagnosis of high-grade brain tumours.
Dr Jennifer Connelly, MD, the report's lead author, said: "We are relying on FTB maps more routinely in our clinical practice as well as our weekly comprehensive multidiscipline brain tumour boards. They have proven to provide information that can help interpret MRI findings and optimise treatment for our patients,"
Dr Connelly is also an Associate Professor of Neurology and Co-Director of the Neuro-oncology Program at Froedtert and the Medical College of Wisconsin.
The case report's authors are clinicians and scientists from the Medical College of Wisconsin (MCW, Milwaukee, WI), affiliated with Froedtert Health (Milwaukee, WI). The authors based their findings on Froedtert Health's radiology department's experience using IB's software for analysing magnetic resonance imaging (MRI) datasets within the OsiriX (Mac-based) environment for over ten years.
Froedtert Health recently acquired the upgraded IB Clinic – Container edition, automatically generating quantitative rCBV and Delta T1 maps. The new software application requires no manual intervention and is platform-independent. It works by networking with scanners and PACS (picture archiving and communication system).
Investors cheered the news, as evidenced by today's rally. However, IQ-AI shares are still trading down 29.3% for the year despite making numerous positive announcements.
*This is not investment advice.
IQ-AI share price.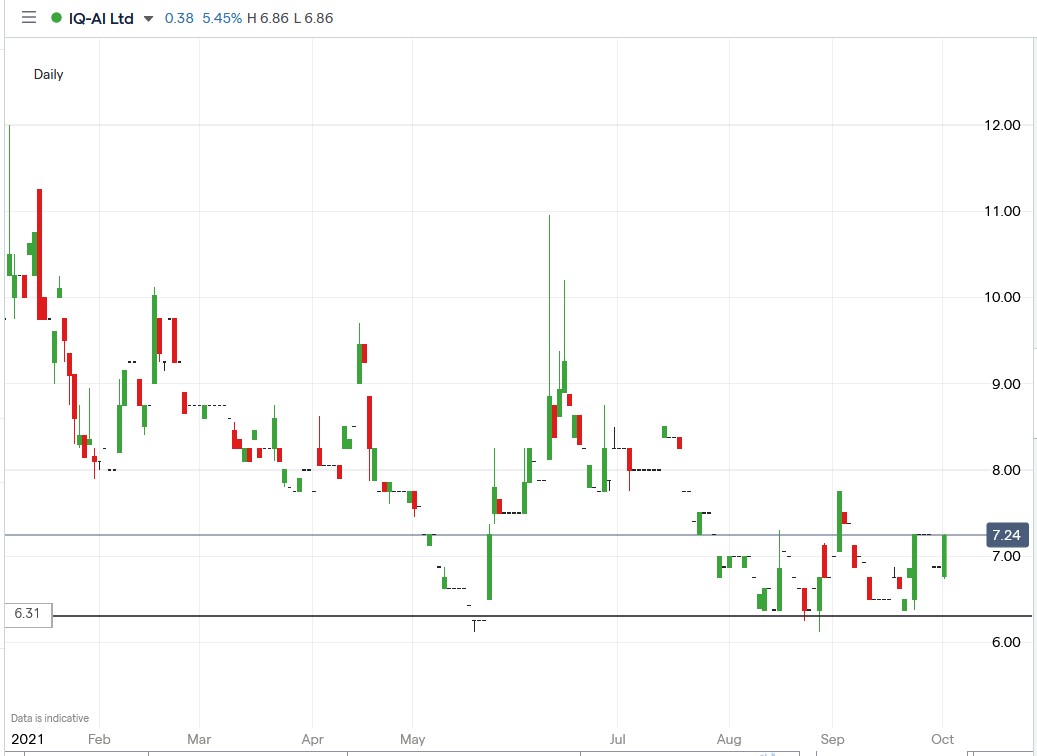 IQAI shares rallied 7.4% to trade at 7.26p, rising from the opening price of 6.76p.
Should you invest in IQAI shares?
IQAI shares are traded on the London stock exchange's AIM market (the alternative investment market), which is the submarket specifically for smaller companies. AIM stocks are attractive to investors as they have tax advantages and smaller companies have the potential to benefit from rapid growth. But are Omega shares the best buy? Our stock market analysts regularly review the market and share their picks for high growth companies