Shares of IXICO PLC (LON: IXI) rallied 5.41% higher after winning a two-year contract worth over $750,000 to support a phase 2 Alzheimer's disease clinical trial run by a leading global clinical research company.
The British clinical research company revealed that it would provide advanced imaging solutions over two years to the clinical research company.
Today's contract is the second such contract unveiled this week after Ixico won a contract worth more than $500,000 from an unnamed US biopharmaceutical company to support its phase 2 Huntington's disease clinical trial.

Ixico shares have barely moved this week despite the two contract wins as investors remain mainly oblivious to the significant revenue opportunities created by the two deals.
We could also attribute the lack of traction in Ixico's share price to its high share price, which is trading above 70p a share, hence, the muted reaction.
This month, the neuroimaging and digital biomarker analytics company has been on a roll, having won another phase 1 MSA contract award worth over $500,000 over four years, bringing its total contract wins to three, yet its stock price barely moved.
Earlier in August, Ixico noted that it expects to generate £8.7 million in revenue during the 2021 financial year, of which £1.2 million would be its gross profits before taxes.
It is unclear whether the recent contract wins will result in higher earnings, and investors will be watching the company for further clarification.
Ixico shares are currently trading 22.69% lower than they were at the start of the year. Ixico shares are currently trading within a wide trading range with no decent trade setups for short-term traders.
*This is not investment advice.
Ixico share price.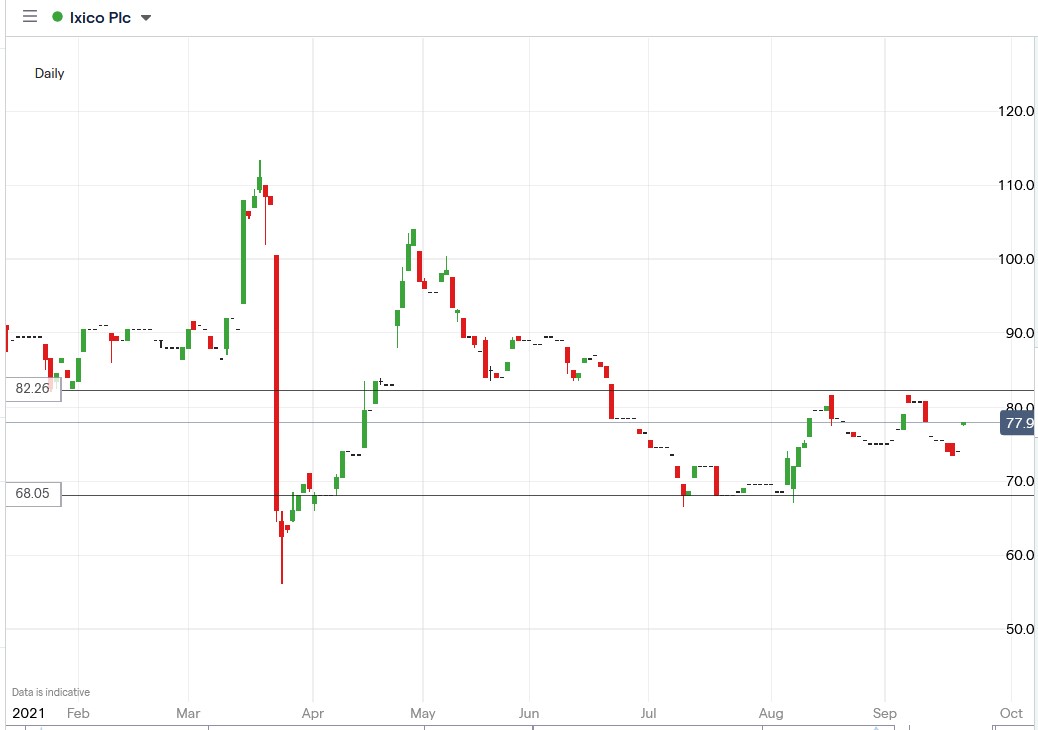 Ixico shares rallied 5.41% to trade at 78.0p, rising from Tuesday's closing price of 74.0p.