Shares of Pendragon PLC (LON: PDG) are up 51.51% since January this year as investors reacted positively to measures implemented by the company's board to turn around its business.
The car dealership group reported a £35.1 million profit in the first six months of 2021driven by a surge in online car sales compared to a £31 million loss in a similar period last year.
The company sold over 30,000 new cars, a 43% jump compared to last year, while its used car sales were up 38% after selling over 48,000 used cars.

Pendragon generated over £115 million in free cash flow, which was used to settle £110 million of its net debt, leaving its balance sheet on excellent footing.
The company shut 54 of its loss-making UK sites bringing the total to 150, while also closing its last two US dealerships, which led to a savings of up to £75 million of underlying costs compared to 2019.
Despite all the massive wins reported by Pendragon, its share price did not register a significant jump. Instead, we got a small daily gain. The reason for this could be that investors had already priced in the positive earnings result, which is fine.
Pendragon shares were unable to break above their April high of 21.25p, yet the stock had traded as high as 48p back in 2016.
Therefore, the shares have significant upward potential once they break above the 21-22p resistance level and use it as support, which could see it rally much higher in the future.
The car dealership operator reiterated its guidance of making a full-year profit of £55m-£60m  this year. Therefore is safe to assume that there will be some good news in store for investors by the end of the year.
Pendragon's positive fundamentals and prospects make me quite bullish on the stock. Though I wouldn't jump in right away, I would wait until the price makes it above the resistance zone and uses it as a support level, indicating that a new rally phase has begun.
*This is not investment advice.
Pendragon share price.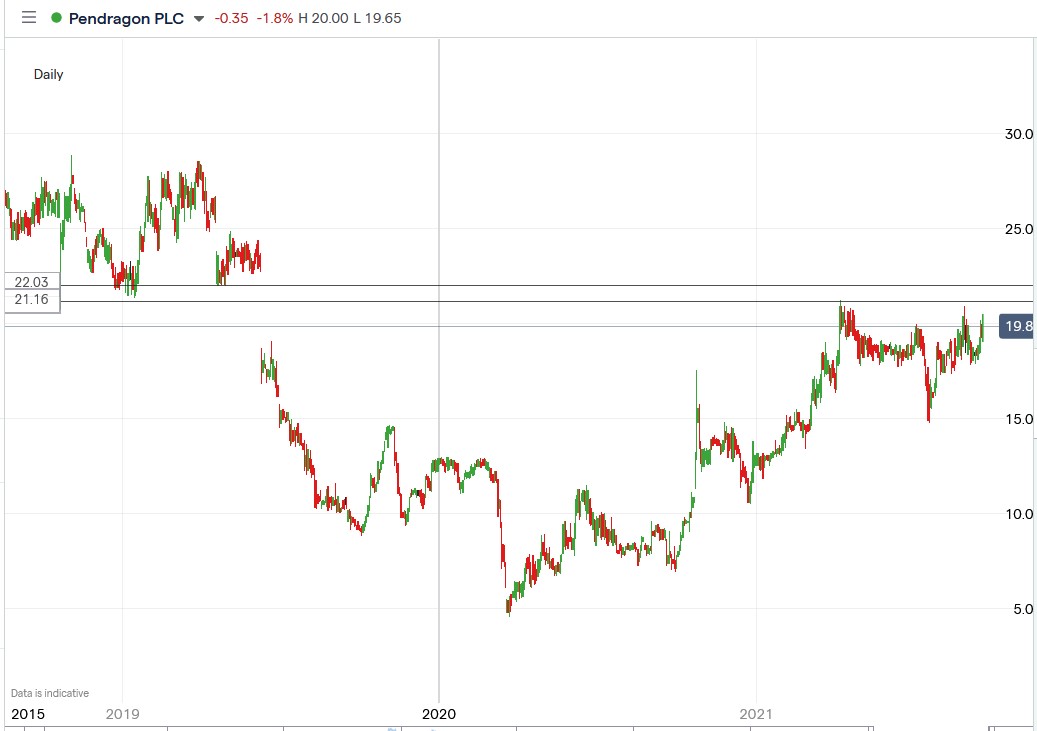 Pendragon shares are up 51.5% since January, with gains over the past 12 months totalling 175.66%. Are there further gains in store for investors?