Redx Pharma PLC (LON: REDX) share price surged 9.68% after announcing that it was set to receive a $10 million milestone payment from Jazz Pharmaceuticals (NASDAQ: JAZZ) after entering the second year of their research collaboration.

The biotech company revealed that the payment was due after the first year of partnering with Jazz Pharma, which was announced on 9 September 2020, had elapsed. The two companies were now in their second year of collaboration.
The two companies had agreed to collaborate on discovering and developing drug treatments for two different cancer targets located in the Ras/Raf/MAP kinase (MAPK) pathway. According to the agreement, Redx Pharma was responsible for the research and preclinical development phases up to submitting the Investigational New Drug (IND) application.
Redx Pharma is also eligible to receive an additional $200 million in milestone payments from Jazz Pharmaceuticals at different stages in the development, approval and commercialisation of the two drug candidates.
The company has received $20 million from Jazz, and the next payment is due after the company submits its Investigational New Drug (IND) application for either of the drug candidates.
Investors cheered the news given that Redx Pharma is a clinical-stage drug development company that has no commercialised drug treatments at the moment.
Redx told investors that it is progressing its lead fibrosis and oncology programmes, including the oral Porcupine inhibitor, RXC004, targeting tumours driven by Wnt-ligand, which is in phase 2 trials.
The company's RXC007 drug candidate, an oral selective ROCK2 inhibitor, commenced the first human trials in June this year and targeted idiopathic pulmonary fibrosis.
Lisa Anson, Redx Pharma's CEO, commented: "We are extremely pleased to extend our productive oncology research collaboration with Jazz into its second year. This is based on advancing our programmes in this key signalling pathway and reflects Redx's core strength in discovering highly targeted potential drug candidates. We look forward to further progress in partnership with Jazz."
*This is not investment advice. Always do your due diligence before making investment decisions.
Redx Pharma share price.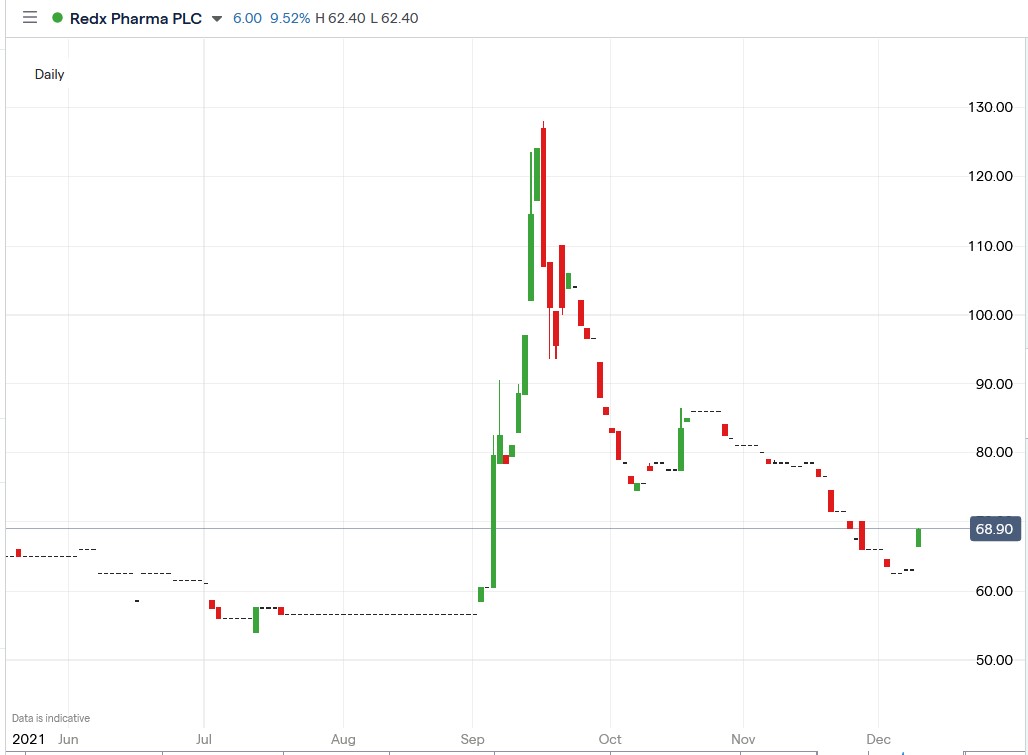 Redx Pharma share price surged 9.68% to trade at 69.10p, rising from Wednesday's closing price of 63.00p.