Shares of Royal Mail PLC (LON: RMG) are up 53.2% in 2021 and appear to have peaked, given that they have been trading sideways since hitting a high of 531p in mid-March.
Many investors wonder what happens next for the mail delivery firm that has benefitted immensely from the coronavirus pandemic lockdowns and the resulting surge in e-commerce and the parcel delivery business.
Most analysts expect the surge in e-commerce to keep going even as the Briitish and the global economy at large reopens and returns to a new normal.

The lockdowns made people who previously avoided shopping online embrace e-commerce given the relative ease with which one can order products and have them delivered to their doorstep. This is unlikely to change.
Most people who were comfortable shopping online started ordering items that they didn't order online before as most stores and restaurants closed due to lockdown restrictions and are likely to keep doing the same post-pandemic.
For investors wondering what's next for Royal Mail, the company is set to release its earnings report on May 20, 2021, which could be the perfect trigger for the stock's next move. A positive earnings report could trigger a rally, while a negative report could trigger a downtrend.
I think the share price is a bit extended at current levels; hence, I won't be buying the shares. Still, bullish traders may place their bets on the company based on J.P.Morgan's price target of 685p, representing a decent gain from current levels.*
Bearish traders may choose to wait for the earnings report before jumping in because, as per Royal Mail's latest update, the company expects full-year 2020 operating profits of £700 million, a decent jump to 2019's £217 million.
The bears may get geta decent selling opportunity after the earnings report, especially if it triggers a rally, which is very likely.*
*This article should not be construed as investment advice.
Royal Mail share price.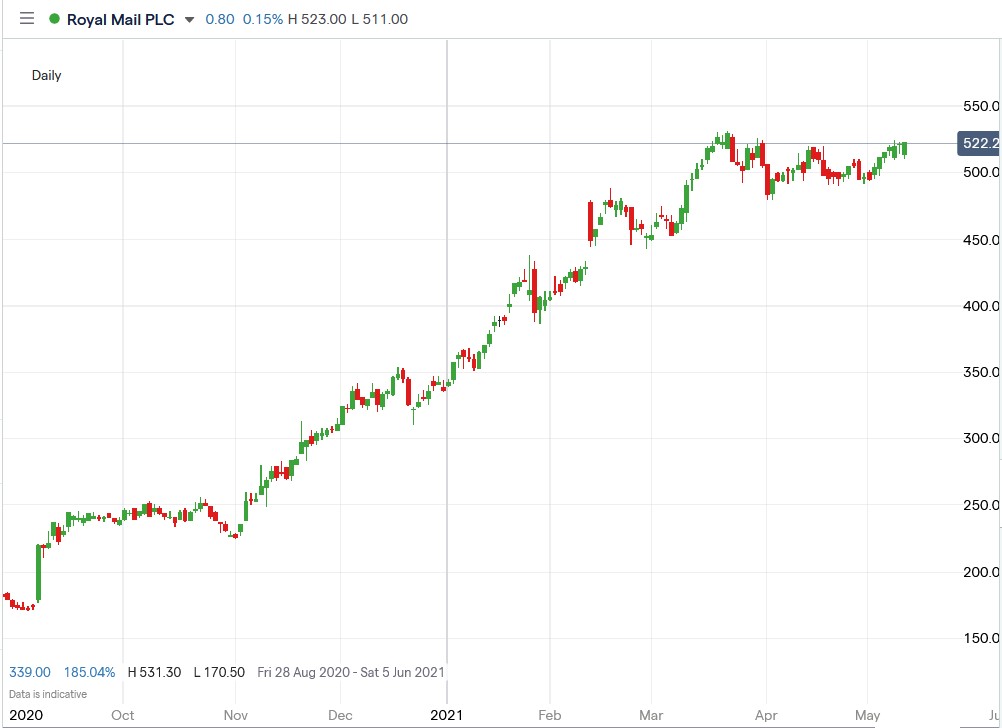 Royal Mail shares are up 54.28% in 2021 and are trading sideways. Can they keep rising?