Key points:
Stagecoach shares have fallen 1.15% in the first week of 2022.
The Vanguard Group has accumulated a 2.78% stake in the company; it might be preparing to acquire the bus company.
Stagecoach investors should gear up for an exciting year with multiple bids for the company emerging.
The Stagecoach Group plc (LON: SGC) share price has fallen 1.15% in the first trading week of 2022 in a move replicated across the more extensive FTSE All-Share index. However, many are wondering what is next for the firm?

Well, for starters, the company is set to merge with National Express in a deal worth £470 million, which is expected to close later in the year. However, the merger still has to get regulatory approval from the UK's competition authority, which is not guaranteed.
The UK's Competition and Markets Authority (CMA) could scuttle the deal, given that the combination of the two leading UK commuter transport services could lead to lesser options for British consumers.
Stagecoach could also get another offer from a private equity fund targeting the UK market given its reputable brand name and unique business model that is quite difficult to implement from scratch.
At the moment, there has been an influx of private equity firms targeting British companies, which are regarded as being cheaper than their counterparts in other regions such as the United States, where stocks are trading at lofty valuations.
Furthermore, the Vanguard Group recently revealed that it had accumulated a 2.78% stake in Stagecoach. As a result, the American investment advisor with over $7 trillion in assets under management could be a potential bidder for Stagecoach if the deal with National Express falls through.
It looks like Stagecoach shareholders are in for a ride this year, given the multiple possibilities that await them in the form of competing acquisition offers from different quarters.
Meanwhile, the bus company's share price is likely to move in step with the National Express share price since, according to the merger deal, Stagecoach shareholders will receive a 0.36 share in the combined company for each share they own.
Therefore, any movement in National Express shares could trigger a corresponding movement in Stagecoach shares until the deal is either completed or scrapped.
I would like to see Stagecoach acquired by another firm to keep the UK commuter transport market competitive instead of having one company controlling a significant portion of the market.
Only time will tell which of the above options will succeed, but it will be an exciting year for Stagecoach shareholders.
*This is not investment advice. Always do your due diligence before making investment decisions.
Stagecoach share price.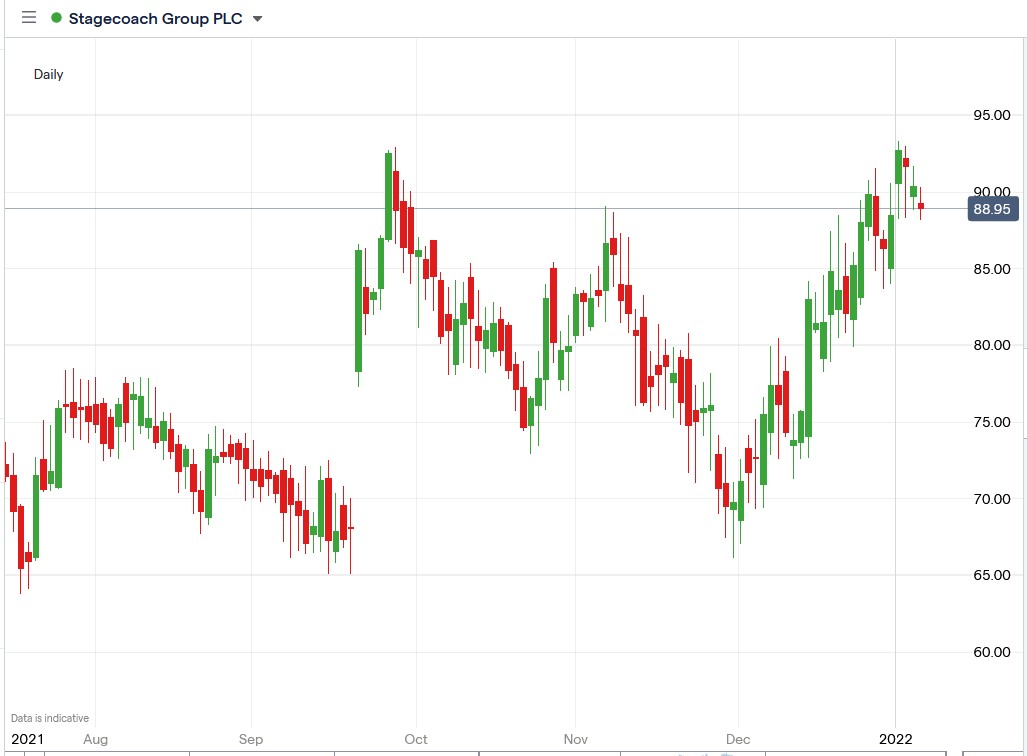 Stagecoach shares have fallen 1.15% in the first trading week of 2022. So what's next for the firm?