---
---
*Originally published on July 12th, 2022
Key points:
The Plus500 share price edged higher on impressive half-year results.
The broker continued expanding its presence in the United States.
The firm remains a significant cash generator with solid financials.
The Plus500 Ltd (LON: PLUS) share price edged higher despite releasing upbeat half-year results where its revenues surged 48% to $511.4 million compared to $346.2 million in H1 2021. The company, which provides multi-asset proprietary trading software, earned $305.3 million during the six months ended 30 June 2022 compared to $187.6 million in a similar period last year.
Also read: 12 Best Shares To Buy As A Beginner.
The company's EBITDA margin remained high, rising to 60%, as the broker generated massive amounts of cash. In addition, the report highlighted the company's US business operations, driven by the rapidly growing retail futures trading market.
The fintech broker has positioned itself as a market infrastructure provider supporting institutional clients in their trading, clearing and settlement activities. The firm has also developed and will launch a new trading platform targeted at retail futures traders in the United States.
Plus500 intends to capitalise on recent initiatives and products launched by operators of futures exchanges to make it easier for retail traders to access futures markets. In addition, the company has experience building proprietary trading software, positioning it as a market leader compared to other brokers that use third-party software products.
The broker's financial position couldn't be better since it had $950 million in cash on 30 June 2022 and continues to generate significant cash each quarter. In addition, the firm has a share buyback program totalling $105.0 million and repurchased shares worth $51.7 million in H1 2022.
Plus500 said it would allocate significant resources to building its presence in the US, serving retail and institutional clients while leveraging its key market relationships and deep experience in developing trading infrastructure to become a market leader.
The company reassured investors that it remains well-positioned for substantial future growth and expects to exceed its previous full-year earnings guidance.
Plus500 shares look attractive at current prices as the company remains a solid performer. However, the shares are trading at almost 1600p, which might be expensive for some while limiting future gains.
*This is not investment advice. Always do your due diligence before making investment decisions.
Plus500 share price.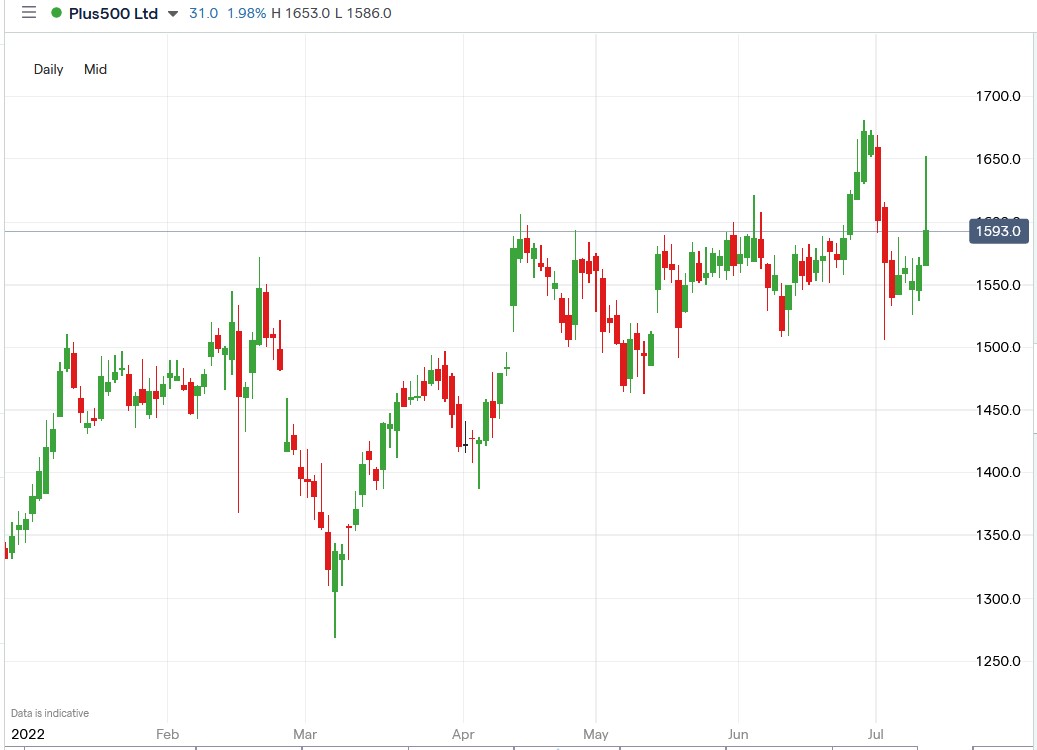 The Plus500 share price spiked 3.86% higher to trade at 1652.5p, rising from Monday's closing price of 1565.0p.