Key points:
UOG shares edged 6.46% after revealing that the AJ-13 well had started production.
The company's prospects are pretty promising, given that it is still drilling new wells.
Long term investors may find the company pretty attractive.
key point
The United Oil & Gas PLC (LON: UOG) share price edged 6.46% higher after revealing that it had commenced production at its Al Jahraa-13 development well (AJ-13) in Egypt after completing initial tests.

The test results from the well generated positive results, including flow rates of 897 bopd and 0.95 mmscf/d gas and 623 bopd and 0.47 mmscf/d gas before it was connected to the existing infrastructure and coming on stream at an initial production rate of 600 bopd gross. 
UOG will now start its 2022 drilling campaign with the ECDC-6 drill rig moving to the ASD-2 development well, which will be the first well drilled this year. 
As a previous press release explained, the AJ-13 well was the fifth and final well drilled in 2021 and was completed ahead of schedule and under budget. Furthermore, the results from the well indicate that the drilling campaign encountered 17.5 metres of net oil deposits. 
The company will now focus on its 2022 drilling campaign, starting with the ASD-2 development well, which extends the successful drilling of the ASD-1X well in 2021. 
United Oil & Gas promised investors that it would release a trading update for the 2021 fiscal and calendar year later this month.
Investors cheered the move, as evidenced by the rally in UOG shares earlier today. Moreover, UOG's prospects appear pretty promising, given that it fell 27% in the past six months but is down 9.9% over twelve months. 
Brian Larkin, United Oil's CEO, commented: "AJ-13 has been brought on stream in less than eight days from completion using the existing facilities and generating production and revenue for the Company. With initial gross production rates of 600 bopd, we expect the well to pay back in under nine months, similar to previous wells."
Adding: 
"Following the exceptional drilling success achieved in 2021, we look forward to beginning our 2022 development and exploration drilling programme. The ECDC-6 rig will now move to drill the ASD-2 development well, the first well in our 2022 drilling programme, which is due to spud in the coming weeks."
UOG shares look pretty attractive to long term investors given that the company is expanding its drilling campaign and is likely to bring other wells onstream later in the year.
*This is not investment advice. Always do your due diligence before making investment decisions.
UOG share price.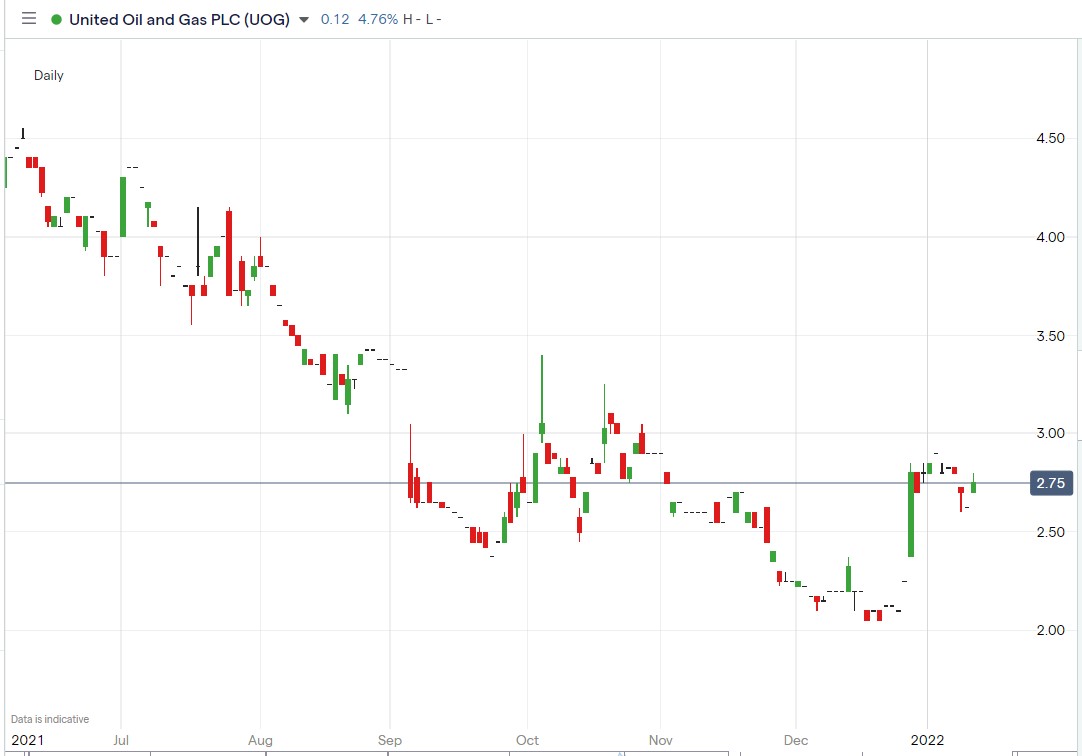 UOG share price edged 6.46% higher to trade at 2.80p, rising from Wednesday's closing price of 2.63p.