Key points:
Vela Technologies shares barely moved despite making a £750K investment.
Investors were unmoved by the news despite the potential long-term returns.
Vela shares have fallen 49% over the past year despite multiple investments.
The Vela Technologies PLC (LON: VELA) share price barely moved despite the tech investment company announcing that it had made a £750,000 investment in EnSilica Limited during a pre-IPO funding round that raised £1.5 million.

EnSilica is a fabless semiconductor manufacturer that designs and supplies custom mixed-signal Application-Specific Integrated Circuits (ASICs) to system companies and original equipment manufacturers.
The company manages the entire process from end to end despite not manufacturing the chips within its facilities. Its fabless manufacturing and supply business applies a proven model that is highly scalable with significant growth and profit potential.
EnSilica's ASICs target the automotive, satellite communication, healthcare and industrial markets.
The firm intends to use the funds raised to support its existing clients, invest in developing new consumer ASICs to support its future profits and growth. In addition, it will use part of the proceeds for working capital purposes.
Vela told investors that EnSilica generated revenues worth £8.4 million in the year ended 31 May 2021and pretax earnings of £0.8 million. The firm had assets worth £3.9 million at the time.
EnSilica generated £7.3 million in revenues for the six months to 30 November 2021.
Vela's investment in EnSilica was made via convertible loan notes, unsecured and interest-bearing, and was funded from its existing cash flows.
Investors barely reacted to the news, despite the potential returns that the deal could generate for Vela over the long term. However, today's reaction is not surprising; Vela's shares have fallen 49% in the past year despite making multiple investments.
James Normand, Vela Technologies' Executive Director, commented: "EnSilica perfectly fits Vela's criteria for investment.  Its specialist expertise in the semiconductor field and, in particular, in Application Specific Integrated Circuits puts EnSilica firmly in the 'disruptive technology' space.  Moreover, a public listing for its shares, which EnSilica expects to achieve in the first half of this year, and the terms attached to Vela's investment are attractive and provide the potential for meaningful gains for Vela as EnSilica puts its expansion plans into effect."
Vela's management was highly optimistic about the company's prospects in 2022 despite reporting a more considerable loss for the half-year ended September 30, 2021, in late December. The poor results were mainly generated by Cornerstone FS PLC, whose stock had fallen over 50% since its debut on the London Stock Exchange.
*This is not investment advice. Always do your due diligence before making investment decisions.
Vela share price.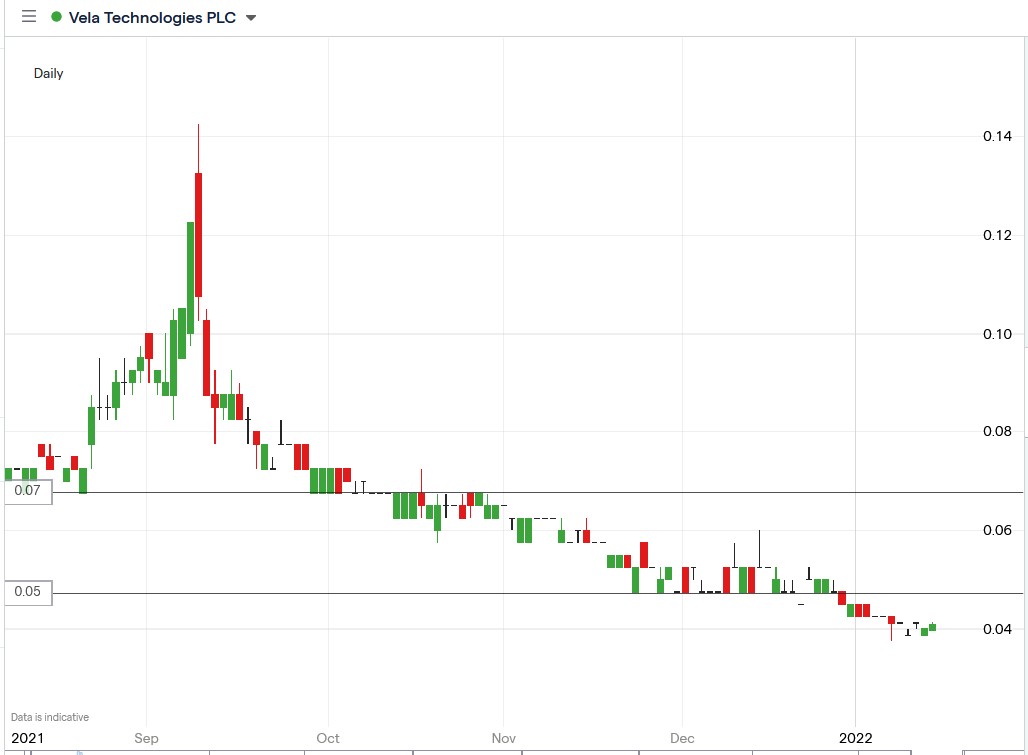 Vela shares edged 2.5% higher today in a muted reaction to its massive investment by investors.