Shares of cannabis company Zoetic International PLC (LON: ZOE) surged 7.87% after reporting a surge in orders for its Chill brand of CBD products.
The company announced that it received orders worth $1 million for its Chill CBD smokes and chews over two weeks from the start of May to May 14.
It appears the company's US distribution strategy is working, given that it shipped products worth over $340,000 to its partners in April.

Zoetic is now a profitable company following the latest orders. It is working on shipping its products to more stores in the US after signing distribution agreements with several convenience store chains in the US.
The CBD company decided to use a staggered approach while introducing its products to the US market by partnering with distribution store networks and strategically testing the display of its products in stores before a full rollout.
The firm's strategy is likely to pay off over the long-term as it rolls out its Chill branded CBD products across the US, which has a vastly untapped market with pent up demand for quality CBD products.
Zoetic's Co-chief executive, Trevor Taylor, said: "These orders that we have received for our Chill brand in the last six weeks demonstrate that there is strong demand for our product and that we have installed the right distribution channels in the US."
Adding:
"We look forward to updating the market further when we report our full-year results in July."
The company confirmed it will be issuing quarterly updates going forward.
I am long-term bullish on Zoetic, given its substantial addressable market in the US and globally. The company's shares have pulled back significantly since early March providing bullish investors with a great buying opportunity at current prices.*
*This is not investment advice.
Zoetic International share price.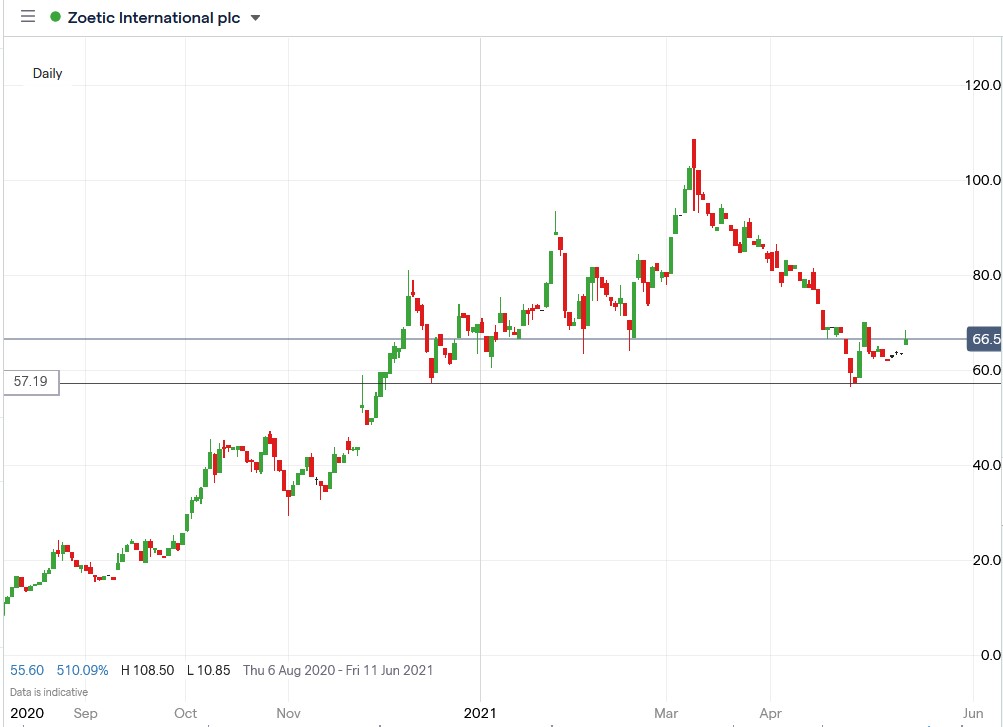 Zoetic shares surge 7.87% to trade at 68.50p, rising from Friday's closing price of 63.50p.