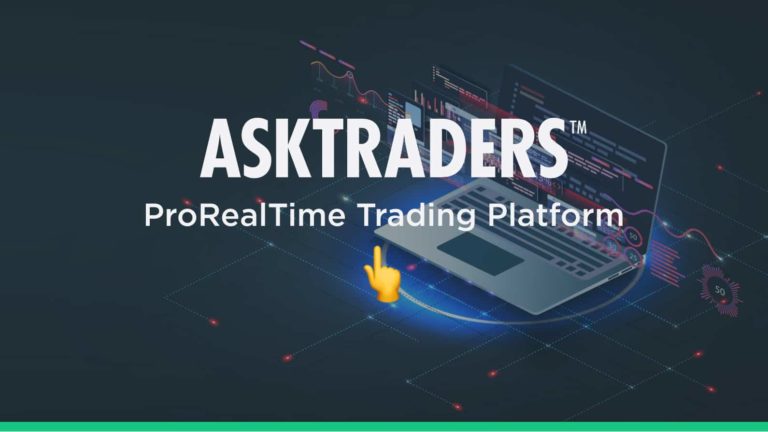 In the world of forex, trading and charting software is of extreme importance. Although MetaTrader 4 and 5 dominate the forex trading landscape, ProRealTime offers a quality alternative that some traders may find refreshing. Currently, ProRealTime charting software is only available to clients of IG, Interactive Brokers and Saxo Bank.
At the time of writing, ProRealTime has a total of just under 900,000 users worldwide, and the platform claims to add approximately 400 new users every day. On top of this, ProRealTime supports an impressive array of just over 580,000 financial instruments for trading, which include stocks, currency pairs, cryptocurrencies, futures, gold/silver, commodities, and bonds.
Table of Contents
#1

All about ProRealTime
What We Liked About ProRealTime
A high number of financial instruments for trading
An impressive collection of technical indicators and charting capabilities
Supports automated trading for a large set of assets
Offers a useful screening tool called ProScreener
The free version includes a fair amount of trading options and charting capabilities
Account Options
ProRealTime offers users the ability to create a free account, giving them access to the ProRealTime Complete version, the ProRealTime Mobile version, and end-of-day market data. However, those using a free account will only be able to access market data at market close, which is likely to make the free version unusable for most serious traders. To open a free account:
Select the 'Free Trial' tab in the main navigation
Complete the form with name, date of birth, email and telephone details
Indicate which instruments you are interested in trading
Read and accept ProRealTime's terms of use and indicate whether you would like to receive newsletters
Click the green 'Free Trial' button below the form for a two-week trial with simulated trading

Those looking for real-time data have two paid account options, the Real-Time Complete version and the Real-Time Premium version. Both offer a host of impressive features, the most important of which include:
Real-time market data
Instant trade execution
Paper trading/demo account
Over 40 drawing objects and over 100 technical indicators
A real-time market scanner called ProScanner
Four order book modes: Horizontal, Vertical, Scalping, and Best Bid/Ask
Auto trading functionality through the ProOrder feature
Backtesting capabilities for automated trading strategies
The Real-Time Premium version offers everything that the Complete version offers, but with a few added extras, the most important of which are:
Programming assistance for custom indicators and trading bots
Ability to display up to 10 lists of securities simultaneously
Ability to display 100 different charts simultaneously
Increased chart and interface customisation options
Ability to run 100 automated trading systems at the same time
Increased backtesting capabilities
Pricing

The complete package comes with a base price of $37.45 per month, and discounts are offered to users who commit to a subscription time of greater than 13 months. The premium version follows this same pricing model, but the base price is $99.99 per month.
Those who make four or more trades per month on IG will have access to the ProRealTime Premium trading software for free. Those who make less than four trades per month will have to pay the subscription fee. To learn more about IG, visit here.
It should be noted that the prices given above only grant traders access to the forex and cryptocurrency markets. Those looking to access a wider array of financial instruments will have to pay extra for this ability. This is one of the few drawbacks to ProRealTime, as gaining access to many different markets can prove costly. To get an idea of what packages and prices ProRealTime offers, refer to the table below.
Broker Fees
When it comes to forex trading fees, ProRealTime has three different pricing tiers:
| | | |
| --- | --- | --- |
| Pricing Tier | Fee Per Order | Minimum Order |
| Standard | 0.5 base points * Trade Value | €2.50 |
| Active (15 round trip trades per month) | 0.4 base points * Trade Value | €2.50 |
| Trader (30 round trip trades per month) | 0.3 base points * Trade Value | €2.50 |
Customer Support
ProRealTime provides customer support via email and telephone. Aside from direct support, it also provides a detailed user manual and help videos. Unlike some other platforms, there is little in the way of educational training material, though this is unlikely to be a significant issue for most traders since such materials are readily available through many online resources.
Regulation
ProRealTime is the operating name of ProRealTime SAS, an investment company registered and regulated by the Autorité de Contrôle Prudentiel et de Résolution and Banque de France (both of which are major financial regulatory bodies in France).
It is important to understand that ProRealTime is simply a trading platform, meaning that it provides the software for traders to be able to execute trades. In reality, most of the regulatory requirements fall on the brokers using the software, which in this case are IG, interactive Brokers, and Saxo Bank.

Summary
All in all, ProRealTime provides traders with a powerful and robust piece of trading software that competes well with the other big names when it comes to charting tools and indicators. For those looking for an alternative to MetaTrader 4, ProRealTime is likely to be one of the best available options.
Those looking to try out ProRealTime should take advantage of the free trial offered to gain free access to simulated trading without risk.
Aside from forex, the platforms offer an impressive selection of financial instruments and markets. However, the two account packages (the Complete and Premium versions) will only give traders access to the FX and cryptocurrency markets. Anyone who wants to trade other instruments will need to purchase access as a monthly add-on to their subscription fee.