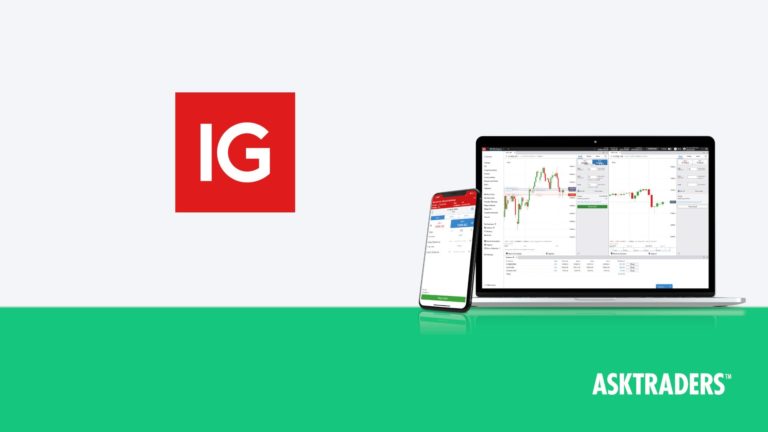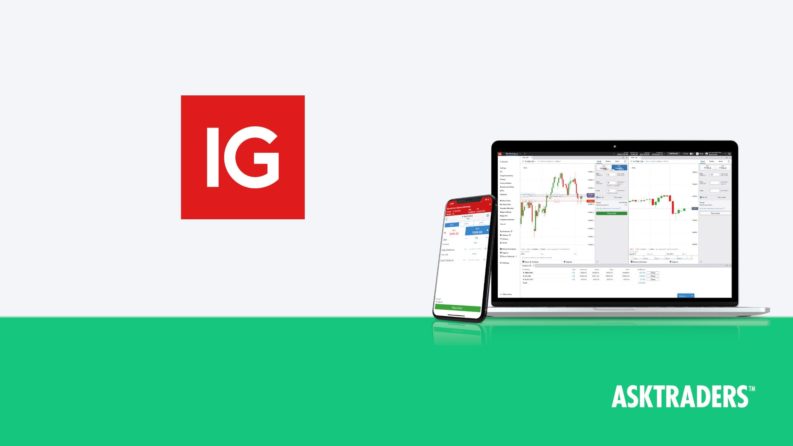 Founded in 1974, IG Markets Ltd (IG) is the world's largest CFD broker and renowned in trading circles as the inventor of spread betting. Servicing more than 239,000 registered clients worldwide, IG allows traders to spread bet and trade CFDs on more than 17,000 markets. Prefer to own assets? With IG, you can also buy and sell thousands of shares and ETFs.
A multi-award-winning broker renowned for its best-in-class platforms and massive market range, it is unique among brokers in the way that it is invested in its clients' success. An exhaustive library of educational resources is supported by negative balance protection at no extra cost and fast execution speeds.
So, IG the right broker for you? Discover more about account types, leverage & what fees to expect with the help of our expert IG review.
#

Forex
| | | | |
| --- | --- | --- | --- |
| Min Deposit | App Support | Max Leverage | Trading Fees |
| £250 | Mid | 1:30 | Mid |
When it comes to forex trading, IG is widely regarded as one of, if not the best, brokers in the industry. An award-winning forex provider, IG has won numerous accolades for its forex offering in recent years.

IG offers clients access to a wide variety of currency pairs, including majors, minors, and exotics. In total, there are 80 currency pairs to choose from which is among the highest we've seen of any broker.
Ways To Trade Forex with IG
There are three ways to trade forex with IG:
Spread betting
CFD
DMA (Forex Direct) – Professional Clients Only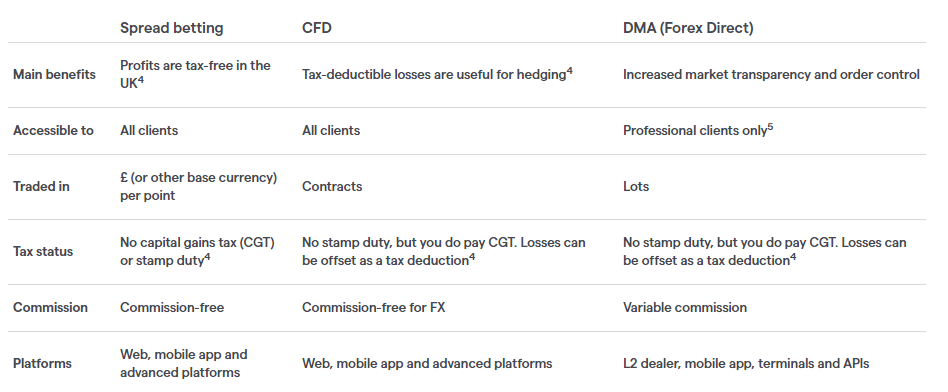 IG utilises variable dealing spreads, which will vary depending on underlying market prices and conditions. While IG is able to offer its minimum spread in most conditions, it's worth bearing in mind that spreads will increase as market prices go wider.
Competitive forex spreads start at 0.6 points on major currency pairs such as EUR/USD with a maximum leverage up to 1:30 available for Retail clients across all forex pairs. Professional clients are exempt from intervention measures such as leverage limits and, as a result, are able to trade on lower margins. Let's take a look at some of the spreads on offer: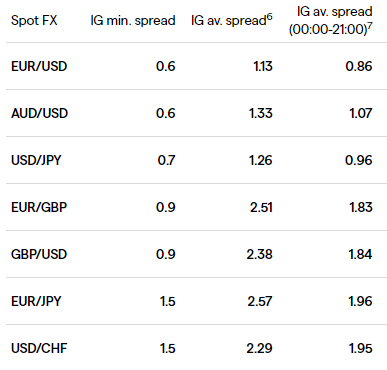 In addition to commission-free trading on forex, IG also offers spread betting and CFD clients (excluding Professional clients) free negative balance protection as part of its robust risk management toolset. If your account goes into a negative balance as a result of trading-related activity, IG will bring it back to zero at no extra cost to you.
When it comes to trading platforms, you can trade forex with IG using several platforms that include MetaTrader 4 (MT4), its award-winning web-based platform or download the mobile app for trading on-the-go.
Overall, a wide selection of tradable currency pairs combined with competitive spreads, robust risk management features and an industry-leading trading platform makes IG a great option for aspiring FX traders.
#1

CFDs
| | | | |
| --- | --- | --- | --- |
| Min Deposit | App Support | Max Leverage | Trading Fees |
| £250 | Good | 1:30 | Mid |
IG offers its users a wide variety of CFDs (Contracts for Difference) to choose from, including:
| | |
| --- | --- |
| Instrument | No. Available |
| Stocks | 16,000+ |
| Commodities | 35 |
| Forex | 80+ |
| Indices | 80+ |
| ETFs | 2,000+ |
Let's take a look at some of these in a bit more detail:
#2

Stocks
| | | | |
| --- | --- | --- | --- |
| Min Deposit | App Support | Max Leverage | Trading Fees |
| $250 | Good | 1:10 | Low |
With the ability to trade and invest in over 16,000 international shares, IG is one of the preeminent brokers in the industry.  This astonishing number of tradeable of shares is drawn from a range of indices such as the US Tech 100 and UK 100 and countries from around the world including the US, UK, Germany, Japan, China and more.
In addition, IG also allows you to trade the 'grey market' through its exclusive IPO offering. Trading 'grey markets' on IG allows you to speculate on a company's market cap before they list on the stock exchange. Put simply, if you can't find the share you're looking for on IG then chances are it doesn't exist.
Leverage up to 1:20 is available fo retail clients, while IG also offers the ability to trade out-of-hours on 70+ US stocks. Instead of paying a spread, IG charges a commission to open and close share CFD positions.
IG Markets' commission structure is straightforward and easy to understand: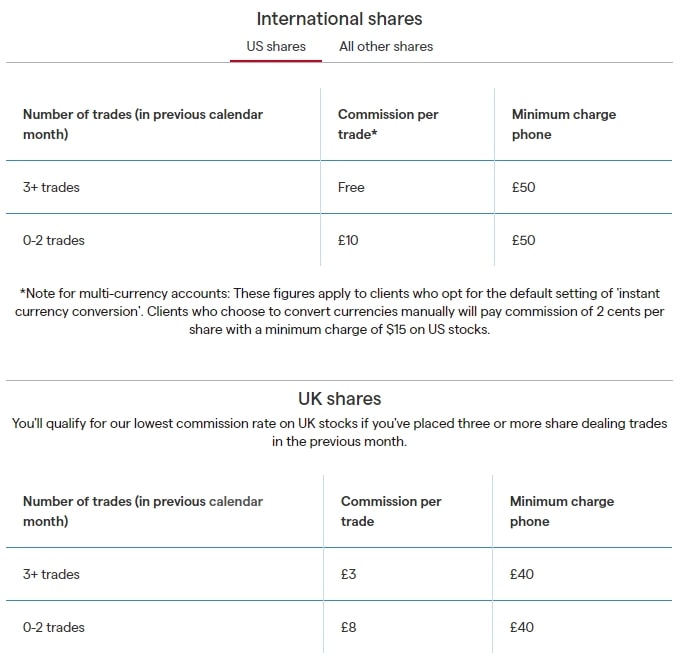 In addition, IG also charges a custody fee of £24 per quarter if you hold investments on a share dealing account or ISA. A common criticism of IG's share CFD commission charges, however, is that they are higher than the industry standard.
#3

ETF
| | | | |
| --- | --- | --- | --- |
| Min Deposit | App Support | Max Leverage | Trading Fees |
| £250 | 2000 | 1:30 | Low |
In addition to stocks, IG also offers ETF (exchange-traded fund) CFDs that allow you to take advantage of price volatility in sectors, indices, bonds commodities or currencies. The main categories of ETF include:
Stock Index ETFs
Currency ETFs
Sector and Industry ETFs
Commodity ETFs
Inverse/Short ETFs
Leveraged ETFs
With over 2,000 tradeable ETFs filtered by country, performance, asset class and ISA eligibility, there is a huge range of markets to choose from for those looking to diversify their portfolios.
You can invest in ETFs with some of the most popular providers, including iShares, Vanguard and Invesco, as well as indices such as the Global Cannabis X which provides exposure to companies that are active in the burgeoning cannabis industry.
In addition to this wide range of markets, IG also offers low transaction charges with commission fees starting at just £3 and a currency conversion fee of 0.5%. With IG, you can choose to trade ETFs via CFDs and Spread Bets, or buy an ETF via IG's share dealing service.
One feature we particularly liked was the ETF Screener, a free-of-charge tool that finds ETFs to match your investment objectives. Within the ETF Screener, you can filter by ISA-eligible ETFs, view all at once and even filter by best-performing over a certain time period: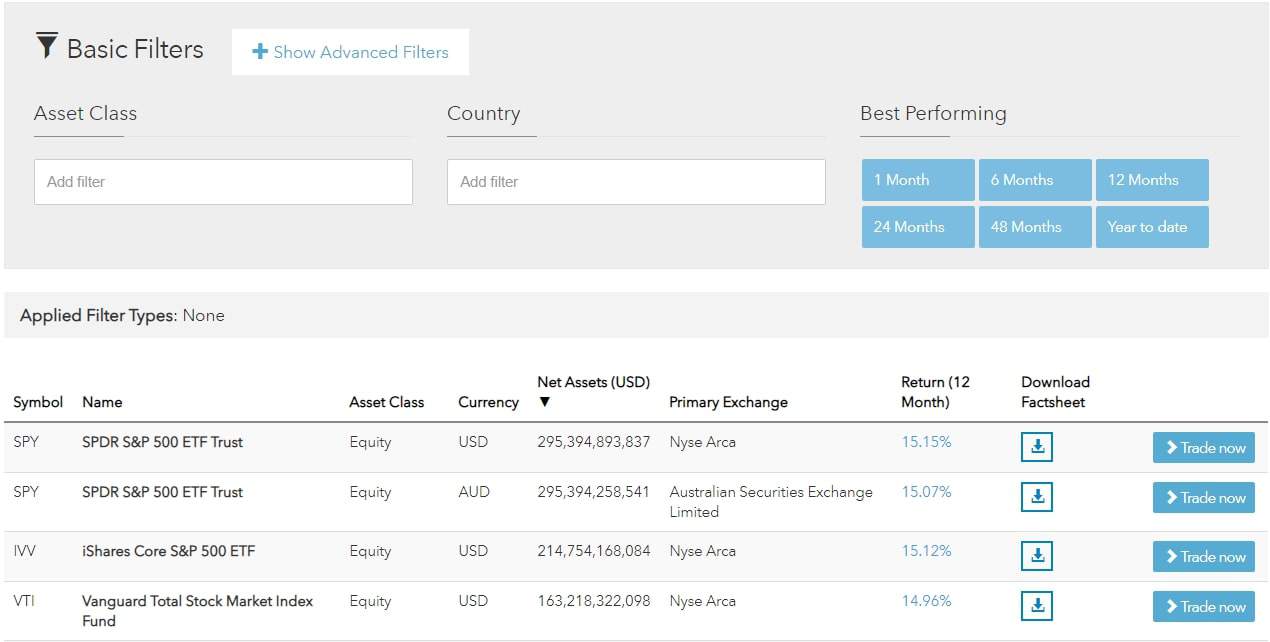 IG also recently rolled out its fully-managed IG Smart Portfolios service in partnership with BlackRock as another way to invest in ETFs. This bespoke, fully-managed service brings digital wealth management to the masses where previously it was regarded as too expensive for everyday savers.
Provided at a fraction of the cost of traditional wealth managers, it provides an opportunity for you to invest in low-cost portfolios tailored to your financial needs. Your investment is spread across diversified portfolios decided by BlackRock's investment management team with the aim of delivering robust annual returns.
#4

Spread Betting
| | | | |
| --- | --- | --- | --- |
| Min Deposit | App Support | Max Leverage | Trading Fees |
| £250 | Good | 1:30 | Low |
It would be amiss to not mention spread betting in a review of IG. This pioneering broker invented spread betting back in 1974, so it goes without saying that it knows a thing or two about this tax-free financial derivative.
Widely regarded as the world's number one spread betting platform, IG offers access to a huge range of over 17,000 markets and a unique ability to trade round-the-clock. What does this mean? IG is one of only a handful of platforms that allow you to trade outside of traditional market hours.
With IG, you can spread bet on, say, the FTSE 100 over the weekend alongside the other markets. Be aware, however, that a markets out-of-hours price may differ from its opening price.
IG offers reduced minimums for one month when you open a new live spread betting account or upgrade from a demo account, giving you plenty of time to master the markets. In addition to this IG also provides negative balance protection on your account and a small initial deposit, known as a 'margin', with spreads starting at 0.1 on selected Indices and Shares and leverage up to 1:30 on major forex pairs.
What did our traders think after reviewing the key criteria?
Fees
When it comes to trading fees, IG is very much an open book with what you can expect to pay. For many traders, fees and charges are an important part of the decision-making process when comparing brokers.
IG's transparency around fees did not go unnoticed by us, and we were pleased to find no hidden fees. Any 'extra' fees, such as access to premium features, are clearly advertised and displayed.
Trading Fees
Like many brokers, IG makes its money primarily through the bid-ask spread, or the difference between the bid price and ask price of an asset. However, as we mentioned earlier, spreads are not fixed and subject to change. There are also some other trading-related fees to be aware of:
Fee Type
Information
Deposit Fee

£0 (Debit Card,  Paypal, Bank Transfer)
1% ( Visa Credit Card) 0.5% (MasterCard Credit Card)
£15 (Same-day transfers under £100)

Extra Services

ProRealTime Charts (£30 per month)
Live Price Data Feeds
Direct Market Access (DMA)

Currency Conversion
0.5% on CFDs and share dealing accounts
Overnight Funding
Variable charge for all CFD positions held overnight
Guaranteed Stop
0.3% if the stop loss is triggered
Borrow Fee
When shorting a stock via a DFB spread bet or cash CFD
Commission Fee
Charged on share CFD and share trades. Varies by country
IG does not charge any deposit fees unless you are funding your account with a credit card or making a same-day transfer of less than £100 or equivalent. In this case, you can expect to pay a fee between 0.5%-1.0% depending on the card.
Commission fees apply to share CFDs and share dealing when you buy or sell stocks or ETFs. While US shares are commission-free if you make 3+ trades in the prior month, there is a small commission charge for UK, European and International shares: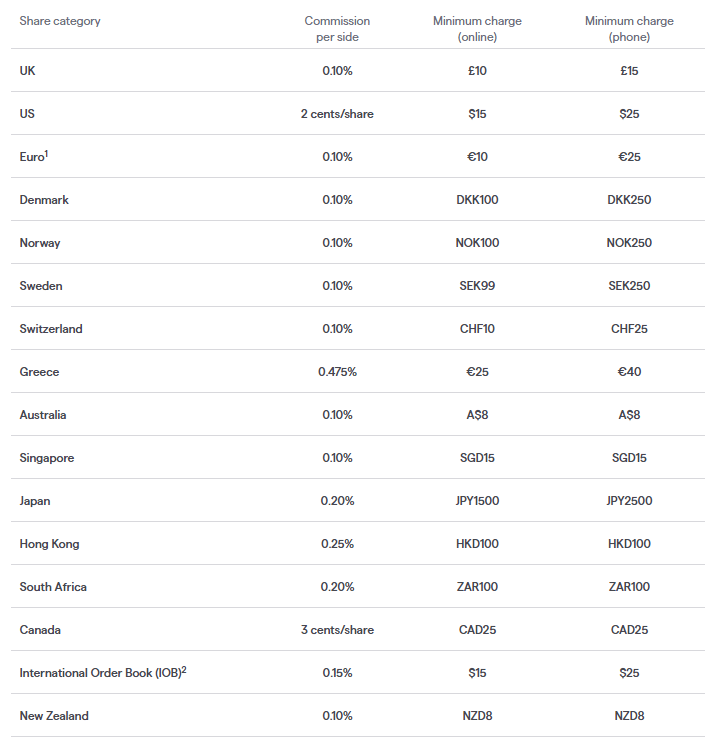 Non-Trading Fees
There are no withdrawal fees on the IG trading platform. While there is an inactivity fee for accounts that remain inactive for two years, this is much more lenient than competitors where it is often as little as 2 months.
| | |
| --- | --- |
| Fee Type | Information |
| Withdrawal Fee | Free (£15 same-day bank transfers under £100) |
| Inactivity Fee | $12 per month after 2 years of inactivity |
| Custody Fee | £24 per quarter for shares or ISA investments |
Related
Account Types
IG keeps things simple when it comes to account types, with just three to choose from if you're in the UK:
IG Trading Account (Retail Account)
IG Professional Account
IG Demo Account
Traders in Europe have access to two additional accounts: IG Options Trading Account and IG Turbo24 Trading Account. IG Markets offers a range of trading accounts to choose from depending on what it is that you want to trade:
CFD trading account
Spread betting account
CFD trading & spread betting account
Share dealing & CFD trading account
The minimum deposit on all accounts is £250 (or the equivalent) if you're depositing by card and all retail accounts include negative balance protection, access to the full suite of trading platforms, round-the-clock support and round-the-clock, 24/7 trading opportunities.
Professional accounts give you access to certain account features that are not available to retail clients. However, you'll lose certain investor protections such as negative balance protection. To qualify for a professional account, you must meet certain criteria:
Averaged 10 significant leverage transactions per quarter over the last 4 quarters;
Have a financial instrument portfolio exceeding £500,000;
Experience in the financial sector for at least a year
Knowledge of derivatives trading
Related
Professional clients must meet at least two of the following three qualifications: (1) averaged at least 10 leverage transactions of significant size per quarter in the past four quarters; (2) having more than €500,000 in their financial instrument profile, which includes cash deposits; and/or (3) at least a year of experience in the financial sector in a professional position that required derivatives knowledge.
Professional accounts receive lower margin requirements but lose the negative balance protection found on retail accounts.
Demo accounts give traders access to £10,000 in virtual funds to test their trading strategies and review IG themselves. The demo gives traders full access, including to the free mobile applications and the Academy content.
Platforms
IG has a won numerous industry awards for its trading platforms, including 'Best Multi-Platform Provider' at the ADVFN Awards in 2020. There are a variety of core and specialist trading platforms to choose from, including:
IG's own web-based trading platform
iOS and Android Apps
ProRealTime (premium trading platform)
MetaTrader 4 (MT4)
IG's order management system ensures your order will never fill at a level that is worse than the one you requested, ensuring you always get the best available price. Average execution speeds of just 0.014 seconds highlight the speed and reliability of IG's trading platforms. Let's take a look at some of these in a bit more detail:
IG Trading Platform

IG's own in-house trading platform is at the centre of its award-winning portfolio. A browser-based trading platform, there is no need to download any additional software and it comes with a suite of powerful built-in tools and customisable features.
These monitoring tools include stops and limits to help protect your profits and reduce risk, tear-off charts to view when you close down the platform and price alerts to notify you when your price is hit. For extra peace-of-mind against slippage and volatility, you can also set a guaranteed stop which you'll only pay for once your guaranteed stop is triggered.
Built with flexibility and ease-of-use in mind, it allows you to move windows around to suit your needs, tab windows on or off, edit columns and save your favourite layouts. It also features one-click dealing, allowing you to open, close and edit positions quickly and easily in just a couple of clicks.
We also particularly liked the smart settings feature, which remembers your position sizes and stop values, and the live news feed from Twitter and Reuters – a perfect way of trading the news and keeping on top of breaking stories.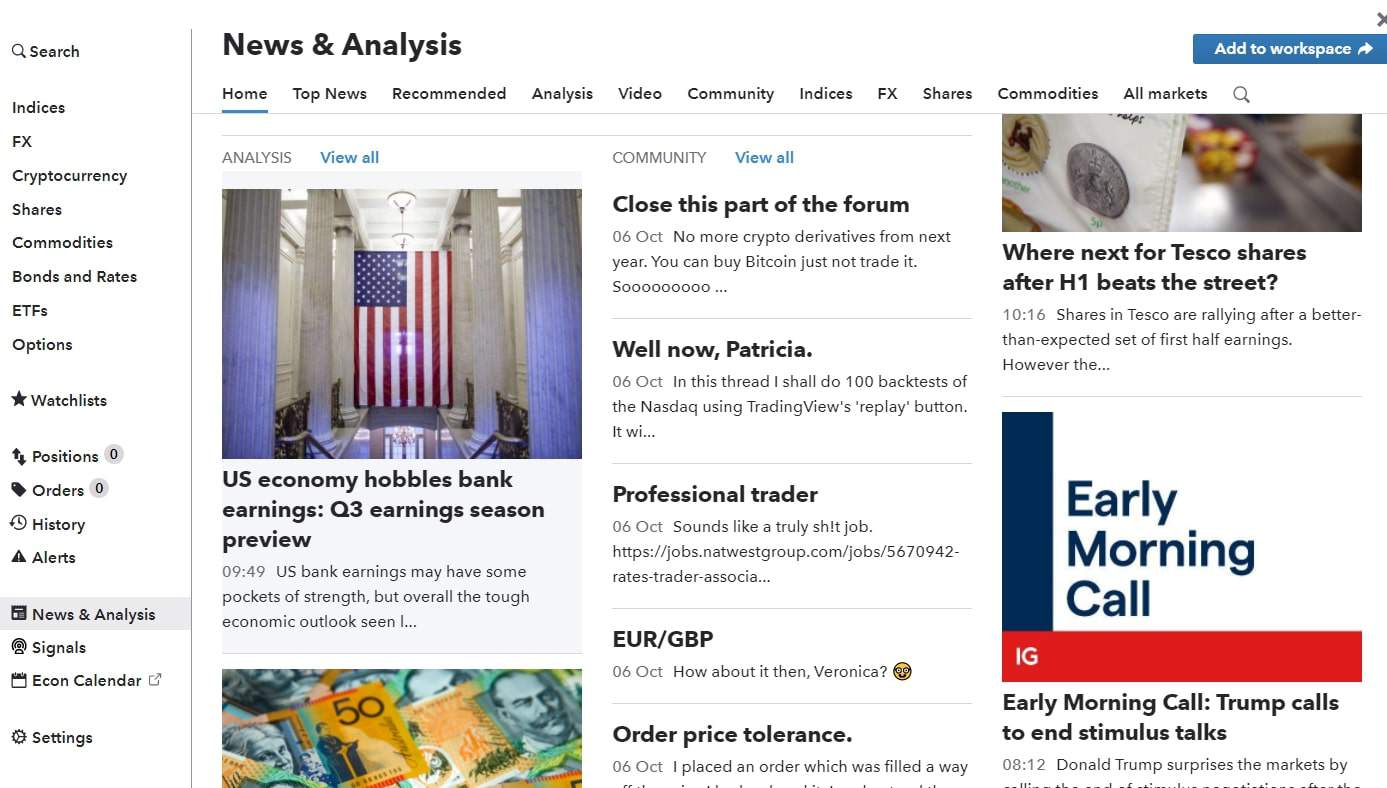 Prefer your news to be audiovisual? IG Live is a live TV stream where you can discover markets to track, live technical analysis or plan ahead with hot takes on what's likely to happen tomorrow. Missed an episode? Watch videos on-demand later on.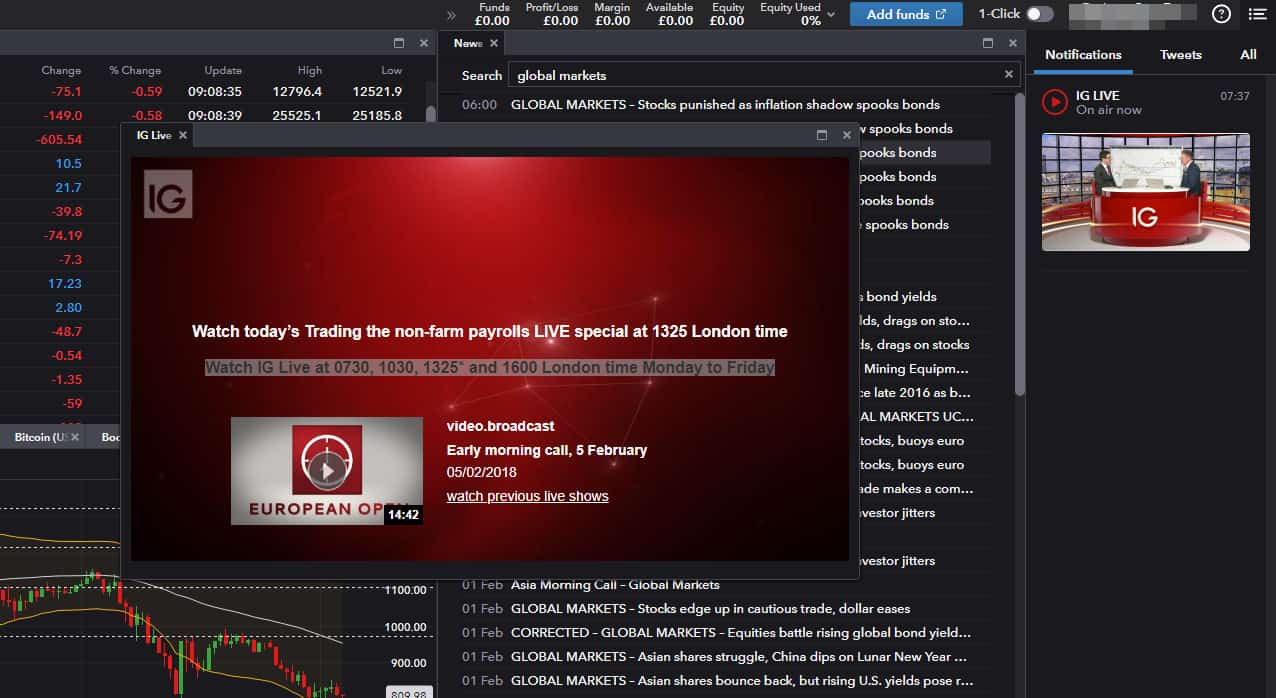 The IG trading platform makes it incredibly easy to find everything you need. A full overview of dealing specs, for example, can be found in the 'information' tab of each asset. This includes key information such as minimum trade sizes and stop distances, margin requirements, slippage factors and more. To keep those pesky conversion charges down, you can also select your preferred currency.
IG Mobile App
The jewel in IG's platform crown, its award-winning mobile trading app put the speed, reliability and power of the IG trading platform in the palm of your hand. Traders have access to IG's colossal library of over 17,000 markets as well as a robust set suite of useful features that include:
Customisable charts
Technical indicators
Real-time market data
Risk management tools
Price alerts
Economic calendar
Smart settings – save your last stake size and stop distance
ProRealTime
ProRealTime is IG's own charting software for technical analysis and automated trading that integrates with its web-based trading platform. Designed with experienced traders in mind, it allows you to automate your spread betting and CFD trading activity and execute trades even when you're not at your desk.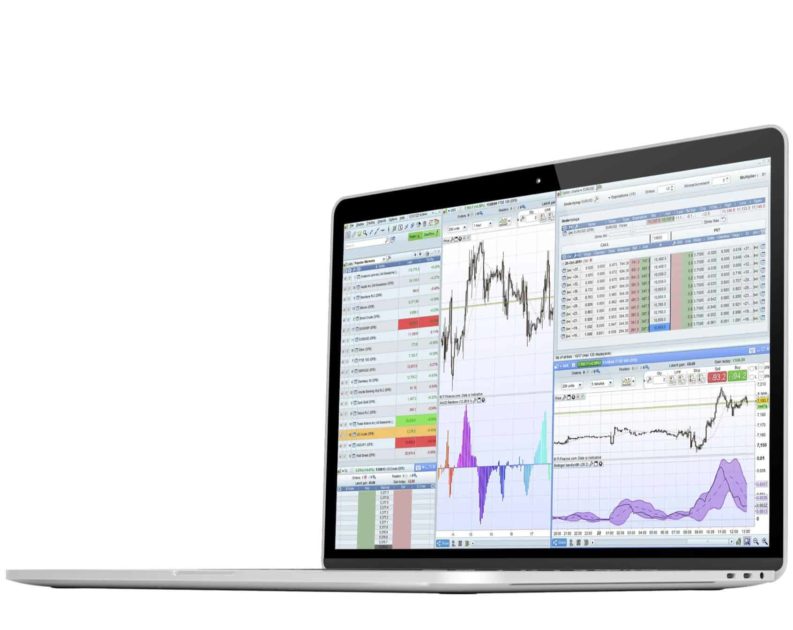 Completely customisable, you can code your own algorithms from scratch or build them with the help of a built-in creation tool and change the colour of charts – or the platform itself – to suit your needs.
PorRealTime also features advanced technical analysis tools such as ProRealTrend, which displays utomatic support and resistance lines in one click.  Then there's ProScreener, a powerful tool for performing a complete market scan to identify the securities matching specified unique criteria.
Customer Support
As we examined the support page, we appreciated the extensive FAQ section, especially its convenient divisions by categories, such as "Charts" and "Accounts and Statements." The popular searches listed at the top of the page and the search bar are also very useful touches.
Traders can contact via live chat, email, or a 24/5 phone number. There is also the option to fill out a contact form.
One very interesting element of support is the community aspect. IG encourages users to seek assistance from others in the community. This is a nice feature that lets traders interact with each other.
Payment Methods
IG offers traders plenty of fast and free payment methods, making deposits and withdrawals an incredibly straightforward and simple process. These include:
Credit card (Visa and Mastercard);
Debit card (Visa and Mastercard);
PayPal;
Bank transfer
The only downside is that IG does not currently support e-wallets such as Skrill and Neteller. However, the number of payment methods is more than suitable for the majority of traders. In addition, all of the payment methods mentioned above are also available on mobile, making trading on-the-go even easier.
Related
Regulation & Deposit Protection
IG is authorised and regulated by the world's leading financial regulatory bodies,  including the top-tier Financial Conduct Authority (FCA) in the UK, ensuring a safe trading experience for its clients. IG Group, the parent company of IG, is also listed on the London Stock Exchange in the FTSE 250 as IGG.
When you deposit your money into an account, IG protects your money in a number of ways:
Money is held in segregated accounts at regulated banks under trustee arrangements
Money and assets (i.e. shares) are never merged with IG's own money or assets
IG doesn't use your money for its own business-related activities
Money and assets are ring-fenced from creditors in the unlikely event of liquidation
In a nutshell, your money is completely safe in an IG trading account. IG adheres to strict regulatory requirements put in place by the FCA.regarding client money and assets. The only exception concerns eligible Professional Clients, whose money and assets are held differently.
In addition, clients in the UK also have an extra layer of asset protection up to £85,000 through the Financial Services Compensation Scheme (FSCS).
Awards

Over the years, IG has accumulated a lengthy list of industry awards and accolades that highlight the many strengths of the platform. This includes:
Best Multi-Platform Provider – ADVFN Awards 2020
Best Finance App – ADVFN Awards 2002
Broker of The Year – UK Forex Awards 2018
Best Forex Trading Tools – UK Broker Awards 2018
Best for Forex Trading – Investopedia Online Brokers Awards 2019
Best Trading App – Professional Trader Awards 2019
IG has drawn plaudits in particular for its mobile trading app, which is regarded as one of the best available on the market.  With such an impressive trophy collection, IG is clearly a broker that you can trust to deliver an excellent overall trading experience.