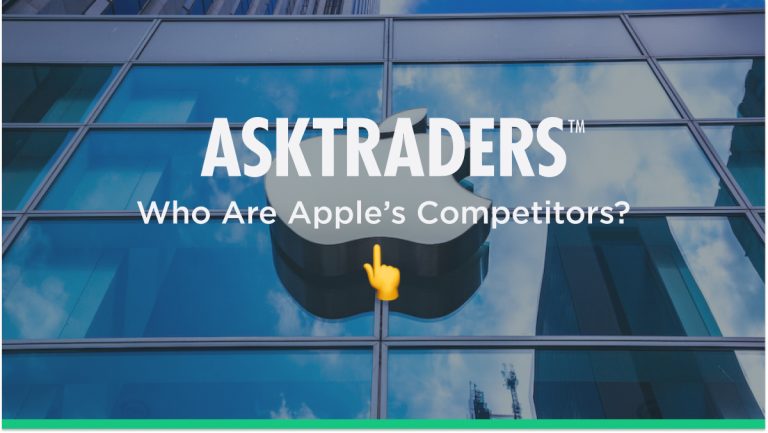 There are suggestions that the stock, if not overvalued, is at least fair value. Other firms in the same sector may not necessarily be looking to challenge Apple for the top spot, but they might offer better growth prospects and relatively better returns. The AskTraders team has studied the technical and fundamental factors that need to be incorporated into any Apple competitors' analysis. That research can help identify not only which stock to buy, but when to do so. The below list of Apple's major competitors is ideal for those investors looking to gain exposure to the ever-popular tech sector but willing to look past the obvious target.
Best Apple competitor stocks
1. Samsung Electronics Co Ltd (SMSN)
Samsung competes head-to-head with Apple in almost all of its divisions and is Apple's main rival in the crucial mobile handset market. Since 2012, Samsung has maintained control of 20-30% of the handset market while Apple's share is closer to 13%. As of 2019, Samsung had approximately twice the number of employees as its US rival, 320,000 compared to 137,000, which means it has the capacity to cope with a shift in consumer appetite away from iOS and towards Android operating systems.
Samsung Electronics Co Ltd (GDR) – Share Price Chart 2019 – 2022
Source: IG
Stocks in the Korea-based tech giant can be traded in GDR form. Given the recent share price weakness, there could be an opportunity to buy the dip. From its price high of January 2021, Samsung stock has fallen to levels where it is finding support from the key Weekly moving averages and the 50% Fibonacci retracement of the 2020-2021 bull run.
Samsung Electronics Co Ltd (GDR) – Share Price Chart 2019 – 2022 – With Fib Retracement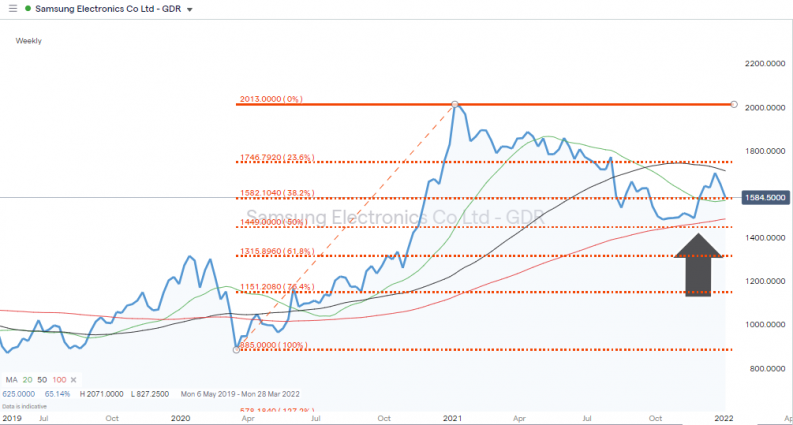 Source: IG
2. Microsoft Corp (NYSE: MSFT)
Microsoft is another tech giant and Apple competitor. The crossover in markets is not as intense as with Samsung, but the non-competing business lines Microsoft boasts are in potentially rewarding growth sectors such as web hosting services. In the areas where it does compete directly with Apple, the devices segment, software and application development and gaming platforms, Microsoft is large enough to be able to go toe-to-toe with Apple.
Microsoft Corporation – Share Price Chart 2015 – 2022
Source: IG
Microsoft's share price chart can only be described as bullish. The stock price has consistently bounced off the Weekly 20 SMA, making moments when the stock price does clip that metric a time for long-term investors to step in and buy.
3. Google – Alphabet Inc (GOOG)
Google has the critical mass and market position to pose a serious threat to Apple. The Android operating system, which Google owns and licenses to firms such as Samsung, is a direct challenger to Apple's iOS system; Google Play is a like-for-like competitor to iTunes.
Alphabet Inc (C) – Share Price Chart 2015 – 2022
Source: IG
The online payment services market looks to be a particularly important battle ground. Both firms are trying to establish 'first mover' advantage in India and China. With both countries having populations in excess of 1bn people, the outcome from that situation will have long-lasting implications for the share prices of both firms.
4. Amazon.com Inc (AMZN)
Amazon's share price has shown greater resilience than Apple's to the risks posed by inflation cutting into future corporate earnings. The diversity of income streams at Amazon is greater, with web-hosting services (AWS) and the core online sales platform offering a greater degree of future-proofing than Apple's suite of consumer-facing products.
Amazon.com Inc – Share Price Chart 2020 – 2022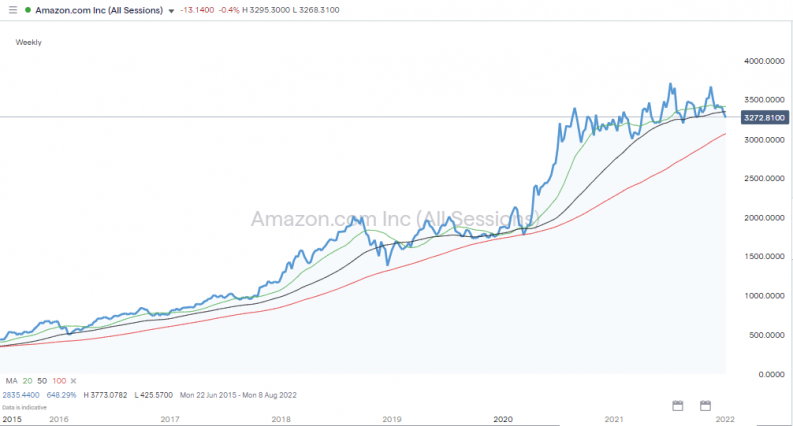 Source: IG
The ability of AMZN stock to hold its value over the turn of the year suggests investors are taking the view that Jeff Bezos' firm will be better positioned to face the challenges of the next few years. Amazon is also willing to go head-on with Apple as exemplified by the Kindle Fire and Amazon smartphone handsets reported to be in the pipeline. Amazon's video streaming services encroaches onto Apple territory to the extent that Apple has stopped enabling the streaming service, and in return, Amazon has stopped selling Apple TV.
5. Lenovo Group Ltd (LNVGY)
China-based Lenovo Group is a PC and mobile handset manufacturer, which offers consumers high-quality, competitively-priced devices. Their product range is a direct threat to Apple, which has sales based to a large extent on brand loyalty. Consumer preference can quickly change, and the longer Lenovo stays in the game and builds its own brand recognition the greater the chance it can start taking market share from its larger rival.
Lenovo Group Ltd – Share Price Chart 2020 – 2022
Source: IG
The Lenovo share price is some way off its highs of January 2021 but finding support from moving averages. A move above the 50 Weekly SMA will be seen as a bullish sign for those trading momentum and breakout strategies.
How to buy Apple competitor stocks
When buying stock in Apple competitors, the first part of the process is identifying the stock to buy, but equally important is finding a trusted broker offering services which suit your trading strategy. The terms and conditions on offer also need to be checked. Following the below inside tips from experienced traders can help ensure you choose a legit broker and optimise your returns.
1. Choose a broker
The security of funds is paramount, and this broker shortlist of trusted firms includes platforms which have been reviewed by the AskTraders team.
Setting up a demo account with any of these brokers takes moments to do and opens the door to test-trading in a risk-free environment. As demo accounts are free to use, it's worth trying out a few brokers to find a best-fit in terms of user-experience. Ensuring they are regulated by a Tier-1 authority is also important, as that rubber stamp will mean the broker will offer higher levels of client protection.
Tier-1 regulators:
The U.S. Securities and Exchange Commission (SEC)
The Financial Conduct Authority (FCA)
The Australian Securities and Investments Commission (ASIC)
Cyprus Securities and Exchange Commission (CySEC)
2. Open and fund an account
The process of opening an account at an online broker is relatively straightforward and should only take minutes to complete.
The first step involves sharing personal information so that the broker is able to identify you. This also helps them comply with Know Your Client (KYC) protocols. Once the form has been completed, only the account holder will be able to access and manage their cash and assets.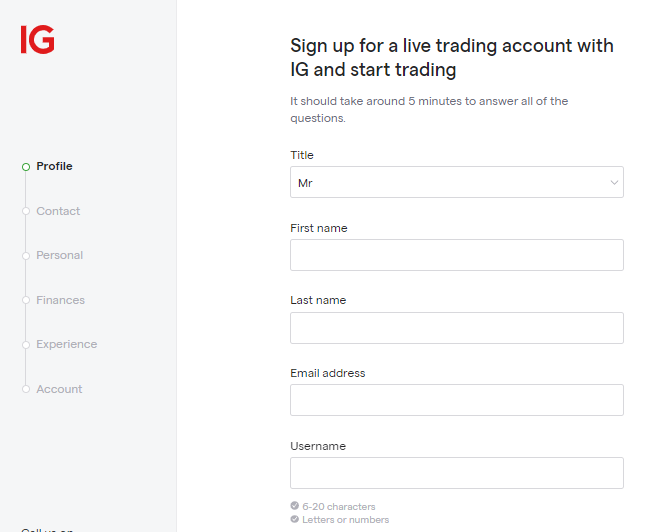 Source: IG
Transferring funds to a new account can be done in a variety of ways, with the simplest and fastest approach involving debit and credit cards. Bank transfers can take longer to process, while e-wallets are another option. Whichever route is chosen, it's worth double checking the terms and conditions to avoid paying unnecessary administration costs or suffering time delays.
3. Open an order ticket and set your position size
Once the funds are confirmed as being in the brokerage account, the next step is to navigate the platform to buy Apple Inc's competitor's stock. Each stock's trading interface might have particular characteristics, but stocks can nearly always be located by using the 'search' function.

Source: IG
Clicking on the stock name provides access to the trading dashboard and the process of buying is as simple as entering the quantity of shares to buy into the appropriate data field and clicking or tapping 'buy'.
Source: IG
4. Set your stops and limits
Stop Loss instructions and Take Profit orders are risk-management tools which instruct a broker to automatically close out some, or all, of a position if the stock's price reaches a certain level.
Stop-losses help to limit losses by cutting the size of a position while take profit orders lock in gains if the price moves in the right direction.
Buy-and-hold investors who want to buy shares in Apple competitors as part of a long-term strategy might want to reconsider using stop loss and take profit orders. The argument is that a short-term price crash might trigger a stop loss when it would have been better to ride out the price dip. Take profit instructions also limit potential gains.
Alternative approaches to risk management include trading in smaller amounts to take the emotion out of trading, and diversifying your investment across a variety of Apple competitor stocks.
5. Make your purchase
Trade execution is the moment that cash in the brokerage account is converted into a stock position. The value of the new stock position can be monitored in the portfolio section of the platform and will fluctuate in line with live market prices.
The portfolio section of your broker platform is also the area where the amount bought can be confirmed, amendments to stop loss or take profit orders can be made and you can sell out of a position.