South African stocks have for a long time been the target of investors who want to gain exposure to highly volatile commodities markets. It's a high risk-return proposition but talk of a commodity supercycle coming into view has boosted interest and led to a rush of investing by local and international investors. The best shares to buy in South Africa extends past firms mining gold, uranium, copper and diamonds. The country is home to more multinational firms than any other in Africa. Its robust regulatory framework and infrastructure networks make it the perfect base for firms looking to take a share of the dramatic growth forecast for the continent.

Emerging markets have historically been sought out by those looking for a little more juice in their trading, and the below five stocks all offer that.
BEST UNDERVALUED SOUTH AFRICA STOCKS
1. BHP Group
BHP Group, also known as BHP Billiton, is a global resources and mining company that produces commodities such as metallurgical coal, copper, uranium, and iron ore. Having a relatively high degree of diversification in terms of income streams is beginning to pay off for the firm.
BHP Billiton – Five Year Price Chart – 2015 – 2021
Source: IG
The BHP Full Year 2021 earnings report, released on Tuesday the 17th of August, was followed by an impressive 7% price rally. Positive features of the report included that profits from operations were up 80% from 2020, net cash flow was up 73%, and net debt had been reduced by more than half in the space of a year.
A strong balance sheet offers a chance to invest in new projects, insure against future Covid related issues and return cash to investors. The dividend per share was priced at $2, which meant the firm had returned a total of $15bn to investors in the financial year.
BHP Billiton – Price Chart – 2021
Source: IG
BHP Technicals
The price spike following the release of the annual report in August was followed by a period of price weakness. It looks like a lot of the good news was already priced in, and in August 2021, BHP stock was up more than 200% from the lows of March 2020.
Following a period of price consolidation, the stock is now showing strength and is back above the 20, 50 and 100 day SMA's. There is still room for further stock price growth before resistance comes into play in the form of the year-to-date high of 49,440.
BHP Fundamentals
BHP is the world's largest mining company with a market capitalisation in the region of £110bn. Its size means it offers a degree of security and because it is a mining stock, it offers a bit more potential than stocks from more sedate sectors. The 3.97% dividend yield attracts a lot of interest from institutional investors and suggests there is a cap on downwards price movement.
BHP Billiton – Strong Fundamentals

Source: IG
The consensus of the 26 analysts who follow the stock is that BHP is rated a 'Buy', with six of that group tipping it as a 'strong buy'.
BHP Billiton – Rated a Buy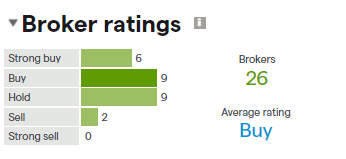 Source: IG
2. Naspers Ltd
When deciding what South African stocks to buy now, the temptation is to stick with mining firms. However, other companies are offering a different play on South Africa and the continent of Africa as a whole. Johannesburg Stock Exchange (JSE) listed Naspers Ltd has interests in publishing, online retail and venture capital investing in the consumer internet sector. Its e-commerce, social and internet platforms are well-positioned to capture market share across Africa. Its role as a strategic investor means it can take positions in other firms that might grow into a dominant force in the online African, or indeed, the world economy.
One success the firm has already notched up is the 29% stake Naspers indirectly has in Chinese internet giant Tencent, which operates the phenomenally successful TikTok platform.
Naspers Ltd – Price Chart 2015 – 2021
Source: IG
Existing Naspers shareholders may be wondering when all this potential will turn into improved returns in the share price. The all-time high of R400,000 printed in 2017 seems like a distant memory to those who bought in at those levels. But those who are coming to the situation afresh can buy Naspers stock near the bottom of a long-term trading range.
Naspers Ltd – Price Chart 2015 – 2021 – Trading Range
Source: IG
Naspers pays a higher dividend than more mainstream tech stocks such as Apple but is more of a growth stock rather than an income stock due to the firm's willingness to plough any spare cash into new and exciting projects.
Naspers Ltd – Fundamentals

Source: IG
Despite the recent slump in the share price, or maybe because of it, market analysts are holding their nerve that the stock will come good, with all of the 12 analysts with a view on the situation tipping the stock as a 'buy' or a 'strong buy'.
Naspers Ltd – Strong Buy Broker Rating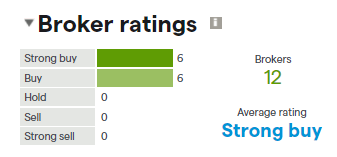 Source: IG
For the six months ended 30 September 2021:
Naspers Ltd revenues increased 43% to $3.58bn
Net income increased from $2.14bn to $11.04bn
Revenues reflect Social and internet platforms segment increase of 24% to $12.46bn
E-commerce segment increase by 60% to $4.56bn
Net income benefited from Share of equity-accounted results increase of 42% to $4.07bn (income)
Dividends on investments increased from $0k to $39m (income).
Source: IG
3. Grindrod Limited
Fans of the adage 'in a gold rush, sell shovels' would do well to include Grindrod Ltd as one of their stock picks in South Africa. If, thanks to its natural resources, the economy prospers and is seen as the gateway into investing in Africa, this logistics firm will be well-positioned to take its share of the spoils.
Grindrod Limited – Long Term Share Price
Source: IG
Grindrod is a long-established, reliable and reputable logistics firm. With operations across Southern Africa, Grindrod offers an efficient service across Southern Africa to importers and exporters. Its infrastructure is designed to handle a variety of bulk, break-bulk commodities, vehicles, and containers. It has solid relationships with big mining houses, commodity traders, and industrial consumers.
Grindrod Limited – Long Term Share Price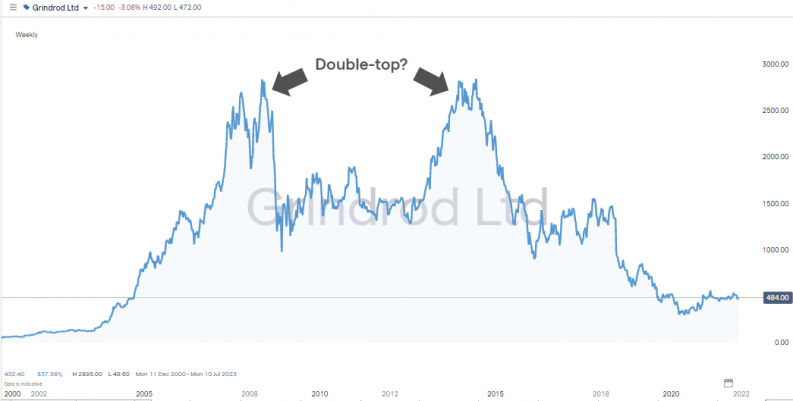 Source: IG
The firm is used to making the best of operating in a sector associated with tight margins. Still, a general uptick in the health of the South Africa economy could take the Grindrod share price back to the heights of 2014 when the stock traded as high as R 2,819.
The double-top chart pattern triggered a multi-year price slump in the Grindrod share price, which has provided an opportunity for bottom-fishers. The firm has an excellent sized market capitalisation and is a good dividend stock with an annual yield currently in the region of 2.85%.
Grindrod Limited – Fundamentals

Source: IG
For the six months ended 30th of June 2021:
Grindrod Limited revenues increased 5% to RAN 1.92bn
Net loss applicable to common stockholders increased 78% to RAN 424m
Revenues reflect Logistics segment increase of 9% to RAN 1.64bn
Port and Terminals segment increase of 2% to RAN 494.8m
Bank segment increase of 4% to RAN 223.1m
Higher net loss reflects Private Equity and Property segment loss increase of 44% to RAN 273.2m.
Source: IG
4. Rio Tinto
Mining giant Rio Tinto has a diverse range of global operations and a firm foothold in Southern Africa. Production at the Richards Bay site makes Rio Tinto South Africa's largest mineral sands producer. But the jewel in the crown is just over the border in Namibia. The Rössing Uranium Mine has been operating since 1976 and is the reason Rio Tinto consistently lists in the top-five of global uranium producers.
Uranium mining stocks are a hot topic thanks to the global move towards carbon-free energy. Nuclear power does have its drawbacks but currently looks like the least bad option for those looking for a carbon-free and reliable source of baseload electricity.
Rio Tinto Share Price 2000 – 2021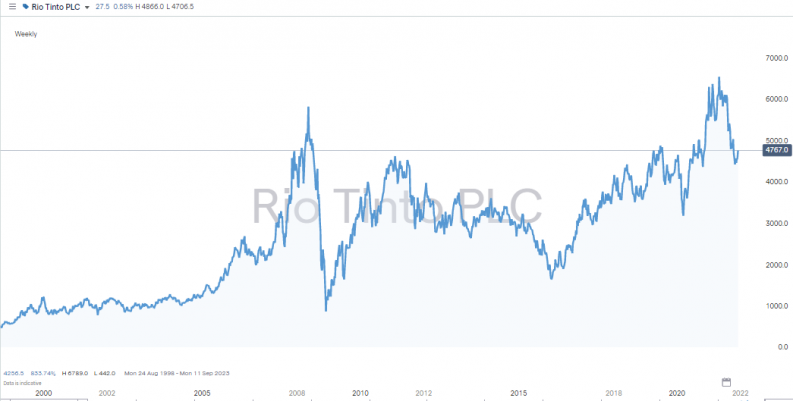 Source: IG
Rio Tinto Technicals
Between March 2020 and April 2021, the Rio Tinto share price soared by more than 100%. There has been a subsequent pullback, but the Rio stock price now sits on the 61.8% Fibonacci retracement level and has found support at that level.
 Rio Tinto Share Price 2020 – 2021 – Bounce of Key Fib Retracement Level
Source: IG
Rio Tinto Fundamentals
The slide in the share price has taken the annual dividend up to a whopping 10.39%, and the P/E ratio of 8.9 is particularly low compared to alternative investment opportunities.
Rio Tinto Fundamentals

Source: IG
For the six months ended 30 June 2021:
Rio Tinto plc revenues increased 71% to $33.08bn
Net income increased from $3.32bn to $12.31bn
Revenues reflect Iron Ore segment increase of 89% to $21.71bn
China segment increase of 86% to $19.81bn
Iron Ore, Avg. Price per Met. Ton, Total increase of 98% to $168 per metric ton
Iron Ore Production- Hamersley Channar increase of 99% to 5 million metric tons.
Source: IG
5. AB InBev
Global brewing giant AB InBev, which was formed thanks to a sequence of mergers between the industry's big players, has a listing on the JSE thanks to the Castle Brewery being one of the firms involved. Created during the South African gold rush days, the Johannesburg-based brewer has flourished. AB InBev is now positioned to build market share across the entire continent of Africa. At the same time, the other global brands in the firm's portfolio diversify the firm's exposure in terms of geography and product type.
AB InBev (NV) Daily Price Chart – 2020 – 2021
Source: IG
AB InBev has reported consistent growth in sales of major brands such as Corona, Stella Artois, Budweiser, Michelob and Becks, but its 'Beyond Beer' project is an innovative approach positioning the firm to be more than a beer producer.
New product lines such as low-alcohol and no-alcohol beers are grabbing market share worldwide, with the Beyond Beer division posting $1.2bn in revenues in 2020. The e-commerce and B2B operations are making the most of opportunities created by new technologies and have moved from being potential future winners to contributing to a healthy bottom line on the company's balance sheet.
The dynamic approach taken by management and scale of opportunities available is best represented by the proprietary B2B platform called BEES. This captured more than $3bn in gross merchandise value in the first quarter of 2021, that number representing growth of more than 50% from the fourth quarter of 2020.
AB InBev – Fundamentals

Source: IG
The strong financials haven't yet been reflected in the AB InBev share price. That can largely be attributed to the Covid pandemic. Not only did global lockdowns restrict the activities of the entertainment and leisure industry, but due to unfortunate word association, Corona, one of the brewer's top brands, fell out of favour with consumers.
COVID looks set to be part of daily life for some time, but those thinking all the bad news is already priced in can buy AB InBev stock at price levels that are almost half of what they were as recently as August 2019. This might explain why the average analyst rating of the stock is 'buy' with 11 out of 28 analysts tipping it as a 'strong buy'.
AB InBev Broker Rating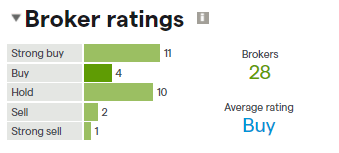 Source: IG
Another reason for InBev's sluggish share price performance could be the relatively low dividend it pays. Institutional investors appear to be willing to step in to buy JSE listed AB Inbev (SA) at the fundamental price support level of R80,000, and a change of direction, away from growth and mergers and towards returning cash to investors, could act as a catalyst for more significant buying pressure from prominent money managers.
AB InBev (JSE) – Daily Price Chart 2020 – 2021 – Key Price Support Level
Source: IG
For the nine months ended 30 September 2021:
Anheuser Busch InBev SA revenues increased 18% to $40.11bn
Net income before extraordinary items totalled $2.71bn vs a loss of $2.92bn
Revenues reflect Middle Americas segment increase of 37% to $5.89bn
South America segment increase of 23% to $4.15bn
Middle Americas segment increase of 37%to $5.89bn
Source: IG
HOW TO BUY SOUTH AFRICAN STOCKS
The exciting opportunities in the South Africa stock market have attracted a wide range of investors, but the process for 'putting on a trade' is relatively universal. It's impossible to go directly to the JSE to buy shares, but a broker can act as an intermediary and purchase South African shares and hold them on your behalf.
One of the easiest ways to get involved is to use an online broker. They can be a domestic or international broker. The latter has the advantage of offering a more comprehensive range of markets if there is ever a desire to trade something other than South African stocks.
Online brokers' neat functionality and hi-tech processing systems make for a user-friendly experience. Their simplified and efficient approach has also resulted in lower costs for the end-user. The good news for traders is there is enough competition among brokers to make buying stocks cost-effective.
If you want to practise building a portfolio or try out a few brokers, then setting up one of the free Demo accounts they offer is a good idea. Demo accounts allow new and experienced traders to test strategies and determine if a broker is suitable for their needs. They're free to use, take moments to set up, and as the funds used are virtual, there's no chance of losing real cash if things go wrong.
These are the simple steps to take to avoid slip-ups, manage risk, and try to find the optimal entry and exit points on trades.
1. Choose a Broker
The most crucial factor to consider when choosing a broker is the safety of your funds. There are, unfortunately, scammers operating in the market, but following some basic rules can help avoid them. The first is to select a broker regulated by a Tier-1 authority, such as one of the below:
The Financial Conduct Authority (FCA)
The Australian Securities and Investments Commission (ASIC)
The U.S. Securities and Exchange Commission (SEC)
Cyprus Securities and Exchange Commission (CySEC)
The Financial Services Conduct Authority of South Africa (FSCA)
Another neat double-check is to visit the regulator's site to cross-reference any claims made by a broker that it is regulated. It has been known for scammers to claim to be regulated when they are not. Sticking with one of the big international brokers is another top tip. Firms such as IG have been operating for more than 30 years and have a lot riding on their reputation in the market. As a result, they are very conscious of the need to look after their clients.
Safety of funds is a priority; however, finding a broker with the desired functionality and reasonable terms and conditions will also help optimise trading returns. Some specialise in different sectors and markets while others offer more research. For beginners, the priority might be finding one that provides trading signals programs to help identify trading opportunities. The Demo accounts are realistic simulations of a Live trading account and trying out a few with different brokers can help filter a selection to a shortlist of trusted brokers.
2. Open and Fund an Account
Online broker accounts are similar to online bank accounts, with the difference being that stocks and other assets can be held in them as well as cash. Setting one up is similar to setting up an online bank account.
New users must provide I.D. and other KYC (Know Your Client) style material. It can all be done online using a desktop or handheld device and takes minutes. After the onboarding process is completed, you, and only you, will have access to the account. Make the right choice of well-regulated broker and you'll also be covered by Anti-Money Laundering (AML) laws which stipulate funds at broker accounts have to be returned to the account from which they came. That cuts down on the risk of someone hacking your account and forwarding cash to a fraudulent account.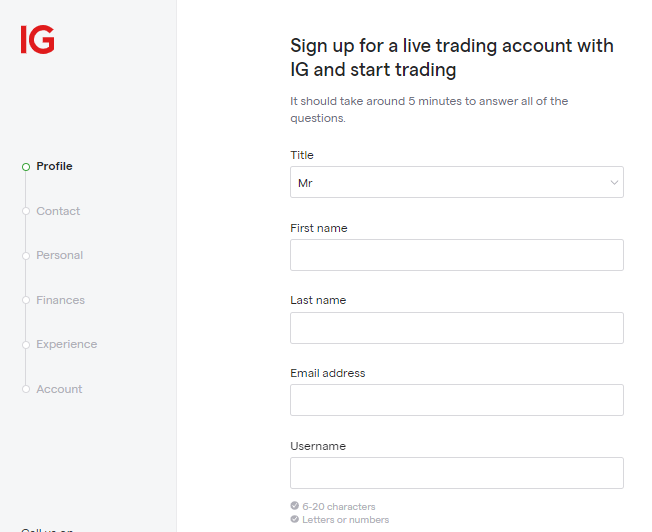 Source: IG
The onboarding process typically takes less than 10 minutes to complete, and the next stage is wiring funds to your new account. Most brokers offer a range of payment processing options. Debit and credit cards are popular and usually instant. Bank transfers are low cost but can take days to process. There are also e-Payment options, but the real trick is to use a process that doesn't incur commissions on deposits or withdrawals. Making a return in the markets can be hard enough without giving away money on avoidable administrative fees.
3. Open an Order Ticket and Set Your Position Size
Most broker sites make it easy to navigate to the stock you want to trade. It's usually also possible to filter by country and, for example, pull up a long list of South Africa stocks to trade. Investors running long-term strategies typically buy the shares outright using the share dealing part of the platform. More speculative strategies looking for short-term gains might use CFDs that permit leverage, allow short selling, but have daily financing costs, which can eat into profits on buy-and-hold style positions.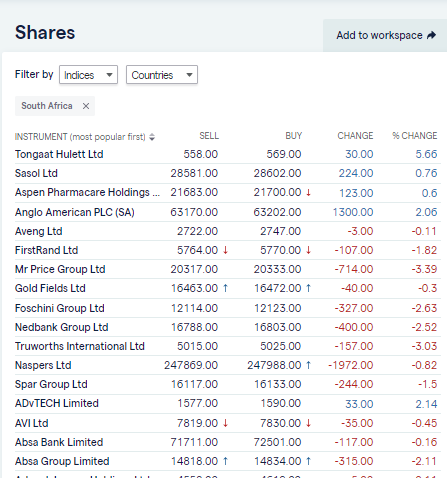 Source: IG
Clicking on any of those markets takes you through to the dashboard for that stock, where it's possible to get an up-to-date picture of how it is trading. Trading is as simple as entering the amount of the stock you want to buy into the trade-execution interface and clicking or tapping 'Place Deal'.
Source: IG
4. Set Your Stops & Limits
Risk management tools to consider include Stop Loss and Take Profit instructions. These are orders built into the system and instruct the broker to automatically sell some or all of a position if price reaches a certain level. Stop losses kick in if price goes against you and closes out a losing position before it can lose any more. Take profits lock in gains if price rises as expected.
Some buy-and-hold investors don't use these tools. They take the view that a short-term price crash could kick them out of a position that might ultimately come good. Take profits also limit upside gains.
There is also 'gapping risk' to consider when a stock moves from one price level to another overnight. The JSE has set opening hours, and if price jumps from one level to another while the exchange is closed, then the level at which your stop comes into play could be lower than expected.
5. Make Your Purchase
With research completed, onboarding done, and last-minute checks ticked off, the final stage of buying South Africa stocks involves clicking or tapping 'Buy'. At this point, cash in your account is converted into a stock position, the value of that position being 100% dependant on market price.
It's possible to follow a position's progress by accessing the P&L (profit and loss) report in the Portfolio section of the broker's platform. It will display the cash balance and equity holdings in the account. Here, busy traders can set Price Alerts so that they are messaged about significant price moves in the market.
Allocating capital across different stocks and sectors can diversify risk and stabilise returns. Selling out of positions is as straightforward as accessing your portfolio and clicking 'sell' instead of 'buy'.
There is one final check to make before sitting back and waiting to see if you have managed to find one of the best shares to buy in South Africa. That is to double-check that you traded what you intended to buy. Even experienced traders make 'fat finger' errors, and if you bought instead of sold or entered a wrong number somewhere, it's best to correct that error before market prices move too far away from the trade entry point.
SUMMARY
It's no surprise that South African stocks have caught the eye of local and overseas investors. Johannesburg's Stock Exchange offers a safe route to gain exposure to booming African markets. The South African mining stocks have a long-standing appeal for those with an appetite for higher risk-return strategies. Technical and Fundamental analysis can help traders and investors identify such target stocks and the opportune times to buy them.
There are numerous companies and sectors to choose from, but those wondering what South Africa stocks to buy now might find guidance from the above shortlist. Once the hard work of fine-tuning your selection has been completed, following the step-by-step rules of how to set up with a safe broker will take you into the markets in a few easy-to-follow steps.