To establish which firms are currently the best copper stocks to buy, this review will consider price data, technical analysis, fundamental analysis and generic sector-wide factors. It will explore investment opportunities across the different areas of the sector and provide a step-by-step guide on how to invest in copper stocks using a trusted broker.
Price of Copper 2015-2021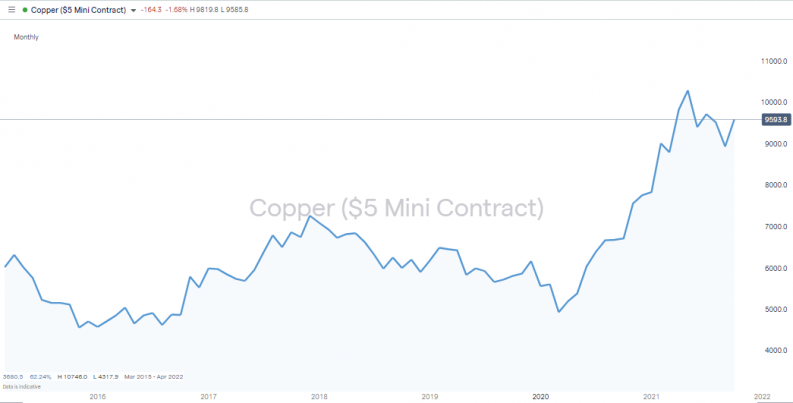 Source: IG

Best Copper and Copper Mining Stocks
#1 Freeport-McMoRan Inc. (FCX)
Headquartered in the heart of the US copper belt, Arizona-based Freeport-McMoRan is an out-and-out miner. Its share price has historically had a close correlation to the price of the metal itself, as illustrated by the above and below price charts. Freeport-McMoRan isn't about innovative processing technologies, but is one of the biggest miners in the US, which has operations in the state that account for 60% of total US copper production.
Freeport-McMoRan Inc – Share Price Chart 2015-2021
Source: IG
The keen-eyed will note that FCX stock has recently dipped before recovering. The catalyst for the shift in momentum was the firm's Q3 earnings report posted on 21st October. Prior to that statement being released, there was considerable buying pressure from investors looking to get into positions before good news was announced. A lot of that good news was already 'priced in' when the report came out, and the bulls will take comfort from the falling away in price being only slight and seen by many as a chance to buy a dip.
Freeport-McMoRan Inc. – Share Price Chart Sep 2021-Oct 2021
Source: IG
Copper – Price Chart July 2021-Oct 2021
Source: IG
Whereas the price of copper has continued to fall away from that date, the strength in the FCX price confirms that investors liked what was included in the firm's market update. Freeport-McMoRan has considerable reserves, which means that it is well positioned to benefit from any medium-term hikes in the price of copper. In addition, the firm isn't resting on its laurels and is looking to ensure that it keeps ahead of the pack. Its earnings release stated:
"FCX intends to increase its exploration expenditures during 2022 primarily to advance Lone Star and other opportunities at FCX's North America copper mines. FCX has long-lived reserves and a significant resource position in its existing portfolio."
Source: Freeport-McMoRan
The firm's US-based mines offer a degree of security of supply to US factories, and geopolitical risk is something that allows US-based producers to trade at a premium. Some of its US-based peers, such as Southern Copper, have reserves that don't hold up as well in the medium and long term.
Freeport-McMoRan – Broker Ratings & Fundamentals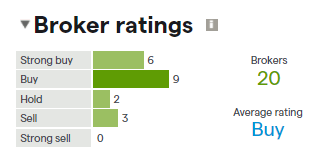 Source: IG
Highlights from the H1 2021 financial results include:
Freeport-McMoRan Inc. revenues increased 81% to $10.6bn
Net income applicable to common stockholders totalled $1.8bn vs loss of $438m – revenues reflect Indonesia segment increase from $683m to $3.14bn
Rod & Refining segment increase from $1.11bn to $3bn
Copper, average price per metric ton, total increase of 64% to $8,983 per metric tons
Copper production (metric ton) – Indonesia increase of 89% to 279K metric tons
#2 Teck Resources Ltd (NYSE: TECK)
Canadian miner Teck Resources has share listings on the Toronto Exchange and New York Stock Exchange. The tickers for the Canadian stocks are TECK.A and TECK.B, and the NYSE-listed stock has ticker TECK. The different share classes relate to the same firm, a mining giant with a $16bn market cap and a diversified mining portfolio that includes substantial copper reserves.
Teck Resources Ltd – Share Price Chart 2015-2021
Source: IG
Teck's income streams are based on a variety of services. Its base metal concentrates are marketed globally, and its gold mining operations have been operating for more than 85 years. This explains the divergence between the Teck stock price and the price of copper. Not all of its business interests have performed as well as its copper mining operations have, but this diversity does open the door to other metals acting as a hedge should the price of copper fall.
The diversification across products is matched by diversification in terms of geographical location of its copper mines. It has copper mines operating in the Highland Valley region of British Columbia, Canada; the Quebrada Blanca copper mine in northern Chile; and the Carmen de Andacollo copper mine in central Chile. It also has an interest in the Antamina copper/zinc mine in Peru, one of the world's largest mines. In addition, Teck has a pipeline of copper projects in various stages of development, and copper mining accounts for 44% of Teck's gross profit.
Teck Resources Ltd – Fundamentals & Balance Sheet 2015-2021


Source: IG
Teck's proven and probable copper reserves total 33.0m tons, and in 2020, the firm extracted and sold 276,000 of that supply. Even if extraction rates increase, the firm obviously has enough reserves to ride out even the longest of copper bull runs.
Highlights from the H1 2021 financial results include:
Teck Resources Ltd (US) revenues increased 25% to C$5.11bn
Net income totalled C$565m vs loss of C$461m
Revenues reflect Steelmaking Coal segment increase from C$792m to C$2.16bn
Copper segment increase from C$405m to C$1.59bn
Zinc, average price per metric ton, total increase of 15% to C$3,145 per metric ton
Zinc Production (MT) – Antamina increase of 51% to 241k metric tons
#3 McEwen Mining (NYSE: MUX, TSX: MUX)
Smaller firms are usually regarded as offering a greater degree of risk-return, and that is certainly the case with McEwen Mining. The NYSE-listed firm has a market capitalisation of $500m, and 18% of the firm is still owned by founder, chairman and chief owner Rob McEwen.
McEwen's salary is a single dollar per annum, so any return from his efforts will be down to him being able to drive the share price higher. This means that his interests and those of other shareholders are well aligned, and the firm's yet to be fully exploited copper reserves could be the path to a win-win situation.
McEwen Mining – Share Price Chart 2015-2021
Source: IG
Currently, MUX revenues are largely reliant on gold and silver mining operations, and the prices of precious metals have not surged in the same way that the price of copper has. As a result, the MUX share price can be considered undervalued if the firm is able to exploit some of its as yet largely undeveloped copper deposit in Los Azules, Argentina.
The September 2021 update on the Los Azules project details how plans to extract copper are on track:
"The first 2 drill rigs are arriving in early November 2021, ramping up to the full complement of 10 drills by January 2022. Access to the project is currently being established on the existing exploration road, which has been safely cleared by crews 48 miles (78 km) of the route, approximately three quarters of the way to the project. Construction of a new all-season lower altitude access road is underway, with completion expected in H2 2022."
Source: MUX
A lot is riding on the copper mining taking place at Los Azules delivering as expected. For those carrying out due diligence, there is some comfort from the extent to which MUX has kicked the tyres on the project. The copper subsidiary management has engaged an experienced group of professionals and consultants to guide the Los Azules project towards the pre-feasibility study stage. Those advising include Dave Tyler, Study Director; Gary Cochran, Project & Construction Manager; and Bill Thomas, Manager of Business Improvement & Operational Readiness.
McEwen Mining – Broker Ratings, Balance Sheet & Fundamentals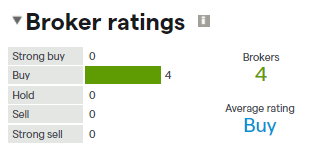 Source: IG
Highlights from the H1 2021 financial results include:
McEwen Mining Inc. revenues increased 30% to $64.4m
Net loss decreased 84% to $18.5m
Revenues reflect US segment increase of 56% to $39.2m
Canada segment increase of 23% to $20.7m
US segment increase of 56% to $39.2m
Canada (Country) segment increase of 23% to $20.7m
Lower net loss reflects US segment loss decrease of 95% to $5.2m
MSC segment loss decrease of 19% to $3m
#4 Southern Copper Corporation (SCCO)
Southern Copper Corporation has business interests all along the copper supply chain. These include mining, exploring, smelting and refining copper and other minerals, smelting of copper concentrates to produce anode copper, and refining of anode copper to produce copper cathodes, as well as molybdenum concentrate, refined silver, gold and other materials.
The Arizona-headquartered firm has some US reserves but is a big operation that has expanded its mining interests to include mines in Peru, Mexico, Argentina, Chile and Ecuador.
Southern Copper Corporation – Share Price Chart 2015-2021
Source: IG
The Southern Copper share price has surged in line with the price of copper but not to the same extent as that of Freeport-McMoRan. This is because FCX is seen as more of an out-and-out copper miner that also has a stronger focus on US operations. SCCO's other assets and global supply chain aren't necessarily bad business, but investors have for some time been selecting FCX over its bigger rival. The dividend yield of +6% and normalised P/E ratio of just 28.7 could see investor appetite change, but broker ratings are currently averaging out as a 'sell'.
Southern Copper – Broker Ratings & Fundamentals
Source: IG
Since the price crash of March 2020, the SCCO stock price has surged by 167%. This impressive return would normally tick the box for most investors – it's just that Freeport-McMoRan stock is up more than 455% over the same time period. The extensive US reserves of FCX and the way that stock is a purer play on the price of copper for many make Freeport the better medium and long-term bet.
Highlights from the six-month financial results up to 30th June 2021 include:
Southern Copper Corporation revenues increased 55% to $5.43bn
Net income increased from $474.3m to $1.7bn
Revenues reflect Mexican Open Pit segment increase of 58% to $3.11bn
Peruvian Operations segment increase of 56% to $2.1bn – copper
Average price per metric ton – total increase of 66% to $8,983 per metric ton
Net income benefited from Mexican Open Pit segment income increase from $756.5m to $1.88bn
#5 Newmont Corporation (NEM)
The Newmont Mining Corporation is a long-established miner with a neat take on new investment practices. Founded in 1921, the firm's shares have been traded since 1925 and offered a route for investors looking to get exposure to gold, copper, silver, zinc and lead. NEM's world-class portfolio of assets, prospects and talent is anchored in favourable and familiar mining jurisdictions in North America, South America, Australia and Africa.
With so many different revenue streams, the firm is not as direct a play on the price of copper as some other stocks are, but it is a route into following another kind of trend – investor governance. The mining sector has a poor reputation in terms of the increasingly important corporate social responsibility (CSR), but NEM is looking to get one step ahead of its peer group.
Newmont Corporation – Share Price Chart 2015-2021
Source: IG
The firm is noted for its principled environmental, social and governance practices and seen as an industry leader in value creation, supported by robust safety standards, superior execution and technical proficiency. Institutional investors such as pension funds are giving a greater priority to such concerns, and following 'real money' into a position is usually a good move. Newmont is also the only gold producer listed in the S&P 500 Index, which means that tracker funds must take a position in the stock if they are trying to replicate the performance of the index.
#6 Global X Copper Miners ETF (COPX)
As the stock picks so far have demonstrated, copper and copper mining stocks come in all shapes and sizes. They also specialise in different parts of the production process and face a range of specific challenges and opportunities.
Limiting your copper exposure to just one firm can increase the chance of single stock risk damaging your returns. In response to that issue, Global X has set up a Copper Miners ETF, which allows traders to take a position in a basket of copper stocks with just one trade.
Global X Copper Miners ETF – Weekly Price chart 2015-2021
Source: IG
Being an ETF, the fund is highly liquid, so trading in and out of it doesn't involve any time restraints. Instead, it's a simple play on the copper market. As of 27th October 2021, the ETF held positions in 37 different copper stocks, the largest position being in Vedanta ADR, to which the fund had allocated 6.43% of its net assets. The focus of investment as of 30th September is very much reserves of copper itself, with 'materials' making up 91.8% of the fund, 'financials' 4.9% and industrials 3.3%.
The table of geographical exposure of the fund (as of 30th September 2021) highlights that almost half of the assets are North America based, but there is also a degree of exposure to other markets. Investments in the all-important China market account for 10% of net assets.
ETFs are a convenient way to trade and the returns to investors have the same high-risk-return profile found in the individual stocks. As of 30th September 2021, the ETF had posted a healthy 69.79% return, but over a 10-year period, it's only up 2.58%.
How to Buy Copper and Copper Mining Stocks
The copper market is a hard one to call. Price can swing around quite dramatically, but while the risk of price moving against you can't be avoided, the good news is that there are ways to ensure that the broker you use to manage your account is trusted.
In fact, recent interest in the copper market has seen a number of brokers enter the market, and the extra competition in the sector is trickling down to investors in terms of improved terms and conditions. The range of services provided by the firms is forever changing, and finding a best fit will largely come down to personal preference. That being said, rule number one is to make sure that your broker can be trusted.
1. Choose a Broker
Trading and investing have been revolutionised by online brokers setting up state-of-the-art trading platforms, which have in turn resulted in the account opening and trading processes becoming much simpler. Tech-based efficiencies have also made trading more cost-effective.
Differentiating between brokers usually comes down to finding a best fit for your style of trading. Some traders will prioritise news features and research resources, while others might lean towards being able to tap into 24/7 customer support. These might look like nice-to-have features but can make a difference to trading returns. One important check to make is that the brokers on your broker shortlist are safe and trustworthy.
How to Choose a Safe Broker
If you choose a scam broker, then you're on track to having one of the most painful trading experiences out there – to lose not only your potential profits but also your initial deposit. In an effort to avoid retail traders getting wiped out, financial authorities have set up teams to oversee the financial markets. They issue licences to firms that meet certain criteria, and those brokers with appropriate rubber stamps, from Tier-1 regulators, are the ones to consider using.
The US financial market is overseen by a variety of authorities that are widely regarded as setting the gold standard in terms of regulatory compliance. By choosing a broker that is licensed by one of the below highly regarded agencies, you are taking the first step towards trading safely.
Tier-1 US Regulators
US Securities and Exchange Commission (SEC)
Commodity Futures Trading Commission (CFTC)
National Futures Association (NFA)
Tier-1 International Regulators
Financial Conduct Authority (FCA)
Australian Securities and Investments Commission (ASIC)
Cyprus Securities and Exchange Commission (CySEC)
The exact details of what regulatory protection applies is dependent on where account holders are domiciled, so it's important to check the small print. That being said, a broker with a collection of regulatory approvals from different Tier-1 regulators is obviously doing what it can towards being considered trustworthy.
This is because being regulated is a big commitment, and to comply with the licence terms of regulators, brokers are required to pass a series of tests. These range from demonstrating that they hold enough cash to be viable business operations, to ensuring that they keep client funds in segregated accounts. There is also a need for independent audits and client protection protocols. More information on the regulatory pros and cons of different brokers can be found here.
Picking a regulated broker is the first step towards safer trading. It doesn't avoid market risk, the risk of the price moving against you, but it does mean that you're on track to having any profits you make returned to you.
Is it Possible to Trade Copper Stocks Using a Demo Account?
In terms of market risk, one way to develop the skills required to trade the copper markets is to practice using a demo account. These allow newbies to put on virtual trades in a risk-free environment. They are also a safe way of finding out if the functionality of your broker's platform is a good fit.
Opening a demo account requires you to provide little more than an email address, and they typically take less than 10 seconds to open.
2. Open and Fund an Account
Whether you are upgrading from a demo account to a live one, or simply signing up for a live account from scratch, the process is completed online and takes a matter of minutes to complete. A lot of the onboarding process is fairly similar across the different brokers, so you can't skip this part of the process due to the questions being asked being derived from conditions applied by the regulators.
The first requirement is for the broker to be able to identify you. This helps you to keep control of your funds and helps the broker build a profile so that it can apply client care protocols. If a broker ever asks you to wire funds to an account that is not in your name, then this is a huge red flag. The process of submitting KYC (Know Your Client) information might require uploading ID, but it still only takes a matter of minutes to work through.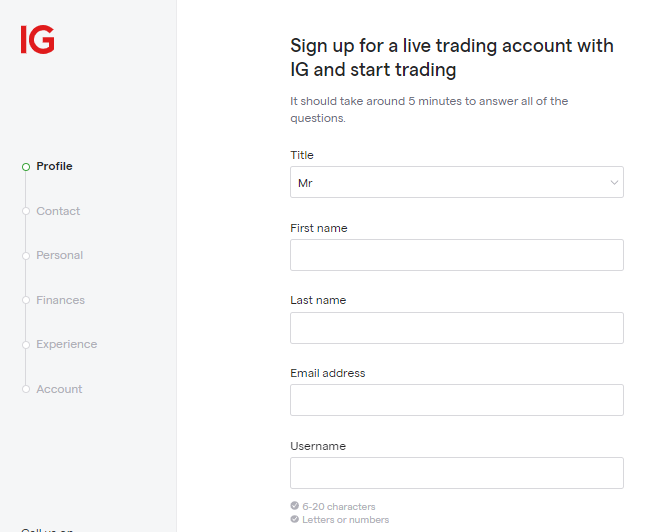 Source: IG
Once your account is set up, the next step towards buying copper miners is transferring funds to your new brokerage account. It's possible to wire funds in a variety of ways, with the simplest and fastest approach being debit and credit cards. These are typically associated with the immediate transfer of funds, but other payment services, and in particular e-payments, are increasingly popular. Whichever payment agent you use, you'll find that the process is designed to get you set up as fast as possible and most brokers don't charge any fees on cash deposits.
3. Open an Order Ticket and Set Your Position Size
Once your account is set up and funds have been transferred, it's a case of locating the copper or copper mining stocks that your research identified so that you can buy into them. You can do this by using the 'search' function or filtering by sector.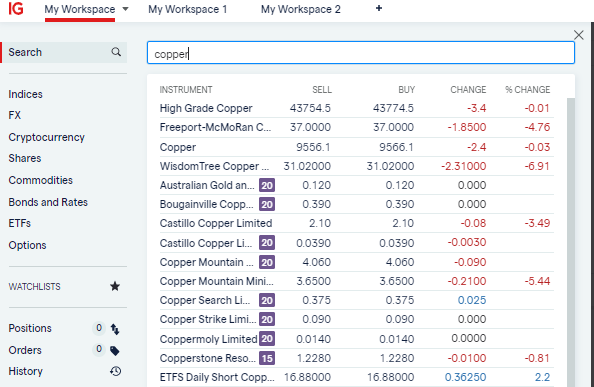 Source: IG
Each copper stock will come with a dashboard that includes price charts, latest news and company information. Simply entering the number of shares you want to buy into the appropriate data field and clicking or tapping 'buy' will convert some of your cash pile into a copper stock position.
Source: IG
As stock exchanges have set trading hours, you will either need to trade while the exchange is open, or alternatively, you can input a limit order into the system, which is a binding contract to buy a stock at a certain price and which will be triggered when the market next opens. Getting 'filled' on a limit order does require market price reaching the level you stipulate, and there are no guarantees that this will happen. They are worth considering because they can add some discipline to a trading strategy, and optimising trade entry points can help maximise returns.
4. Set Your Stops & Limits
Stop-loss instructions and take-profit orders are risk-management tools built into the trading system. They instruct a broker to automatically close out some, or all, of a position if price reaches a certain level.
Stop-losses come into play if price moves against you. They prevent loss-making positions from wiping out a whole account. Take-profits lock in gains should the price of your copper stock suddenly skyrocket.
Investing in copper stocks can be a long-term proposition, and for that reason, some buy-and-hold investors don't use stop-loss and take-profit orders. They instead take the view that a short-term price crash move might be par for the course and something that they intend to ride out. A sudden price crash could be only temporary and a stop-loss on a copper miner stock position might be closed out only for price to recover back to normal levels soon afterwards.
Take-profit orders can also be viewed as putting an unnecessary cap on potential gains. The decision whether to use these particular types of trade orders comes down to strategy selection and individual appetite for risk-reward. Other risk-management techniques such as portfolio diversification and trading in small size can also be considered and help manage risk for buy-and-hold investors.
5. Make Your Purchase
After building the order and clicking or tapping 'Buy', the cash balance in your account decreases, and in return you will be credited with a holding in a copper or copper mining stock. The value of your stock position will be determined by live market prices, and you'll be able to monitor the P&L (profit and loss) by accessing the portfolio section of the platform. Trade execution and portfolio management can be done using desktop or handheld devices.
The portfolio section of your broker platform is where you can adjust active stop-loss or take-profit orders and the place to head to when you want to sell up some or all of your position. The process for selling is very similar to that of buying – it's just a reverse process with your stock holding going to zero, and your cash balance being credited according to the market price at the time of sale.
One top tip from experienced traders is to check any trades you execute as soon as you can. While online platforms are reliable enough, human error can come into play, and even pro traders suffer from 'fat finger' errors. If there are any errors in the copper trade you just booked, then it's best that they are corrected before price moves too far.
Summary
Most of the work associated with building a portfolio of copper and copper mining stocks is front-loaded. It involves working through trade ideas and research notes, and choosing a trusted broker for your trading strategy. For those running a buy-and-hold strategy, the post-trade experience largely involves watching, monitoring and managing positions, and a heap of patience.
The research materials needed to identify a target can be easily found online, and good brokers also provide in-depth analyst reports on the market. The trick is to develop a clear strategy with targeted trade entry and exit points that draw on the principles of technical and fundamental analysis. A little forward thinking and choosing a good broker can help tip the scales in your favour, but always keep risk management in mind.
As copper stocks are a popular market, there is a lot of 'hot' money flowing into and out of the sector. There is also a lot of 'chatter' about them on social media channels. While it might not be wise to base investment decisions on the internet-sourced ideas of complete strangers, copper stocks are borderline meme stocks, so keeping up to date with the mood of the market is important.
The competition among brokers is good news for investors, but choosing a regulated broker is still the most important first step. Given the number of trusted brokers out there, investors have little reason to gamble on an unregulated broker no matter what it claims to offer. If something looks too good to be true, then unfortunately it probably is.
Once you have a list of trusted brokers to work through, personal preference will help determine which one you end up using. Trying out a few different brokers using their free demo accounts is a good idea, and if you want your broker to send you price alerts on your investments, then you can test out this process when using demo accounts.
The levels of excitement in the copper market make it a situation worth monitoring. It is a high-risk-return proposition, and given the risk profile of the sector, only funds that can afford to be lost should be used. Spreading capital allocation across a range of different copper stock names can improve your chances of holding a position through the bad times. It will minimise the pain should one of them prove to be a poor choice. If you make the right call, then you can hope to post considerable gains, as once the copper market builds momentum, those trends can last for years.