Copper stocks offer a convenient way for investors to take a position on commodities, the general state of the global economy, and the renewables sector. Peaks and troughs in demand for the metal can result in copper stock prices whipsawing. However, by buying shares in copper miners, rather than the metal itself in the form of futures, investors can cut their trading costs and take comfort from operating in a well-regulated market.
There are also commodity super-cycles to consider. These occur when demand outstrips supply for an extended period because it typically takes more than 10 years to bring a new mine into production. Copper miners cannot react quickly to market events, so the price of copper and the company shares can skyrocket. One of the secrets of successful investing is to spot momentum when it is building and to trade in the same direction. In the case of copper stocks, that time could be now. To establish the best copper stocks to buy, this review will consider price data, technical analysis, fundamental analysis and generic sector-wide factors. It will explore investment opportunities across the different areas of the industry and provide a step-by-step guide on how to invest using a trusted broker.
Price of Copper 2015 – 2022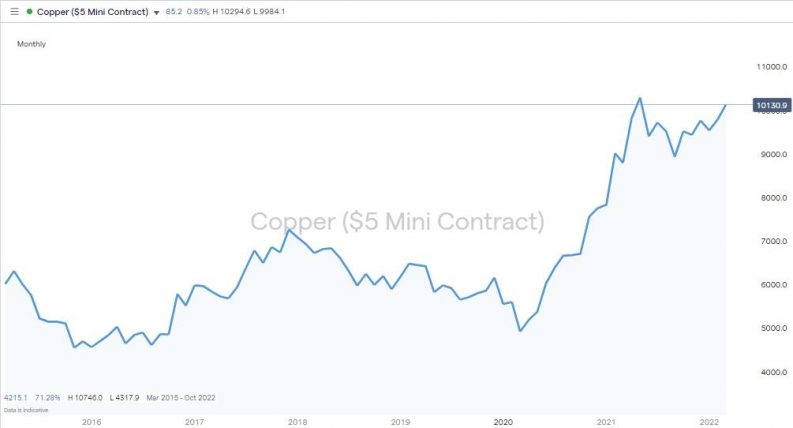 Source: IG
Best Copper & Copper Mining Stocks
1. Rio Tinto PLC (LON:RIO)
Headquartered in the heart of the UK and listed on the London Stock Exchange, Rio Tinto PLC is a global giant with interests in a range of metals but with a reputation for specialising in copper. It's one of the big players and regularly ranks in the top 150 companies in the world by size.
Rio Tinto – Share Price Chart 2014 – 2021
Source: IG
The latest financial reports included highlights such as 2021 revenue exceeding 2021's by a staggering 72% and record profits of $21.4bn. As a well-established operation, Rio Tinto is in a position to return a lot of those gains to investors in the form of dividends. Despite the recent share price rise, the dividend yield on the stock is an eye-watering 10.56%.
From a technical analysis perspective, the price high of May 2021 is currently coming into play. Should the buying pressure continue to send prices higher and above that level, the stock will be printing at all-time highs. That allows it plenty of headroom to carry on its upward momentum.
The average broker rating for the stock is 'Hold', which reflects that the cyclical nature of the copper market can't be guaranteed to continue. But for anyone looking to gain exposure to the sector and the potential for significant income returns, Rio is an attractive prospect.
Rio Tinto PLC – Broker Ratings & Fundamentals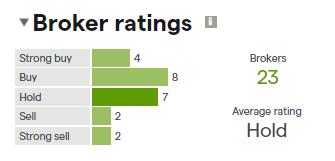 Source: IG
Highlights from the financial results up to 31st December 2021 include:
Rio Tinto plc revenues increased 42% to $63.5bn
Net income increased from $9.77bn to $21.09bn
Revenues reflect Copper, Avg. Price per Long Ton, Total increase from $6,097 to $915,657 per metric tonne
Copper Production – Refined – Kennecott increase of 69% to 143K metric tons.
Net income benefited from Net exchange losses/gains on the external increase from $1.12bn (expense) to $802m (income)
(Source: IG)
2. Southern Copper Corporation (NYSE:SCCO)
Southern Copper is a copper specialist that operates all along the copper supply chain. Its exploration and mining divisions are complemented by refining, smelting, and processing plants which means its revenue stream is relatively well-diversified. It also has a firm foothold in the move to help copper producers exploit the booming renewables sector. SCCO has divisions that smelt copper concentrates to produce anode copper, which it then refines to produce copper cathodes.
The Arizona-headquartered firm has some US reserves but draws a lot on its operations in Peru, Mexico, Argentina, Chile, and Ecuador. Suppose the heightened political tensions in early 2022 translate into global logistical problems. In that case, that could be an issue for the firm, but investors continue to buy into the stock thanks to the strength of the price of copper.
Southern Copper Corporation – Share Price Chart 2016 – 2022
Source: IG
The $58.09 price high of 2018 was matched in November 2020 when SCCO stock broke out, and the subsequent fall back in price resulted in a brief revisit to those price levels before taking off again. That period of price consolidation confirmed the stock was forming a bullish price pattern or higher highs and higher lows. A break above $80 can't be dismissed despite some market analysts recently downgrading their rating on the stock.
Southern Copper – Broker Ratings November 2021
Source: IG
Southern Copper – Broker Ratings March 2022
Source: IG
Southern Copper –Fundamentals

Source: IG
The firm's year-end results saw the profit margin improve from 28.02% to 31.07%, and the normalised P/E ratio of 15.03 will be low enough to encourage buyers looking for capital gain as well as the nice-to-have dividend yield of +6%.
Highlights from the year ended 31st December 2021 include:
Southern Copper Corp revenues increased 37% to $10.93bn.
Net income increased from $1.57bn to $3.4bn.
Revenues reflect an increase in demand for the company's products and services due to favourable market conditions.
Net income benefited from Other income (expense) decrease of 33% to $18.4m (expense),
Equity earnings of affiliate increase from $6.4m to $13.6m (earnings)
(Source: IG)
3. Freeport-McMoRan Inc (NYSE:FCX)
Freeport-McMoRan is an out-and-out copper miner, so it offers a way to follow the price of the metal using equities rather than metal futures instruments. The firm has a relatively large percentage of its operations based in North America.
The EV manufacturers such as Tesla and other renewable energy firms, which are sprouting up in the US, require secure supplies of the metal to make their products, and FCX certainly ticks that box.
Freeport-McMoRan Inc – Share Price Chart 2018 – 2022
Source: IG
Unlike RIO and SCCO, Freeport-McMoRan has already broken out above the previous share price high of May 2021. This bullish signal is mainly due to the strength of the metal's price.
Copper –Price Chart July 2018 – Oct 2022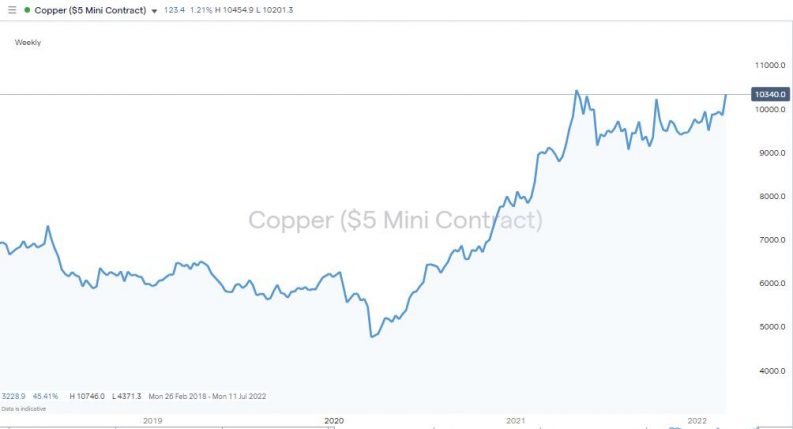 Source: IG
Freeport-McMoRan's latest investor update included mention of the firm having considerable reserves, which means it is well-positioned to exploit short and medium-term demand for the metal. Long-term investment is also being factored in, with the firm announcing it "intends to increase its exploration expenditures during 2022" (Freeport McMoRan). That does mean investors shouldn't expect much return in the form of dividends. The current yield of 0.85% demonstrates that buying FCX is more about capital appreciation, the price of the shares going up and a bet on the copper boom continuing to build momentum.
Freeport-McMoRan – Broker Ratings & Fundamentals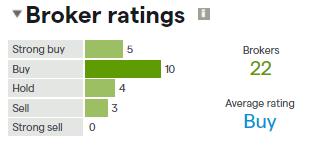 Source: IG
Highlights from the year-end financial results for the period up to 31st December 2021 include:
Freeport-McMoRan Inc revenues increased 61% to $22.85bn
Net income applicable to common stockholders increased from $596m to $4.3bn
Revenues reflect Indonesia Mining segment increase from $3.53bn to $7.24bn
South America Copper Mines segment increase of 64% to $4.46bn
Rod & Refining segment increase of 33% to $6.36bn
United States segment increase of 37% to $7.17.
(Source: IG)
How to Buy Copper & Copper Mining Stocks
Commodity prices can be highly volatile, but whilst the risk of price moving against is very real, you can ensure that the broker you use to manage your account is trusted.
1. Choose a Broker
Interest in the mining sector has resulted in more good brokers offering markets in copper mining stocks, and the extra competition between brokers is proving advantageous to their clients. The different platforms compete on price, additional services provided and the number of markets available. Finding the best fit will primarily come down to personal preference, so trying out different brokers using a Demo account can be a good idea. However, the number one rule is to ensure that your broker can be trusted.
How to Choose a Safe Broker
Financial authorities have set up teams to oversee the financial markets to protect retail traders. They issue licenses to firms that meet specific criteria, and those brokers with appropriate approval from tier-1 regulators such as those listed below are the ones to opt for.
Tier-1 US Regulators
The U.S. Securities and Exchange Commission (SEC)
Commodities Futures Trading Commission (CFTC)
National Futures Association (NFA)
Tier-1 International Regulators
The Financial Conduct Authority (FCA)
The Australian Securities and Investments Commission (ASIC)
Cyprus Securities and Exchange Commission (CySEC)
The regulatory protection that applies to your account is affected by where you are domiciled, so it's essential to check the T&Cs. But to get any regulatory licence, brokers are required to pass a series of tests such as proving they keep client funds separate from their own and have enough capital to be a viable business. More information on different brokers' regulatory pros and cons can be found here.
2. Open and Fund an Account
Signing up for an account is a process completed entirely online and takes a matter of minutes. Regulated brokers are required to obtain KYC (Know Your Client) information to ensure they adhere to client protection rules, and you, and only you, should have access to your account and the funds being used to trade.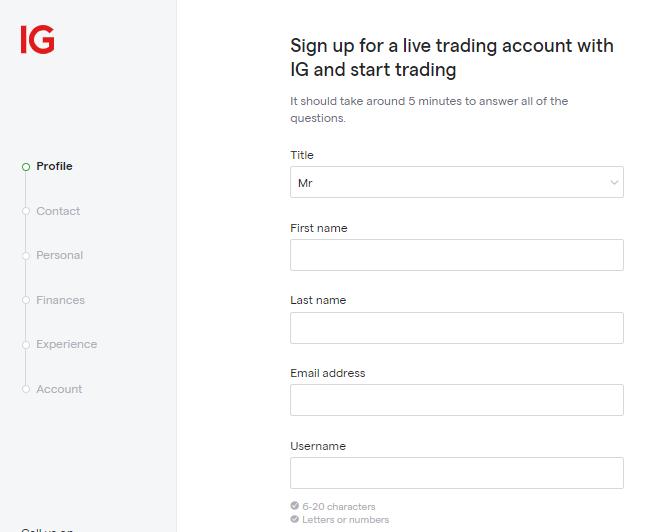 Source: IG
The user-friendly functionality ensures that funding an account is also a simple process. The simplest and fastest approach involves using debit and credit cards. Bank transfers typically take a couple of days to complete, but ePayment services are another option. It is worth checking the T&Cs to find one that doesn't apply banking charges to deposits and withdrawals.
3. Open an Order Ticket and Set Your Position Size
Once your account is set up, and funds have been transferred, it's a case of locating the copper mining stocks that your research identified so that you can buy into them. You can do this by using the 'search' function or filtering by sector.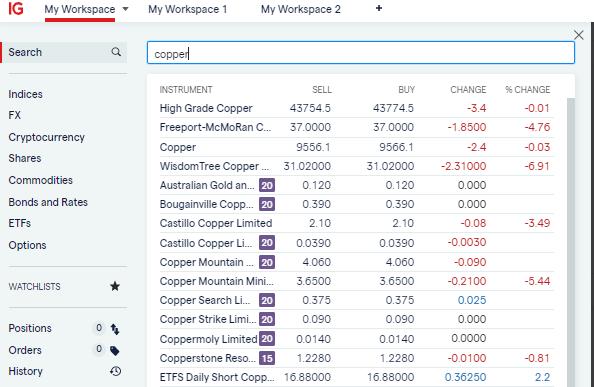 Source: IG
The dashboard of each copper stock will include price charts, market news updates, and reports on the company's fundamentals. Buying into the stock involves simply entering the number of shares you want to buy into the appropriate data field and clicking or tapping 'Place Order'. At this point, some of the cash in your account will be converted into a stock position.
Source: IG
Limit orders can help you ease yourself into a position at an optimal price. Just set the quantity of shares you want to buy and the price level, and if the market trades there, your order should be filled.
4. Set Your Stops & Limits
Other order types to consider are Stop Loss and Take Profit instructions. These are designed to help with risk management and allow you to instruct the broker to automatically close out some, or all, of a position if the price reaches a certain level.
Stop-losses come into play if your trade starts making losses. They cut the position before losses become too great. Take profits work in the other direction and crystalise gains. Some investors operating a buy-and-hold style strategy opt not to use these order types as they can lock in losses on positions that ultimately come good and put a cap on the upside. Alternative risk management techniques include investing in a variety of stocks to achieve portfolio diversification, and trading in small size can also take some of the heat out of the situation.
5. Make Your Purchase
After building the order and clicking or tapping 'Place Order,' your holding in a copper stock will fluctuate in value in line with live market prices. You'll be able to monitor the P&L (profit and loss) by accessing the Portfolio section of the platform. That section of the site is where you'll be able to sell out of your position by reversing the process used to buy.
This can all be done using desktop or handheld devices, but whatever method you are using to access your account, an important check to run after trading is to make sure your order matches what you wanted to buy. The online platforms are reliable enough, but human error can result in mistakes being made and any are best corrected before market price moves too far away from the trade entry point.
Summary
Most of the work associated with building a copper and copper mining stocks portfolio is at the research stage. Once you've selected your target firms and found a good broker, it's a case of waiting for your strategy to play out. Any market which suddenly takes off or crashes can attract speculative and day traders, so short-term noise is something to consider.
Whether you've decided to step in and get exposure to the sector, or are curious about how things work, then trying out a few different brokers using their free demo accounts is a good idea, particularly for beginners. They offer a simulated trading experience identical to a live trading account, except that the funds used are virtual. They're a risk-free way of getting a feel for the copper mining stocks, which, if they take off, can stay in a bull market mode for several years.