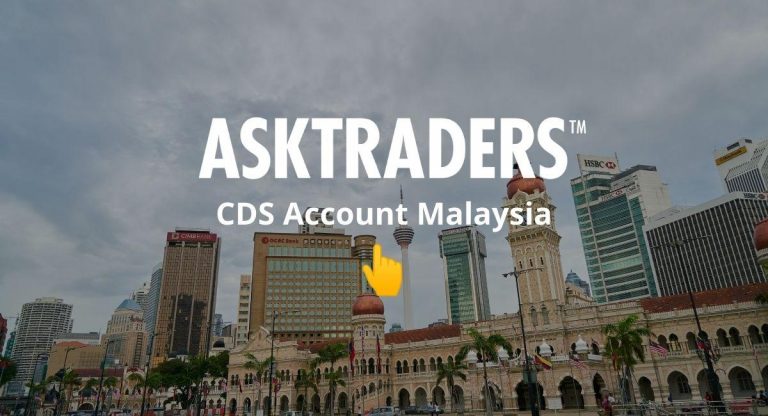 As of late, the importance of investing appears to have been widely discussed and practised amongst individuals in the country. Practically, if you are one of the people who are planning to start investing, there are a few things to keep in mind – the most important of which is to first open a CDS account and a trading account.

In this article, we will go over what a CDS account is, how it works, the different types of accounts in Malaysia, and everything else you need to know before you start investing in the stock market.
What is a CDS Account?
A Central Depository System account, otherwise widely known as a CDS account, is an account that you would use to track and store all transaction records for your stock holdings. In layman's terms, it functions almost similarly to a fiat currency account, acting as a digital wallet that keeps track of everything you own in the stock market.
The Bursa Malaysia Depository manages all registered CDS accounts in Malaysia, and investors typically open an account through their preferred registered brokerage. Because it serves as a record of all your stock ownership in the Bursa Malaysia market, every share you buy – even from different brokerages – will be kept in the same account.
How Does a CDS Account Work?
Because a CDS account works similarly to a digital wallet, any transaction and ownership of shares is stored in a single "safe box" – available for simultaneous stock transfer, buy, and sell at one end. However, each type of CDS account will have a different management method and a few other differences.
We will go over the various types of CDS accounts available in Malaysia, as well as all of the important criteria for each that you should be aware of.
Types of CDS Accounts in Malaysia
Direct CDS
When you open a direct CDS account, you will have more transparent access to your own account, as you will be the sole shareholder. Furthermore, with a direct CDS, you will be able to apply for an IPO and receive dividends directly to your registered bank account.
Keep in mind that owning a CDS account entails a significant amount of paperwork, which is typically a standard procedure for those getting involved in the stock market. As a result, with a direct account, the shareholder is responsible for all paperwork on corporate actions.
Conveniently, shares transfers to family members' accounts are permitted in a direct CDS account.
Nominee CDS
A nominee account, on the other hand, does not have you as the account holder; instead, the brokerage is named as the account holder. Furthermore, a nominee account does not allow you to apply for an IPO, dividend payments are transferred to the brokerage account rather than yours, and shares can only be transferred to your own account.
Ideally, the broker will handle all corporate action paperwork for the nominee CDS account.
If you are new to the stock market, it is recommended that you open a nominee account, as your preferred broker will assist you in going through the necessary procedures, which may be intimidating to some new investors.
| | | |
| --- | --- | --- |
| | Direct CDS | Nominee CDS |
| Account Holder | Shareholder's Name | Broker's Name |
| IPO Application | Allowed | Not Allowed |
| Dividend Payment | Directly transferred into registered bank account | Transferred into brokerage account |
| Paperwork | Managed by shareholder | Managed by broker |
| Shares Transfer | Family members' account | Own account only |
What is the Difference Between  Trading Account and CDS Account?
As mentioned earlier in the article, the most important step to take before you begin investing is to open a CDS account and a trading account. We'll go over the differences between these two types of accounts, as well as why you need them to start investing.
A trading account, also known as a brokerage account, is an account that you must open in order to trade and invest with the broker of your choice. A CDS account, on the other hand, is one in which all of your share transactions and ownerships are recorded.
Before you can invest in the stock market, you'll need both of these accounts.
Where to Open CDS Account
In general, there are only a few places where you can open a CDS account. One method is to register directly with the Bursa Malaysia. Simply download and install the Bursa Anywhere app, create an account and a CDS account, select your brokerage, and pay to complete the registration.
You can also open an account directly with the broker agent of your choice, who will open a stock trading account, or also known as a stock brokerage account, as well as a CDS account for you when you register. In Malaysia, you can typically go to your preferred banking provider, such as Maybank, and register to open a CDS account with them.
How to Open CDS Account in Malaysia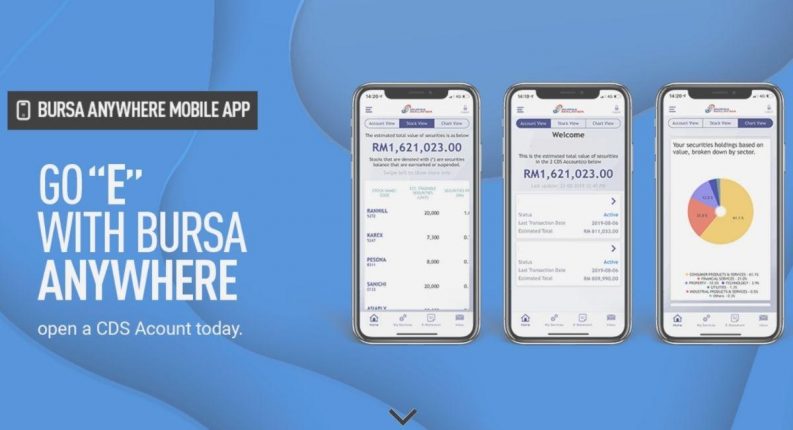 Source : Bursa Anywhere
There are a few different methods for opening a CDS account in Malaysia, depending on where you decide to open one. We'll walk you through the steps you'll need to take if you want to register directly with Bursa Malaysia or with a local registered brokerage account online.
Let us go over the step-by-step guide to open a CDS account in Malaysia via Bursa Anywhere app.
Download the Bursa Anywhere app – The first step is to download and install the Bursa Anywhere app on your device. The app is available on Google Play as well as the App Store.
Create Bursa Anywhere account – After installing the app, you must create an account using your IC number. You will then be prompted to enter your information, such as your date of birth, gender, and email address.
Open a CDS account – Once you've established an account with Bursa Malaysia, you can go ahead and register your own CDS account. More information would be required in this step, as well as the registration of your own bank account to be linked to your CDS account for dividend payment. This step will require you to provide a front and back picture of your IC.
Choose your broker – After successfully registering your CDS account, you can now select the broker with whom you want to trade shares. Please keep in mind the brokerage fees and other additional charges that may be incurred when trading in the Malaysian stock market when selecting your brokerage agents.
Let us now walk you through a step-by-step process for opening a CDS account with a broker.
Choose a broker – There are currently a plethora of brokerage agents in Malaysia. As a result, it is critical for future investors to conduct research on the best brokerage firm with which they would like to work.
Register to open CDS and trading account – Once you've decided on a brokerage firm, you can simply register with them.
When selecting a broker, there are a few factors to consider. The first consideration is whether you want to open a Cash Upfront or Margin/Contra account with the broker. The next step is to consider the brokerage fees, which will vary depending on the brokerage agent.
A Cash Upfront account typically requires investors to deposit all of their money up front before trading shares. A Margin/Contra account, on the other hand, enables investors to borrow money from their broker in order to trade stocks.
How Much Do You Need to Open a CDS Account in Malaysia?
In Malaysia, it is customary to pay a fee of RM10 to open a CDS account. Furthermore, only individuals aged 18 and up are permitted to open a one in Malaysia and trade stocks. However, if you choose to trade in the stock exchange market with a broker, keep in mind the various brokerage fees that will apply.
How to Check CDS Account Malaysia
You will be given access to your account once you have registered it, allowing you to check all of your share transactions and ownership. If you register a CDS with a local brokerage account, you may need to check the account's record with the brokerage.
Conclusion
Investing in the stock market entails spending money that has been exchanged for shares. As a result, it is critical that you have a thorough understanding of how the market operates. Typically, new investors will embark on this journey with the help of a registered broker of their choice.
There are numerous local brokerages in Malaysia that you can work with. As a result, it is advised for new investors to find the best stock broker that best suits their trading needs. We hope this article helps to prepare you before you begin investing in the stock market.