As we get into a time where information could be gathered quickly, stocks become an investment vehicle for people to preserve their wealth or grow it. For Malaysians, we're not short of options when it comes to buying shares. In investing, there's no certainty in a guaranteed profitable investment. However, it is essential to select a suitable stockbroker to give you the security to rely on to secure your profits.
#1

eToro (Best Us Stockbroker in Malaysia)

What We Like
Popular for copy trading
Suitable for newbies
Demo account available
Wide varieties of assets for trading
0% Fees for buy (long) position on stocks, only sell (short) position incurs a small fee
eToro is recommended for Malaysians looking to invest in the US Stock Market. eToro was launched back in 2007 as a broker specialising in CFD and Forex. The platform consists of multiple types of financial instruments for trading ETFs, stocks, forex, CFDs, and cryptocurrency.
Broker Fees
0% Fees for buy(long) position on stocks, only sell(short) position incurs a small fee
Trading Limit
Maximum number of open trades: 2,000
Regulation
eToro is regulated by the Cyprus Securities & Exchange Commission (CySEC) and also the Financial Conduct Authority (FCA), which makes the platform safe for Malaysians to trade.
Platform
eToro is famous for its innovative platform, which includes copy trading, which is designed to be user friendly, especially for beginners. A demo account is also available for those who want to test out different strategies and get used to it.
eToro is available in Bahasa Melayu, and a blog section in Bahasa Melayu is there as well to share tips and market news.
The platform has an education section that shares topics ranging from daily market reviews, news podcasts, and analysis. They also have tutorials regarding stocks, fundamental research, fintech, and more.
Customer Support
A detailed help centre, which is a FAQ section, is available. For urgent issues, you could directly contact the live agent, or if not, you could submit an open ticket to the customer service centre.
For Malaysian deposits, you could use credit or debit cards for those that want to use their funds immediately. Another method will be bank wire transfer from the local banks. However, this will take a few days for funds to be processed.
#2

Rakuten Trade (Best Broker in Malaysia)

What We Like
Minimum Brokerage fees – RM7
Easy to use. Suitable for newbies.
Platform specialises in Malaysian stocks as it has direct access to Bursa Malaysia
Rakuten Trade was formed back in 2017 as a joint venture between Malaysia's Kenaga Investment Bank Berhad and Japan's Rakuten Securities Inc. The platform specialises in Malaysian stocks as it has direct access to Bursa Malaysia. You will be able to trade stocks, ETF, or Reits on this platform.
Broker Fees
Minimum Brokerage fees at RM7
Above RM100K is RM100
RM100K and below is between RM7 to 0.1%
Trading Limit
With RakuMargin, you can trade up to a pre-approved facility limit of RM100,000.
Features
Three types of accounts (Cash Upfront account, Dual account, and Combo account.
RakuFriends Program, receive 500 RT points to trade for rewards!
Trade & Earn program.
Regulation
Rakuten Trade holds the restricted Capital Markets Services Licence ("CMSL"), and it's regulated by the Securities Commission Malaysia (SC). This license allows the company to deal with listed securities and provide financial advice at the same time.
Rakuten Trade has a robust personal data protection policy that safeguards the personal information of the clients.
Platform
Rakuten Trade has a reputation for being well known for beginners, due to its easy-to-use platform. Just the front page of the website allows clients to access accounts, portfolios, stock information, watchlist, news & reports, and more.
The platform has provided a mobile application named iSPEED.my, which is available in both Google play store and Apple apps store. As the platform's theme colour is in black, information is easy to spot while navigating through the platform.
Customer Support
The platform offers necessary customer support, with a dedicated FAQ section to answer the most common queries. If needed, you could directly enquire through their hotline or Facebook messenger.
The deposit method for the platform will be through all Malaysian local banks.
#3

IG (Best CFD Broker for US Stocks)

What We Like
Demo account available
Learn to trade section with educational resources for clients
CFD Shares
IG is a brokerage firm that allows its clients to trade a range of financial markets using leverage via both CFDs and spread betting.
Broker Fees
US – 2 cents per share
Hong Kong Sar – 0.18%
Australia – 0.08%
Trading Limit
Unlimited number of day trades
Features
Demo account available
Learn to trade section with educational resources for clients
Variety of deposit methods which includes bank transfer and PayPal
#4

TD Ameritrade (US Stockbroker)

What We Like
0% commissions on both stocks and ETFs
Strong customer support channels
Suitable for Intermediate user
Web trading platform easy to use
TD Ameritrade has been serving clients since 1975, giving this broker more than 40 years of experience.
Today, the broker offers access to stocks, options, ETFs, mutual funds, futures, forex, margin trading, cryptocurrency trading, managed portfolios, cash management, annuities, bonds, fixed incomes, IPOs, dividend reinvestment, and a collateral lending program.
Broker Fees
0% commissions on both stocks and ETFs
Trading Limit
Unlimited number of day trades on the cash account
For Margin accounts, $25,000 (RM100,000) balance and under allow three days of trade under five days
Features
Extensive educational and research tools available for clients
Strong customer support channels
Web trading platform easy to use, clean design. Known to be one of the best in the market.
How to Choose a suitable stockbroker
Below will be a breakdown of how you choose a suitable stockbroker in Malaysia:
1. Identifying Your Needs
Since you have set a mind into investing in stocks, you need to be clear on whether you would like to invest in Malaysian stocks or overseas stocks. It is because most Malaysian trading platforms do not offer the option to trade foreign stocks (like the US market), and you will need to use a separate trading platform to do so.
Why Malaysia Stocks?
Tax. You do not need to pay capital gain tax for investing in Malaysian shares. Hence, all profits are yours to keep.
Politics and economics. As Malaysians, we can easily understand political or economic changes in the country. As the saying goes, invest in things you know the most.
Accessibility. Malaysians can directly invest in Bursa Malaysia by signing up for a local stockbroker. Fees are generally lower as well when investing locally.
Why US stocks?
Diversification. When investing in US stocks, you generally increase your global exposure as big companies operate on a worldwide scale.
Currency. When owning US stocks, your stock value pegged to the dollar known for its stability.
Liquidity. The US market has the largest stock market globally, proving the high liquidity of exchange, which is why it is the most popular country to invest in the world.
2. Regulation
When selecting a broker, you want to have one that gives you peace of mind during trades. When selecting a Malaysia brokerage, make sure it's regulated by Securities Commission Malaysia (SC) or Bank Negara Malaysia (BNM). If it's an overseas stockbroker, ensure that it's regulated by governing bodies such as the Financial Conduct Authority (FCA).
Even though a stockbroker might offer you many benefits, but if financial governing bodies do not authorise it, it is still risky. There were cases of fraud happening or withdrawal unable to proceed.
3. Platform
Ensure that the trading platform has most functionalities that a stockbroker should have like charts, fundamental data, ratios, and more.
It is essential that the user experience of the platform is user friendly, with the addition of a mobile version would be plus as it will be more convenient for you to monitor your stock performances.
Educational sections of the platform will be essential for investors, whether seasoned or new, as daily produced market information will be helpful in your stock analysis.
4. Customer Support
The website needs to have tutorials for newbies and a FAQ section.
An efficient customer support line is also required to solve crucial issues. Hence, be sure to check the reviews on their supports as well.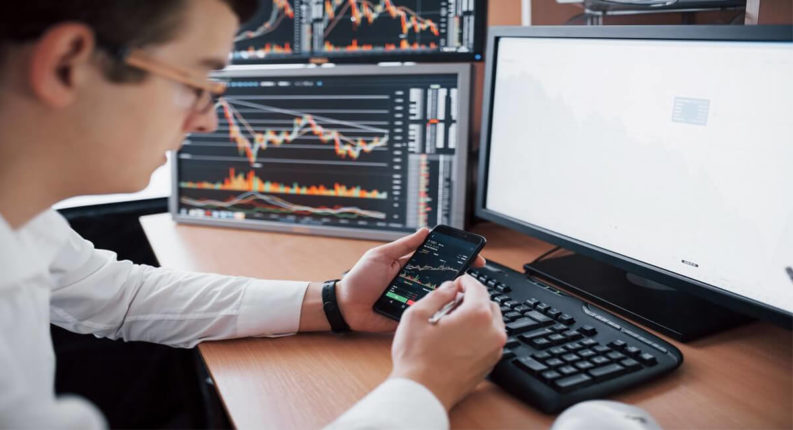 Conclusion
It is essential to select a good stockbroker; it doesn't matter if you invest in the Malaysia or US stock market. Once you've chosen a suitable broker, remember to hone your skills and knowledge so that your efforts do not go to waste. And as always, happy trading!