2020 was not an easy year for companies that planned to go public. Under forty (39) companies launched an initial public offering in 2020, with only eight in the first half. (1) This made it hard for people to work. Lack of physical interaction between employees, banks and physical institutions created a halt in business activity, depressing the overall IPO market. Moreover, it is worth noting that the number of listings completed in 2019 was at its lowest level since 2009, a year after the financial crisis.
The number of IPOs in 2019 stood at only 27, perhaps due to the uncertainty created by Brexit as well as the British elections. This was a 61% decline from the previous year where 70 companies launched an IPO and a further 69% decline from 2018, where 88 new companies went public. Although there has been a significant drop in the number of IPOs in recent years as 2019 and 2020 performed poorly, the IPO market was able to redeem themselves, ending 2020 on a high as the second half saw a significant pick up. This looks set to continue to gather pace in 2021, As of June 28, 2021 there had been 37 IPOs with more to come.
Additionally, the London Stock Exchange has retained its position as Europe's most active market value as it sits ahead of Euronext-Amsterdam and Deutsche Börse. In 2019, the London Stock Exchange stood at $6.7bn, following Deutsche Börse which valued $3.6bn.(2) Similarly, in 2020 the LSE valued $6.7bn after Oslo Børs which valued $2.9bn.(3) London, being Europe's most active market by value, accounted for a third of total European proceeds raised in 2020. Although the pandemic as well as political uncertainties are very much still present, the market has been able to adapt and deal with the fallout from the pandemic.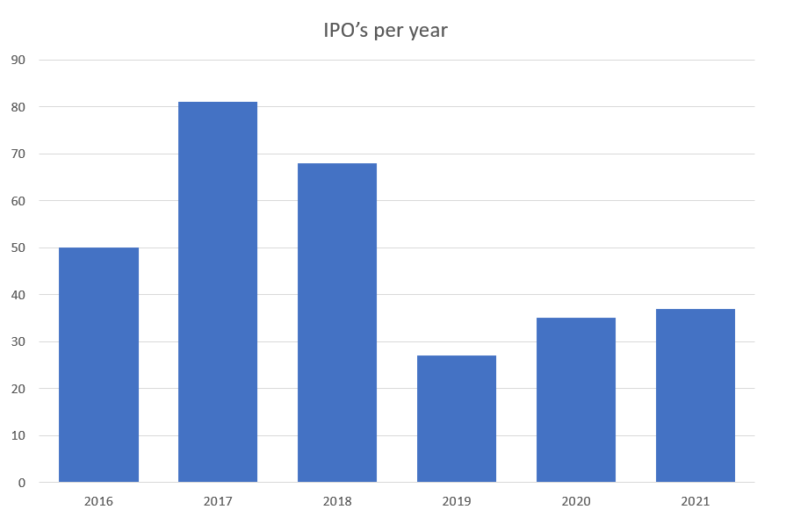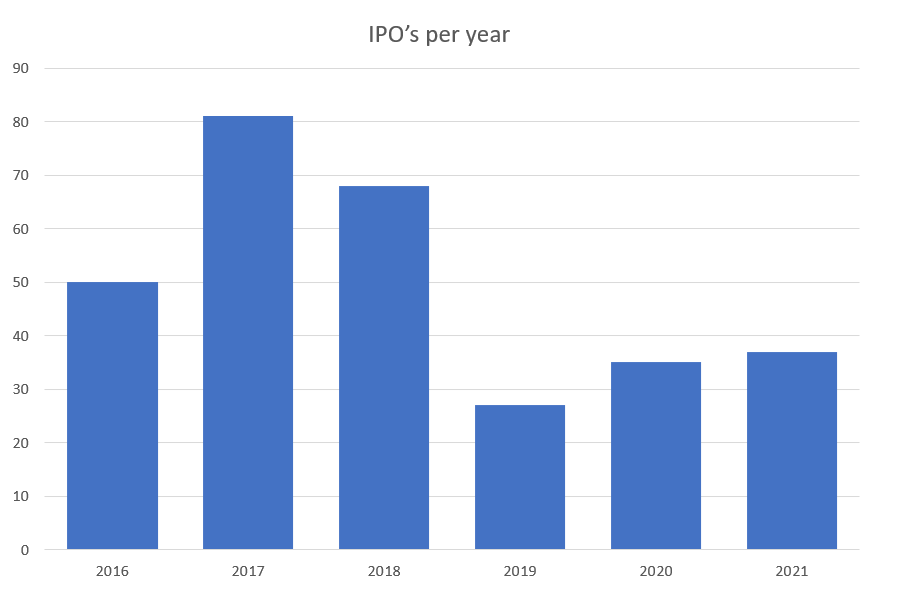 2020 – London's largest listing
The LSE in 2020 held onto its position as top exchange by value as mentioned earlier. However, although Oslo Børs valued at $2.9bn, they managed to list 40 IPOs, whereas the LSE listed only 30.(4) Despite the lack of IPOs in the UK vs Oslo, the value was still significantly higher on the LSE. This was partly due to London's largest listing – The Hut Group.
The Hut Group
THG publicly listed themselves on 21 September 2020. The company has raised over £920 million and is valued at over £5.8 billion. THG is an online retailer and specialises in beauty, wellbeing, luxury and lifestyle. Nevertheless, the core of THG is tech, and the company operates over 100 websites through its e-commerce platform. This unique combination of beauty, wellbeing and technology has allowed THG to flourish and make the most out of the current climate. The pandemic naturally drove more to shop online and THG rose to demand as retailers and brands began to turn towards the company to get themselves digitally fit. Although the pandemic certainly affected companies and brought them to a downfall, the Hut Group took advantage of the pandemic as shares shot up upon listing from its IPO price of £5.00 to £6.25 on the first day of dealing.
Sectors
We analysed the number of Initial Public Offerings over the last five years and our data revealed that more global healthcare IPOs went public in 2020 than they did in the last five years due to the global pandemic. The number of healthcare IPOs from 2016 to 2020 has increased by 51% globally, with San Diego-based Maravai LifeSciences Holdings Inc.'s being the largest IPO. The life sciences company raised almost $1.86 billion in proceeds. Ohio-based life sciences company Sotera Health Co. had the second-biggest IPO during the period as they raised over $1.23 billion. The pandemic has certainly increased investor demand for promising companies within the sector.(5)
Interestingly, given the global pandemic, the biotech startup Vaccitech Plc, filed for a U.S. initial public offering earlier this year. The British startup owns the technology behind the COVID-19 vaccine developed by Oxford University and AstraZeneca Plc and they plan to list the American depositary shares on the Nasdaq under the symbol "VACC".(6) This is not the first time a UK based company has filed for a US IPO, companies such as Arrival and Cazoo have followed/planning to follow a similar path.(7)
Focusing solely on the UK, our data suggests that there has been a significant increase in healthcare IPOs in 2021 on the London Stock Exchange as companies such as Trellus Health plc and Arecor Therapeutics went public. Moreover, technology, e-commerce and consumer companies took the centre stage in Q1 2021. Food delivery start-up Deliveroo Holdings plc is currently the UKs largest IPO as the company is valued around £8.8 billion. Indeed, timing played a crucial role as the company came to the market when coronavirus restrictions caused a soaring demand for food delivery services.(8)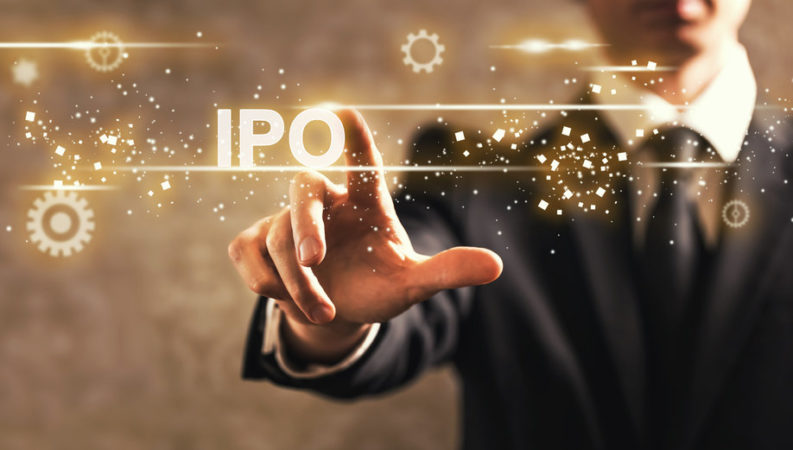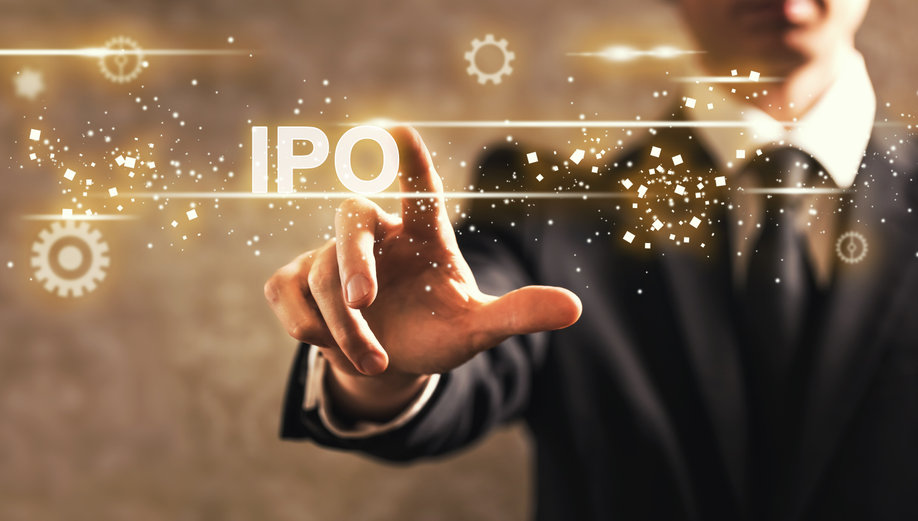 Trends
Methodology
We analysed the number of IPOs listed on the UK market in 2021 (Q1 and Q2). There were more IPOs in Q1 2021 on the London stock exchange than in any previous first quarter since 2007, indicating that companies certainly managed to pull through despite the pandemic. Julian Stanier, head of Corporate Finance at Pinsent Masons, declared that Q1 2021 was the busiest period for the London Stock Exchange for about 15 years.(9) We have analysed the 37 IPOs (39 founders) of 2021, the data included –
The name of the founder's
The founder's gender
The founder's age
The founder's education
The founder's background
Money raised by the company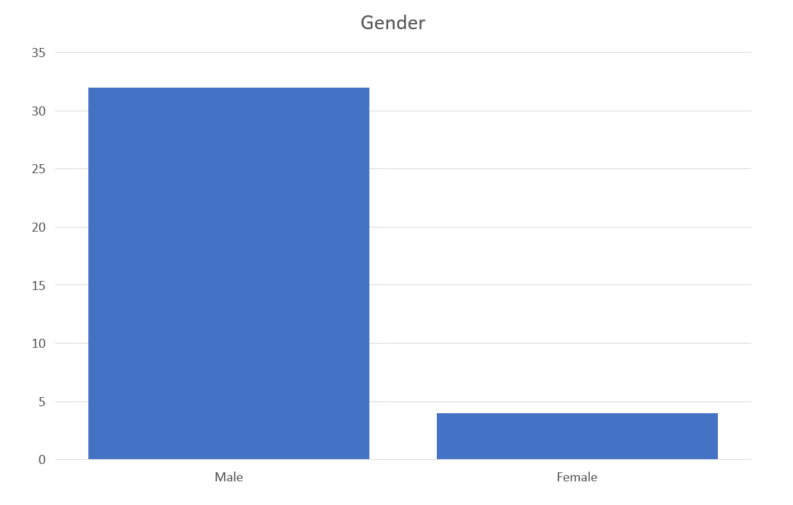 When it comes to possessing the right skills or having what it takes to run a successful company, men and  women begin on a level playing field. However, as our data indicates men still heavily outnumber women when it comes to turning their companies public. Although the reason behind this still remains unknown, studies have shown that 'overconfidence is the biggest psychological predictor as to whether one has what it takes to become a successful entrepreneur.' Women, according to research, are less likely to be overconfident and possess better judgement skills than a man. Men have more hubris and are more likely to blame someone else for their own failures, whereas women possess lower hubris and more humility – taking responsibility for their actions.(10) Additionally, there remains no significant answer as to why women are unable to generate the same value of investment that male CEOs are able to raise. On an average, male CEOs have been able to raise over 11 percent more compared to female CEOs. Nevertheless, in the UK, there has been a steady increase in female led IPOs. Only 1 out of the 50 IPOs listed on the UK market in 2016 were female founded and in 2017 only 2 out of the 81 IPOs were founded by a female. This gradually increased as 2020 saw 4 female founders out of the 35 IPOs and another 4 in 2021, out of the 37 current IPOs listed. This gradual increase of female founders is an encouraging sign of change within the UK, however we still have a long way to go.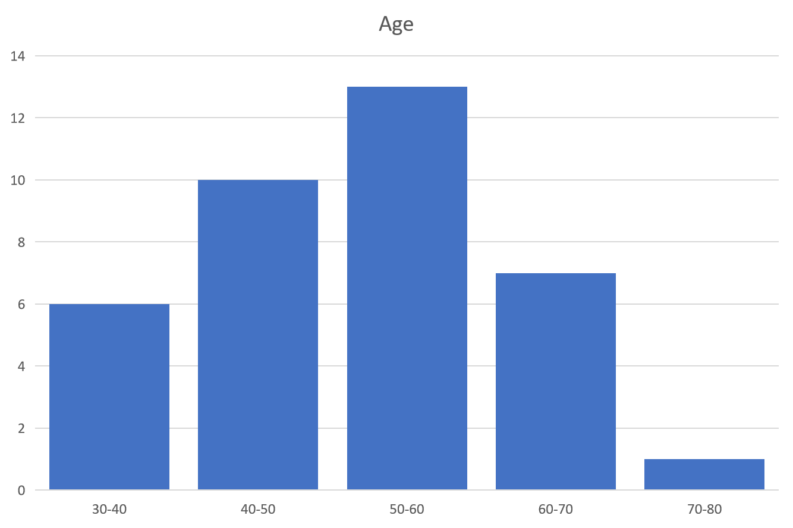 Our research indicates that only 16 percent of IPO founders in 2021 are between the ages of 30 and 40. 27 percent are between the ages of 40 and 50 and over 35 percent of founders are between the ages of 50 and 60. Although most successful companies that turn public are founded by CEOs who are over the age of 40 there are exceptions to this, for example, Mark Zuckerberg turned Facebook public when he was only 28 years old. This is rare – for example, if one was faced with two entrepreneurs and knew nothing about them except their age, chances are, bets would be placed on the older one. Although this may have nothing to do directly with age, the reason behind why most founders of successful companies are over the age of 40 is simply due to experience. According to Harvard Business Review, entrepreneurs with at least three years of experience in the same field as their company, are 85% more likely to run a successful company.(11) Moreover, although rare exceptions such as Mark Zuckerberg and Steve Jobs were able to establish successful companies at such a young age, their companies only peaked once they grew older. For example, the iPhone which was Apple's most profitable innovation, was only released when Steve Jobs was 52. Therefore, work experience within the same field is crucial in order for one to turn their company public, regardless of age. In terms of UK IPOs 2021, currently the youngest IPO founder is Adam Frisby, owner of In The Style Group plc. The company was able to raise GBP 11 million from their first public offering and continues to make leads on the market.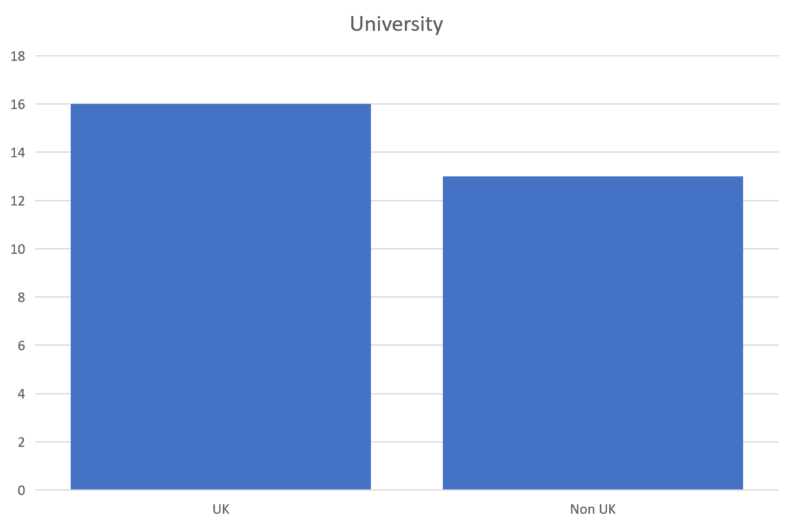 (Out of 29 analysed, one graduated from Oxbridge)
Our statistics indicate that over 55 percent of founders graduated from UK universities whilst 45 percent graduated from non UK universities. Moreover, within the UK the majority of founders graduated from non-Russell Group universities with only one graduating from Oxbridge. Universities within the UK include The University of Sheffield, Cranfield University and City, University of London. Interestingly, founders from the US that have listed their IPOs on the UK market, have mostly graduated from Ivy League universities such as Harvard and Wharton. There has also been the exception of some who have not attended university and dropped out of school, such as founder of In The Style Group, Adam Frisby.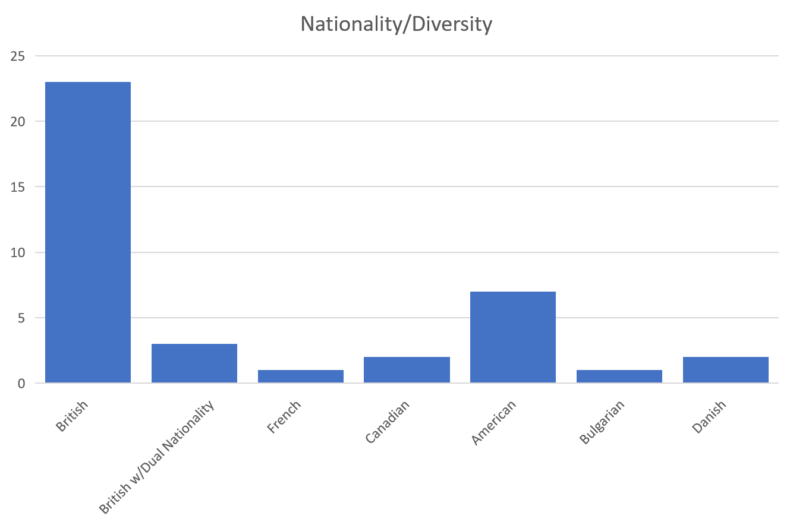 Around 59 percent of IPO founders in the UK (2021) are British, whilst 8 percent are British with a dual nationality. Following this, around 18 percent of IPO founders are American and over 5 percent are Danish and Canadian. Around 2 percent are Bulgarian and French. Majority of the founders are white men, with a few persons of colour, for example Will Shu, founder of Deliveroo is Taiwanese American whilst Supreme's founder, Sandy Chadha is British Indian. There is diversity present within the UK market and although founders may not necessarily be ethnically diverse, many companies try to create a diverse board, however the market still has a long way to go. According to data analysed, only a third of UK unicorns are ethnic minority founded. Eight of the UK's 23 unicorns are founded by members from ethnic minorities and out of the eight, none are founded by a Black person – this issue certainly runs beyond the startup scene.(12) Interestingly, banks and corporations are trying to pursue measures that push companies to establish a diverse workforce. For example, Goldman Sachs introduced a policy where they can refuse to help a company turn public if the company board does not have at least 2 diverse members. Nevertheless, according to Stephanie Creary, assistant professor of management at the University of Pennsylvania's Wharton School, 'Most of the gains are focused on gender diversity, all other forms of diversity including racial and ethnic diversity are lagging.' Pushing towards a diverse workforce is a crucial step for the global IPO market.(13)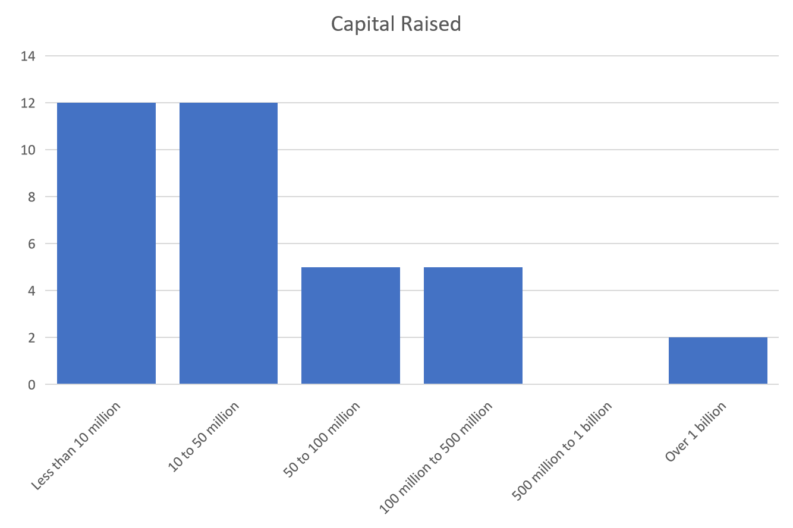 The London Stock Exchange has declared a 'strong start' to 2021 as the number of IPOs increase significantly. According to our study, the new listings of 2021 have managed to raise over GBP 3 billion of capital, the highest level since 2015. Over 33 percent of IPOs have managed to raise less than 10 million GBP whilst the same number of companies have managed to raise between 10 and 50 million GBP. Moreover, 14 percent of companies have managed to raise between 50 and 100 million, whilst the same number have managed to raise between 100 and 500 million pounds. Only 5.5 percent of IPOs have managed to raise over one billion GBP, nevertheless the positive activity demonstrates the ability of UK markets to support a dynamic range of companies across all range of sectors and industries. Majority of the companies that turned public emerged from the tech and consumer sectors, accounting for 44 percent of all London's IPO proceeds in Q1 2021. These companies include Deliveroo (£1.5 billion) and Trustpilot (£46.7 million).(14)
Summary of findings 
The number of IPOs listed on the UK market 2021 so far has already exceeded the overall numbers of IPOs listed in the year 2020.
As of the 28 of June 2021, 37 IPOs have been listed on the UK capital market this year.
London's largest listing in 2021, Deliveroo plc raised over $1.35 billion in capital.
Healthcare companies, tech companies and online retailers have contributed towards 53 percent of the companies listed on so far in 2021, the pandemic has certainly uplifted businesses within these sectors.(15)
The London Stock Exchange has retained its position as Europe's most active market.
The number of global healthcare IPOs have increased by 51 percent due to the pandemic.
Over 82 percent of IPO founders are male, mostly British.
Over 35 percent of IPO founders are between the ages of 50 and 60, suggesting that work experience within the field plays a crucial role in the publicity of one's company.
Following the strongest quarter in recent years, the second quarter of 2021 has listed some noticeable companies such as Darktrace and PensionBee.(16) London has also been listing a number of international companies from the US, Canada and Russia. Although the pandemic affected the number of IPOs listed in the years 2019 and early 2020 due to high uncertainty as companies lacked the confidence, the latter half of 2020 as well as 2021 has allowed healthcare and tech companies to use the pandemic to their advantage. There has been significant growth within these sectors and more companies such as Wise and Oxford Nanopore Technologies plan to list their companies this year.
From the research we've conducted, it is clear that successful IPOs follow certain trends that we may not understand, primarily how male founders are able to raise more capital relative to women. It sheds light on bigger issues regarding the number of female founders and how there is a correlation between the gender of the founders and the capital raised by a company. Moreover, data suggests that the average age of IPO founders sit between the ages of  50 and 60 indicating that after years of experience within their respective fields, founders decide to publicly list their companies. On the other hand, in terms of nationality, it is encouraging to see the increased diversity of the founders and how certain corporations are pushing to promote the agenda of ethnic minorities, however there is still room for improvement as the number of POC CEOs remains low. These are some of the trends seen among IPOs in the UK which showcase the need for further progress.
Sources
Ibid.
https://www.spglobal.com/marketintelligence/en/news-insights/latest-news-headlines/more-healthcare-companies-go-public-in-2020-than-prior-5-years-62197223
https://www.reuters.com/business/healthcare-pharmaceuticals/vaccitech-startup-behind-astrazeneca-oxfords-covid-19-vaccine-files-us-ipo-2021-04-09/
https://www.privateequitywire.co.uk/2021/07/06/302962/number-h1-2021-uk-ipos-exceeds-number-whole-2020
https://mondovisione.com/media-and-resources/news/q1-2021-ipo-capital-raised-on-london-stock-exchange-reaches-15-year-high/
https://www.privateequitywire.co.uk/2021/07/06/302962/number-h1-2021-uk-ipos-exceeds-number-whole-2020