We know that stock trading and investing can be daunting for beginners, but this guide is here to help new traders understand how to invest in stocks and get started in stock trading. Today, we're specifically looking at a couple of common questions that some investors may have: can I buy Huel shares? And are there other companies similar to Huel that I can invest in?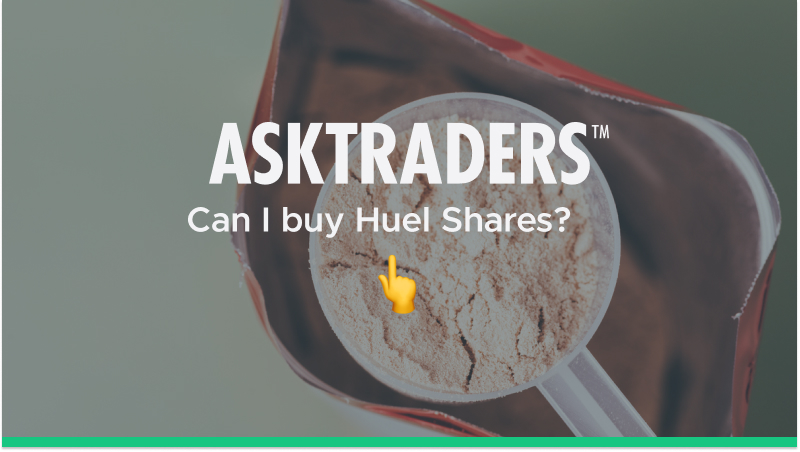 Are Huel shares currently available? – No
Is there a planned IPO for Huel? – No
Are there alternative stocks you can invest in? – Yes, including Herbalife, Beyond Meat and United Natural Foods, Inc.
You may have already heard of the company Huel. It is definitely a company on the rise and as such is surrounded by intrigue and speculation from investors. Those interested in the company and its products may well be wondering if it's possible to buy shares in Huel. So, let's take a close look at the company and see whether it's likely that you'll be able to invest in Huel anytime soon.
Huel current company profile
While Huel is still a private company, it is expected that the firm will go public at some point, enabling investors to start buying Huel shares. If you're thinking of investing in the company, you might like to know a little about the firm, its products, its vision, and its rise to prominence.
Huel is a UK-based company that was founded in 2015 by Julian Hearn in Aylesbury, UK. Hearn previously founded Mash Up Media with an initial investment of just £1,500. Hearn grew Mash Up into a major company making a profit of more than £2.5m annually, before selling it to InternetBrands in 2011.
The name Huel combines the words 'human' and 'fuel', and the company's nutritional products aim to provide customers with delicious, easy-to-prepare and nutritionally balanced plant-based food. Huel was originally known for its meal replacement powders, containing 26 essential vitamins and minerals, along with proteins, carbohydrates, fibre, essential fats, prebiotics and probiotics.
While the company still markets its meal replacement powder line as its flagship product, it now also provides ready-made shakes, protein bars and other products, such as its Hot & Savoury instant meal line.
In 2022, the firm branched out with the announcement of the launch of its fashion brand Huelwear. Just as the original products aimed to change the way that people eat, the Huel clothing line aims to change the way that people dress. The clothes are made from sustainably sourced materials and are all vegan-verified and produced in ethical factories and mills.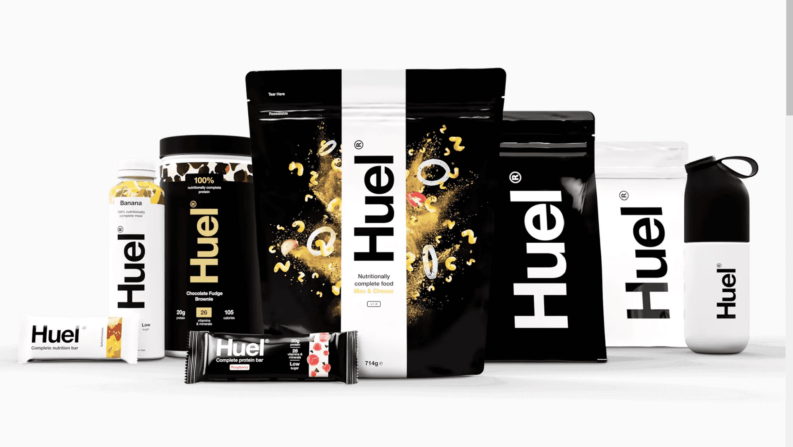 While Huel products are available in supermarkets and other retail outlets, the company started out with a strong Direct to Consumer business model that is still at the heart of its marketing and distribution. Huel products are sold predominantly online, with a number of subscription packages for customers, which is part of what has allowed the firm to cut costs, maximise profits, and support the brand's fast-paced growth.
Huel continues to take a digital-first approach to its marketing strategy and relies on e-commerce for a high proportion of its sales. The firm also uses its online presence to provide a range of resources via its website, including blog posts, guides and a user-generated forum, all with a focus on healthy eating, keeping fit, weight loss and sustainable living.
In its first year of trading, Huel turned over £3m, which had grown to £103m by the end of its sixth year in business. In December 2022, the firm raised around £20m in a Series B funding round backed by Idris Elba, Jonathan Ross and other celebrity investors, and was valued at around £560m.
While it is impossible to predict exactly what the Huel share price might be, we can certainly compare it to other companies of a similar size. UK-based fashion retailer Boohoo.com, for example, was also valued at £560m when it launched publicly in 2014, with an initial share price of £0.50 per share. Boohoo shares peaked at over £4 per share in June 2020, though the share price in April 2023 was back down at close to that of the initial launch, at around £0.55 per share.
Source: Huel
Who owns Huel?
Huel is still a limited company and is still owned by founder Julian Hearn, along with other investors, though there has been speculation that the firm will potentially go public via an IPO in the foreseeable future. In 2022, it was reported that the firm had hired Goldman Sachs and JP Morgan to advise it as it considered the options of both the direct sale of the business and an IPO. Although Huel shares are not available for investment, there are other stocks in the health food industry that are available for investment.
Herbalife (HLF)
Herbalife provides dietary supplements and meal replacement protein shakes, along with other weight loss products, healthy snacks, functional beverages, and dietary and nutritional supplements that contain herbs, vitamins, minerals and other natural ingredients. The Los Angeles-based firm was founded as Herbalife Ltd in 1980, and changed its name to Herbalife Nutrition Ltd in April 2018. Employing more than 10,000 full-time staff, Herbalife operates on a global scale, supplying a customer base across North America, Mexico, South and Central America, Europe, the Middle East, Africa and the Asia-Pacific region. The firm's reported sales for 2022 saw revenue exceeding analyst estimates by 2.0% and earnings per share surpassing analyst estimates by 9.9%. While past performance by no means predicts future performance, the fact that the company is capable of beating expectations certainly makes it one to watch. You can buy Herbalife shares on the New York Stock Exchange.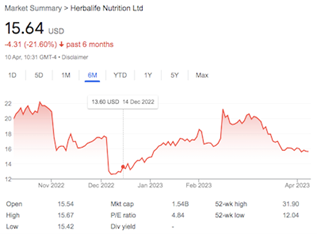 Source: Google Finance
Beyond Meat (BYND)
Beyond Meat is known for selling health-conscious, plant-based meat alternatives around the world. Founded in 2009, the company now sells its products through various outlets, including supermarkets and natural retailer channels. It also supplies restaurants, foodservice outlets, schools and other institutions. The firm was originally known as Savage River, Inc. and changed its name to Beyond Meat, Inc. in September 2018. The company, headquartered in El Segundo, California, is highly popular with individual investors, who own around 50% of the shares, with institutions owning 40%. While the firm's sales have been impacted by the cost-of-living crisis, causing large fluctuations in share price, many analysts advise holding BYND stock, and many speculative investors may feel that now is a good time to buy. You can buy Beyond Meat shares on the NASDAQ.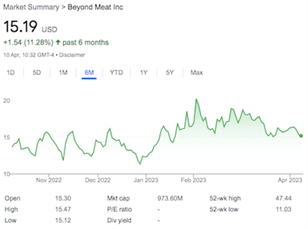 Source: Google Finance
Sprouts Farmers Market, Inc. (SFM)
Sprouts Farmers Market, Inc. is a grocery chain with an emphasis on organic, sustainably farmed foods and other natural products. The chain operates more than 360 stores across the US and is headquartered in Phoenix, Arizona, with an additional major distribution centre in Florida. Sprouts Farmers Market provides fresh produce, bulk foods, vitamins and supplements, as well as grocery, meat and seafood, deli, bakery, dairy, natural household and body care items. Some analysts suggest that the firm may be undervalued, making it a good pick for value investors. The company was founded in July 2002. You can buy Sprouts Farmers Market shares on the NASDAQ.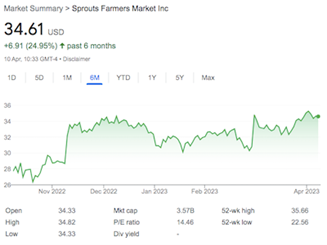 Source: Google Finance
SunOpta Inc. (STKL)
SunOpta Inc. is a renowned food company that focuses on the production of plant-based products and beverages. The firm has its headquarters in Eden Prairie, Minnesota, and provides food and beverage products to retailers, foodservice operators, branded food companies, and food manufacturers across the US and globally. The company's plant-based products include broths, teas, and nutritional beverages, as well as fruit-based purées, toppings and smoothies. Originally known as Stake Technology Ltd, the firm changed its name to SunOpta Inc. in October 2003. Cowen analyst Brian Holland recently named SunOpta a Best Idea for 2023, commenting that the company is emerging "from considerable portfolio transformation with faster growth, stronger margins, operating cash flow, and optionality". You can buy SunOpta Inc. shares on the NASDAQ.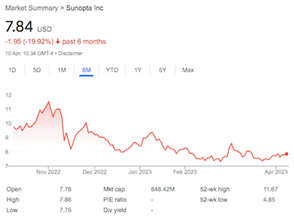 Source: Google Finance
United Natural Foods, Inc. (UNFI)
United Natural Foods, Inc. specialises in the production and distribution of natural and specialty organic food across the US and Canada. Headquartered in Rhode Island, the firm sells vegetables, juices, milk, eggs, nuts and coffee, along with dried fruit, seeds, trail mixes, granola, foodservice and bakery goods. UNFI supplies a wide variety of stores and food service outlets. Alongside food items, the company also provides personal care items, marketing product lines under various brand names, including Albert's Organics, Honest Green, Woodstock Farms and Blue Marble. The firm is headquartered in Providence, Rhode Island. As with other specialty food stocks, investors need to consider how the cost-of-living crisis may impact the firm in the future, but again, speculative investors may want to use current fluctuations in share price to get into this stock at a lower price. Many analysts advise holding UNFI stock you already own, as of April 2023. You can buy United Natural Foods, Inc. shares on the New York Stock Exchange.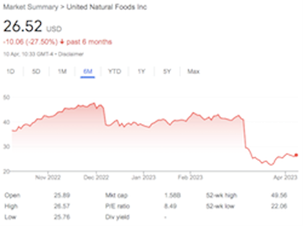 Source: Google Finance
Investing in an index fund
If you are interested in investing in the health food industry, or in sustainable, ethical funds, you might want to consider an index fund or exchange-traded fund (ETF) that invests in multiple firms across the sector. There are various ethical and sustainable ETFs available. If you're particularly interested in plant-based and sustainable items, you might want to consider a fund such as the VegTech Plant-Based Innovation & Climate ETF (EATV).
This fund is a blend of value and growth stocks that aims to provide investors with exposure to sustainable plant-based food, materials and agriculture technology companies, such as those producing animal-free fabrics and cosmetics or sustainably grown ingredients, as well as alternative protein companies using technology to transform plant-based carbohydrates and other ingredients into proteins.
EATV has exposure to large, small and mid-cap stocks. As with any investment, it's essential to do your research and assess the risks before investing in ETFs or similar funds. However, for many, this fund is about more than just ROI. Data from YourStake suggests that an individual's investments in EATV may have a more positive impact on their animal welfare footprint than their plant-based diet alone. You can buy EATV shares on the New York Stock Exchange.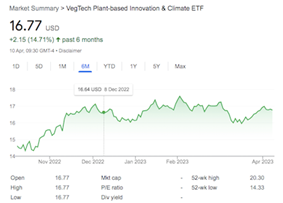 Source: Google Finance
If you're interested in investing in sustainable, plant-based food companies, you could certainly consider any of the above – and, of course, keep an eye out for that potential Huel IPO that will hopefully eventually enable you to buy Huel shares direct, most likely on the London Stock Exchange.
Suggested Reading: