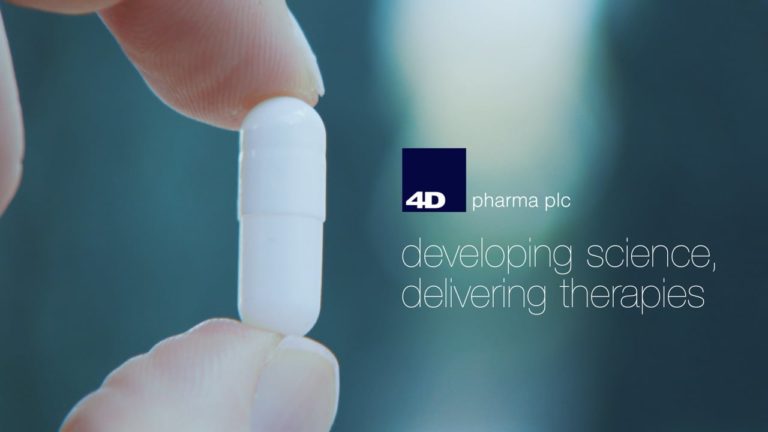 4d Pharma PLC (LON: DDDD) share price rallied 7.95% after releasing new positive data regarding its phase II clinical trial of Blautix® (MRx1234), a medicine for irritable bowel syndrome with diarrhoea (IBS-D) and with constipation (IBS-C).

The live biotherapeutics company collected the data from a different phase II study for Blautix, which ran for eight weeks, enrolling 353 patients with both types of IBS. The study measured the impact of Blautix on the gut microbiome of the participants.
The study results demonstrated significant structural changes in the gut microbiota of patients treated with Blautix compared to those on placebo treatment. The group on Blautix also had more significant increases in interconnectivity between taxa.
Investors cheered the results, which proved that Blautix is an excellent treatment for IBS.
However, 4d Pharma shares are still trading near their 2021 lows and have fallen 50.66% since January.
Investors are bothered by the lack of progress in progressing Blautix towards commercialisation. The initial phase II clinical trial results were released in October 2020, with additional positive results announced in May 2021. Yet, the treatment has not progressed to phase III trials.
Dr Alex Stevenson,  4D pharma's Chief Scientific Officer, said: "These microbiome analyses are an important addition to our already significant clinical data package for Blautix. These findings from the Phase II trial, coupled with the positive outcomes of the previous post-hoc analysis, demonstrate that Blautix could provide a significant solution to address the high unmet needs of millions of patients globally with IBS,"
Adding:
"Our complimentary MicroRx and MicroDx platforms enable this level of detail regarding the mechanism of action of Blautix, along with those of 4D pharma's pipeline of other Live Biotherapeutics across multiple indications."
4d Pharma told investors that the US Food & Drug Administration had updated the firm on the significant delays in its approval processes due to the impact of the COVID-19 pandemic. The company is still waiting for the FDA's approval before moving to a phase III study.
Meanwhile, it appears that investors are not willing to buy 4d Pharma shares until there is tangible progress in regards to the Blautix IBS treatment.
*This is not investment advice. Always do your due diligence before making investment decisions.
4d Pharma share price.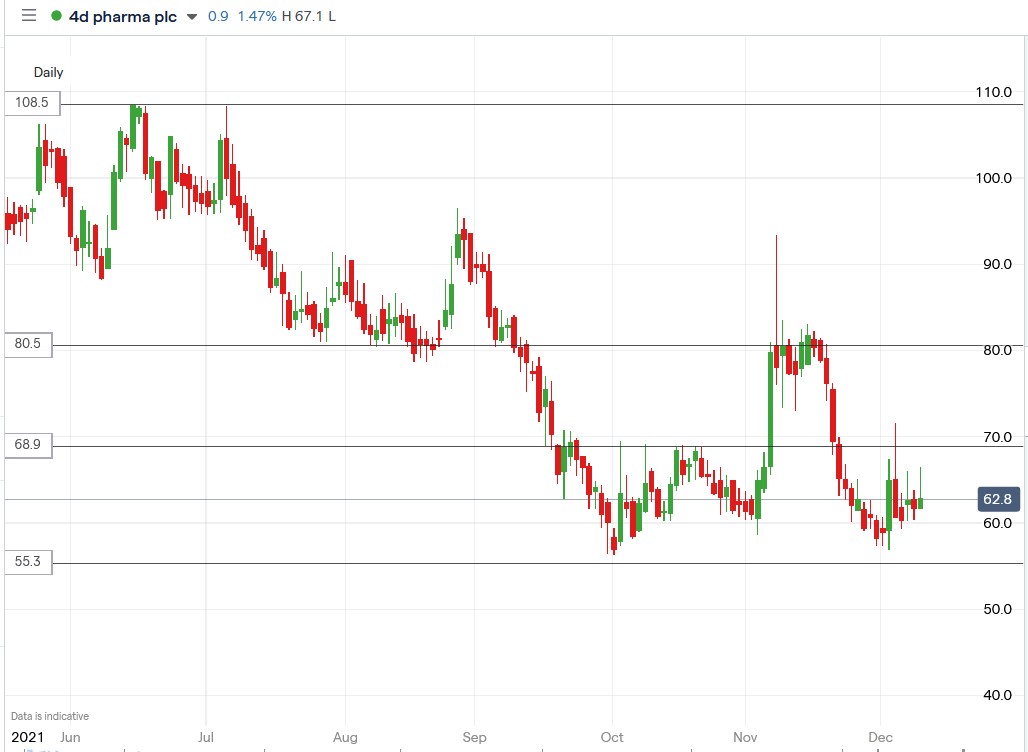 4d Pharma share price rallied 7.95% to trade at 66.5p, rising from Wednesday's closing price of 61.6p.
Is Now a Good Time to Invest In 4d Pharma Shares?
Healthcare stocks, including 4d Pharma shares, saw a wave of investors buy their shares during the pandemic. Governments also pumped money into the companies in an attempt to speed up the vaccine process. But, what happens now vaccines have been approved and the pandemic is becoming less prominent? Should we still invest in coronavirus-focused healthcare stocks? Or should we look to firms tackling other areas? Here are the best healthcare stocks to buy now…