BVC Biopharma Inc (NASDAQ: ABVC) stock price rallied 411.8% despite not making any significant announcements today, as the stock gained popularity among investors.
However, it appears investors may be responding positively to a regulatory filing by the company seeking permission to sell shares worth $50 million at a yet to be announced future date.
Investors could also be reacting positively to the company's announcement last week. First, it revealed that it had gotten regulatory permission to proceed with a Phase II Part 2 study of its ABV-1505 Attention-Deficit Hyperactivity Disorder (ADHD) in Taiwan.

The company received approval from the Taiwan Central Institutional Review Board (CIRB) to run the phase II study in five medical centres within the country.
ABVC Biopharma is awaiting FDA approval to conduct a portion of the study at the University of California, San Francisco (UCSF) Medical Center in the US after conducting part I of the phase II study as UCSF in 2020.
However, today's massive rally was primarily driven by retail traders who identified the stock's low float as a factor that would lead to quick daily gains if they bought it in large numbers.
ABVC stock had given up a significant portion of its earlier gains and traded at $8.23, which is 223% higher at publishing.
Given that the rally was already fizzling out as the market open approached, investors need to be careful when trading the stock.
The stock has been trending on most social media platforms, where retail traders encouraged each other to buy the stock and push its prices higher. However, those who buy at the highs are likely to lose money as the shares plunge back to earth.
*This is not investment advice.
ABVC stock price.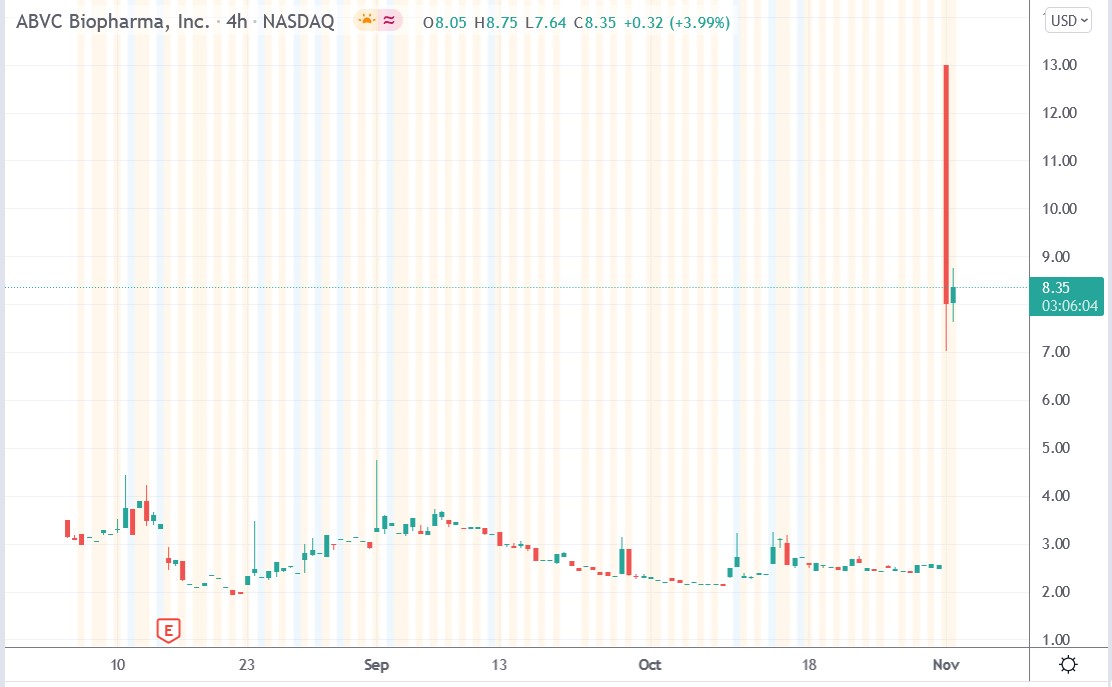 ABVC Biopharma stock price rallied 411.81% premarket to trade at $13, rising from Friday's closing price of $2.54.
Should You Invest in ABVC BioPharma Shares?
One of the most frequently asked questions we receive is, "what stocks are best to buy right now?" It's a wide-ranging question, but one that we have answered… Our AskTraders stock analysts regularly review the market and compile a list of which companies you should be adding to your portfolio, including short and longer-term positions. Here are the best stocks to buy right now.