Knowing which stocks to buy at the right time can be difficult, especially if you are just starting out on your trading journey. Recent market events have made picking the right stocks to buy even harder to do. The COVID pandemic and lockdowns triggered long-term changes in business practices and consumer behaviour. Concerns about inflation and high-interest rates are as high as they have been for decades, and geopolitical risk has also experienced a resurgence. But there are still stocks which have compelling reasons for you to invest in them.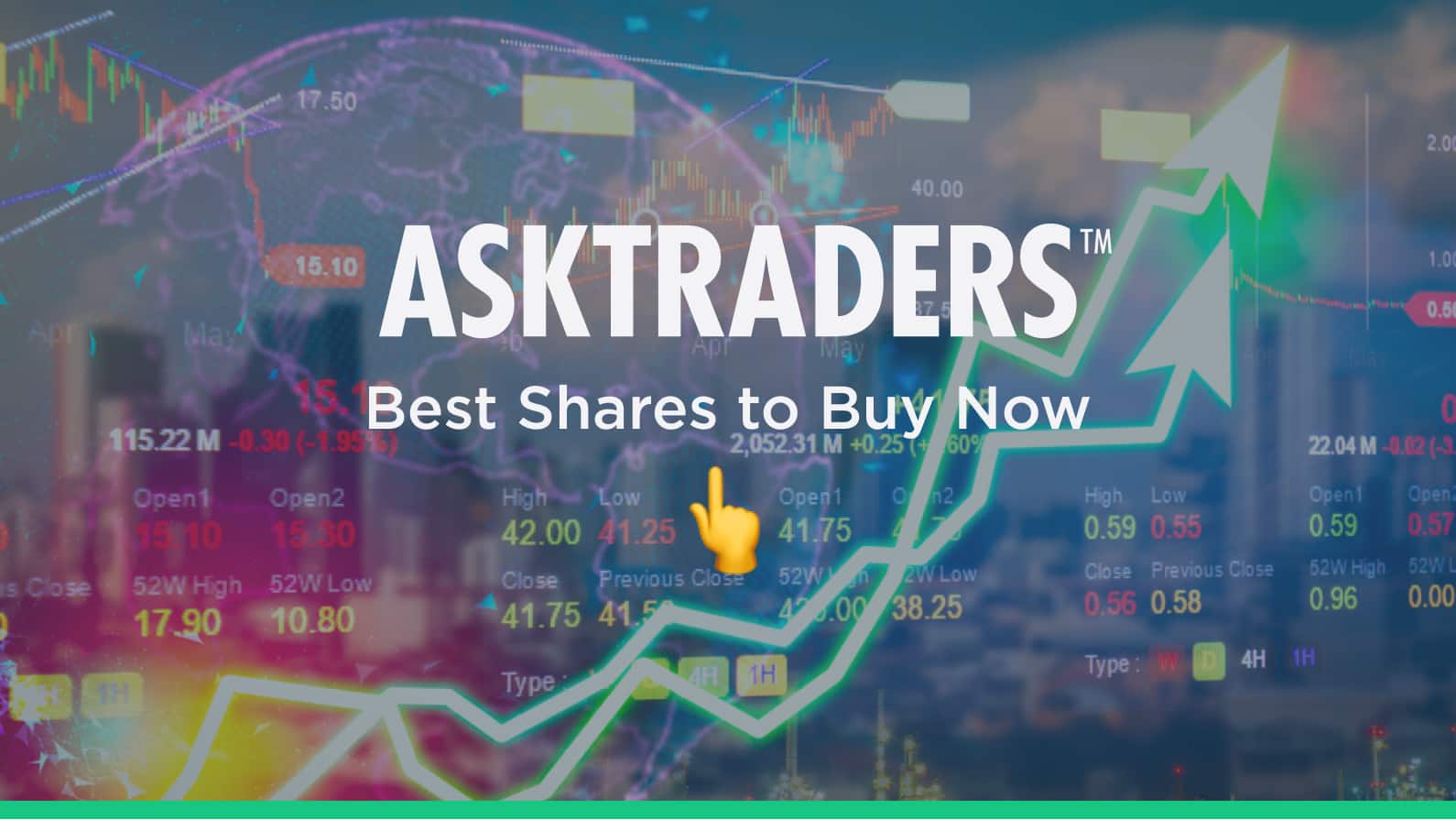 What are the best shares to buy now? Read on as we share our latest top picks.
How To Pick The Best Shares to Buy Now
One way of approaching the increasing number of variables in play is to consider them to be an opportunity to identify stocks that are mis-valued, or more accurately, undervalued.
That requires factoring in macroeconomic fundamentals, but successful investing is also about spotting new trends as early as possible. Nothing illustrates the paradigm shift in the stock markets as much as the move towards a low-carbon global economy and the move by consumers and investors towards more ethical business practices. Both of those upgrades involve huge cash flows into firms which will be winners from the process of change.
Analysis that draws on both technical and fundamental analysis offers a more rounded approach to stock picking. Being aware of your investment objectives is also important and our analysis has focused on stocks intended to be held for the medium and long term.
With the above factors considered, which stocks are the best investment opportunities right now? Below are the five best stocks to buy now.
Huya (NYSE:HUYA)
Huya is a video game streaming company from China that allows gamers to broadcast their live gameplay to audiences on its platform. The innovative approach means that Huya makes money by taking a cut of the tips that viewers pay to players. Huya also benefits from advertising revenue.
China has a substantial established market for esports, but it is the significant growth potential for the sector that makes HUYA a target for buy-and-hold investors. China has the highest number of active esports players and tournament viewership. The new technologies being developed by Huya look set to improve the user experience and being China-based and owned, it has a home advantage in terms of being able to develop market share.
The threat posed by interest rate hikes has greatly affected growth stocks in general, but Huya also suffered from a post-lockdown hangover as the world's population moved away from screen-based entertainment.
Despite existing investors in Huya having had a torrid 24 months, a lot of the bad news is already priced in. The fall in the share price from $36.33 to $2.30 has been less of a rollercoaster ride and more of a death slide, but the stock price is showing signs of bottoming out.
The Huya P/E ratio of 19.6 is low for a tech stock and below the entertainment industry average of 25.6. Earnings are forecast to grow 78.34% per year, and although the current share price might take some time to rebound, it is currently below the fair valuation estimates of many market analysts.
Rio Tinto PLC (LON:RIO)
Mining giant Rio Tinto PLC ticks plenty of boxes in terms of the criteria used when selecting the best stocks to buy now.
It has a track record of being a favourite of income investors and currently pays shareholders a highly impressive 9.7% dividend yield. That is made more remarkable by the way the share price of RIO has held up in 2022 while those of other companies have plummeted.
The buying activity in RIO stock points to further capital gains being possible in the future. The mineral resources the firm mines and processes are integral components of the global shift towards a greener economy. It has significant reserves of iron ore, copper and lithium, all of which are crucial to the rollout of items such as electric vehicles and battery storage units.
Investors with a longer-term investment plan might also want to factor in that it typically takes at least 10 years for a new mine to come into production. Such supply-side constraints are typical of the mining industry and often result in boom periods running for years rather than months.
BAE Systems (LON:BA)
BAE Systems is a large defence company headquartered in the UK. Its customer base extends to countries that include Australia, India, Saudi Arabia, the UK and the US. The company is at the forefront of the defence and security industry, and with technology and products continuously changing and requiring upgrades, BAE Systems will always be in demand.
The BAE share price fell during the pandemic as investors became concerned that defence spending might tighten. But, with the rising tensions across the globe between both larger and smaller nations, countries may feel they have no choice but to keep defence spending elevated.
In a recent investor update, BAE explained that its balance sheet does not yet factor in all of the weaponry currently being used up in conflicts around the globe. The company stated that it predicts that that latent demand for replacement items will kick in during 2023 and 2024. That makes BAE a stock to buy now, in anticipation of those orders being confirmed and translating into share price growth.
IAG (LON:IAG)
International airline group IAG is primed to rebound from the challenges it faced during the COVID pandemic. The company has British Airways, Iberia, Aer Lingus, Iberia, LEVEL, and Vueling under its banner. These airlines cover most of the European and European to US routes and the London to New York route is the highest revenue route in the world, according to Business Insider.
Its share price is still way below its pre-pandemic levels as investors monitor the rate at which international travel will pick up. That makes it an ideal stock to buy and hold, especially if it breaks through the resistance trendline dating from March 2021.
A return to normality may take some time to materialise. But considering IAG stock is currently trading at 141p – closer to 600p before the pandemic hit – there is potential for those buying IAG stock to post significant long-term capital gains.
Even without a 'full' recovery, IAG looks to be in a good position to grow its market share. As a truly international operation, it can take advantage of the gaps in the market left by the firms that didn't survive or were impacted by the challenges of the pandemic. That list includes Air Italy, Flybe, Virgin Australia, Avianca, Thai Airways, Alitalia and Philippine Airlines.
Johnson & Johnson (NYSE:JNJ)
Johnson & Johnson is an excellent stock for beginners. The company's reliability and solid foundations mean that JNJ stock has relatively low volatility. It is, therefore, ideal for investors who are just getting used to managing the ups and downs associated with trading.
The firm's comprehensive range of household necessities, such as Band-Aid, and in-demand pharmaceuticals like Stelara, look set to maintain their appeal despite the increased risk of recessions and inflation. Items like that are likely to be the last to be cut from a household budget.
Johnson & Johnson's business model makes it one of the most recession-proof stocks in the market. That's good news for the JNJ share price, which outperformed the S&P 500 index in 2022. As well as capital gains, there is also the reputation of JNJ as a reliable source of dividend income. The annual yield on the stock currently stands at 2.63%, which represents a welcome source of passive income.
Final Thoughts
Trading and investing can be challenging, but if you follow the right steps and take time to learn and practice, it can result in returns being superior to those associated with holding your capital in cash form.
Take the time to check out different investing and trading strategies, learn from other experienced traders and always, always have a plan. That extends to making sure your broker is regulated and offers the additional services which are a best fit for your approach.
Finding the right broker is an essential part of the process, but how do you know which broker is best for buying or trading shares online? The first thing to do is to make sure they are regulated in the country or region you are in.
If you are in the UK, you want to make sure that the broker is FCA regulated. Other points to look for are the commissions and fees charged. A lot of brokers offer trading at low costs, so make sure you are not paying more than you have to.
One tip we suggest is setting up a demo account with the broker you are interested in. It will give you a sense of how their platform works and whether it is the right one for you.
This list of the best-trusted stockbrokers includes firms that have been reviewed by the AskTraders team to ensure they provide investors with the tools needed to tilt the odds in their favour.
People Who Read This Also Viewed: