Key points:
Affirm stock was down 5.06% premarket despite positive analyst comments.
The fintech company's stock was falling along with other tech stocks.
The selloff might end if the Fed adopts a dovish tone tomorrow.
The Affirm Holdings Inc (NASDAQ: AFRM) stock price was down 5.06% during premarket trading despite a positive note from Mizuho analyst Dan Dolev saying a proprietary survey of the firm's partnership with amazon was doing well.

Dolev said that the survey showed a "healthy appetite and a promising start" to the checkout option partnership with Amazon, allowing shoppers to buy items and pay later in small instalments.
According to Mizuho, many of Affirm's customers had already tried checking out with Affirm on Amazon. In addition, survey participants had positive feedback on their experience using the new functionality, with many willing to use the service again.
Dolev maintained his buy rating on Affirm and lowered his price target to $100 from $140.
Since November, affirm shares have fallen 61.6% amid fears of looming rate hikes from the US Federal Reserve, meeting today and tomorrow.
Investors are worried that tiger monetary policies and the Fed unwinds its balance sheet and starts hiking rates will reduce the funds available to growth stocks that rely heavily on short term funding to keep operating.
However, affair investors may get a much-need reprieve tomorrow when the Federal Open Market Committee announces its interest rate decision and charts a path forward for the rest of the year.
Many investors hope that the Fed will adopt a more dovish tone tomorrow, given the massive stock selloff that has been in place since the year started.
Affirm is also facing a significant tailwind in the form of rising inflation rates, which could lead to reduced consumer spending as people's disposable income shrinks, narrowing the company's addressable market.
However, Affirm may benefit from the rising inflation as more consumers start considering instalment payments, which could boost its business.
All in all, Affirm's stock appears oversold, given that it has fallen 42% since the year started. Therefore, we are likely to get a bounce after the Fed interest rate decision, which could be dovish.
Investors interested in acquiring a stake in Affirm may find its current prices quite attractive before getting a long overdue bounce.
*This is not investment advice. Always do your due diligence before making investment decisions.
Affirm stock price.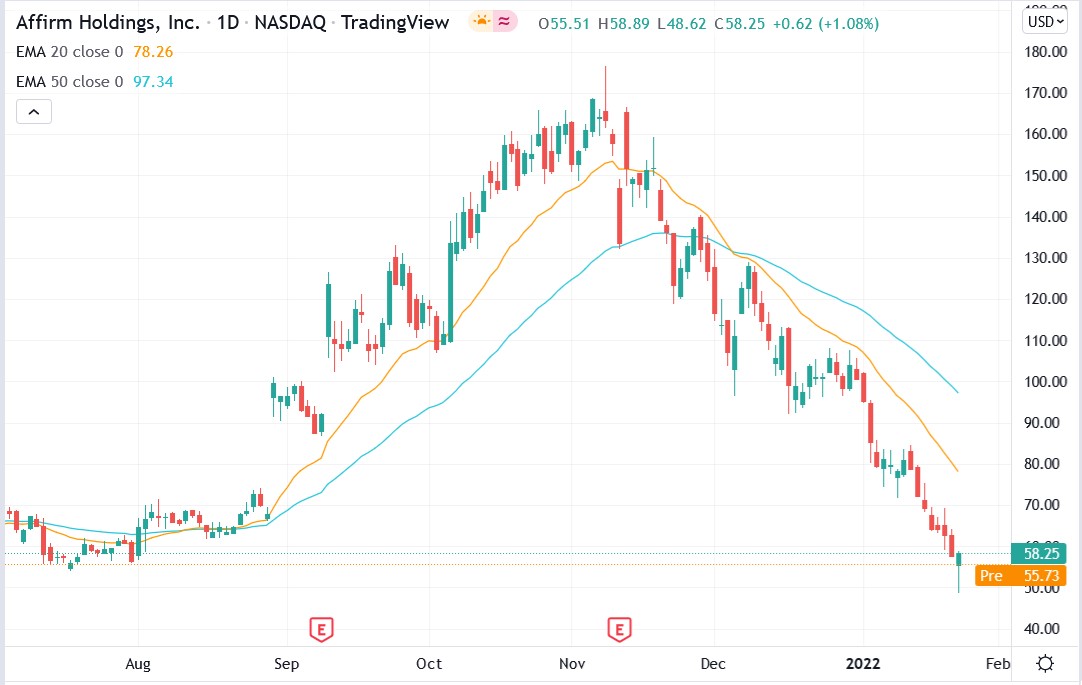 Affirm stock was down 4.70% premarket to trade at $55.51, falling from Monday's closing price of $58.25.