Tech stocks are a great way to invest in growth, as most of the new advances fuel multiple aspects of the economy. They are almost always at the forefront of the stock market in general, leading the indices higher.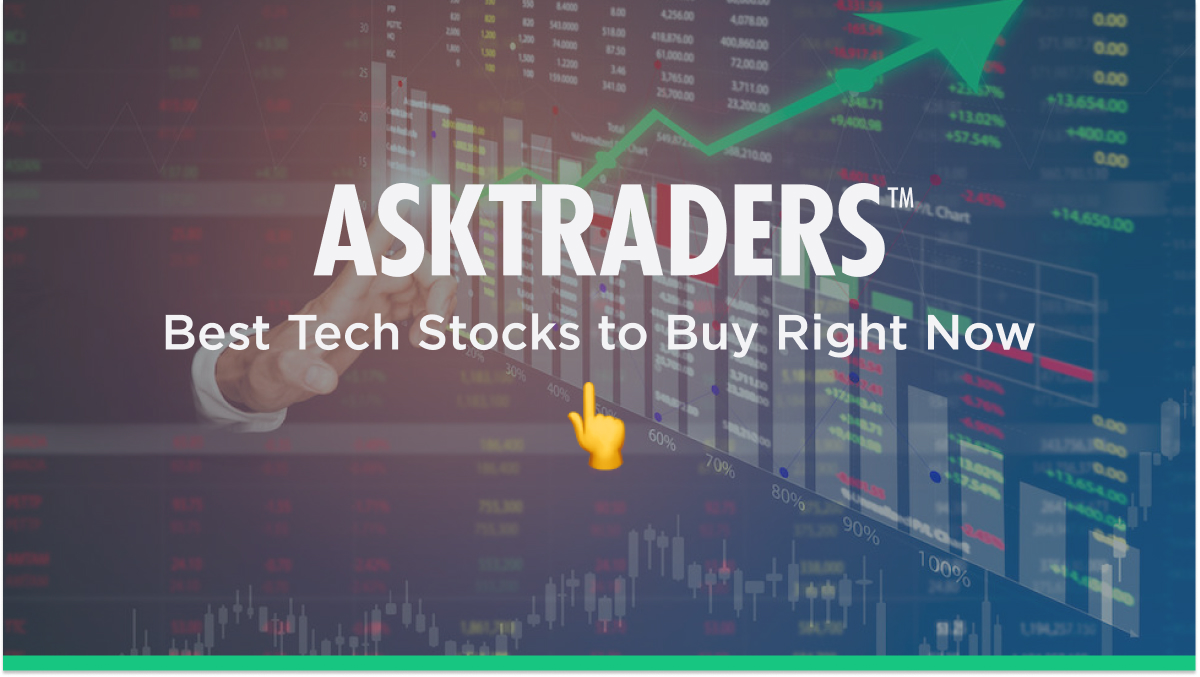 What is even more important is that the world has changed. The pandemic has created a scenario in which working from home becomes much more viable, essentially accelerating what we have been seeing as a society for some time. Now that we have the ability to teleconference, store files on cloud servers, and work remotely in general, society is going to adapt to this very rapidly. This means that a handful of companies are poised to take advantage of this sudden shift in demographics that looks to be more structural than anything else.
If you are looking to invest in Tech Stocks, what are the Best Tech Stocks to invest in right now?
The Best Tech Stocks on the Market
Some institutions say that lockdowns have boosted the overall tech industry by five years. Companies such as Zoom, Adobe, Amazon and Netflix have seen an overwhelming boost to their services. Meanwhile, the work-from-home culture shift might just be here to stay as companies such as Adobe, Aetna, Amazon, Capital One and Facebook have all allowed employees to switch to working from home long term, if not permanently. All of these factors could hint at continued tech stock gains for investors.
Using the earnings-per-share model, the following companies have been some of the fastest-growing tech stocks available. These represent some of the largest gainers in the world as the economy shifts to more of an online presence and, according to our panellists, represent real value for money.
Avnet Inc. (AVT)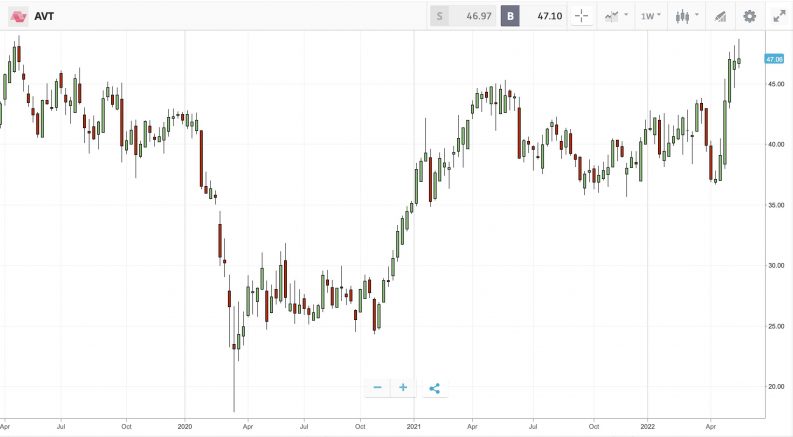 Source: eToro
Avnet Inc. manufactures electronic components, mainly semiconductors. These products are then used in different areas, including software, hardware, The Internet of Things, and for integration.
In the recent quarterly results, the company beat EPS and revenue estimates by a huge margin. It has seen a significant rise in revenue, net income and net profit margin in the past year. The company has a dividend yield of 2.15%. AVT stock is trading at its 52-week high, but it has the potential to go beyond this number.
Microchip Technology Inc. (MCHP)
Source: eToro
Microchip Technology Inc. is a manufacturer of microcontrollers and analogue semiconductors for clients across different industries. The company has a presence across the automotive, industrial, defence, consumer, aerospace, computing and communication sectors. It has an EPS of 0.77 and it reported better-than-expected results in the quarter ended 31st March 2022 – recording record net sales of $1.84bn. The company has solid potential to gain and recently declared a quarterly cash dividend of $27.6 cents per share.
TD Synnex Corp. (SNX)
Source: eToro
TD Synnex is a provider of business-to-business information technology (IT) services. In 2021, there was a merger between Tech Data and Synnex, which created TD Synnex. It is a company with a market cap of $9.7bn and revenue of $15.47bn. It has a dividend yield of 1.18% and EPS of 5.90. The stock could be a great addition to your portfolio.
Hewlett Packard Enterprise Co. (HPE)
Source: eToro
A very popular name in the tech sector, Hewlett Packard Enterprise sells various products and services that include high-performance computing, cloud services, AI, storage and software. The company enjoys an edge in the industry and has a market cap of $21.54bn. It has a dividend yield of 2.89% and the stock is trading at $16.59 currently. It is a great stock for bargain hunters.
Mandiant Inc. (MNDT)
Source: eToro
Mandiant provides cyber security incident response and cyber defence solutions. The company gained popularity in 2013 when it released a report about cyber espionage in China. In March 2022, Google announced its intention to acquire the company and integrate it into the Google Cloud division. It is the biggest deal in the company's history and Google will pay $5.4bn for it.
Mandiant has a market cap of $5.2bn and the stock is trading for $21 at the time of writing – close to the 52-week high of $23. MNDT stock could soar after the Google deal closes later this year.
HP Inc. (HPQ)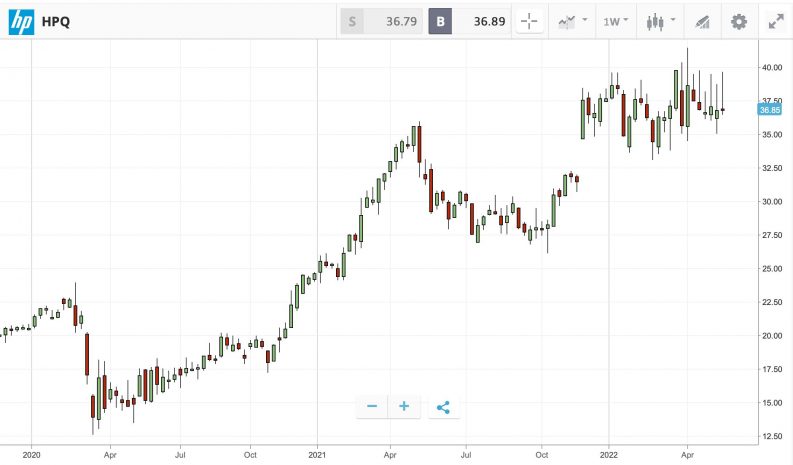 Source: eToro
HP is a popular name in the industry today. The company sells notebook computers, desktops, printers, workstations and provides support services. It has carved a niche in the industry and holds an edge today. The company deals in products that have become indispensable in our lives, and its demand will continue to grow.
With a market cap of $38.8bn, and a 12-month trailing PE ratio of 6.6, the stock looks undervalued today. It is trading at $38 with significant potential to grow.
Technology Select Sector SPDR ETF (XLK)
Source: eToro
The easiest way to play momentum in the technology sector is to simply do it through an ETF. As such, it is worth paying attention to the Technology Select Sector SPDR ETF, known as XLK. In fact, it is quite common for investors to have a core holding in this ETF, as it gives them exposure to a multitude of technology companies and is one of the easiest ways to play the entire sector.
This ETF provides exposure not only to the stalwarts of the industry, but also to the biggest momentum players in the technology sector.
Switch Inc. (SWCH)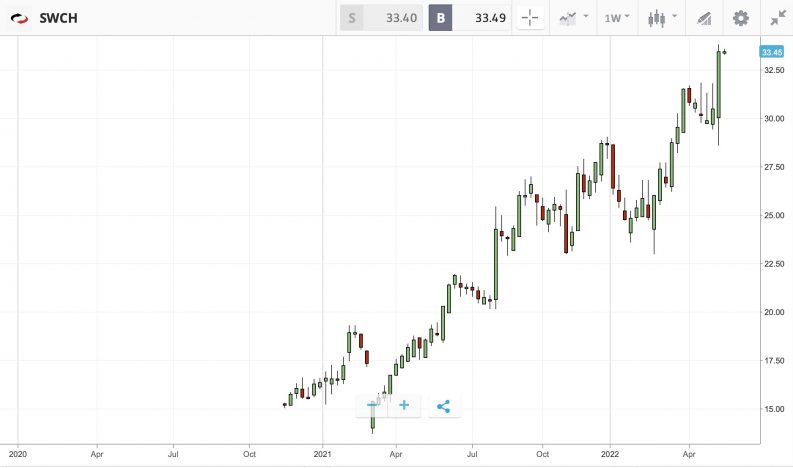 Source: eToro
A technology infrastructure company, Switch develops retail colocation data centres to help expand internet and related services. It has more than 950 customers across different industries. With a market cap of $8.18bn and 60% stock growth over the past five years, this stock has a long way to go. The company will be acquired by DigitalBridge Group for $11bn, including the assumption of debt.
Fortinet Inc. (FTNT)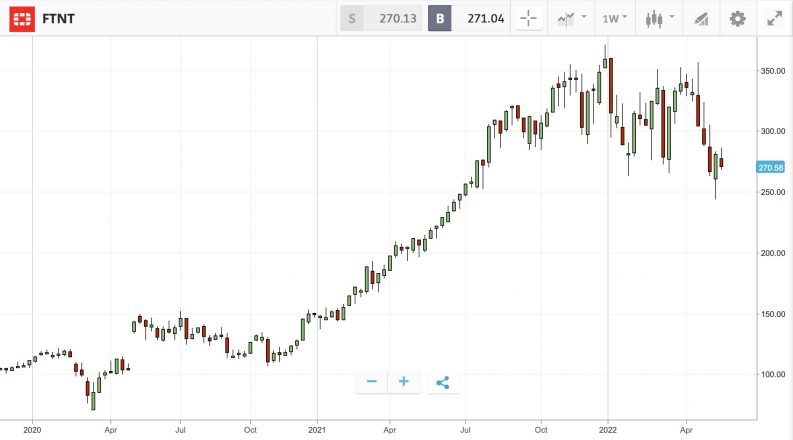 You may not have heard of Fortinet. It is a company that offers cyber security services to businesses, government organisations and enterprises across the world. It uses machine learning and AI to provide clients with the right solutions. The company builds and sells security solutions such as intrusion prevention systems, physical firewalls, endpoint security components and antivirus software.
It has a market cap of $44.3bn and a five-year stock growth of 575% – the stock is on fire and is trading much lower than the 52-week high today.
WHY INVEST IN TECH STOCK NOW?
Technology is one of the most exciting sectors to invest in, because you are not only investing in the future, but also in companies that can have explosive growth. Just a few years ago, fortunes were made buying companies such as Amazon, Apple and Google. Think about how different your investment portfolio would look if it had a bite of any of those companies 15 years ago. This is one of the major advantages of investing in technology stocks, because some of these will literally change the way that people live.
Technology can be used in a multitude of ways that we cannot even anticipate now. It was not that long ago that self-checkout kiosks suddenly popped up everywhere. Think about the massive changes in the way that business is being conducted on the retail level alone. Now multiply that by a huge amount of other drivers and industries around the world, and you can see just how big of a portion of growth that technology stocks will be. As computers become faster, technology becomes even more crucial to doing business as well as conducting personal lives. Time is of the essence, and the quicker you get in, the longer you have to enjoy the benefits of the exponential growth in technology.
WHAT TO KNOW BEFORE INVESTING IN TECH STOCKS
There are some things to keep in the back of your mind if you are going to trade technology stocks. To begin with, a lot of technology stocks are very speculative in nature. This, of course, is part of what makes them so attractive, because most traders understand that getting in early with a company such as Adobe would have been a massive windfall in terms of profit. Imagine buying Google 20 years ago – your portfolio would be massive at this point in time. This is the allure of technology stocks.
However, you also need to keep in mind that a lot of these companies may or may not thrive. The catch with technology is that it is dynamic and is changing almost continually, and if you do not keep abreast of where tech trends are going, you may find yourself in the same situation that a lot of Betamax owners did when VHS won the war for dominance. In other words, you may have a company that has seen technology going in the other direction. Having said that, this is part of what owning a portion of your portfolio in the XLK ETF is about, because it gives you exposure to companies such as Microsoft, Adobe and Apple, as they are all known winners and stable companies.
Technology stocks will be your fast-growing stocks most of the time, but they should not be your entire portfolio. The technology sector is one that can be exciting, but it is also one that can be difficult to time.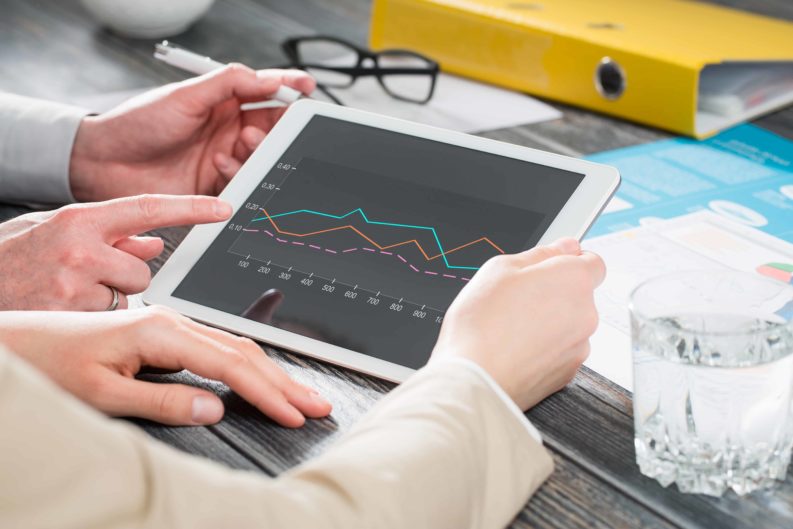 HOW TO START TRADING STOCKS ONLINE
1. Research Tech Companies
The very first thing that you will need to do is research the company that you are looking at buying or investing in. Remember, things such as earnings matter and, of course, whether or not the company has a technology that is expected to grow. In that sense, you need to look at potential demand as well as whether or not the company is making money. (That being said, some early technologies may actually not be that profitable, but are expected to see increased demand going forward. Think of a firm such as Uber a few years ago.) This information is freely available on multiple websites, and is highly regulated by local authorities such as the SEC.
2. Find a Broker
Finding the right broker for you is perhaps the most important part of the process. While you can buy tech stocks with most brokers on the market today, not all brokers are created equal. Finding one can be an arduous and daunting task, which is why we've hand-picked some favourites that tick all of these boxes to help you get started.
It's worth setting up demo accounts with a few brokers to see which suits you best.
Regardless of whether you are new to trading and wish to get started investing, or even if you are just curious about doing so, these trading platforms are perfect for beginners and experienced traders alike.
Not only are all of these brokers fully regulated, but they also provide a safe and secure trading environment, as they are equipped with everything you need to succeed in the investment world. This includes a wide range of stocks to choose from and, of course, educational resources that can help you get started to make your first trade.
3. Open and Fund an Account
The process to open and fund an account is essentially the same everywhere. Brokers are required to know who their client is, so you will need to send in some type of information such as proof of residency, a copy of your driver's license or passport, and the like. As far as funding is concerned, it is typically done either via bank wire, payment services such as Skrill or PayPal, or in some cases you can do it with a credit card.
4. Set Order Types
Make sure that you understand order types. After all, you simply do not just start pressing buttons as soon as you get your platform opened. Understand that there are such things as market orders, limit orders, stop-loss orders, and many more ways to trade the market. A limit order will make sure that you pay the exact price that you wish to, so those are typically preferred. A stop-loss order prevents you from losing far too much on one particular trade, which is something that you should do with every position you open.
5. Select and Buy Tech Stocks
Now that you have gone through all of this, it is simply a matter of selecting and buying the shares that you wish to trade. Make sure that you understand your timeline and how long you plan on hanging onto the position, as it will greatly influence how many shares you buy and whether or not you are checking on them daily, hourly or even monthly.
SUMMARY
When it comes to investing, there is a lot to learn. However, the reality is that until you get started, you will not understand the mechanics of trading, or the psychology. In order to do this, you need to find a safe and regulated place to do so. Some platforms even allow you to 'demo trade' when you place trades using fake money so that you do not risk anything. Please make sure to take advantage of this potential tool when you do sign up.
There are a lot of different types of investing strategies, but it is almost universal knowledge that technology stocks are an important part of any portfolio. Knowing the difference between the types of technology stocks would be the place to start. Understanding the potential risk to reward in any speculative investments will also be crucial. By going through the checklist above, you can start to understand how to build a tech portfolio.