Allena Pharmaceuticals Inc (NASDAQ: ALNA) stock price soared 37.2% after the U.S. Food and Drug Administration (FDA) granted its ALLN-346 orally-administered drug fast track designation.
The drug treats hyperuricemia in gout patients suffering from chronic kidney disease and is currently in a phase 2 trial to establish additional safety data and initial bioactivity data.
The drug was developed using Allena's proprietary oral enzyme technology platform and is the second drug developed.

Allena intends to evaluate the initial data from the phase 2a program and determine the optimal dosing paradigm for later-stage clinical trials.
Investors cheered the FDA's move indicating that the regulator believes the drug should reach commercial stages quickly and start helping the intended patients.
Not every drug gets the Fast Track designation from the FDA. Still, an excellent example of recently fast-tracked drugs is the COVID-19 vaccines that have generated billions in revenues for companies such as Moderna, Pfizer and BioNTech.
Allena Pharmaceuticals could generate significant revenues once ALLN-346 reaches commercial stages or is licensed by one of the leading pharmaceutical companies, earning the company royalties and license fees in the future.
The biopharma company's enteric hyperoxaluria treatment is currently in phase 3 trials, with the firm expecting to conduct its first interim analysis of phase 3 Urirox-2 clinical trial of Reloxaliase.
The biopharma's stock price is trading at a critical resistance level and had given up some of their gains at publishing. However, traders who missed out on today's rally may get a better entry opportunity later.
*This is not investment advice. Always do your due diligence before making investment decisions.
Allena Pharma stock price.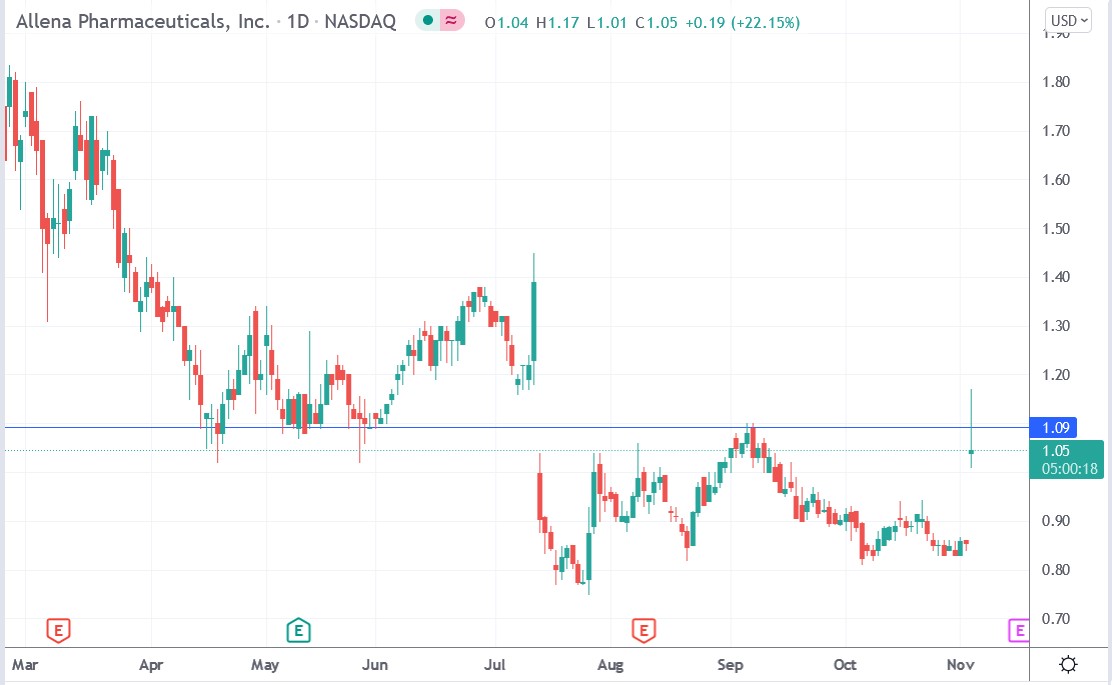 Allena Pharma stock price soared 37.2% to a high of $1.18, rising from Tuesday's closing price of $0.86.
Should You Invest in Allena Pharma Shares?
One of the most frequently asked questions we receive is, "what stocks are best to buy right now?" It's a wide-ranging question, but one that we have answered… Our AskTraders stock analysts regularly review the market and compile a list of which companies you should be adding to your portfolio, including short and longer-term positions. Here are the best stocks to buy right now.