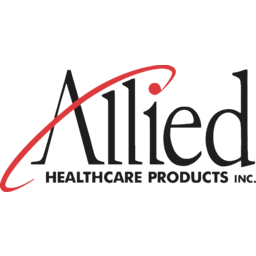 Allied Healthcare Products Inc (NASDAQ: AHPI) rallied 89.4% premarket despite not making any significant announcements as investors flocked to COVID-19 related stocks.

It appears that investors bought the company's shares expecting that demand for its respiratory products will rise, driven by new infections of the deadly COVID-19 variant.
Scientists have pointed out that the new variant may be resistant to vaccinations, which is likely to result in higher hospitalisation rates given that it has over 30 mutations.
The recent discovery has triggered massive selloffs in major global stock indices amid renewed fears of widespread lockdowns to contain the virus, which might also infect vaccinated people previously thought to be safe.
Allied Healthcare manufactures respiratory products used in hospitals across the globe, which could be the main driver behind today's rally. However, this is not the first time that the company's shares have skyrocketed higher due to the coronavirus pandemic.
Investors have flocked to healthcare stocks with exposure to the COVID-19 market in one way or another, as evidenced by their high gains amidst a broad market selloff.
Allied  Healthcare manufactures respiratory therapy equipment, medical gas construction equipment, emergency medical supplies and home healthcare products, including ventilators whose demand might skyrocket.
It appears that the world is back to square one in terms of dealing with the coronavirus pandemic given the significant threat posed by the new variant, which begs the question, when will life return to normal?
Investors who missed out on today's rally are likely to get another chance in future since significant pullbacks usually follow parabolic rallies. Furthermore, it is never a good idea to chase a stock higher.
*This is not investment advice. Always do your due diligence before making investment decisions.
Allied Healthcare stock price.
Allied Healthcare stock price rallied 89.4% premarket to trade at $10.19, rising from Thursday's closing price of $5.38.
Is Now a Good Time to Invest In Allied Healthcare Shares?
Healthcare stocks, including Allied Healthcare shares, saw a wave of investors buy their shares during the pandemic. Governments also pumped money into the companies in an attempt to speed up the vaccine process. But, what happens now vaccines have been approved and the pandemic is becoming less prominent? Should we still invest in coronavirus-focused healthcare stocks? Or should we look to firms tackling other areas? Here are the best healthcare stocks to buy now…