Amigo Holdings PLC (LON: AMGO) share price has fallen 18.56% in three months. The guarantor lender remains banned from lending activities until the court approves a new compensation scheme for its customers.
The company recently released its half-year results for the six months to 30 September 2021, where its revenues fell 38.8% to £56.5 million compared to the £92.3 million recorded in H1 2021.
However, the lender warned investors that it risks liquidation if it cannot resume lending activities, given that its loan book fell 53.8% to £224.1 million compared to the £485 million loan book in a similar period last year.

On a positive note, Amigo revealed that it had presented a new offer to the Independent Customer Committee (ICC) set up as ordered by the court to give customers a more direct role in the next scheme of arrangement.
It appears that Amigo's institutional backers have started cutting their losses, as evidenced by today's RNS, where the company revealed that J.P. Morgan had reduced its shareholding in the lender as the situation becomes dire.
Amigo Loans told investors that it expects the process of ratifying the new offer via the court process to take at least four months, which means that a resolution is expected next year between March and April, which will mark the end of its 2022 fiscal year.
I have covered the guarantor lender in the past and pointed out that it faces significant competition from other firms such as UK Credit Ltd, offering similar loans with fixed rates, which have taken advantage of its suspension to grow their market share.
I will keep an eye on the company and monitor the progress of the new offer, which still does not cover customers' compensation in its entirety. However, the lender had set aside £159.1 million for customer compensation at the end of its first half.
Investors interested in Amigo Loans shares may be best served to wait on the sidelines until it is evident that the company's new offer shall be accepted by the ICC and approved by the High Court.
Otherwise, I wouldn't be buying Amigo shares under the current circumstances.
*This is not investment advice. Always do your due diligence before making investment decisions.
Amigo Loans share price.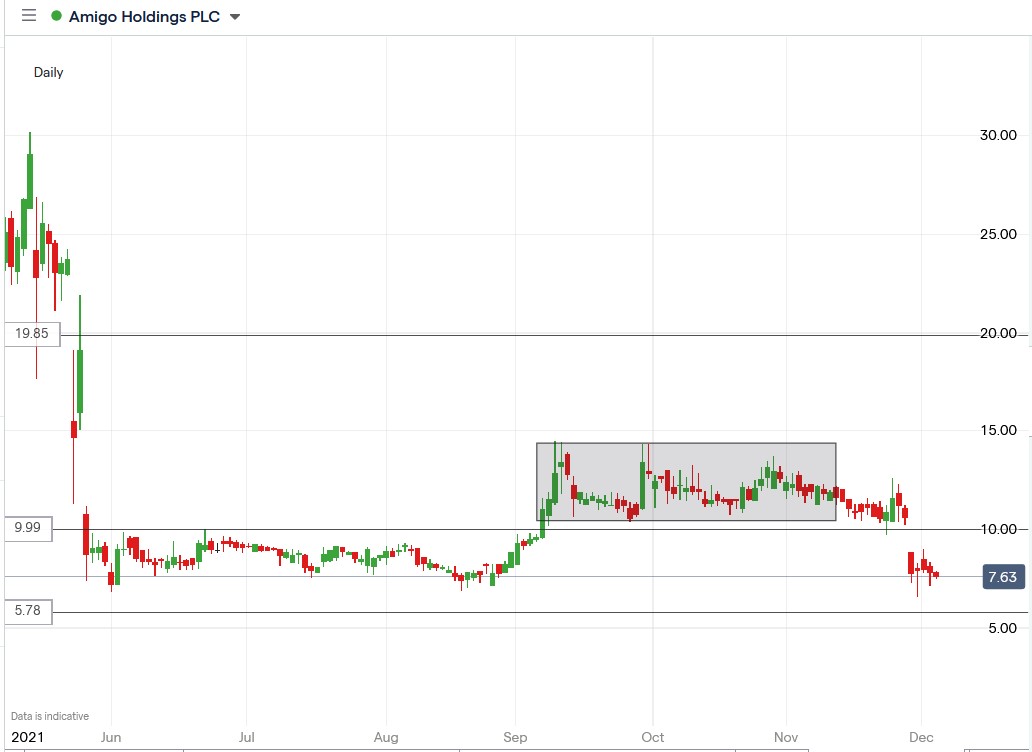 Amigo Loans share price fell 3.85% to trade at 7.50p, falling from Thursday's closing price of 7.80p.
Should You Invest in Amigo Loans Shares?
One of the most frequently asked questions we receive is, "what stocks are best to buy right now?" It's a wide-ranging question, but one that we have answered… Our AskTraders stock analysts regularly review the market and compile a list of which companies you should be adding to your portfolio, including short and longer-term positions. So here are the best stocks to buy right now.