Amigo Holdings PLC (LON: AMGO) share price is still trading sideways amid a lack of progress updates on the compensation scheme from the guarantor lender.
Since early September, the company's shares have been trading sideways as investors and clients alike wait for Amigo's new compensation scheme as directed by the High court following its ruling against the previous scheme in May.
Still, Amigo appears very reluctant to compensate the clients with legitimate claims against the company for unfair pricing of loans dating back to 2005. Instead, the firm's focus is on protecting its shareholders' interests.

However, the lender is losing precious time as it remains locked out of active lending activities in the UK despite the high demand for guarantor loans due to the harsh economic conditions created by the COVID-19 lockdown measures.
Amigo Loans (AMGO) shares are trading sideways as new competitors emerge.
Many UK consumers lost their jobs as businesses closed due to the impact of the coronavirus pandemic, with many defaulting on their credit obligations such as mortgages and personal loans, hence, being forced to look for alternative financing.
Companies such as UK Credit Ltd have emerged as fierce competitors to Amigo Loans by offering guarantor loans with fixed interest rates and unambiguous terms, unlike Amigo's variable rates, which have led to its current predicament.
There is no telling how much market share Amigo will have lost given the public nature of its troubles, which have damaged its public image, and the long time it has taken to settle the claims.
While some have argued that Amigo is taking too long to compensate affected customers to frustrate them into accepting a lesser amount, the firm should have learned a lesson from the court ruling.
The lender had proposed to pay clients with legitimate claims 10p for each £1 owed. But, unfortunately, all we can do is wait for the lender's next proposal, which still has to get the FCA's and High Court's approval before being implemented.
Hopefully, Amigo shall see that it is losing more than just money in the current stalemate, which could damage its business prospects over the long term.
*This is not investment advice. Always do your due diligence before making investment decisions.
Amigo Loans share price.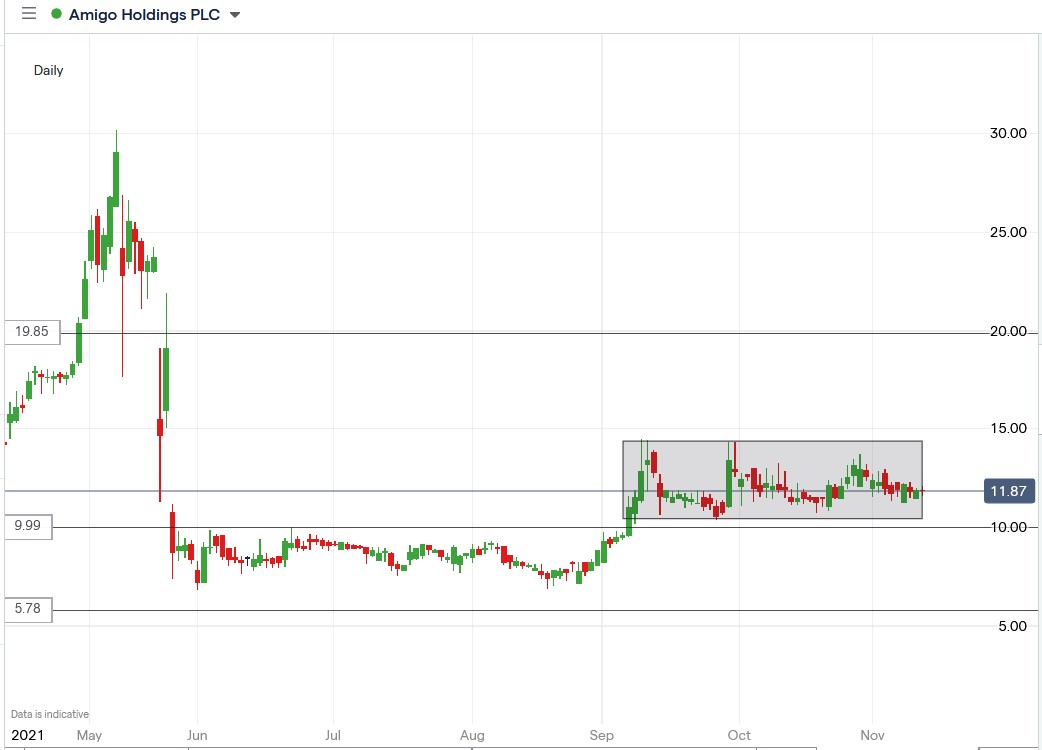 Amigo Loans shares price is still stuck in a sideways trading range since September to date.
Should you invest in Amigo Loans shares?
Amigo Loans shares are traded on the London stock exchange's AIM market (the alternative investment market), which is the submarket specifically for smaller companies. AIM stocks are attractive to investors as they have tax advantages and smaller companies have the potential to benefit from rapid growth. But are Amigo Loans shares the best buy? Our stock market analysts regularly review the market and share their picks for high growth companies.