Key points:
The ARK Innovation ETF (ARKK) stock price has fallen 24.4% in 2022.
The selloff is part of the broader market selloff triggered by a hawkish Fed.
However, there is hope for a bounce this week after the Fed decision.
The ARK Innovation ETF (NYSEARCA: ARKK) stock price has fallen 24.4% since the year started and for those wondering what comes next for the ETF, let's see if there is a ray of light at the end of the tunnel.

This is a crucial week for the stock market since the Federal Reserve's Open Market Committee (FOMC) is set to meet on Tuesday and Wednesday. They will then announce their monetary policy decisions.
Following the stock market rout that has been going on since the year started, I expect the Fed to try and appease the markets by either showing signs that they are not in a hurry to raise rates as they had indicated during the December meeting.
I also expect the markets to clutch at any positives from the Fed meeting and to rally higher. From a technical perspective, stocks are now firmly in overbought territory and are due for a bounce.
Therefore, we are likely to get a bounce in the overall stock market, which is likely also to lift the technology stocks held within ARK's Innovation ETF, which is heavily biased towards high-growth tech stocks.
However, while most stocks could be clear once the Fed changes its hawkish tone into a more bearish one, the path ahead for tech stocks is not straightforward.
The Fed may decide to slow down the pace of its rate hikes. However, until we get a material drop in US inflation, the Fed will remain in a monetary tightening phase as it seeks to tame the rising inflation and overheating job market.
The rising coronavirus cases within the US is another macro factor that could favour tech stocks as people retreat to their homes, which could boost remote-working apps, among other tech stocks that skyrocketed in 2020.
For ARK Innovation ETF investors, I believe that the best is behind us and that it is pretty unlikely we will get another year with triple-digit gains as we did in 2020. However, investors could get a chance to get out at a better price after the FOMC meeting.
If it is any consolation, no one has been spared from the recent markets rout, given that even Bitcoin and other crypto investors are nursing massive losses.
It appears that Fed decisions have an impact even on crypto assets that were initially thought to be non-correlated to stocks. Nevertheless, most investors have suffered from the recent market action, so I believe that we might have a reason to smile before the week ends.
Everything now depends on what the Fed does and says during its Wednesday briefing. Let's wait for Jerome to put us all out of our misery!
*This is not investment advice. Always do your due diligence before making investment decisions.
ARKK stock price.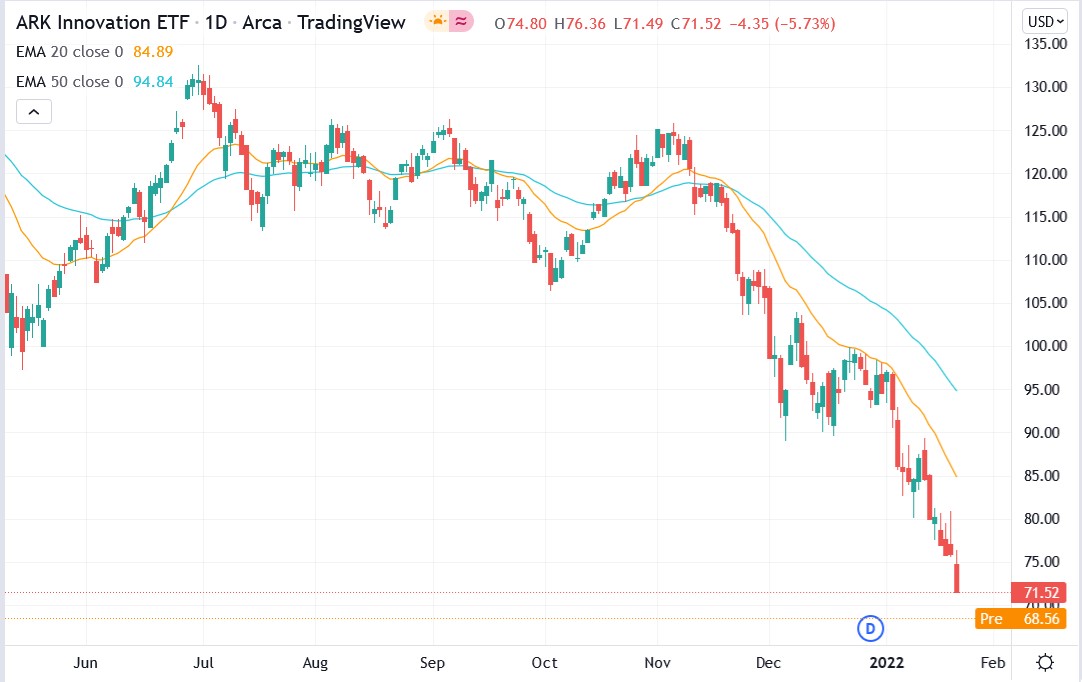 ARK Innovation ETF stock has fallen 24.4% since the year started and was down 4% premarket.