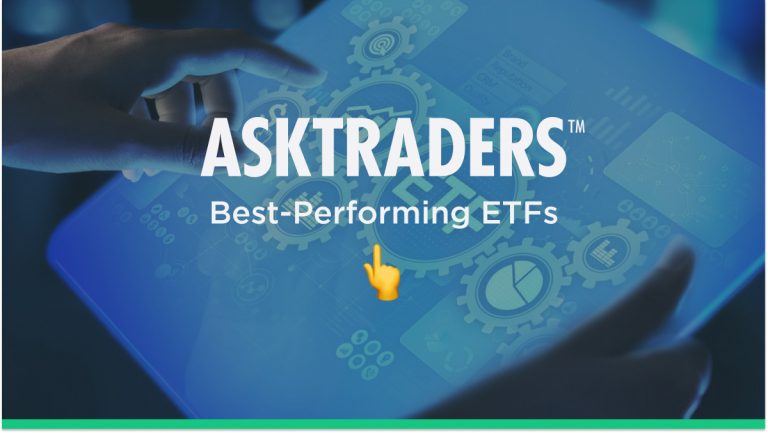 Exchange-traded funds (ETFs) are an increasingly popular way for investors to access the global financial markets. One of the key differences between an ETF and a 'traditional' fund is that regardless of the underlying asset, ETFs are traded on a stock exchange, just like company shares. Now that the sector is more established, it's possible to pick out the best preforming ETFs with which to trade.
But before we discuss the best performing ETFs on the market at the moment there is a little bit of background information worth knowing.
In this article, we will cover the following:
WHAT ARE ETFs?
ETFs are simply a convenient way to gain exposure to certain asset groups rather than individual stocks. They are technically a fund because the investor is buying a product that tracks an underlying basket of assets.
Investors approaching the subject for the first time would do well to not let the inclusion of the term 'fund' put them off considering trading ETFs.
Traditional funds, such as mutual funds, are tailored to longer-term holding periods. They often restrict investors to only buying into or selling out of the fund on certain 'dealing days', which might only occur once a month. ETFs accommodate those taking the long view but are more user-friendly so open up the door to more immediate returns.
What's more, the pricing and opaque trading practices of 'traditional' funds have been overhauled to make ETFs a convenient way to access interesting asset markets.
THE BENEFITS OF TRADING ETFs
Convenience – buy one share to track a whole index or market. You can also trade in and out of ETF positions intraday – there's no need to wait for the next 'dealing day' to realign your portfolio.
Choice – ETFs are offered on virtually all asset classes. There are thousands available to UK investors. The underlying asset groups range from bonds to commercial property, solar energy companies to biotech growth stocks, and everything else in between.
ETFs often come with low costs as they are 'passively managed'. They don't have a portfolio manager who picks stocks and actively manages the portfolio. As they are not trying to beat the market, the market average annual fees for ETFs are lower than 0.50%.
Pricing is real time. Being able to access live prices throughout the trading day allows traders to track the value of their holding and know at what price they are dealing.
SEVEN OF THE BEST ETFS
IG – gold
IG is a true multi-asset broker that offers tens of thousands of markets to its clients. As you would expect, it offers a range of gold ETFs, which consist of just one asset: gold.
Each of the below IG ETFs derives its value from holding 'underlying assets' that are centred on the precious metal.

Source: IG
In the same way that the precious metal was a stellar performer in 2020, so were the ETFs. The 12-month percentage performance ranged from 37.1% to 38.34%. During 2021 and 2022, gold prices have continued to consolidate in a price range between $1,700 and $2,000. From a technical analysis perspective, the moment when price spiked to $2,070 in March 2022 opened the door to gold breaking through the psychologically important $2,000 price level and continuing its upward trajectory.
Degiro – bonds
Degiro also offers other asset classes, but the bond ETFs give a taste of the wide range of asset classes that investors may want to consider and a degree of security. A diversified portfolio, of course, is a cornerstone of investment good practice. While returns on bond investments might be capped to the upside, they can help balance out the peaks and troughs on instruments in your portfolio that have a higher beta.

Source: justETF
Fineco – low-cost trading
The investment experts at Fineco have for more than 20 years been offering their clients a one-stop shop of investment products. Fineco's site claims to be part of a "trading revolution" and it may well be on to something.
The site makes it easy to navigate across funds and also offers pre-packaged selections. Access ratings and detailed information on each fund are provided to help you evaluate which best suit your needs.

Source: Fineco
Fineco is a market leader in terms of low-cost ETF trading. It also offers regular saving programmes and a range of global ETFs, which tick the boxes for even the hardest-to-please investors.
Fidelity – US stocks
One theme of the 2020-2022 equity bull run was the momentum found in US equities. The Fidelity ZERO Total Market Index Fund, founded in 2018, allows those who want exposure to this sector to buy one product, the ETF, rather than all the constituent parts.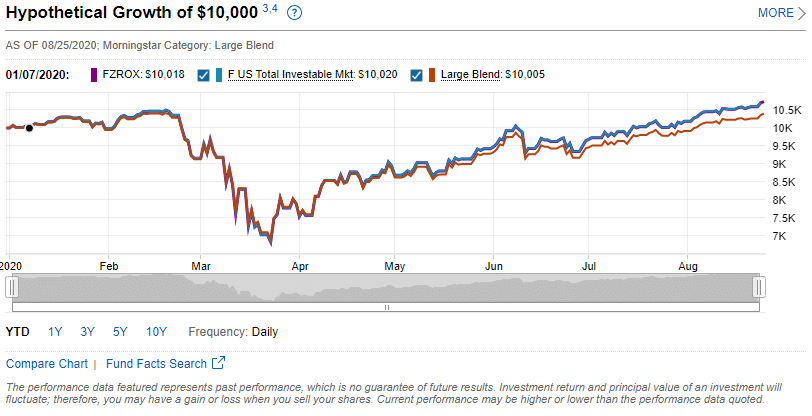 Source: Fidelity
This ETF charges no fees and no minimum. It was one of the first no-fee ETFs made available. Being able to invest for free is certainly a very exciting opportunity for individual investors and those new to the market.
Charles Stanley – emerging markets
The ETFs offered by Charles Stanley have been selected for their transparency, low charges and typically narrow spreads.
One of the top ETF picks is the Emerging Market iShares fund. It's UCITS-compliant and comes with no performance fees.

Source: Charles Stanley
Plus500 – ETFs with leverage
Plus500 is one of the largest CFD brokers in the UK and also offers a range of ETFs. One of the neat features of the Plus500 offering is that ETFs can be traded with leverage. This scaling up on position size magnifies the risk-return and Plus 500 offers ratios of up to 1:5.
It's also possible to start with as little as £100, which means that if you leverage to the maximum amount, you would be effectively trading with £500 of exposure.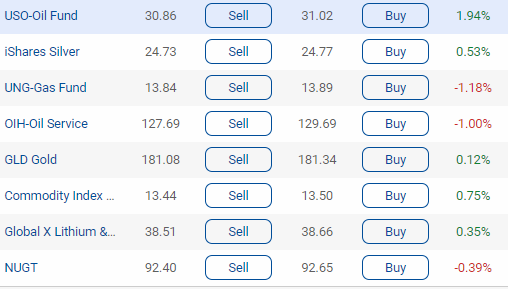 Source: Plus500
As you might expect from such a large outfit, all of the major asset groups are covered.
AJ Bell – extensive market coverage
The range of ETFs offered at AJ Bell is quite considerable. Fortunately, the firm offers a 'Screener', which allows you to filter down to your preferred choice. Selection can be based on asset group or geographical location of markets.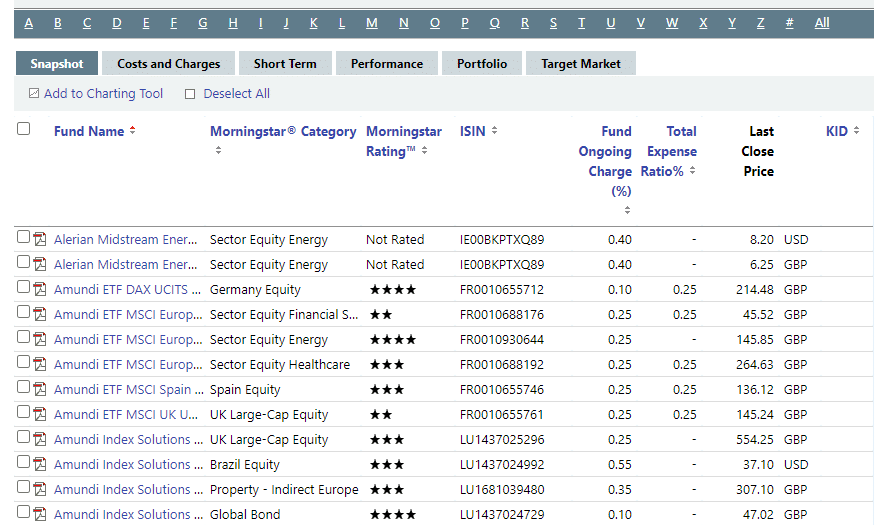 Source: AJ Bell
The above graphic gives some idea of how extensive the offering is. When set to alphabetical order, it takes some time to move out of the letter 'A'. There are even five different sub-categories of property ETFs.
Another neat feature of the AJ Bell service is the educational materials provided. These are tailored to both beginners and experienced investors and reflect the professional nature of the service offered.
WHAT YOU NEED TO KNOW ABOUT ETFs
The risks associated with the investments are effectively the same as if you built the portfolio yourself. It's convenient that ETFs pack up a range of assets and present them to you in a wrapper, but prices can still go down as well as up.
A lot of the firms compete on cost. This is, of course, a welcome by-product of a healthy market. It is important, though, to ensure that the actual investment suits your personal objectives. A profitable ETF with some costs is better than a zero-cost one that trades underwater.
ETFs are cheaper for fund management companies to run, so they often have a lower annual ongoing charges figure than a comparable unit trust or mutual fund. It is important to read the small print and factor in any fees for dealing when selling them, for example.
One core principle of investing is the need to diversify your portfolio. Doing this reduces single-stock risk, the chance that one firm blows up your performance record. With ETFs, it is possible to unintentionally find your portfolio overweight in a particular stock or sector. The Gold, US Stocks and Emerging Market ETFs listed above could all take a position in the same firm, so you could find your portfolio weighted to that single stock but not even be aware that this is the case.
ETFs can offer tax advantages. The chances of this being the case depend on individual circumstances, but if that is the case, the fund style of the product also suits 'buy-and-hold', long-term investment strategies.
FINAL THOUGHTS
The ETF market is booming because the product sells itself. The US ETF market has in recent years grown to be $3tn in size. Compared to individual stocks, the funds offer a simple way to gain exposure to a whole sector and diversify risk. Compared to 'traditional' funds, the ETFs are more cost-effective and can be more easily monitored as they are valued using real-time prices.
As in all markets, the list of 'best performers' will continue to change over time – it's just that with ETFs, it's easier to make a quick, low-cost switch to catch the changing market mood. However, investors can take comfort from knowing that good, regulated brokers are active in the market and are looking to offer them a chance to trade in the next big thing. Navigate to this list of trusted brokers that have been reviewed by the AskTraders team. They are well-run businesses that offer competitive T&Cs and have all the research and analysis tools needed to get your ETF trading off to the best possible start.