Astra Space Inc (NASDAQ: ASTR) stock price rallied 44.1% after the space company sent a satellite into orbit for the first time over the weekend.
Investors cheered the move that positions the company as a strong competitor against space industry giants such as SpaceX.
The company wants to position itself as a low-cost competitor in the rapidly growing space industry as it plans to launch over 300 payloads into orbit each year.

Astra Space is currently ramping up the production of its small-scale rockets. The company has an advantage over other leading space companies such as SpaceX in that it plans to send satellites into space, not people.
The company is likely to reward long term investors handsomely given that it is trading at 10X its 2025 projected earnings, and analysts predict that its share price could rise over 100% in the coming years.
Astra is reaping the benefits of investor excitement about the space industry as Virgin Galactic and SpaceX prepares to send people to Mars and the Moon in a new era of space exploration.
As short-term traders, we are always looking to profit from short to medium-term price swings. Moreover, we could get multiple such opportunities in the future, given that the company has been trading as a public company for a year.
Astar Space is listed on the NASDAQ exchange via the SPAC merger with Holicity (HOL) and has barely moved since then, rising just 5% over the past year.
However, the stock may finally start moving higher after its successful first launch, which many more launches will follow.
*This is not investment advice. Always do your due diligence before making investment decisions.
Astra Space stock price.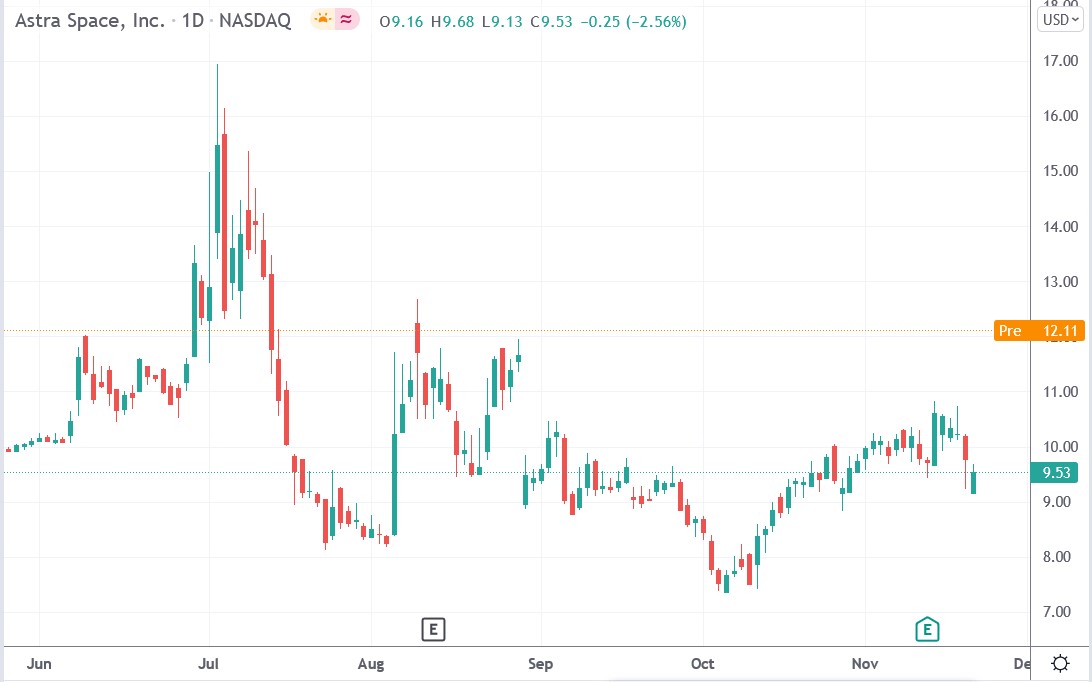 Astra Space stock price soared 44.07% to trade at $13.73, rising from Friday's closing price of $9.53.
Is Now a Good Time to Invest In Astra Space Shares?
Travel stocks, including IAG shares, have been severely impacted by the coronavirus pandemic and subsequent travel restrictions. Hotels, airlines, cruises, and car rental companies have all been affected, but could now be a good time to buy travel stocks at a discount? Are Astra Space shares included on our list of the best travel stocks to buy? Here's what our analyst had to say on the issue…