Best Travel Stocks To Buy
1. International Consolidated Airlines Group (LON: IAG)
IAG is a stock that I am big on for the eventual reopening of travel. The company has several airlines under its umbrella, such as British Airways, Iberia, Aer Lingus, LEVEL and Vueling. They have also agreed to acquire Air Europa for €500 million.
While it will benefit from the opening of European travel, IAG's stock price will depend heavily on the lucrative London to New York route. There have been talks about a travel corridor between the US and UK, but nothing has been confirmed yet.
If and when it does open up, expect IAG's share price to climb further.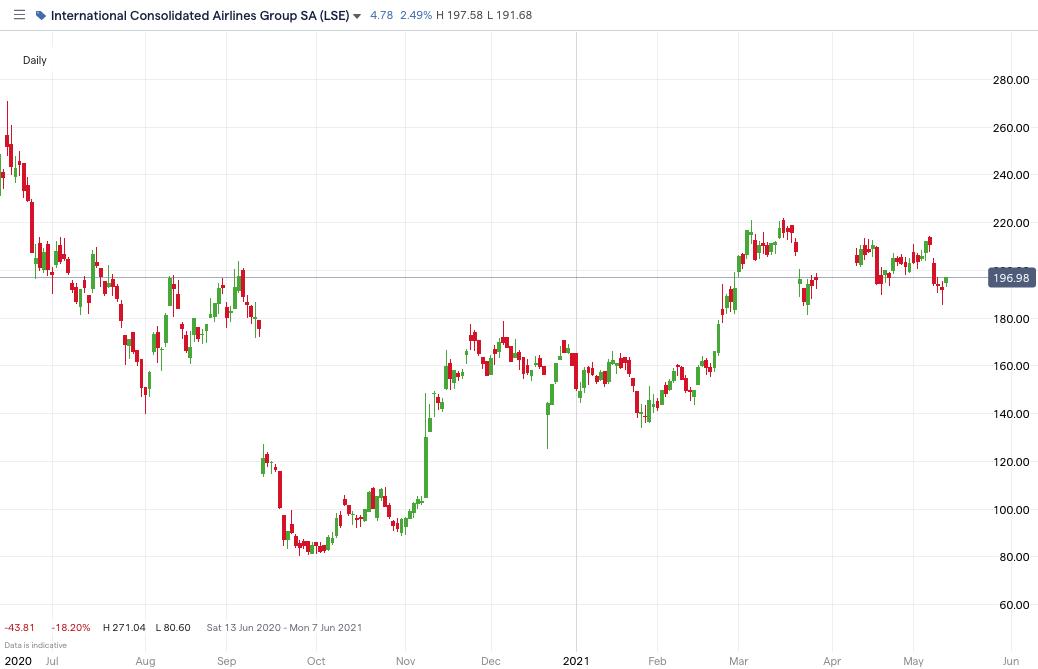 *68% of retail CFD accounts lose money
2. TUI (LON: TUI)
TUI Group is one of the largest holiday brands in the UK. The German company owns travel agencies, airlines, hotels, cruise ships and retail shops.
Again, we are expecting demand for holidays to surge as international travel restrictions slowly ease. And, with the company catering to more than 20 million customers, it will definitely thrive post-pandemic.
TUI also recently launched cheap PCR testing kits for UK holidaymakers to entice travellers. With Portugal being added to the UK government's green travel list, there is no doubt that TUI is probably already seeing a significant rise in demand.
Its share price is still below its pre-pandemic price and is an excellent stock to hold as travel reopens.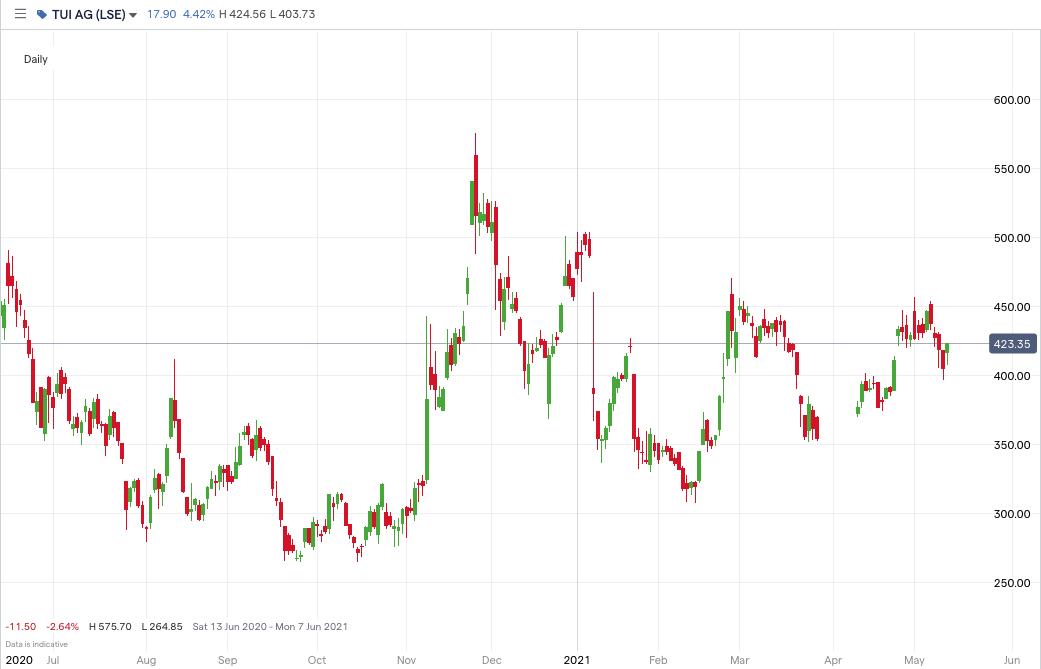 *68% of retail CFD accounts lose money
3. Avis Budget Group (NASDAQ: CAR)
Avis Budget Group is a leading global car rental company that owns brands, including Avis Car Rental, Budget Car Rental, Budget Truck Rental and Zipcar. It also owns several local brands in various regions globally.
The company did well to navigate the pandemic, reducing its fleet size by selling over 100,000 vehicles and removing approximately $1 billion in costs.
While it will definitely benefit from the pandemic recovery, ZipCar is the brand under Avis' banner that I like. The car-sharing market is forecast to grow at a 19.57% CAGR between 2021-2027, and ZipCar is a significant player in the industry. In cities such as London, where driving is becoming ever more expensive, ZipCar should see demand continue to increase.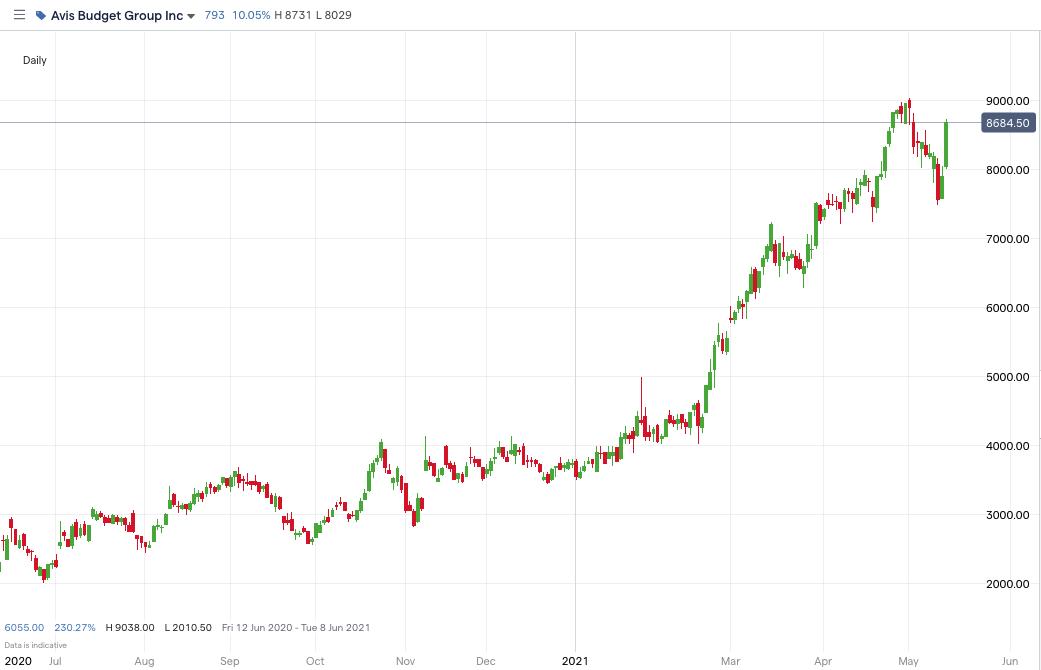 *68% of retail CFD accounts lose money
4. Airbnb (NASDAQ: ABNB)
Airbnb was founded in 2009 by Brian Chesky and Joe Gebbia. In the unlikely case that you aren't familiar with the company, it is a marketplace for people to list, search and book vacation rental properties and tourism activities.
The company makes its money by charging hosts a 3% fee of the booking subtotal and an under 14.2% service fee to guests.
Airbnb recently reported its Q1 earnings, beating analyst estimates for bookings and showing a build-up in demand for travel after over a year (and counting) of travel restrictions.
With the pandemic encouraging more remote work, Airbnb has seen the length of stays increase. It also has an enormous total addressable market, and I can see the business, and its stock price, going from strength to strength as travel continues to open up.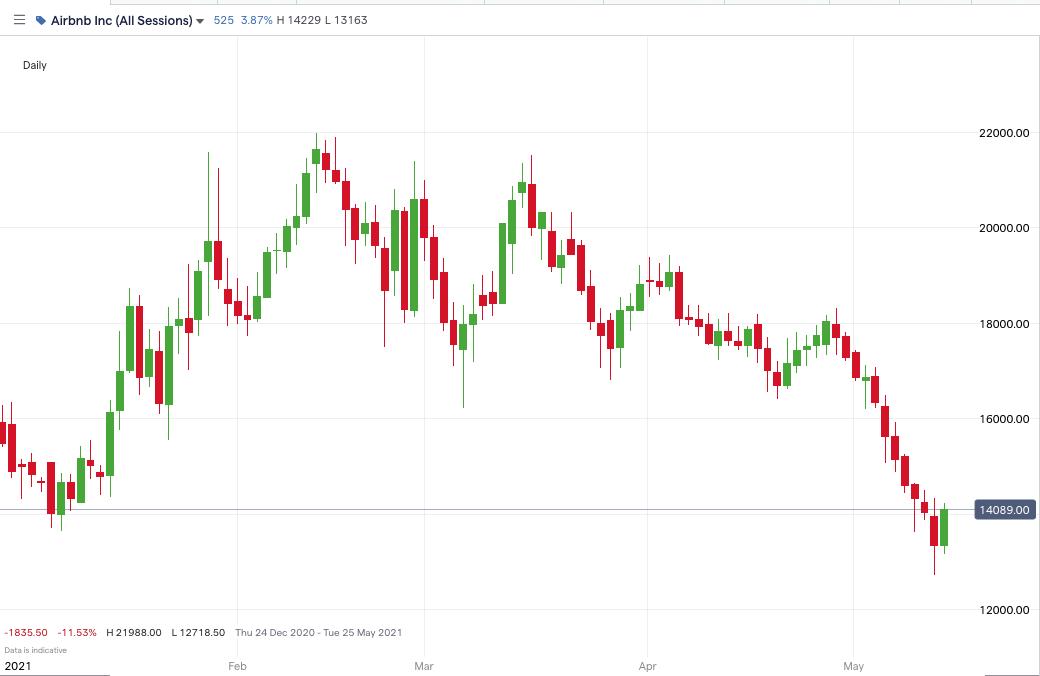 *68% of retail CFD accounts lose money
5. TripAdvisor (NASDAQ: TRIP)
TripAdvisor is an American online travel company where you can compare prices on flights, hotels and cruises.
The Massachusetts-based company's shares have more than recovered from their pandemic lows, gaining almost 170% in the past year. However, it's not too late to jump on board.
Airlines, hotels, and restaurants will be eager to entice consumers back, which means the demand for advertising on TripAdvisor should see a significant increase. In its Q3 2020 earnings call, the company also said it was planning to begin rolling out its first direct to consumer subscription offering.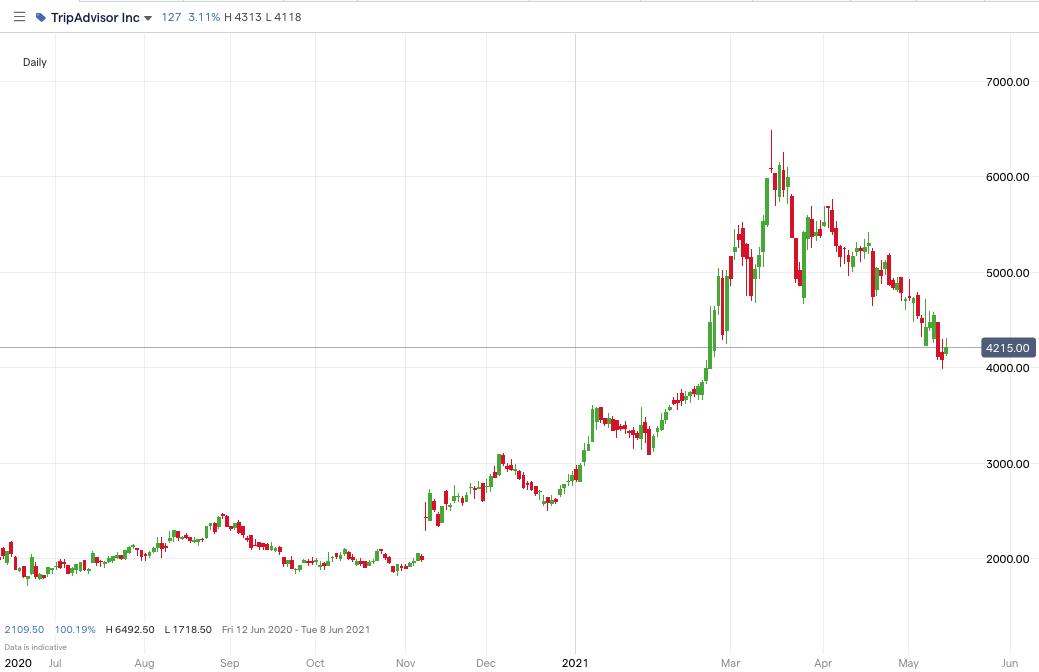 *68% of retail CFD accounts lose money
Why Invest in Travel Stocks Now
Despite many travel restrictions still in place globally, now is a great time to invest in travel stocks.
Travel stocks are expected to grow as vaccinations ramp up, as demonstrated by the easing of restrictions in the UK.
While there are still possible issues with the reopening of travel, such as different virus variants, the vaccines are doing their job.
Hotels and sites such as Airbnb have reported an increase in demand in the past few weeks, and activity has also picked up in luxury hotels. We can see that demand continuing to grow, and with more people working remotely, we may see people taking long weekend breaks more frequently.
As I said, there are still hurdles to overcome, but it does look like now is a great time to position ourselves for the reopening of international travel.
How To Buy Travel Stocks Online
1. Research Travel Stocks
Successful investing relies on thorough research. When investing in travel shares, make sure you look into every part of the company, so you can be sure it is an investment you want to make. Look at things like earnings, forecasts, and potential demand. With increased knowledge comes a more informed investment decision.
2. Find a Broker
The next step is to find a reputable broker. Of course, you will need to make sure they provide you with access to the market and company you want to invest in, but like researching a stock, ensure you look into all of the other attributes and potential pitfalls that the broker has. Most brokers will offer a demo platform that you can use before signing up for a real money account.
Best Brokers to buy Travel Stocks:
eToro:
68% of retail CFD accounts lose money
Take a look
If you are ready to add some travel stocks to your portfolio you'll need a broker that is regulated, has low fees and a user-friendly platform. Finding one can be a daunting task, which is why we've selected some of our favourites that tick all of these boxes to help you get started.
3. Open & Fund an Account
Once you have picked a broker, you will now need to open and fund your account. Again, the process is usually straightforward and follows a similar path regardless of the platform you choose. Brokers will ask you for information such as a copy of your driver's license as proof of who you are. There will be options including credit/debit card, bank wire, or an online payment service such as Paypal for funding the account.
4. Set Order Types
Before you enter or open a position, you must understand the different order types available. Understand how order types such as limit orders, market orders, stop-loss and take-profit orders can help you make better decisions in the market.
5. Select & Buy Shares
Now all that is left to do is fill in the details of the position and buy the shares. A tip we suggest is to plan for all scenarios and eventualities and how you will react in those circumstances. It will influence the amount of initial risk you take and how long you hold the position.
Summary
While travel stocks took a beating at the start of the pandemic, most have at least begun to make a comeback. However, there are still several travel stocks that are either undervalued or have room for further growth.
Whether you are looking to buy shares in an airline, hotel chain, price comparison site, or car rental company, once travel restrictions disappear, there is no doubt that all sectors within the travel industry will benefit.
While travel stocks will still be susceptible to any big Covid-19 news or travel restrictions, the industry is seeing positive signs. Of course, we still have a long way to go before travel fully reopens, but travel stocks are on the rise.