Best Travel Stocks To Buy
This article will explore the best travel stocks currently around, with the focus being on these five companies:

1. Booking Holdings Inc (NASDAQ:BKNG)
Booking Holdings is one of the largest travel booking portals in the world with a suite of popular sites including, booking.com, kayak.com, rentalcars.com and priceline.com.
During the pandemic, the firm slashed its workforce. It now benefits from cost savings of $300m per year. That has resulted in a much healthier looking balance sheet, which could be used to weather any future storms or finance growth.
Of the 32 broker analysts who follow the stock on IG, 10 rate it as a 'Buy', 7 as a 'Strong Buy', and 14 as a 'Hold'. Only one of the 32 analysts considers it a 'Sell'.
Booking Holdings Share Price Chart 2020 – 2022
Source: IG
From the lows of April 2020, the BKNG stock price has rallied by more than120% in less than two years. That indication of what the stock is possible of achieving has been followed by a pullback, which represents a chance for new buyers to enter into positions.
2. TUI (LON: TUI)
TUI Group is one of the largest holiday brands in the UK. The British-German company offers exposure to various aspects of the travel sector as it owns travel agencies, airlines, hotels, cruise ships and retail shops.
A surge in demand for holidays has not yet fed into the TUI share price despite the most recent set of accounts showing revenues are up, losses are down, and flight, cruise ship, and hotel capacity is expanding.
TUI AG (LSE) Share Price Chart 2020 – 2022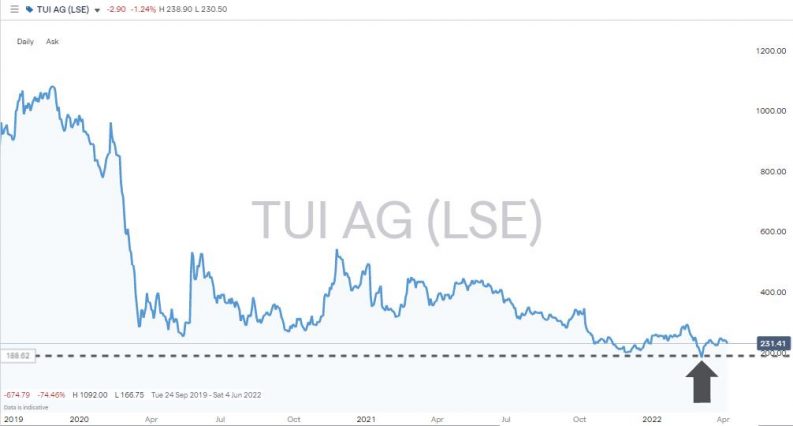 Source: IG
The hard-line restructuring the firm engaged in during the pandemic means the cost base has been scaled back. That's reflected in the share price chart, which has a support level in the region of 185p. As the company can cater to more than 20 million customers it's only a matter of time before the strong fundamentals feed through into a higher share price. Signs that the mood could be about to shift include the stock rallying by +32% between 7th and 16th March.
3. Avis Budget Group (NASDAQ: CAR)
Avis Budget Group is a leading global car rental company that owns brands, including Avis Car Rental, Budget Car Rental, Budget Truck Rental and Zipcar. It also owns several local brands in various regions globally.
The company did well to navigate the pandemic, reducing its fleet size by selling over 100,000 vehicles and removing approximately $1bn in costs The bankruptcy of rival Hertz illustrates the scale of the challenges the sector has faced, but also means that a company such as Avis' is well positioned to snap up market share.
While its holiday hire fleet will certainly benefit from the pandemic recovery, ZipCar is the brand under Avis's banner that shows signs of promise. The car-share market is a growth area and is forecast to expand at a 22.3% CAGR between 2020–2027, and ZipCar is a significant player in the industry. In cities such as London, where driving is becoming ever more expensive, ZipCar should see demand continue to increase.
Avis Budget Group Share Price Chart 2020 – 2022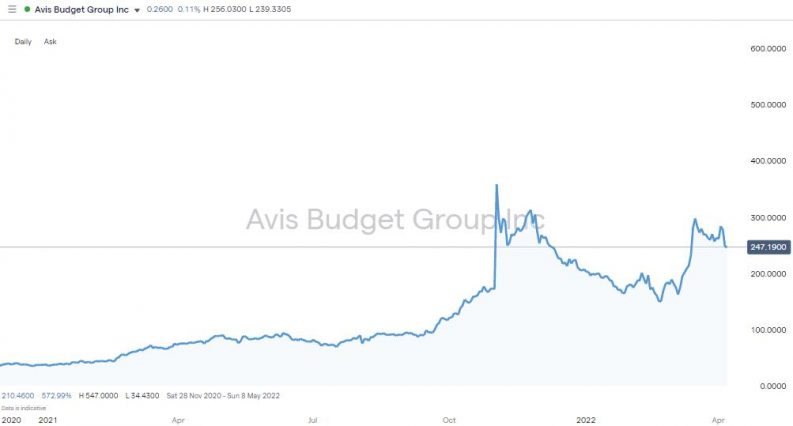 Source: IG
A nice-to-have kicker to the long Avis stock strategy is that used car prices have skyrocketed during the past two years as global supply chain issues have restricted the number of new vehicles coming off production lines. That could lead to an improved balance sheet or even bigger gains in terms of sales of used cars to dealers and consumers.
4. Airbnb (NASDAQ: ABNB)
Airbnb was founded in 2009 by Brian Chesky and Joe Gebbia. In the unlikely case that you aren't familiar with the company, it is a marketplace for people to list, search and book vacation rental properties and tourism activities.
The company makes its money by charging hosts a 3% fee of the booking subtotal and an under 14.2% service fee to guests.
Airbnb first listed on the stock market in December 2020 so it doesn't have a pre-pandemic share price as a guide of what could be. Saying that, the ABNB share price has held up well since the IPO and the firm is set to benefit from a pick-up in both leisure and business travel.
The firm also offers exposure to a new trend – that of some of the millions of people who now work from home booking extended breaks in faraway locations to enjoy a hybrid work-holiday experience.
Airbnb has seen the length of stays increase and continues to build its addressable market. The business, and its stock price certainly have the potential to go from strength to strength as leisure and business travel numbers increase.
Airbnb Share Price Chart 2020 – 2022
Source: IG
5. TripAdvisor (NASDAQ: TRIP)
TripAdvisor is an American online travel company customers can compare prices on flights, hotels and cruises. Airlines, hotels, and restaurants will be eager to entice consumers back, which means the demand for advertising on TripAdvisor should see a significant increase. The bulk of TripAdvisor's revenue comes from click-based advertising and subscription-based advertising so any uptick in the travel sector as a whole will be good for the price of TRIP stock.
The Massachusetts-based company's shares shot up in price after the worst of the pandemic, but has since fallen back to levels that make it attractive again. It caters to the largest travel audience in the world by monthly views, serves 48 markets in 28 languages and has 730 million reviews.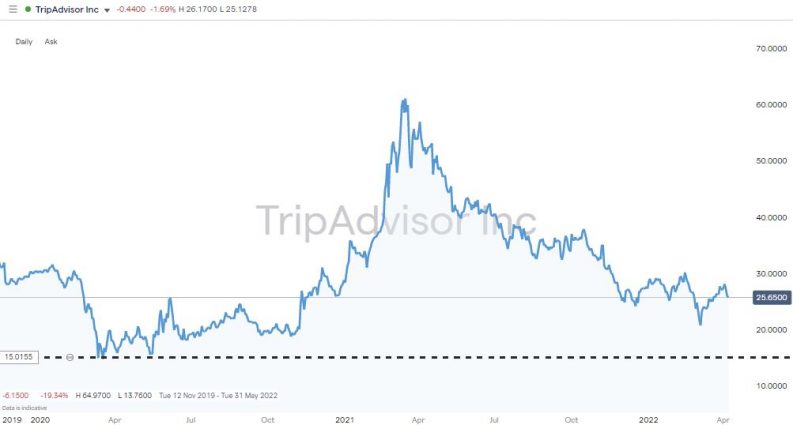 Source: IG
Why Invest in Travel Stocks Now
Travel restrictions enforced during the pandemic put the whole leisure sector on hold. Demand for, and supply of, services effectively plummeted to zero and the industry faced an existential crisis.
Since lockdown measures have eased, problems in the sector have continued to make the headlines, but scratch the surface and it's possible to see the new problems are of a different variety. In fact, the current issues suggest the long-term prospects for travel stocks are favourable.
Queues at airports, cancelled flights, and other logistical news stories point to demand for holidays being incredibly resilient and if anything, catching suppliers off-guard. Rather than building back slowly, demand for holiday bookings has surged and tested the ability of operators to keep up.
With staffing levels reduced due to COVID, and some workforces reduced due to lay-offs during the pandemic, the experience of some customers has not been what they might have expected. However, it doesn't suggest they'll hold back from trying to book holidays again in the future.
There are still risk factors to consider such as different virus variants emerging, but the vaccines have to date done their job. Scare stories relating to side-effects have not materialised and public confidence in the program remains high. Although the arrival of new variants might be a case of when, rather than if, the vaccination framework in place can be expected to provide an effective and speedy reaction.
Optimising your travel stocks strategy does require considering how the pandemic has changed consumer habits. 'Airbnb' and 'staycation' have become buzzwords of the new normal. It's also worth factoring in that working from home could result in more people taking long weekend breaks more frequently.
The interlude caused by COVID might result in people breaking out of old habits and forming new ones and the concept of 'flygskam' could become more widely known. That phenomenon puts air travel at risk due to potential changes in consumer behaviour patterns and is one reason there are no out-and-out flight stocks in our list of the best travel stocks to buy now.
HOW TO BUY TRAVEL STOCKS ONLINE
1. Research Travel Stocks
Successful investing relies on thorough research. When investing in travel shares, make sure you look into every part of the company, so you can be sure it is an investment you want to make. Look at things like earnings, forecasts, and potential demand. With increased knowledge comes a more informed investment decision and the good news is that this workload is front-loaded. Once you've confirmed your choice of travel stock it's a case of being patient and waiting for price to move as expected.
2. Find a Broker
Rule number one of successful investing is finding a reputable broker. If you sign up with a scam broker, the price of your travel stock going down would be the least of your worries. Reliable firms found on this list of trusted brokers are not only safe, but as they have been operating for many years, they are more likely to offer markets in the travel stocks you want to invest in.
Best Brokers to buy Travel Stocks:
eToro:
68% of retail CFD accounts lose money
Take a look
If you are ready to add some travel stocks to your portfolio you'll need a broker that is regulated, has low fees and a user-friendly platform. Finding one can be a daunting task, which is why we've selected some of our favourites that tick all of these boxes to help you get started.
When you're ready to add some travel stocks to your portfolio, you'll need a broker that has low fees and a user-friendly platform. Finding one can be a daunting task, which is why we've selected some of our favourites. These brokers have been reviewed by the AskTraders team and have just what you need to get started.
3. Open & Fund an Account
The process of wiring funds to your new account is as straightforward as any other online transaction and follows a similar path regardless of the platform you choose. Brokers will ask you for information such as a copy of your driver's license as proof of ID. and once verified ,there are options to move funds using credit/debit card, bank wire or ePayment services.
4. Set Order Types
If you want to optimise your trade entry point and manage risk then stop-loss, take-profit and limit orders are ways to automate the price levels you trade at.
5. Select & Buy Shares
Navigate from your account to the trading dashboard, enter the quantity of shares you want to buy and click 'Place Deal' and you'll exchange an amount of cash for a holding in a travel stock. A tip we suggest is to plan for all scenarios and eventualities and how you will react in those circumstances. It will influence the amount of initial risk you take and how long you hold the position.
Final Thoughts
Travel companies were one of the big losers during the COVID pandemic and that has been reflected in the price of travel stocks. Taking a decision to buy undervalued stocks can result in significant gains but strategies working on that basis can need time to come good.
Trading in small size would help mitigate against a resurgence in COVID and the risk that you find you need the funds for an alternative purpose.
Whether you are looking to buy shares in a price comparison site, hotel chain, or car rental company, there is a sense across the travel industry that the path of least resistance is upwards. Navigate to one of these trusted brokers and you'll find a user-friendly platform designed to support your next trading ideas. Setting up an account and putting on your first trades takes a matter of minutes and will put you in an ideal position to benefit from the rebound in travel stocks.