Aterian Inc (NASDAQ: ATER) stock has been down 13.54% over the past week, but it has just bounced off a significant support level. Can the stock recover and rally higher?
The short answer is yes, ATER stock can recover and rally higher just like it did the last time it touched the resistance level in late September.
Investors should not forget the stock's impressive rally at the start of the year, where it rose to a high of $48.99 in mid-February before giving up all its gains by March in a classic parabolic rally selloff.

We've mentioned multiple times in the past that parabolic rallies are usually followed by significant selloffs that retrace most of the previous gains.
The technology company uses data analytics, machine learning, and natural language processing to facilitate e-commerce product sales on multiple online marketplaces.
Aterian has strong fundamentals based on its latest earnings results for Q2 2021, where its revenues grew 14% to $68.2 million on an annualised basis, while its gross margins rose to 48% from last year's 6.2%.
The company also had a cash balance of $61.9 million on June 30, 2021, compared to 26.9 million on March 31, 2021. Investors can see that this company has solid fundamentals and excellent prospects given the rapidly growing global e-commerce sector.
Still, its shares have been the target of short squeezes by retail investors on popular social media sites such as Redditt. They were primarily responsible for its December to February rally, and we cannot rule out another short squeeze from retail traders in the future.
Short-term traders might find Aterian's current stock price quite attractive given that it is trading at a crucial support level, with a decent price target at the $16.76 resistance level.
*This is not investment advice. Always do your due diligence before making investment decisions.
Aterian stock price.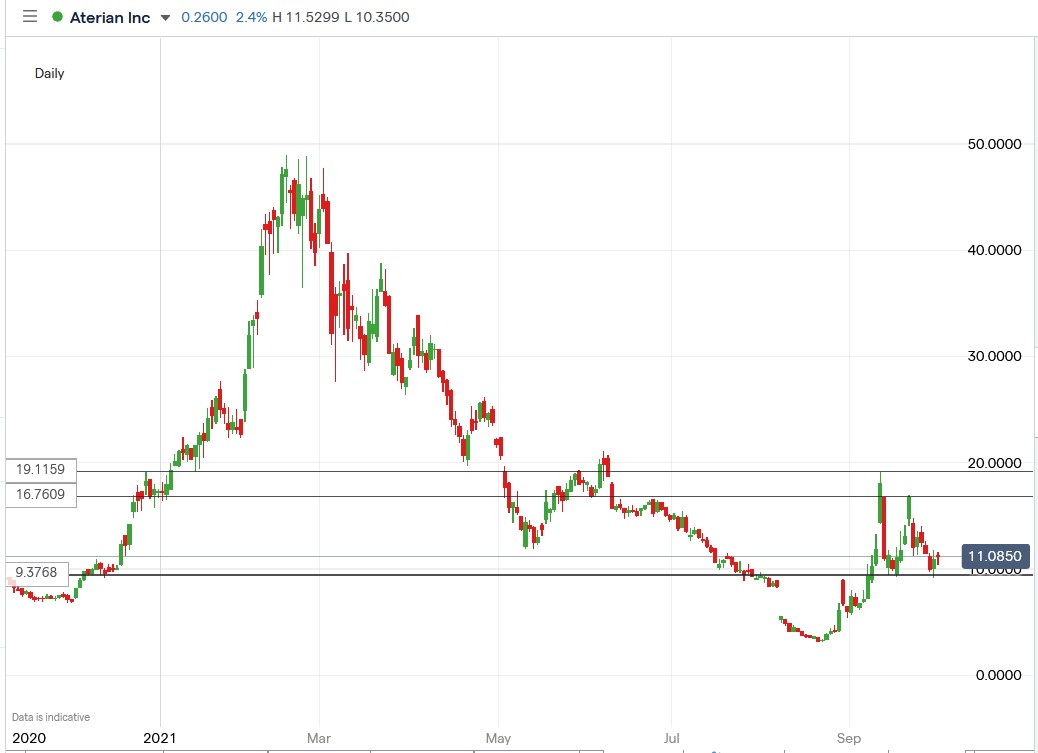 Aterian shares have been down 13.54% over the past week. Can they reverse course and rally higher?
Should you invest in Aterian shares?
Tech stocks offer some of the best growth potential, but time and time again, traders and investors ask us "what are the best tech stocks to buy?" You've probably seen shares of companies such as Amazon and Netflix achieve monumental rises in the past few years, but there are still several tech stocks with room for significant gains. Here is our analysts view on the best tech stocks to buy right now