Aviva plc (LON: AV) share price surged 3.14% after completing the sale of its Poland insurance business, including the Lithuania business.
The insurance company sold the business to its rival Allianz for €2.5 billion. The business included life insurance in Lithuania and Poland and general insurance, pensions and asset management divisions in Poland.
Investors cheered the divestment, as evidenced by the ongoing rally in Aviva's share price over the last three days that has seen its shares rally from a low of 371p on Friday to today's high of 397.8p.

Aviva is the UK's largest general insurer and has come under significant pressure to cust costs by activist investor Cevian Capital, Europe's most prominent activist investor fund. The fund acquired a 5% stake in Aviva and has been pressuring the company to cut costs.
The company has promised to cut £300 million in costs by 2022, while Cevian Capital is pushing for costs cuts of up to £500 million by 2023.
Petros Papanikolaou, the CEO of Allianz Central & Eastern Europe, commented: "We would like to welcome our colleagues and customers from Poland and Lithuania into the Allianz Group,"
Adding:
"After successfully completing the transfer of ownership, we will now focus on ensuring a seamless transition for our joint community of around 2,400 employees, a large network of about 4,000 agents, and almost five million customers in Poland and Lithuania."
Aviva posted impressive figures during the first six months of its financial year, with operating profits surging 17% to £725 million, while inflows into its UK savings and retirement business rose 24% to £5.2 billion on an annualised basis.
Investors interested in Aviva shares had an excellent entry opportunity after Friday's selloff when they could have gotten in at 371p. However, I wouldn't buy at current levels as I prefer to wait for a pullback before jumping in.
*This is not investment advice. Always do your due diligence before making investment decisions.
Aviva share price.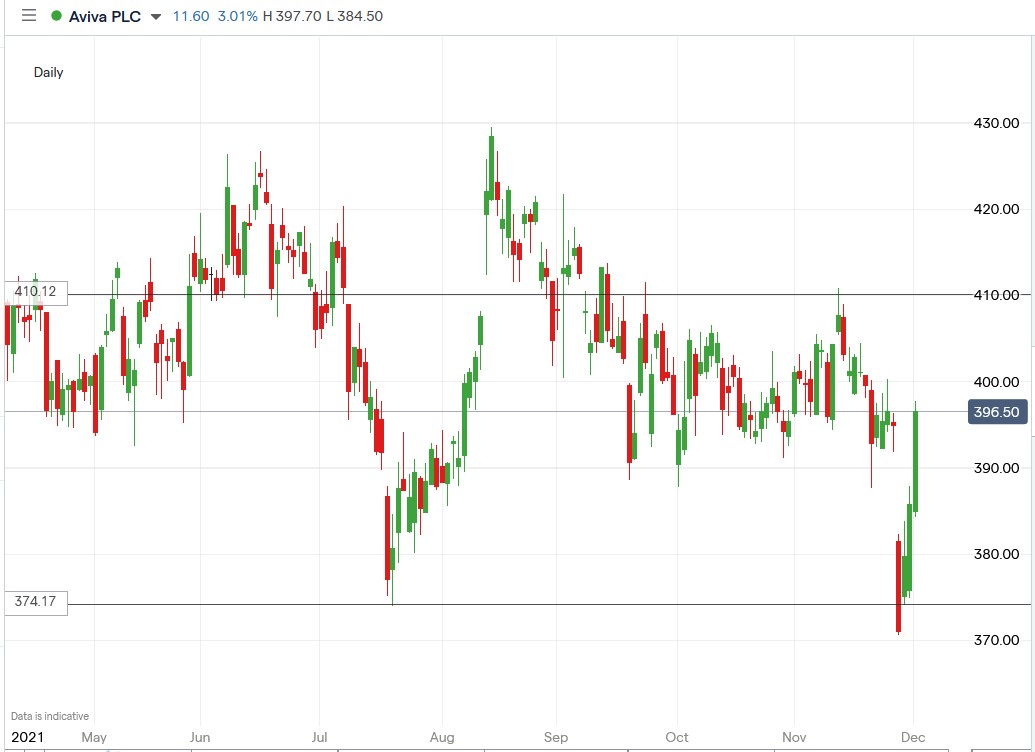 Aviva share price rallied 3.14% to trade at 397.80p, rising from Tuesday's closing price of 385.70p.
Should you invest in Aviva shares?
If you're a smart investor, you will know that having large-cap stocks in your portfolio is vital. They are more mature companies, considered safer investments, trade with less volatility, have greater analyst coverage, and in most cases, have a steady dividend stream. Due to the current market environment, we think now is the perfect time to add large-cap stocks to your portfolio. But which large-cap shares should you buy? Our stock analysts regularly review the market and share their picks for some of the best large-caps to invest in.