The stock market sell-off of 2022 has provided something of a shake-up for the investment community. Investment decision-making processes have been recalibrated and portfolios are being rebalanced to help traders navigate the new regime of high inflation and high interest rates.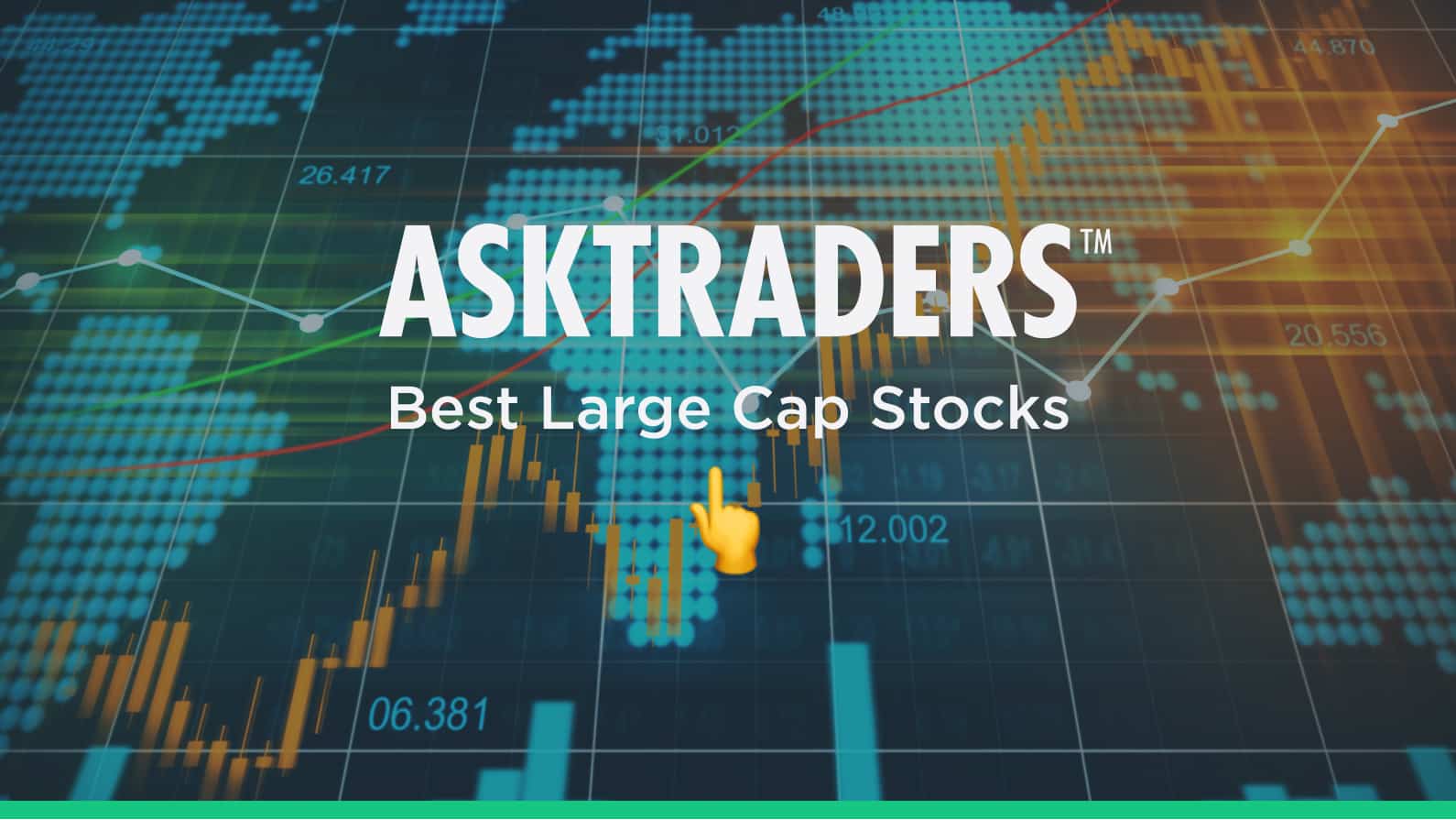 One sector that always attracts attention in such situations is large-cap stocks. When uncertainty builds, there's a lot to be said for buying into firms that have the critical mass to still generate a return for shareholders. Using technical and fundamental analysis, AskTraders has come up with the below shortlist of the best large-cap stocks to buy now.
What Is a Large-Cap Stock?
As the name says, large-cap stocks are the largest companies, typically with a $10bn or more market capitalisation.
Think of companies such as Apple, Berkshire Hathaway or Amazon. Large-cap stocks tend to be less volatile during market turmoil due to their experience and ability to manage the turbulent periods.
Large-cap stocks represent a significant portion of the US equity market and, as a result, are usually a core part of an investor's portfolio.
Microsoft (NASDAQ:MSFT)
This tech giant is one of the world's largest corporations and has a market cap of over $1.98tn.
The company produces so many of the software products we use on our computers today, from Windows to Microsoft Office, and they are also creators of the Xbox games console.
The worst of the Covid pandemic might be over but working from home looks like a trend that is set to continue for the foreseeable future. Microsoft is well-positioned to benefit from that change in work habits. Its Teams software is a cheaper alternative to Zoom's subscription service and is handily pre-installed on its Windows operating system. Remote working also requires server hosting and MSFT's Q2 2022 shareholder report revealed that its Intelligent Cloud division was responsible for 35% of the firm's total income.
Microsoft Corp- Daily Price Chart – 2018 – 2022
Source: IG
MercadoLibre (NASDAQ: MELI)
MercadoLibre is an Argentine company incorporated in the United States and listed on the NASDAQ exchange.
It is Latin America's largest eCommerce site – think of it as similar to Amazon or Alibaba, but with a lot of room to grow.
However, it's the firm's digital payment platform, Mercado Pago, that has bags of potential. In the earnings report released on 5th May 2022, the firm reported $1.30 earnings per share for the quarter, missing the consensus estimate of $1.66 by ($0.36). Core fundamentals remained strong with the company posting a net margin of 2.30% and a return on equity of 21.93%. The business had revenue of $2.25bn during the quarter, which beat analysts' expectations of $2.06bn. MercadoLibre's revenue for the quarter was also up 63.1% on a year-to-year basis.
While Mercado Bago was first built to support payments through the MercadoLibre site, it has developed its functionality in a similar way to PayPal and now supports off-platform transactions including in supermarkets and via person to person money transfers.
MercadoLibre has two large businesses that have seen rapid growth, especially in the past year, and the shopping habits formed during lockdown look to be hard-coded.
The MercadoLibre stock price has, like other tech stocks, suffered due to fears of inflation eating into future revenues. The stock has more than halved in value since its highs of September 2021, which, whilst painful for those who are already in positions, is a green light for new entrants who want to buy the dip.
MercadoLibre Inc- Daily Price Chart – 2018 – 2022
Source: IG
McDonald's (NYSE: MCD)
We all know McDonald's, the largest fast-food chain globally, with over 36,000 locations in more than 100 different countries. Its strong brand identity and renowned management practices put it in a strong position to maintain profitability levels despite rising food prices. Positioned at the value end of the fast-food sector, it can also hope to develop market share from consumers downgrading their eating out experiences.
The McDonald's share price has outperformed the broader market during the 2022 sell-off. MCD shares are down 6.08% as of 1st June 2022 whereas the S&P 500 Index was down 13.87%.
McDonald's has developed a business model that holds its value during good times and bad, making it one of the best large-cap stocks to buy.
McDonald's Corp – Daily Price Chart – 2018 – 2022
Source: IG
Looking to the future, McDonald's has made a good start to exploiting the trend towards home delivery. Its Q1 2022 earnings report showed that Digital Systemwide sales exceeded $5bn and accounted for more than 30% of total Systemwide sales in the company's top six markets. Global comparable sales have increased by almost 12% on a year on year basis.
Johnson & Johnson (NYSE: JNJ)
Johnson and Johnson is a healthcare giant with a diverse range of products, including medical devices, pharmaceuticals and consumer goods. It's also a firm that has a reputation for generating returns for investors while other more fancied stocks come and go.
Johnson & Johnson – Daily Price Chart – 2018 – 2022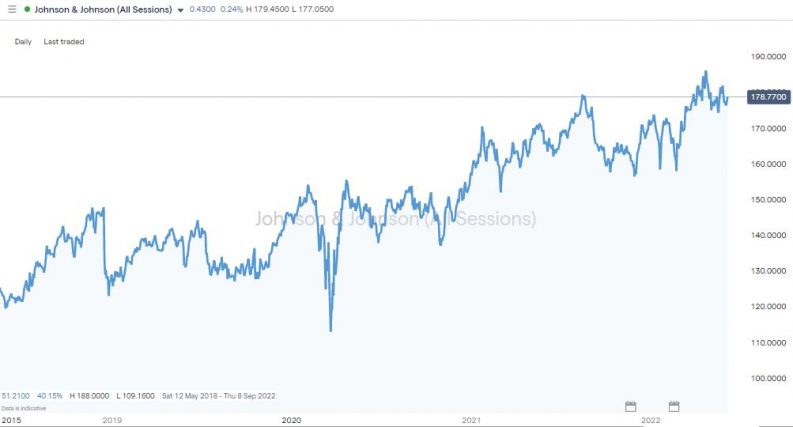 Source: IG
The US-based firm has a long history of consistent growth due to its enormous market share with over 100 household name brands under its banner.
Band-Aid, Tylenol medications, Johnson's Baby Products, Neutrogena, Clean & Clear, Novira, and Acclarent are all Johnson & Johnson products, as is the Jcovden Covid-19 vaccine the firm rolled out to help stem the global pandemic.
Johnson & Johnson's version of the covid vaccine required only one shot to ensure immunisation, which made it popular with participants in the program as it enabled a speedier rollout. The worst of Covid may be over, but the threat hasn't completely gone away and by January 2022 the company was able to announce that its vaccine is expected to generate annual sales of between $3.0bn and $3.5bn
The vaccine gave a boost to the JNJ stock price as the firm is not particularly known for creating immediate growth drivers. Instead, its reputation is based on consistent returns and stability. Given the current concerns about inflation, it ticks the box in terms of being a defensive large-cap stock which is ideal to buy now.
Costco Wholesale Corporation (NYSE: COST)
Costco Is an American multinational corporation that operates a chain of membership-only warehouse clubs where it sells various products wholesale.
The Washington-based company was one of the largest pandemic beneficiaries, generating double-digit growth in sales and earnings during 2020.
Since then, its share price has continued to surge and hit all-time highs in April 2022 when it clipped $607. The subsequent price fall to below $450 came off the back of bad earnings reports from the retail sector and fears that consumer spending was being squeezed by rises in the cost of living.
However long and severe the current inflationary bubble is, Costco's position as a provider of cheap household essentials will offer investors some comfort. Groceries are one of the items households can't do without. The price pullback is, therefore, a chance to buy a dip and take advantage of Costco being dragged down by market-wide, rather than stock-specific, concerns.
Costco Wholesale Corp – Daily Price Chart – 2018 – 2022

Source: IG
Procter & Gamble (NYSE: PG)
Procter & Gamble (P&G) is an American multinational consumer goods corporation based in Ohio. The company owns various well-known consumer brands such as Head & Shoulders, Herbal Essences, Fairy, Lenor, Gillett, and Braun.
In the earnings report released on 20th April 2022, the firm was still backing its product range to generate more revenue growth in 2022 than in 2021. A claim backed up by its most recent quarterly earnings being $19.38bn, which beat analyst forecasts of $18.73bn. Profit margins do come under pressure when inflation grabs hold of an economy, but whilst gross profit margins did fall by 4%, PG's operating margin only dropped by 0.1% in percentage point terms.
Procter & Gamble Co – Daily Price Chart – 2018 – 2022
Source: IG
Why Invest in Large-Cap Companies?
As we mentioned previously, large-cap stocks tend to be more stable and less volatile during periods of market instability.
While the potential for enormous growth may be limited, there is also a higher probability that these companies will consistently payout dividends, making them a vital component of an investor's portfolio.
Some, but not all large-cap stocks are blue-chip companies, meaning they have incredibly stable businesses and a long history of growth.
What to Know Before Investing in Large-Cap Companies
Before you start investing in large-cap stocks, there are some things to consider. While large-cap stocks have lower volatility, greater analyst coverage on Wall Street, and tend to pay a steady dividend, it is essential to remember that they may have less growth potential. Meaning, in a strong bull market, you may not see exceptional returns.
Another point to consider is that due to the size and scale of large-cap companies, your ownership share is likely to be a lot smaller compared to owning stock in a small-cap company.
Finally, remember that if a short term investment is what you are looking for, then large-cap stocks won't benefit you. They are unlikely to see considerable benefits in the short term, but they can be lucrative if held on a longer-term basis.
How to Start Trading Large-Cap Stocks Online
Research Large-Cap Shares
Now, you are probably here because you have started your research into large-cap stocks to buy, and if so then great! However, it is still vital to do your due diligence and research a stock thoroughly before purchasing shares. Look at the company's history, demand for its products, whether it is profitable and any potential headwinds coming its way. Another area to consider researching is the company's product pipeline and what's coming in the future.
Find a Broker
The next step is to find a broker to use. You need to find a platform that provides access to the stock and market you want to invest in, so make sure to research the broker first. There are many reasons why one broker may be more suitable than another, so look into all of its attributes, from whether it is regulated, to the fees it charges. Make sure they provide you with the tools and ability to make the best investment and trading decisions.
Open & Fund an Account
Opening and funding the account is generally the same process regardless of which broker you choose. You will be required to provide several details such as proof of residency, and a copy of your driver's license or passport. You may also be asked to answer investing and trading related questions. When it comes to funding your account, most platforms provide you with the option of credit or debit card, wire transfer or through an online payment service such as PayPal or Skrill.
Set Order Types
Understanding order types is another vital part of the process. There are a few you will need to be aware of such as market and limit orders. A limit order means you will enter the market at the price of your choosing (if it reaches there), while a market order gets executed almost immediately at the current price offered to you by your broker. There are also stop-loss and take-profit orders which you will also need to learn about.
Select & Buy Large-Cap Shares
After you have learnt and understood all of the above, the final thing to do is to select and buy the large-cap company's shares that you want to invest in. Make sure you have a well-researched and thought out plan that tells you how long you want to be in the position and the portion of your portfolio you want it to take up.
Whether you're a new trader just getting started with investing or just curious, the trading platforms listed on AskTraders are perfect for beginners investing in large-cap companies. Each broker is fully regulated – meaning your money is in a safe and secure environment. The brokers also have a wide range of stocks and markets to choose from and educational resources to help you start and make your first trade.
People Who Read This Also Viewed: