Best Large-Cap Stocks to Buy Right Now
1. Microsoft
This tech giant is one of the world's largest corporations and has a market cap of over $1.5 trillion.
The company produces so many of the software products we use on our computers today, from Windows to Microsoft Office and they are also creators of the Xbox games console.
With enforced working from home trend looking set to continue past the pandemic, Microsoft looks set to benefit further from its Teams software, offering a cheaper alternative to Zoom's subscription and one that is pre-installed on its Windows operating system.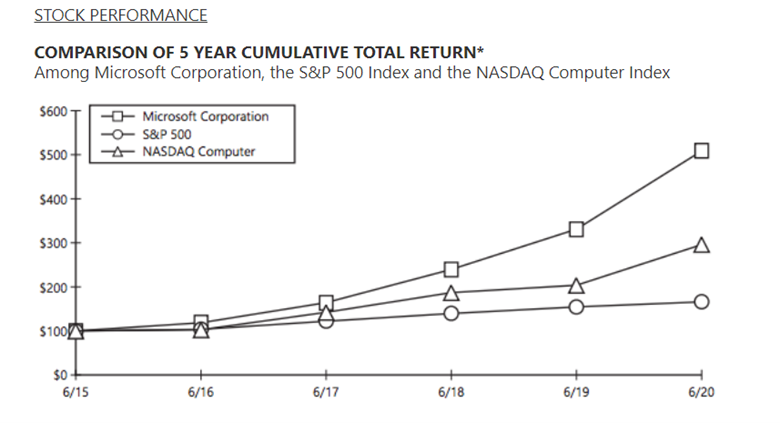 Source: Microsoft
2. MercadoLibre (NASDAQ: MELI)
MercadoLibre is an Argentine company incorporated in the United States.
It is Latin America's largest eCommerce site, think of it as similar to Amazon or Alibaba with a lot of room to grow.
However, it's the firm's digital payment platform, Mercado Pago, that has bags of potential. It's total payment volume reached $14.5 billion in Q3 2020, up 91.7%  in USD and 161.2% on an FX neutral basis, compared to 2019. While it was first built to support payments through the MercadoLibre site, it has grown and now, similar to PayPal, it has off-platform transactions including in supermarkets and via person to person money transfers.
MercadoLibre has two large businesses that have seen rapid growth, especially in the past year, with the coronavirus pandemic moving shopping habits online.
Its share price has gained over 197.47% in the last year, and we see that demand for the company's services rising further in 2021.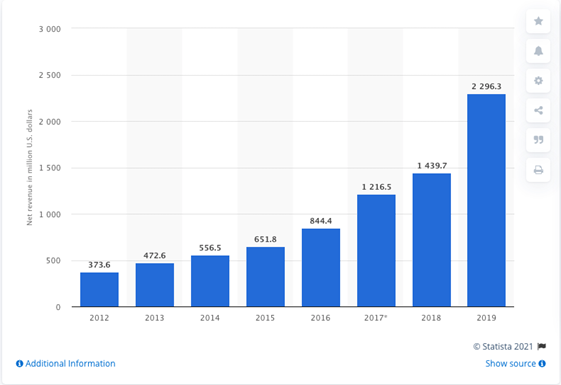 MercadoLibre Revenue Growth
3. McDonald's (NYSE: MCD)
We all know McDonald's, the largest fast-food chain globally, with over 39,000 locations in more than 100 different countries.
Its sales saw a dip in 2020 (especially in Q2) due to lockdown restrictions, but US sales roared back in Q3 2020 after celebrity collaborations which saw fans of the rapper flock to buy the Travis Scott meal.
The company also introduced big plans, including bringing back the McRib, launching the My McDonald's loyalty program and debuting its crispy chicken sandwich in February 2021.
McDonald's shares have fallen over 6% in the last 3-months, but with its plans and the potential for easing lockdown restrictions as vaccinations are rolled out, McDonald's could see a year of growth.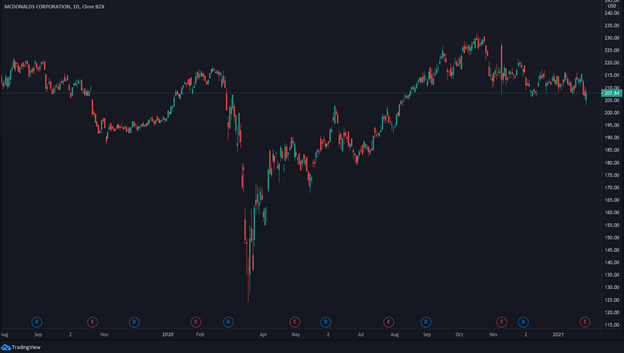 4. Johnson & Johnson (NYSE: JNJ)
Johnson and Johnson is a healthcare giant with a diverse range of products, including medical devices, pharmaceuticals and consumer goods.
The US-based firm has a long history of consistent growth due to its enormous market share with over 100 brands under its banner.
These include Band-Aid, Tylenol medications, Johnson's Baby Products, Neutrogena, Clean & Clear, Novira, and Acclarent.
A new product soon to be added is its coronavirus vaccine, which is expected to be approved in the US in two weeks. The JNJ vaccine is highly anticipated as it only needs one dose and the company is aiming for 100 million vaccine doses by the end of spring.
Despite the lack of immediate growth drivers, the company is always consistent and is one to watch, if you are looking for safe returns.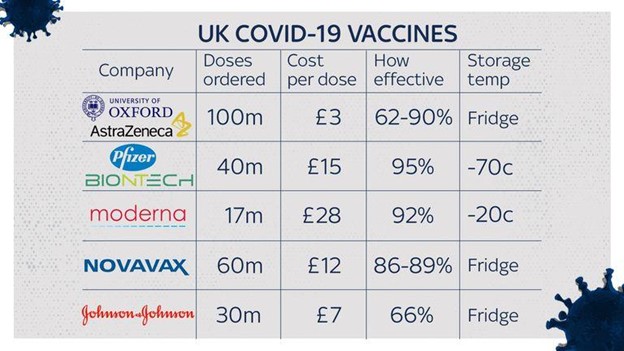 Source: Sky.com
5. Costco Wholesale Corporation (NYSE: COST)
Costco Is an American multinational corporation that operates a chain of membership-only warehouse clubs where they sell various products wholesale.
The Washington based company has been one of the largest pandemic beneficiaries, generating double-digit growth in sales and earnings during 2020 with a 16.9% rise in sales during its fiscal 2021 Q1 which ended November 22 2020.
Its share price hit all-time highs in 2020 but has since seen a fall. However, Costco announced a special dividend of $10 per share in November and is one to consider if you are looking at large-cap stocks to add to your portfolio.
Source: Macrotrends.net
6. Procter & Gamble (NYSE: PG)
Procter & Gamble (P&G) is an American multinational consumer goods corporation based in Ohio. The company owns various well-known consumer brands such as Head & Shoulders, Herbal Essences,  Fairy, Lenor, Gillett, and Braun.
If you are looking for a large-cap stock for a dividend portfolio, then take a look at P&G, raising its dividend every year for the past 64 years. In its latest earnings report, the firm reported a rise of 8% in sales and 4% in diluted EPS.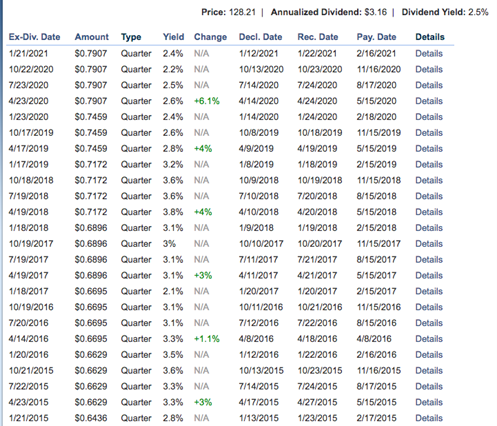 Source: StreetInsider
Why Invest in Large-Cap Companies
As we mentioned previously, large-cap stocks tend to be more stable and less volatile during periods of market instability.
While the potential for enormous growth may be limited, there is also a higher probability that these companies will consistently payout dividends, making them a vital component of an investors portfolio.
Some, but not all large-cap stocks are blue-chip companies, meaning they have incredibly stable businesses and a long history of growth.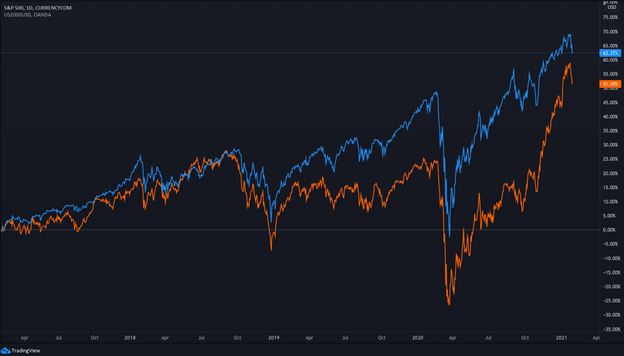 S&P 500 (Blue) vs Russell 2000 (Orange)
What to Know Before Investing in Large-Cap Companies
Before you start investing in large-cap stocks, there are some things to consider. While large-cap stocks have lower volatility, greater analyst coverage on Wall Street, and tend to pay a steady dividend, it is essential to remember that they may have less growth potential. Meaning, in a strong bull market, you may not see exceptional returns.
Another point to consider is that due to the size and scale of large-cap companies, your ownership share is likely to be a lot smaller compared to owning stock in a small-cap company.
Finally, remember that if a short term investment is what you are looking for, then large-cap stocks won't benefit you. They are unlikely to see considerable benefits in the short term, but they can be lucrative if held on a longer-term basis.
How to Start Trading Large-Cap Stocks Online
Research Large-Cap Shares
Now, you are probably here because you have started your research into large-cap stocks to buy, and if so then great! However, it is still vital to do your due diligence and research a stock thoroughly before purchasing shares. Look at the company's history, demand for its products, whether it is profitable and any potential headwinds coming its way. Another area to consider researching is the company's product pipeline and what's coming in the future.
Find a Broker
The next step is to find a broker to use. You need to find a platform that provides access to the stock and market you want to invest in, so make sure to research the broker first. There are many reasons why one broker may be more suitable than another, so look into all of its attributes, from whether it is regulated, to the fees it charges. Make sure they provide you with the tools and ability to make the best investment and trading decisions.
Open & Fund an Account
Opening and funding the account is generally the same process regardless of which broker you choose. You will be required to provide several details such as proof of residency, and a copy of your driver's license or passport. You may also be asked to answer investing and trading related questions. When it comes to funding your account, most platforms provide you with the option of credit or debit card, wire transfer or through an online payment service such as PayPal or Skrill.
Set Order Types
Understanding order types is another vital part of the process. There are a few you will need to be aware of such as market and limit orders. A limit order means you will enter the market at the price of your choosing (if it reaches there), while a market order gets executed almost immediately at the current price offered to you by your broker. There are also stop-loss and take-profit orders which you will also need to learn about.
Select & Buy Large-Cap Shares
After you have learnt and understood all of the above, the final thing to do is to select and buy the large-cap company's shares that you want to invest in. Make sure you have a well researched and thought out plan that tells you how long you want to be in the position and the portion of your portfolio you want it to take up.
Best Broker for Trading Large-Cap Stocks Online
eToro:
68% of retail CFD accounts lose money
Take a look
From 0% commission to low trading fees and top-tier regulation, these brokers are best-in-class when it  comes to buying and selling Large-Cap Shares.
Whether you're a new trader just getting started with investing or just curious, these trading platforms are perfect for beginners investing in large-cap companies. Each broker is fully regulated – meaning your money is in a safe and secure environment. The brokers also have a wide range of stocks and markets to choose from and educational resources to help you start and make your first trade.