Key points:
Baudax Bio stock spiked 37.9% despite a lack of significant news.
The pharma company's last news was a $4.2 million capital raise.
Investors are hoping today's rally will trigger a multi-day rally phase.
The Baudax Bio Inc (NASDAQ: BXRX) share price spiked 37.9% higher despite the pharmaceutical company not making significant announcements today.

The move higher was primarily driven by positive investor sentiment as the stock was trending on social media platforms frequented by retail traders such as Reddit.
Investors appear keen to push Baudax Bio shares higher following the massive drop that occurred in late December after the firm announced that it would raise $4.2 million via a direct share offering to institutional investors.
The capital raise was conducted by selling shares of convertible preferred stock and warrants to purchase up to 12.68 million shares of common stock at $0.25 per share, worth a total of $4.2 million.
At the time, investors penalised the company by selling their shares to catch up with the $0.25 price set out in the direct share offering.
Investors ignored that Baudax Bio intends to use the proceeds raised via the stock offering to market its Anjeso drug, a non-opioid pain treatment.
Anjeso was approved by the US FDA in February 2020 and is a meloxicam injection that treats moderate and severe pain in patients within a hospital setting and acute care settings.
The drug could become a significant revenue generator for Baudax Bio, which was spun out of Recro Pharma in November 2019 to develop treatments for patients in acute care settings.
Many wonder what the company did with the $17.6 million Baudax raised to market Anjeso in February 2021 after launching the drug in June 2020.
It appears that the pharma company keeps raising money to market a drug that is failing to attract new customers for whatever reason, much like flogging a dead horse. However, Baudax said it would also use the proceeds to develop its drug pipeline.
Hopefully, the company will develop another drug that will find ready buyers in the markets. Investors initially assumed that Anjeso would be a natural choice for physicians in acute care settings who want to relieve patient pain while avoiding opioid-based medications due to their addictive properties.
Many investors hope that Baudax will start reporting impressive sales numbers for Anjeso soon. Meanwhile, the company's shares fell over 88% over the past year and are down 10% since the year started.
Many hope that today's rally will trigger a sustained rally going forward.
*This is not investment advice. Always do your due diligence before making investment decisions.
Baudax Bio stock price.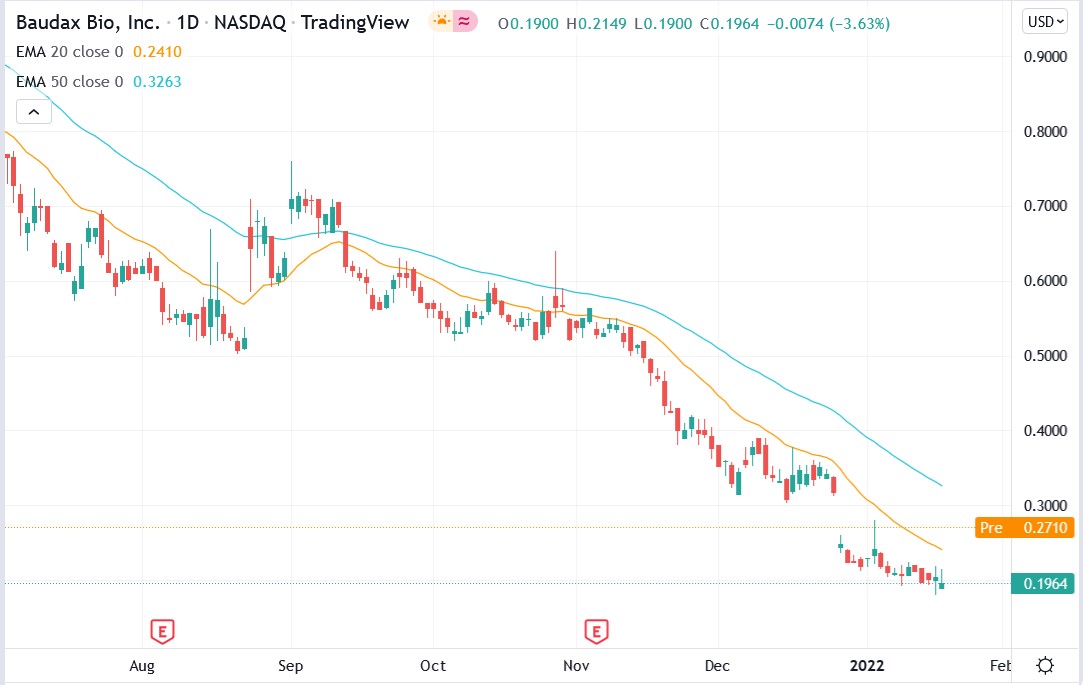 Baudax Bio shares spiked 32% higher to trade at $0.2713, rising from Wednesday's closing price of $0.1964.