Best Buy Co Inc (NYSE: BBY) stock price plunged 16.5% despite its Q3 earnings results beating analysts expectations on all fronts.
The consumer electronics giant reported revenues of $11.91 billion, beating analysts estimates as tracked by Refinitiv of $11.58 billion. In addition, the company reported earnings per share of $2.08 compared to the consensus estimate of $1.91, yet its share fell.
Analysts expressed concerns about shifting consumer preferences towards spending on travel and entertainment as they move away from consumer electronics, most of which they have been upgrading since last year.
Best Buy also acknowledged the fears expressed by analysts as it predicted that it would need to offer deeper discounts in future quarters to compensate for waning consumer demand and increasing supply as global bottlenecks are resolved.
Investors seemed to agree with the analysts given the massive selloff in BBY stock following a pretty impressive Q3 earnings report. The consumer electronics giant reported a surge in its net income to $499 million compared to the $391 million recorded in a similar period last year.
Interestingly, US same-store sales rose 2%, beating the company's estimates of a 0% to 3% drop for the quarter. The increase comes after BBY reported a 22.6% surge in the segment in Q3 2020.
Best Buy raised its annual earnings forecast to reflect the excellent results reported in Q3. The company now expects to generate $51.8 billion to $52.3 billion in revenues versus the previous outlook of $51 billion to $52 billion.
The electronics retailer is also betting big on its membership program priced at $199.99 per year, which offers loyal customers speedy deliveries, special discounts and promises to provide them with the best consumer electronic buying experience globally.
Corie Barry, Best Buy CEO, commented: "The goal is to create an experience that makes it inconceivable for members to purchase their tech from anyone else, driving a larger share of consumer electronic spend to Best Buy,"
Meanwhile, investors keen on scooping up Best Buy stock at a discount should seize the opportunity created by today's decline. However, nothing is guaranteed in the markets, and we could get a further decline in future.
Still, the company's prospects are pretty promising, making today's selloff seem like a market overreaction.
*This is not investment advice. Always do your due diligence before making investment decisions.
Best Buy stock price.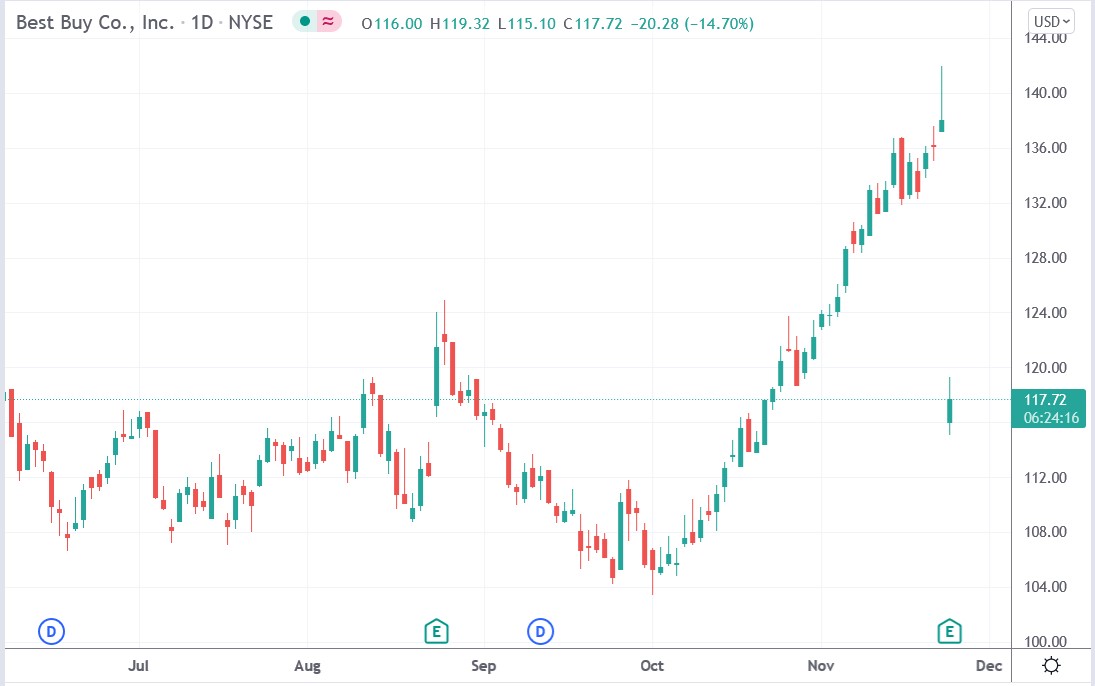 Best Buy stock price plunged 16.55% to trade at $115.18, falling from Monday's closing price of $138.03.
Should you invest in Best Buy shares?
If you're a smart investor, you will know that having large-cap stocks in your portfolio is vital. They are more mature companies, considered safer investments, trade with less volatility, have greater analyst coverage, and in most cases, have a steady dividend stream. Due to the current market environment, we think now is the perfect time to add large-cap stocks to your portfolio. But which large-cap shares should you buy? Our stock analysts regularly review the market and share their picks for some of the best large-caps to invest in.