Beyond Meat stock rallied 10.3% during premarket trading after KFC launched its plant-based Fried Chicken across the U.S.
The chicken will be available as a combo meal ordered in six or 12 pieces.
The company is set to benefit from the trend driven by younger consumers towards meatless alternatives.
The Beyond Meat Inc (NASDAQ: BYND) stock price rallied 10.3% after KFC announced the national launch of its Beyond Fried Chicken plant-based combo meal that will be available at all KFC locations in the United States.

The two companies had been testing different recipes for the plant-based chicken meal over the past two years, and it appears that they have agreed on the final formula for the Fried chicken that is very close in terms of taste and texture to real chicken meat.
At the time, Kevin Hochman, KFC's President of US Operations, said: "What we're trying to replicate is a tenderloin where you actually have the muscle fibers. The texture is a bit more pleasing than what we'd call a 'chewed-and-glued.' It's a different technology."
KFC will serve the Beyond Fried chicken as a combo meal where customers can order based on six or 12-piece meals. It will be the first-ever combo plant-based meal sold by KFC.
The fast-food chain has identified younger consumers as their main target since they want to eat plant-based meals to conserve the environment by reducing the massive environmental impact of the big meat industry.
Hochman believes that meatless food alternatives are the future as the younger consumers surpass much older consumers as the leading consumer group in the US and other developed and developing countries.
During an interview, Hochman said: "Younger people tend to be the ones that want to eat more plant-based,"
Adding:
"We envision this trend to continue to grow. We're pretty bullish on that. We don't think that plant-based is a fad, we think that's something that's going to continue to grow over time,"
The plant-based foods industry saw its sales hit $7 billion in 2020, with 2021 figures expected to be much higher as fast-food chains embrace the trend of keeping pace with their customers.
Beyond Meat and its competitors, such as Impossible Foods, have struck strategic partnerships with large corporations to sell their plant-based meat alternatives to millions of customers.
It remains to be seen whether the company shall hold on to its gains till the end of the trading day.
*This is not investment advice. Always do your due diligence before making investment decisions.
Beyond Meat stock price.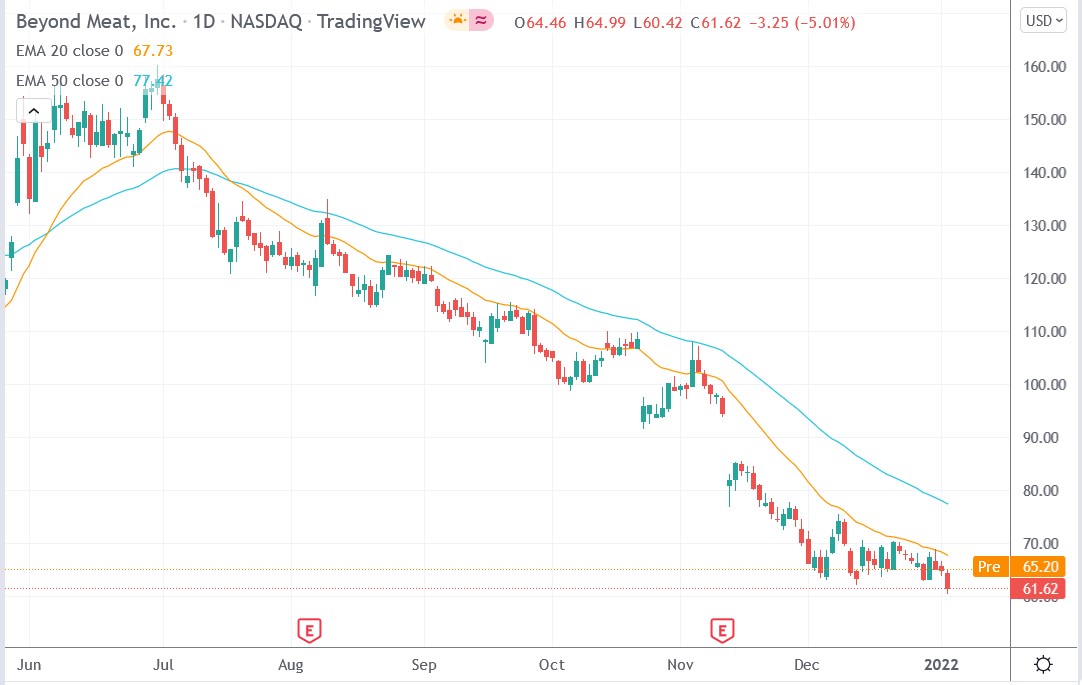 Beyond Meat stock rallied 10.26% premarket to trade at $67.94, rising from Tuesday's closing price of $61.62.
Should you invest in Beyond Meat shares?
If you're a smart investor, you will know that having large-cap stocks in your portfolio is vital. They are more mature companies, considered safer investments, trade with less volatility, have greater analyst coverage, and in most cases, have a steady dividend stream. Due to the current market environment, we think now is the perfect time to add large-cap stocks to your portfolio. But which large-cap shares should you buy? Our stock analysts regularly review the market and share their picks for some of the best large-caps to invest in.