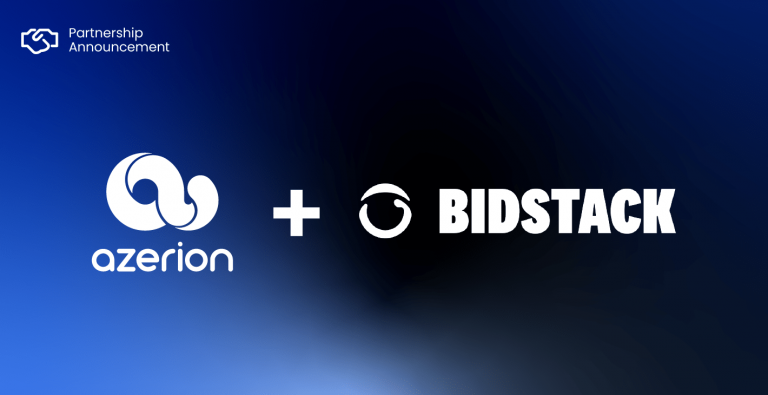 Key points:
Bidstack just signed an exclusive commercial agreement with Azerion.
The deal is expected to benefit the two in-game advertising companies significantly.
Investors are excited about the deal, which will boost both companies.
The Bidstack Group PLC (LON: BIDS) share price surged 44.9% after signing a landmark deal with Azerion, allowing Azerion to be the sole commercial partner for the next two years.

The in-game advertising company will utilise Azserion's workforce of 1,000 employees working from 26 offices in 18 countries to grow its sales via a unique sales strategy targeted at growing commercial partnerships with brands, game developers and ad agencies.
The two companies agreed to be exclusive commercial partners for the next two years. As a result, Azerion will get access to about 40 million users and 60 gaming titles across an expanding portfolio of independent, AAA and mobile publishers.
Both Bidstack and Azerion are looking to capitalise on the projected growth in the in-game advertising arena, which is expected to expand commercially in 2022 significantly.
Bidstack also released a trading update revealing that it had secured at least $30 million of advertising spend for the next two years starting on 1 March 2022.
The in-game advertising company said that it had executed 76 ad campaigns during its 2021 fiscal year and that the number of brands it is working with had doubled to 70, while the number of publishers had nearly tripled to 58.
Bidstack also expanded its global presence to 30 countries from last year's 17 countries. However, the firm revealed that it had suffered some delays, which had impacted its revenues significantly.
Still, it expects full-year revenues to exceed last year's £1.7 million figure despite missing expectations.
James Draper, Bidstack's Founder and CEO, said: "We expect this to be just the start of a long and deep relationship with Azerion as both companies have strong ambitions within the digital entertainment and media space."
Umut Akpinar, the Co-Founder and Co-CEO of Azerion added: "With this exciting partnership, we allow brands to explore new advertising frontiers in premium and brand-safe inventories while connecting seamlessly with consumers through impactful and immersive experiences."
Investors cheered the announcement, as evidenced by Bidstack's share price rally. However, investors who missed out on the recent rally in Bidstack shares should wait for a pullback, which is very likely given the parabolic nature of the recent rally.
*This is not investment advice. Always do your due diligence before making investment decisions.
Bidstack share price.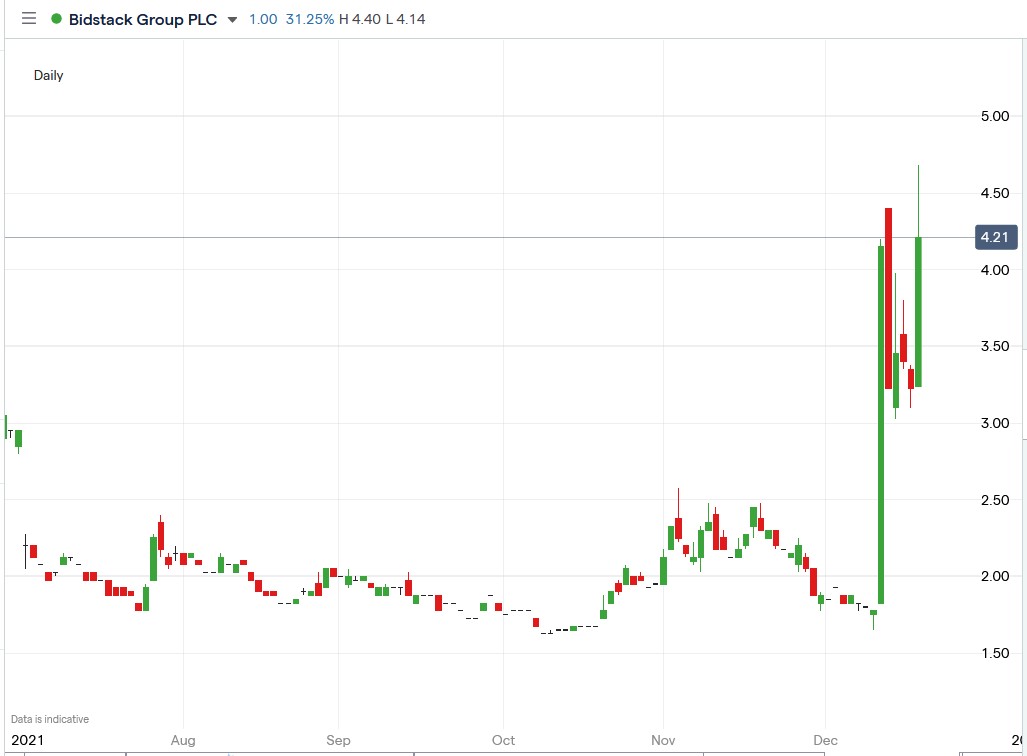 Bidstack share price surged 44.89% to trade at 4.68p, rising from Thursday's closing price of 3.23p.
Should You Invest in Bidstack Shares?
One of the most frequently asked questions we receive is, "what stocks are best to buy right now?" It's a wide-ranging question, but one that we have answered… Our AskTraders stock analysts regularly review the market and compile a list of which companies you should be adding to your portfolio, including short and longer-term positions. Here are the best stocks to buy right now.