Biofrontera Inc (NASDAQ: BFRI) stock price rallied 109.1% during premarket hours after Roth Capital initiated coverage of the stock with a $20 price target.

Investors reacted positively to the news, as evidenced by the stock's surge. In addition, retail traders jumped on the opportunity to drive the biotech company's stock price higher, given that it has a low stock float of 3.6 million shares.
Roth Capital analyst Jonathan Aschoff initiated coverage of Biofrontera stock, which was recently IPO'd on the NASDAQ exchange, to access more significant financing in the US markets from a larger pool of investors.
Professor Dr Hermann Lübbert, the founder and CEO of Biofrontera AG, commented: "The IPO and the associated access to one of the largest technology markets, together with the growth-oriented US corporate law, provides Biofrontera Inc. with the opportunity for further financing independently of Biofrontera AG. The high trading volumes already on the first two trading days indicate solid investor interest."
The pharmaceutical company intends to market its Ameluz drug treatment with a 24% market share in the Photodynamic Therapy (PDT) sector. The company intends to expand its market share by growing the actual market.
PDT drugs only account for 2% of the treatments targeted at actinic keratoses. The company intends to expand the proportion of PDT drugs used to treat actinic keratoses.
However, the US subsidiary will only have access to Ameluz. At the same time, its parent company Biofrontera AG will retain control of the sales of its other drugs in the US and globally.
Investors were impressed by the $20 price target from Roth Capital that triggered today's rally higher. However, investors who missed out on today's impressive rally should wait for another opportunity in future since it is never a good idea to chase a stock higher.
*This is not investment advice. Always do your due diligence before making investment decisions.
Biofronetra stock price.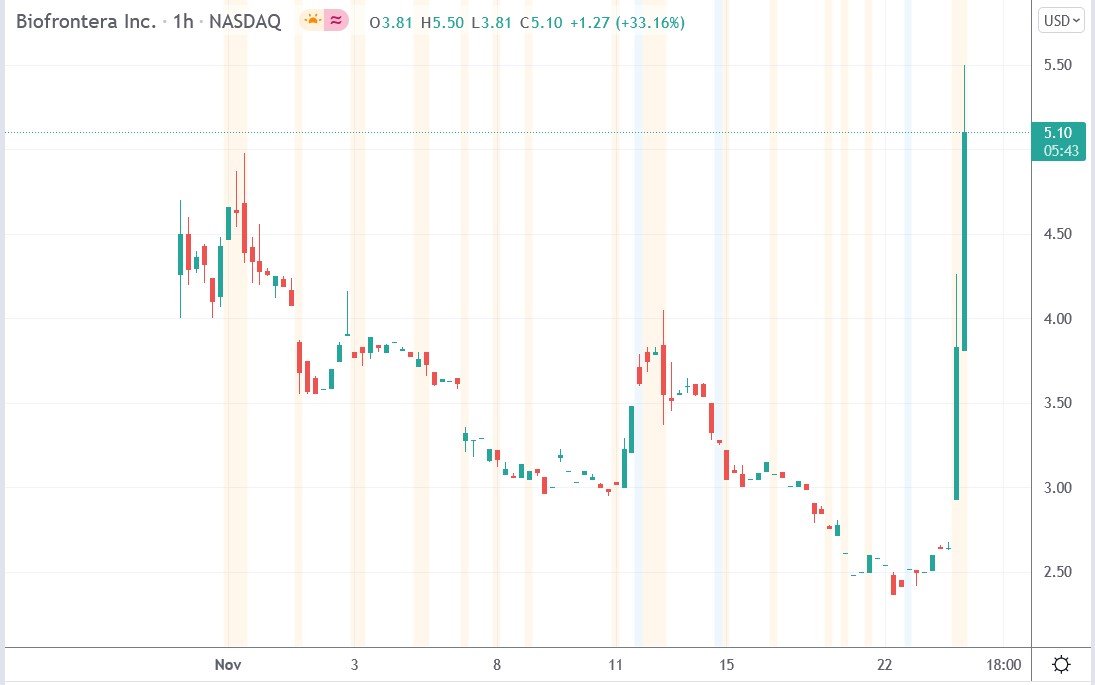 Biofrontera stock price rallied 109.13% premarket to trade at $5.50, rising from Tuesday's closing price of $2.63.
Is Now a Good Time to Invest In Biofrontera Shares?
Healthcare stocks, including Biofrontera shares, saw a wave of investors buy their shares during the pandemic. Governments also pumped money into the companies in an attempt to speed up the vaccine process. But, what happens now vaccines have been approved and the pandemic is becoming less prominent? Should we still invest in coronavirus-focused healthcare stocks? Or should we look to firms tackling other areas? Here are the best healthcare stocks to buy now…