C3Ai Inc (NYSE: AI) stock price rallied 21.4% after signing a production- other transaction agreement (OTA) worth $500 million with the US Department of Defence to give them access to a suite of enterprise artificial intelligence products and services.
The OTA will provide an avenue for DOD organizations to procure company-made technology for modelling and simulation work.
The US government is its current client and uses its AI technologies for security clearance adjudication, data fusion, and predictive maintenance.
Thomas Seibel, C3.ai's CEO, said:
"We are thrilled to have been selected for these important initiatives and look forward to expanding our work and finding new ways to better serve the US federal government,"
He added that the departmentwide agreement supports research projects and production deployments.
Investors cheered the news, as evidenced by C3.ai's stock price rally. The company's share price has fallen 76.87% this year, and many are hoping that today's rally will trigger a longer-term uptrend.
Unlike other military contractors who deliver physical goods, C3.ai is lucky to provide a service to the DOD; hence, its highest costs are labour and technology costs.
Therefore, the company is likely to have a higher operating margin than other contractors, which is excellent news for investors.
Long term investors interested in C3.ai's stock may find its current prices quite attractive following the significant drop in its share price since January.
*This is not investment advice. Always do your due diligence before making investment decisions.
C3Ai stock price.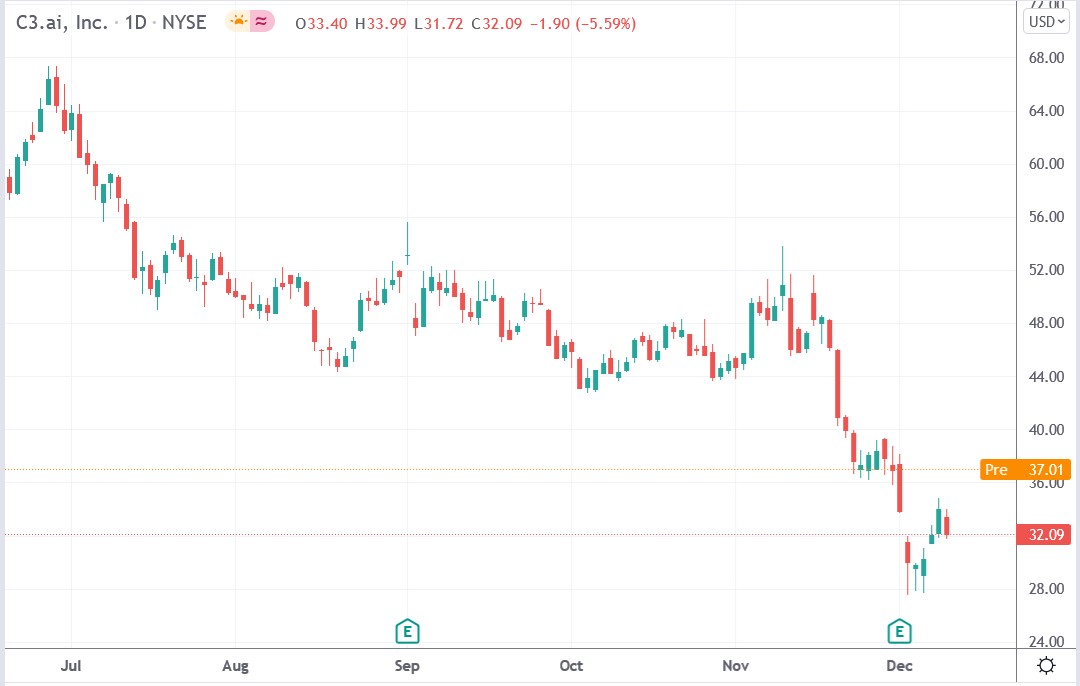 C3.ai stock price rallied 21.35% to trade at $38.94, rising from Thursday's closing price of $32.09.
Should you invest in C3.ai shares?
Tech stocks offer some of the best growth potential, but time and time again, traders and investors ask us "what are the best tech stocks to buy?" You've probably seen shares of companies such as Amazon and Netflix achieve monumental rises in the past few years, but there are still several tech stocks with room for significant gains. Here are our analysts view on the best tech stocks to buy right now.