Canoo Inc (NASDAQ:  GOEV) stock price rallied 29.8% premarket as investors responded positively to the company's Q3 and nine-month earnings results.

The electric vehicle manufacturer reported a GAAP net loss of $80.9 million during Q3 2021, bringing its nine-month losses to $208.7 million, compared to a GAAP net loss of $23.4 million in Q3 2020 and a comprehensive loss of $77.5 million in the same year.
Some of the report's highlights included the selection of Bentonville, Arkansas, as its headquarters and advanced industrialisation facility. The company also selected Fayetteville, Arkansas, as the location of its R&D centre.
Canoo initially selected Pryor, Oklahoma, as its 100% owned manufacturing facility in June before expanding to Arkansas and other locations in Oklahoma.
The EV manufacturer said it expects to receive approximately $100 million in state and local government financial initiatives that will not dilute its current shareholding.
The company also accelerated its production timeline in the US and selected Panasonic as its battery partner.
Canoo also revealed that the engineering design for its vehicles was complete, and it had already been sourced for LV Gamma builds.
The company had $414.9 million in cash and cash equivalents at the end of September and had grown its workforce by 22% to 800 employees at the end of Q3.
Tony Aquila, Canoo Inc's Chairman & CEO, said: "Our discipline continues to be Big News or No News. Therefore, we will accelerate our advanced manufacturing production in the U.S. to begin before Q4 2022. In June, we announced Pryor, Oklahoma, as the location for our owned manufacturing facility. We have expanded this partnership to include Arkansas and additional locations in Oklahoma. We will now focus on completing the definitive agreements with each state, which will include approximately $100 million in additional non-dilutive financial incentives, making the total approximately $400 million. In addition, with these agreements, we are targeting approximately $100 million in vehicle orders with the states and universities where we are locating these facilities."
*This is not investment advice. Always do your due diligence before making investment decisions.
Canoo stock price.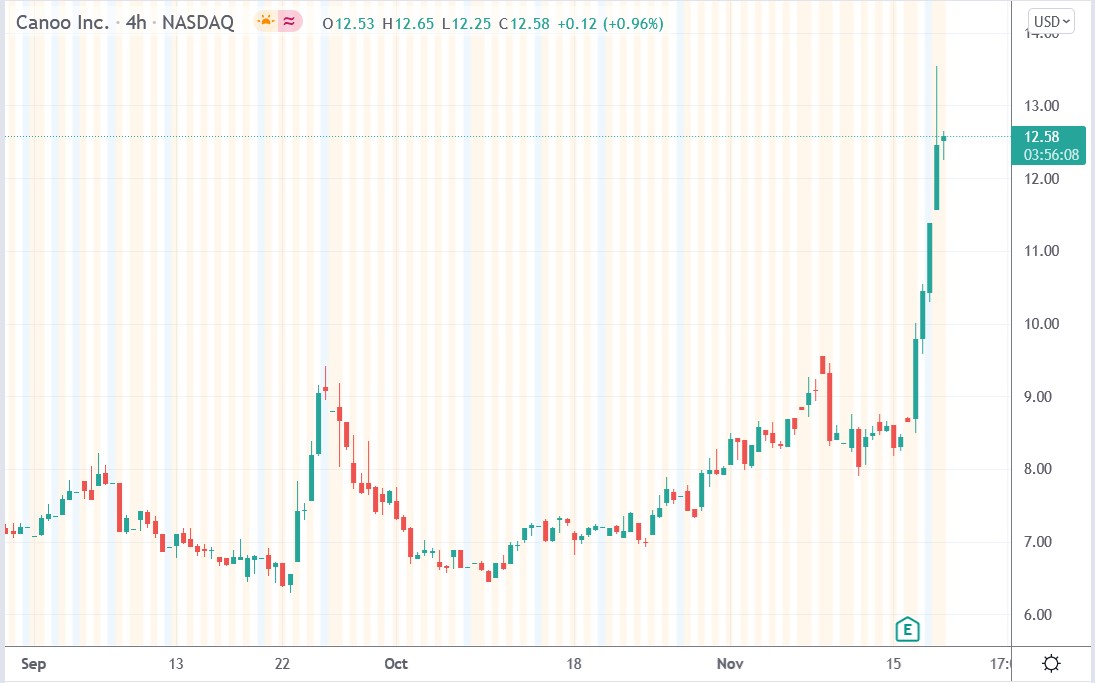 Canoo inc (GOEV) stock price rallied 29.76% premarket to trade at $13.56, rising from Tuesday's closing price of $10.45.
Should You Invest in Canoo Shares?
One of the most frequently asked questions we receive is, "what stocks are best to buy right now?" It's a wide-ranging question, but one that we have answered… Our AskTraders stock analysts regularly review the market and compile a list of which companies you should be adding to your portfolio, including short and longer-term positions. Here are the best stocks to buy right now.