Key points:
The Carnival Plc (CCL) share price has fallen 51.4% in 2022.
The company is about to report its Q2 earnings later this week.
Should you buy CCL shares? Read on to find out.
The Carnival plc (LON: CCL) share price has fallen 51.4% in 2022 amid a broad stock market selloff despite the lifting of coronavirus-related restrictions that have boosted the global travel industry, especially the airline industry.

Cruise ship operators have also benefited from the surge in leisure travel demand, but their shares have been falling amid fears that some countries may reimpose travel restrictions in the face of rising COVID-19 cases.
Carnival is set to release its Q2 earnings results on Friday, 24 June 2022, with many expecting the company to report positive revenues and profit figures due to the surge in travel after lifting most coronavirus restrictions in western countries in late February.
Still, many are concerned about Carnival's massive debt pile, which accumulated in 2020 and 2021 due to the lockdowns announced by most governments that slashed the demand for cruise ship travel significantly.
The company has about $36 billion in debt on its books, with cash reserves of about $7 billion to repay the loans. However, the firm is expected to generate $13.86 billion in revenues during its current financial year, with the figure set to rise to $21.47 billion in its 2023 financial year.
Therefore, it would not be difficult for the company to repay its debt obligations once it returns to profitability, which is now expected in the 2023 fiscal year. Now that Carnival is just two days away from releasing its Q2 results, investors should look for future cruise bookings.
A significant increase in the number of future bookings would indicate that the cruise ship company's future performance is likely to be much better, which could boost its share price.
Meanwhile, those interested in buying Carnival shares should remember that its future remains uncertain due to the looming threat of more lockdowns if COVID-19 infection rates remain high. As a result, I wouldn't' buy CCL shares since I believe there are other companies with better potential in the stock market.
*This is not investment advice. Always do your due diligence before making investment decisions.
Carnival share price.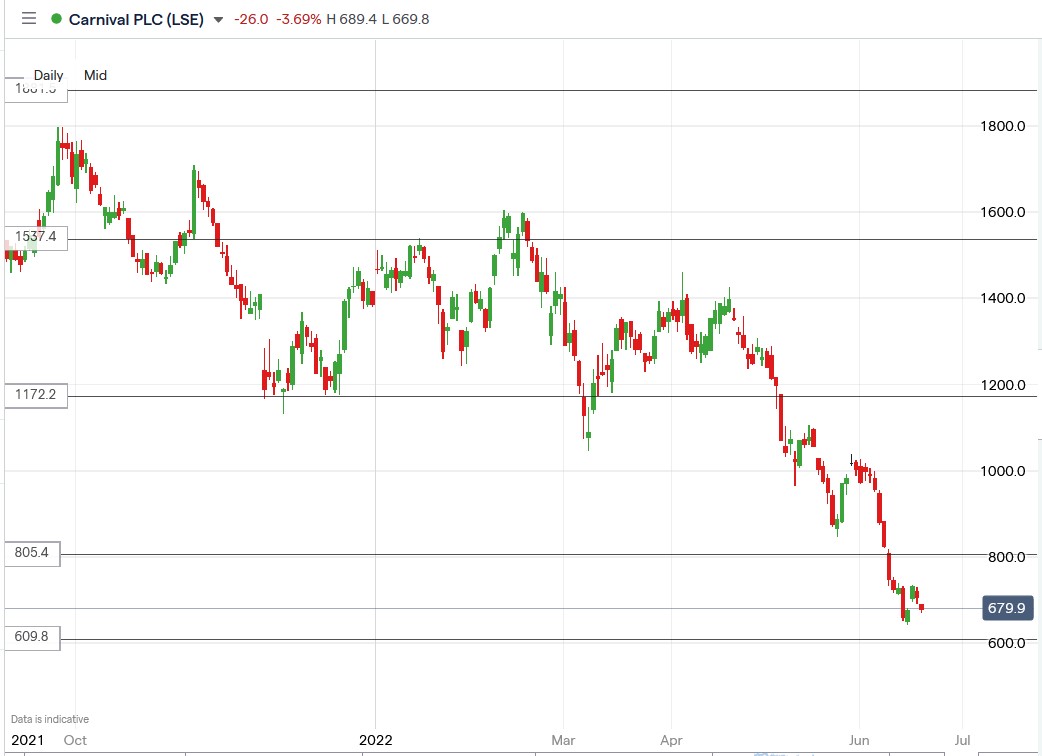 The Carnival share price has fallen 51.44% in 2022 amid a broader market selloff. What's next?