Key points:
Chariot Ltd shares gapped 58.8% after significant gas discovery in Morrocco.
The gas discovery was made at its Anchois-2 offshore well.
The company has more drilling campaigns planned that could yield positive results.
The Chariot Ltd (LON: CHAR) share price gapped 58.8% after discovering significant gas deposits at the Anchois-2 well in offshore Morroco.

The transitional energy company, which specialises in transitional gas and provides transitional energy for Africa's mining industry, revealed that preliminary data from its drilling campaign had shown significant gas accumulations in its appraisal well.
The Anchois-2 well had a net gas pay of more than 100 metres compared to the 55 metres deposit discovered in the Anchois-1 well.
Chariot's Gas Sand B had a net gas pay of over 50 metres in two consecutive reservoirs of similar thickness.
Investors cheered the massive gas discovery, as evidenced by Chariot's share price rally earlier today. However, Chariot shares had given up some of their gains at writing.
Adonis Pouroulis, Chariot's Acting CEO, commented:
"I am delighted to announce that Chariot, as well as conducting a successful appraisal well operation, has made a significant gas discovery at the Anchois-2 well, which materially exceeds our expectations. We continue to conduct further analysis on the data collected from the well, but as it stands, we believe the result is transformational for the Company."
Adding:
"With the recently announced key terms of gas offtake with a prominent international energy group, interest from two highly regarded institutional lenders to provide debt finance, an ongoing collaboration with a leading constructor of offshore gas projects and now this successful gas well result, the Anchois project is getting closer to helping provide a clean transitional fuel to support Morocco's industrial and economic growth."
The transitional energy company focused on the African continent revealed that it had encountered gas deposits within its C, M &O Gas sands successfully drilled. The gas-bearing intervals spanned a length of 250 metres, which was more significant than initial expectations. However, there were no water deposits identified across the gas intervals.
The company did not target Gas sand A because it plans to evaluate it on the re-entry operations on the Anchois-1 well.
Investors should remember that Chariot is still far from commercial operations at the gas wells, but it is headed in the right direction. I would wait for a pullback before jumping in, which we are likely to get given today's price gap. However, nothing is guaranteed.
*This is not investment advice. Always do your due diligence before making investment decisions.
Chariot share price.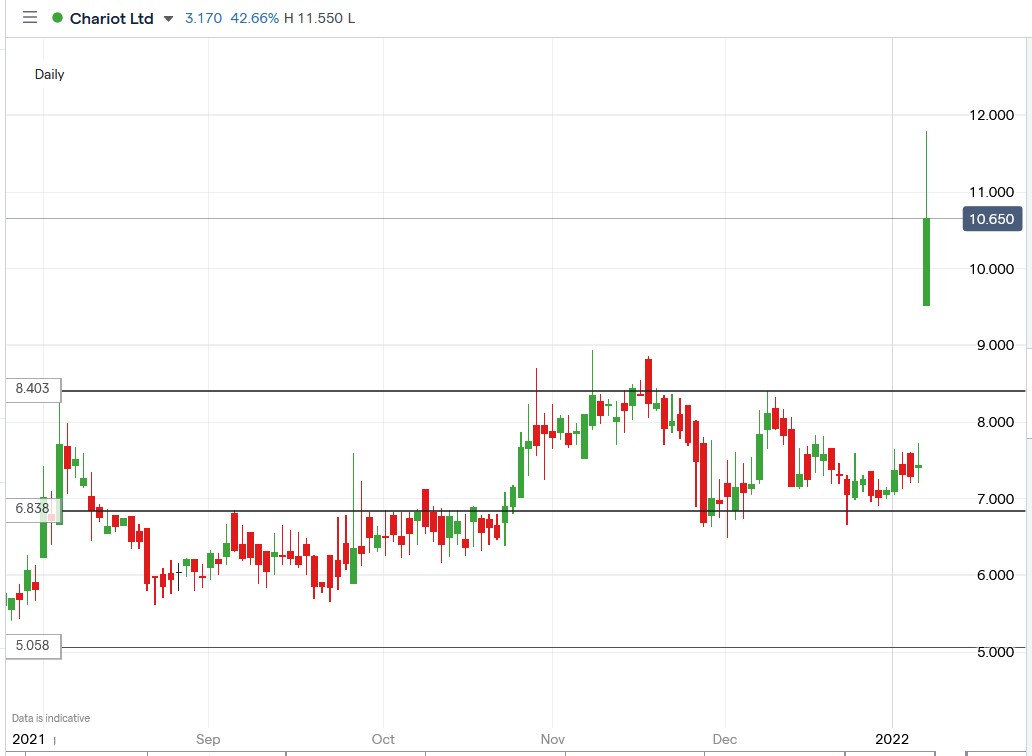 Chariot shares gapped 58.82% higher to trade at 11.80p, rising from Friday's closing price of 7.43p.