If you've ever considered buying into renewable energy stocks, then the time to act is now. The whole ethical investment sector is picking up speed and the returns on investments mirror the fact that the sector is going mainstream.
This review of the best renewable energy stocks to buy in the UK will pick out a range of candidates for you to consider for your shortlist, covering the following:
Why invest in renewable energy now?
Renewable energy, whether harnessed from the sun, wind or water, is becoming the world's power-source of choice. Across the globe, consumer preferences and public funding are piling into the sector as the world strives to tackle climate change.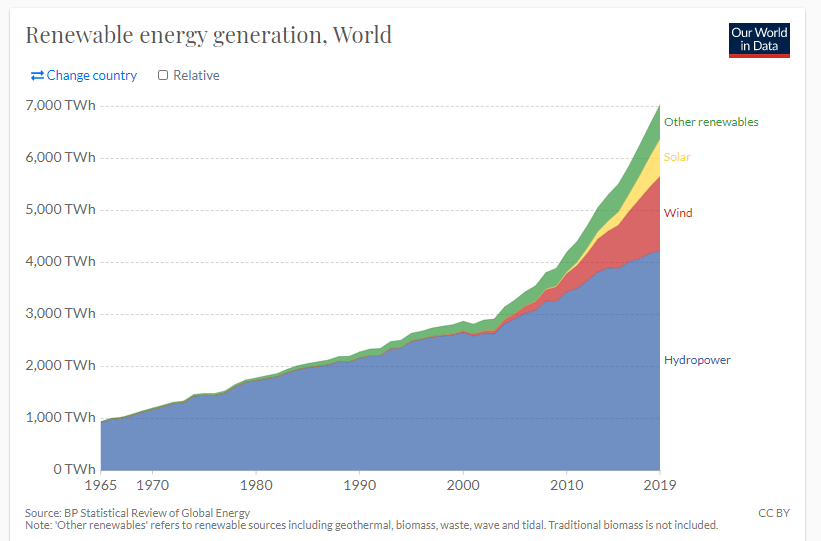 Source: Our World in Data / BP
This alignment of interests is, in itself, a significant factor. Lower-carbon energy production has been gaining momentum for years, but there is also a reason to act now — the COVID-19 pandemic.
An environment that welcomes change — During the pandemic, 10 years of societal change has been packed into nine calendar months. A new open-mindedness is likely to remain and leave the door open to renewable energy being widely adopted.
An era of co-operation — The pandemic also brought home how interrelated the world's economies and populations are. Global warming is, in a similar fashion, a threat to all mankind.
Public spending — Governments will be keen to reboot their economies and divert funds into sectors that provide employment and help them meet climate change targets.
The IEA (International Energy Agency) forecasts that renewable energy will be responsible for powering 12.4% of global energy demand by 2023. This represents a substantial leap from the 10.3% seen in 2018.
How to buy shares in renewable energy firms
The financial markets allow investors to buy shares in companies across the globe. The ultimate home of your renewable energy investment might be the UK, Europe, Asia or USA. No matter where you live, one first option is setting up an online broker account and getting to know more about renewable energy stocks.
The online broker, IG, has a platform that supports trading in more than 10,000 companies. That makes it an obvious base for your trading activity as some of the renewable energy companies are relatively small and might not be available at other brokers.
IG is also regulated by tier-one authorities, including the FCA (Financial Conduct Authority) in the UK.
IG and other brokers such as Plus500 and eToro also provide free demo accounts. These are a risk-free way to practise trading using virtual funds. Setting up a demo account at one of these brokers gives you access to their trading dashboard where you can analyse the firms you might want to invest in.
Ørsted A/S (ORSTED)
Wind-based renewable energy is the sector most expected to increase output in the near future. Hydro, solar and bio are also all expanding, but not as fast as wind. Given the prospects for growth, it is worth considering buying the firm, which is responsible for 29% of global installed capacity.
Ørsted is by far the world's largest offshore wind power developer and its exposure to one of the world's growth sectors caused its share price to surge by more than 80% in 2020.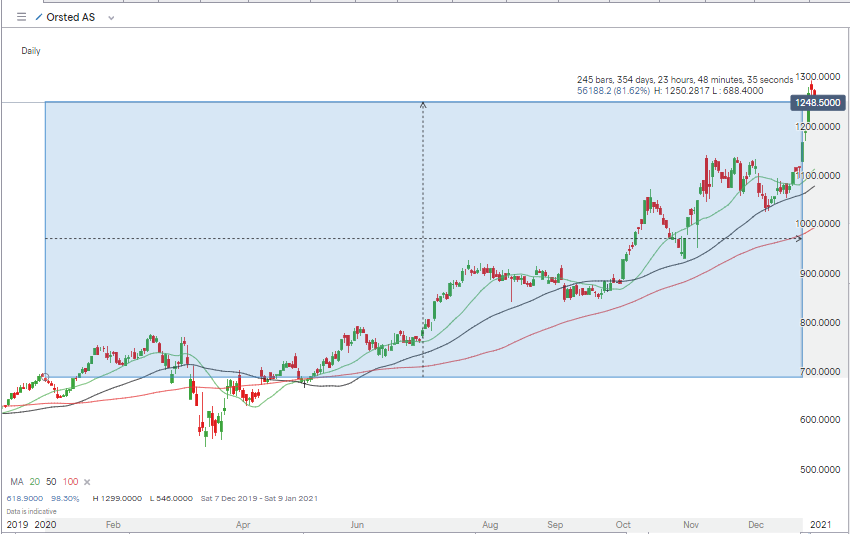 Source: IG
From an ethical investment perspective, there are other features of Ørsted worth considering:
Good governance — For many years, Scandinavian firms have led the way in terms of balancing corporate and social responsibilities. Danish-based Ørsted ticks the box if you're looking to buy into a firm that devotes time and resources to good work practices and social projects.
Due diligence — Any profitable firm of Ørsted's size attracts the attention of institutional investors. This means pension funds and hedge funds have spent a long-time studying the firm and checking for risks. There's no guaranteeing they aren't wrong, but the fact they invested their money in Ørsted is a free indicator that the firm has strong credentials.
Ørsted is one of the biggest renewable energy companies UK investors can access. In fact, the UK is Ørsted's biggest market with the firm operating 12 offshore wind farms in UK waters.
Its dominant position in the sector and large market capitalisation mean it is available to be traded at a wide range of online brokers. UK investors who choose this as their renewable energy investment can buy shares in the firm at eToro and IG.
Renewable energy investment UK listed shares
When considering what renewable energy shares to buy UK investors looking for a London listed firm can choose from a list that includes small, medium and large-sized companies.
BP (LSE:BP) —Although BP made its name extracting and supplying oil & gas, the demand for greener energy has left the firm with little choice but to set out to become one of the biggest renewable energy firms out there. Market Cap £51bn.
SDIC Power Holdings (LSE:SDIC)— The China-based firm is listed on the London Stock Exchange, meaning UK investors can buy UK listed shares but get exposure to the Asian and global markets. The firm specialises in operating electrical power plants and has a market capitalisation of £60bn.
Ceres Power Holdings (LSE:CWR)— Ceres Power may not yet be profitable, but investor interest in 2020 took the market capitalisation of this firm over the £2bn mark. Its play on renewable energy involves fuel cell technology and bringing cleaner and cheaper energy to businesses, homes and vehicles.
ITM Power (LSE:ITM) — A smaller business with a market capitalisation of just over £2bn. ITM offers a more intense risk-return ratio. Gains like those seen in 2020 can't be guaranteed, but its stock rose by more than 500% in the space of 12 months.
If your take on renewable investments that lean towards hydrogen as a fuel for the future, ITM could be the stock for you.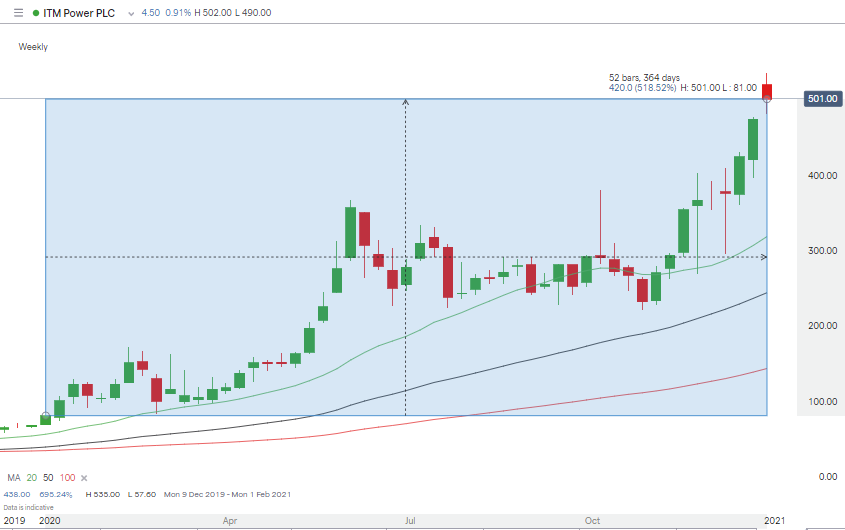 Source: IG
Those looking to make a UK-orientated renewable energy investment can buy shares in these UK listed energy stocks at Plus500, eToro and IG.
Renewable energy investment funds UK
All energy companies, whether green or not, face a particular problem. Investing in the infrastructure to generate electricity is a drain on capital and takes a long time to process. At the same time, prices can suffer from short-term volatility.
If this happens, it can cause a short-term mismatch in terms of revenue and expenditure. As a result, renewable energy investment funds have been set up. These take the longer-term view.
This can be good news for investors who are willing and able to tie their money up for a longer period of time. Another plus point is that funds typically spread their investment across a range of firms, which minimises single stock risk.
Funds are a natural choice for investors looking to get exposure to the global market. It's easy to include a holding in a firm that has a strong position in a particular geographical region. Each Trust Fund or ETF (Exchange Traded Fund) has its own characteristics, but in 2020, anything associated with 'renewable energy' appears to have outperformed.
The Invesco Solar ETF posted a +230% return in 2020
Close behind it, in terms of performance, was the Invesco Wilder Hill Clean Energy ETF
The ARK Genomic Revolution ETF also broke the 200% return barrier
The two US equity funds with the strongest returns in 2020 both focussed on renewable energy. The Enphase Energy fund rose by almost 600% in value throughout 20, and Sunrun, which is up 400%, focuses on green energy and good governance.
A lot of investors prefer the sense of security that comes from investing in a fund. Risk is diversified and investments in underlying firms only occur after some degree of due diligence has been carried out.
The trade-off is that administration fees can sometimes drag on performance. In 2020 however, the eye-watering performance from some of the renewable energy investment funds meant that the extra fees were tiny in comparison.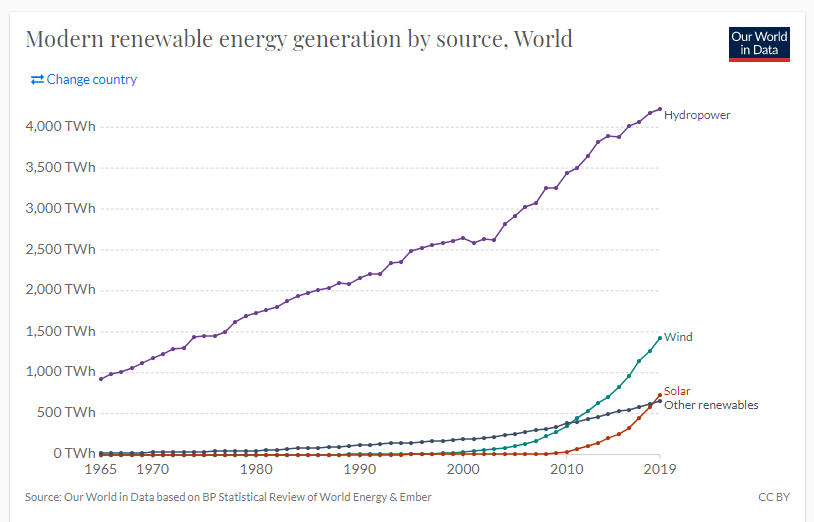 Source: Our World in Data / BP
Tesla
No discussion on the pros and cons of renewable energy investments can afford to omit Tesla Inc (Nasdaq:TSLA). Founded and managed by the enigmatic Elon Musk, the firm has proved something of a flagship for the renewable energy sector.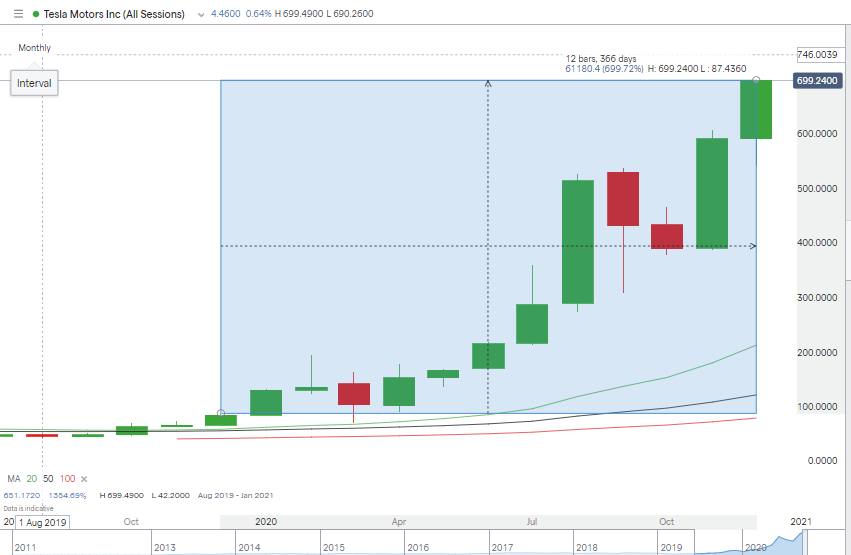 Source: IG
The Tesla share price in 2020 increased by almost 700% and the stock now has a large enough market cap to require it to be included in a wide range of benchmark indices. That means even more institutional investors are going to be required to step up and take a position.
The Tesla story does offer a second opinion on the renewable energy situation.
If stock valuations are based on future earnings, then investors must be expecting considerable change in the coming years. Tesla is not alone in the sector for having a stock valuation that is not supported by traditional pricing models.
Investors looking to take positions in renewable energy based on ethical principles must be aware that their high-minded ethics won't stop them from suffering financial pain if this does turn out to be a bubble.
Best Brokers to Buy Renewable Energy Stocks
eToro:
68% of retail CFD accounts lose money
Take a look
From 0% commission to low trading fees and top-tier regulation, these brokers are best-in-class when it comes to buying and selling renewable energy stocks.
Final thoughts
Despite the fact it is still early days for renewable energy, many of the largest players are already on the way to being successful businesses. With global electricity demand expected to increase by 62% by 2050, there's still potential for growth.
Utility stocks have always found favour with investors as they can be highly cash-generative, which means they pay out healthy dividends. They also offer relative stability with demand for energy relatively guaranteed, governments on board with programs to decarbonise their economies.
When buying single stock names, one thing to keep in mind is that the market is still in its infancy. There is a lot of competition and the chance for surprise announcements, which can lead to excessive price volatility.
Some of the companies mentioned benefit from having a range of revenue streams. Others concentrate solely on one power source, such as solar or wind.
One of the primary principles of investment is to diversify your risk and this can be done by buying shares in a range of companies. Traders can also concentrate on firms that have diverse income streams, or alternatively, can consider ethical funds, where a fund manager does the diversification for you, but at a price.