If you've ever considered buying and selling renewable energy stocks, the time to act is now. The whole ethical investment sector is picking up speed and the returns on investments mirror the fact that the sector is going mainstream.
This review of the best renewable energy stocks to buy and sell in the UK will pick out a range of candidates for you to consider for your shortlist. These are the best UK renewable energy stocks thanks to their strong ethical credentials and potential to provide financial returns.
Why Invest in Renewable Energy Now?
Renewable energy, whether harnessed from the sun, wind or water, is becoming the world's power source of choice. Across the globe, consumer preferences and public funding are piling into the sector as the world strives to tackle climate change.
Lower-carbon energy production has been gaining momentum for years, but the COVID-19 pandemic has resulted in people being more willing to embrace change regarding their daily habits. At the same time, changing weather patterns are leading to headline-grabbing natural disasters, which are hammering home that methods of producing energy need to change.
Politicians, investors, consumers and corporate bosses have all committed to the change to the extent that the move to green energy has passed a tipping point. The landscape of energy production is about to change, and these are the firms that will be part of that movement.
---
Greencoat UK Wind (UKW)
Greencoat UK Wind is one of the larger operators in the sector. Its market cap of £3.28bn offers investors some protection from the high price volatility that is a feature of UK renewable energy stocks. This size also means that the firm has the critical mass to invest in expanding its operations as the sector grows.
Founded in 2012, Greencoat UK Wind is listed on the London Stock Exchange and is a member of the FTSE 250 index. It operates more than 44 onshore and offshore wind farms and is committed to expanding its capacity via purchases of other operators.
Operating in the style of an investment fund, the firm buys established operations, rather than creating its own farms from scratch. The challenges faced by firms in setting up farms makes that area of the industry a riskier proposition.
If an investor had to choose only one UK renewable stock, then Greencoat UK Wind would be near the top of that list. It aims to generate a sustainable, attractive, inflating yield for investors and currently offers a dividend yield of 5.27%. The sound business model means that there is also room for capital protection.
| | |
| --- | --- |
| Growth, Valuation, Trading | Information |
| Market cap | £3.28B |
| EPS recent fiscal year | £0.18 |
| Dividend yield | 5.272% |
| Profit margin | 92.208% |
| Return on investment | 9.852% |
| Normalised P/E ratio | 7.652 |
Source: IG
---
Ceres Power Holdings (CWR)
Ceres Power Holdings has a stock price history that demonstrates the relatively high risk-reward profile of UK green energy stocks. The price fall from £15.62 in January 2021 to £3.27 in October 2022 is undoubtedly bad news for anyone already holding the stock, but for new entrants, it represents a great buying opportunity.
With a strong emphasis on R&D, Ceres Power offers considerable gain should some of the firm's pioneering projects come good. It holds a strong position in the hydrogen fuel cell sector, which is gaining in popularity as world leaders realise that all possible avenues need to be explored if climate change is to be tackled.
The firm's core cell technology enables high-efficiency energy conversion at low cost. Not only does this represent good value for users, but the functionality of Ceres products also means that they can operate in either fuel cell or electrolysis mode, which opens up a greater number of potential markets.
Ceres Power has been at the cutting edge of the green revolution for more than 20 years, and some of the pioneering products it produces look set to step out of the lab and become money spinners. The firm doesn't pay a dividend, so this pick is one for buy-and-hold investors willing to ride out an at times bumpy ride.
| | |
| --- | --- |
| Growth, Valuation, Trading | Information |
| Market cap | £611.71M |
| EPS recent fiscal year | £-0.12 |
| Profit margin | -163.379% |
| Return on investment | -10.377% |
| Normalised P/E ratio | – |
Source: IG
---
The Good Energy Group (GOOD)
The Good Energy Group is an end-customer-facing energy supplier that is picking up market share thanks to its commitment to providing energy that is 100% renewable.
Solar farms represent part of the firm's business operations, but it also installs solar units for those customers who want to generate their own green electricity. It is also a key player in the rollout of EV charging stations across the UK. More than 3% of vehicles on the road currently use green energy, with that number tipped to soar in coming years.
The Good Energy Firm will be a top pick for investors who give additional weight to ecological factors. The firm's engagement with stakeholders and ESG and CSR initiatives reflects a whole-hearted commitment to playing a part in the fight against global warming.
There are also financial rewards on offer, with the firm currently having a dividend yield of 1.2%. Capital returns are also possible. The P/E ratio of 10.66 is relatively low for a growth stock, and with GOOD currently trading close to its £2.00 support level, a return to the highs of October 2021 would generate an almost 100% return.
| | |
| --- | --- |
| Growth, Valuation, Trading | Information |
| Market cap | £35.81M |
| EPS recent fiscal year | £0.13 |
| Dividend yield | 1.2% |
| Profit margin | -0.653% |
| Return on investment | 2.613% |
| Normalised P/E ratio | 10.664 |
Source: IG
---
Ørsted A/S (OMX)
Wind-based renewable energy is the sector most expected to increase output in the near future. Hydro, solar and bio are also all expanding, but not as fast as wind. Given the prospects for growth, it is worth considering buying into the firm, which is responsible for 29% of global installed capacity.
While Ørsted isn't listed on the London Stock Exchange, it is easily traded from the UK, where it has significant exposure. The company has been developing UK green energy facilities since 2004 and currently operates 12 offshore windfarms, has one under construction, and three more in the pipeline.
Ørsted is one of the sector's biggest firms and one of the few genuinely green energy giants. Its 1,000 offshore wind turbines provide enough green energy to power 4.5 million UK homes.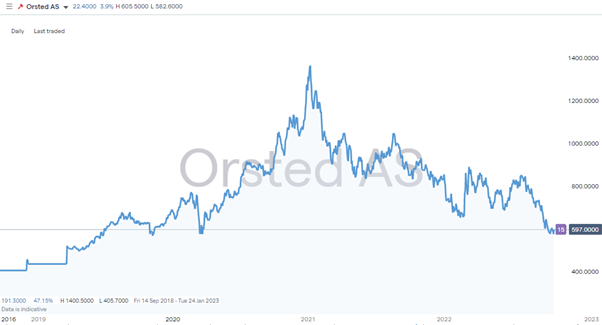 For many years, Scandinavian firms have led the way in terms of balancing corporate and social responsibilities. Danish-based Ørsted ticks the box if you're looking to buy into a firm that devotes time and resources to good work practices and social projects.
| | |
| --- | --- |
| Growth, Valuation, Trading | Information |
| Market cap | DKK 248.78B |
| EPS recent fiscal year | DKK 24.32 |
| Dividend yield | 2.112% |
| Profit margin | 9.232% |
| Return on investment | 6.378% |
| Normalised P/E ratio | 56.603 |
Source: IG
---
BP (BP)
Oil giant BP is seen by many as being part of the problem rather than the solution to it, but the firm is undergoing a radical transformation. From an investment perspective, its huge size makes it an interesting proposition as the profits it is still making from carbon-based energy mean that it can expand into developing markets on a scale far beyond the capacity of smaller firms.
BP aims to be generating 50 gigawatts of green energy by 2030, which is equivalent to the current UK total demand. It will invest $60bn in trying to achieve that target using profits from its existing operations, and has committed to reducing its oil production over the next decade.
The move is not guaranteed to be successful, but if it is, then BP will be one of the biggest players in the UK's green energy sector, and when it comes to infrastructure, investing size matters.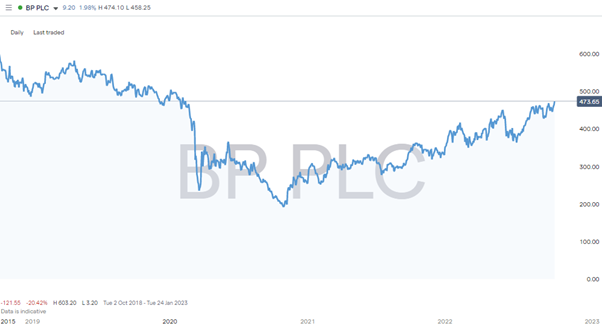 BP has a formidable track record as a high-dividend stock and currently offers investors an annual yield of 3.90%. The P/E ratio of 7.1 makes it the most undervalued stock on our shortlist, which, given its proven cash flow and huge market capitalisation, leaves room for investors to take on positions at attractively low price levels.
| | |
| --- | --- |
| Growth, Valuation, Trading | Information |
| Market cap | £85.40B |
| EPS recent fiscal year | £0.33 |
| Dividend yield | 3.909% |
| Profit margin | -5.053% |
| Return on investment | 4.403% |
| Normalised P/E ratio | 7.176 |
Source: IG
HOW TO BUY AND SELL SHARES IN RENEWABLE ENERGY FIRMS
The financial markets allow investors to buy and sell shares in companies across the globe. The ultimate home of your renewable energy investment might be the UK, Europe, Asia or the US. No matter where you live, one first option is setting up an online broker account and getting to know more about renewable energy stocks.
The online broker IG has a platform that supports trading in more than 10,000 companies. This makes it an obvious base for your trading activity as some of the renewable energy companies are relatively small and might not be available at other brokers.
IG is also regulated by tier-one authorities, including the Financial Conduct Authority (FCA) in the UK.
IG and other brokers such as Plus500 and eToro also provide free demo accounts. These provide a risk-free way to practice trading using virtual funds. Setting up a demo account at one of these brokers gives you access to their trading dashboard, where you can analyse the firms you might want to invest in.
FINAL THOUGHTS
Despite the fact that it is still relatively early days for renewable energy, many of the firms involved are already successful businesses. With global electricity demand expected to increase by 62% by 2050, and a shift towards green energy appearing unstoppable, there's still potential for growth.
Choosing the best broker to use is also important. Some of the stocks in the list of the best UK renewable energy stocks to buy are small-cap stocks, which aren't covered by all the brokers in the market. The broker IG supports trading in more than 10,000 stocks, so it is a good place to start if you're looking to build a portfolio that includes some of the smaller targets.
Best Brokers to Buy Renewable Energy Stocks
eToro:
68% of retail CFD accounts lose money
Take a look
From 0% commission to low trading fees and top-tier regulation, these brokers are best-in-class when it comes to buying and selling renewable energy stocks.
Whether you're an experienced trader looking to make a return on a booming sector or are new to investing and looking to back an ethical firm, there are still important ground rules to follow. It is crucial to ensure that your broker is well regulated. Some of the investments on the list could take years to come good, and choosing a reliable broker from this shortlist will offer extra confidence that your assets are protected from operational risk.