Cineworld Group plc (LON: CINE) share price rallied 17.8% after revealing that its October UK revenues had surpassed those generated before the pandemic hit.
The movie theatre operator said its UK & Ireland revenues were up 127% in October compared to the figures generated in October 2019 before the coronavirus pandemic struck.
The company recorded a consistent increase in customer numbers and revenues over the past few months, with its September UK & Ireland revenues being 72% of those generated in September 2019.

Cineworld, which owns the Regal movie theatre chain in the USA, noted that the division's revenues had also improved but at a slower pace when compared to its UK & Ireland business.
In October, the movie theatre company's US revenues were 80% of 2019 levels, while September figures were 54% of 2019 figures.
Cineworld attributed its impressive results to an impressive slate of blockbuster movie releases such as the latest James Bond movie, No Time To Die, and Black Widow, another global hit.
The movie theatre chain also noted that a solid slate of new movies set to be released later this year, such as Spider-Man: No Way Home, Ghostbusters: Afterlife and The Matrix Resurrections.
Mooky Greidinger, Cineworld's CEO, said: "We are thrilled to see audiences returning in significant numbers. Our partnerships with the studios are as strong as ever, and with the incredible movie slate to come, there are real grounds for optimism in our industry. I would especially highlight the great performances we saw from our newly refurbished cinemas in the US. These new cinemas clearly support our strategy to enhance the cinema experience for all our customers."
Despite the positive cash flow generated in October, Cineworld is struggling with a significant debt pile of over $8 billion, given the significant losses incurred last year due to the coronavirus pandemic lockdowns.
The company is contemplating a US public listing to raise cash and reduce its debt load. Another option being explored is the potential pin off of its Regal cinemas into a separate entity to generate the much-needed cash.
Investors who missed the latest rally might get another chance once the shares pull back to the support levels shown on the chart.
*This is not investment advice. Always do your due diligence before making investment decisions.
Cineworld share price.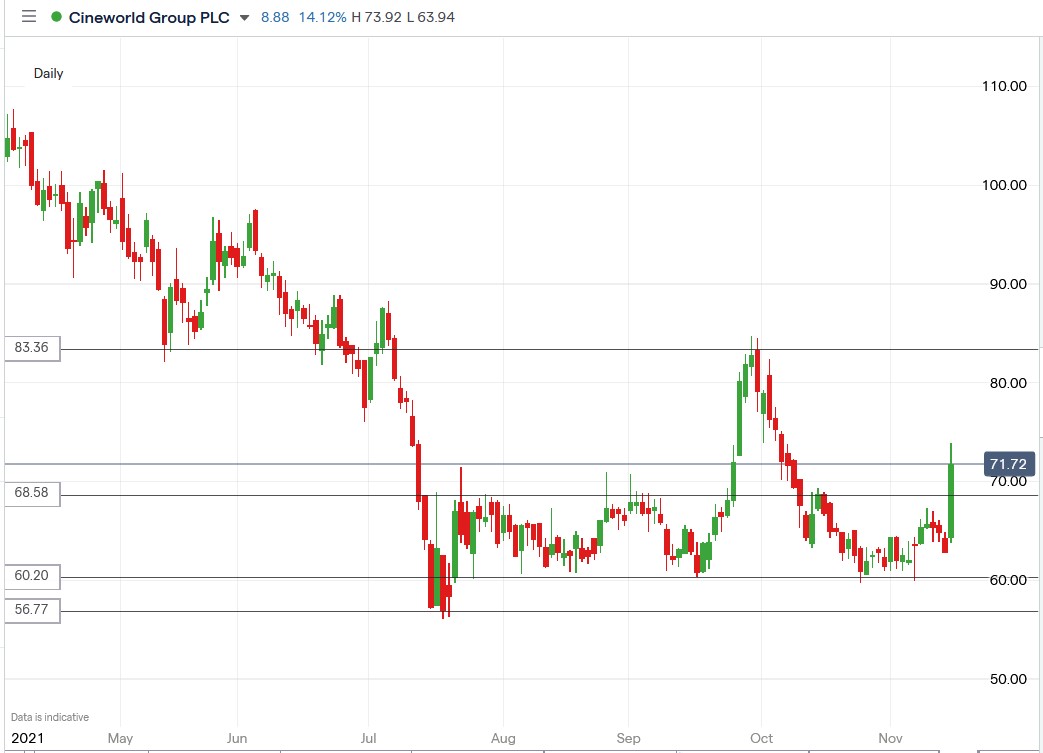 Cineworld share price surged 17.82% to trade at 73.92p, rising from Friday's closing price of 62.74p.
Should you invest in Cineworld shares?
If you're a smart investor, you will know that having large-cap stocks in your portfolio is vital. They are more mature companies, considered safer investments, trade with less volatility, have greater analyst coverage, and in most cases, have a steady dividend stream. Due to the current market environment, we think now is the perfect time to add large-cap stocks to your portfolio. But which large-cap shares should you buy? Our stock analysts regularly review the market and share their picks for some of the best large-caps to invest in.