Key points:
Cineworld shares edged 6.5% higher on the first trading day of 2022.
The cinema chain has a massive debt pile that it must repay.
However, there is still hope for the company along different avenues.
It is hard for many people to imagine that Cineworld shares once traded at 325p in 2017, given that they are now trading at 33.5p, a mere fraction of their all-time highs.

The daily chart below shows that Cineworld shares fell drastically in mid-December triggered by a Canadian court's ruling awarding Cineplex C$1.23 billion ($957 million) in damages after Cineworld cancelled the proposed acquisition of Cineplex in a $.16 billion in 2020.
Cineplex had sued Cineworld, saying that the latter walked away from the deal driven by buyers remorse after the COVID-19 pandemic emerged in early 2020.
Cineworld had counter-sued, defending its actions saying that it walked away from the deal because Cineplex broke some contractual obligations that were part of the merger agreement.
It was clear to most people that Cineplex's suit had merit given the unfortunate timing of Cineworld's move that came after it emerged that the COVI-19 pandemic posed a significant threat to cinemas and movie theatres.
The damages award adds to the significant financial pressure Cineworld is facing, given that it already has a debt pile worth $8.3 million, which it is struggling to service due to the frequent closures of its cinemas driven by government directives.
Cineworld's debt ballooned in 2020 after it was forced to close its theatres for many months in line with government directives about the COVID-19 pandemic and measures to contain its spread.
So, is there hope for Cineworld? The short answer is yes. There is hope for the highly-indebted cinema operator if its theatres are not closed this year. It could generate enough revenues to keep repaying its debt.
The company could also proceed with its planned dual-listing in the United States or with the listing of its Regal Cinemas chain in the US, generating a couple of billions that could be used to repay its debts.
Another crucial factor that could help the company is to have multiple blockbuster movie releases that generate above-average revenues for the firm allowing it to pay off its debt much faster than expected.
Therefore, there is still hope for the cinema operator this year, but only time will tell which of the different avenues will materialise as the year unfolds.
*This is not investment advice. Always do your due diligence before making investment decisions.
Cineworld share price.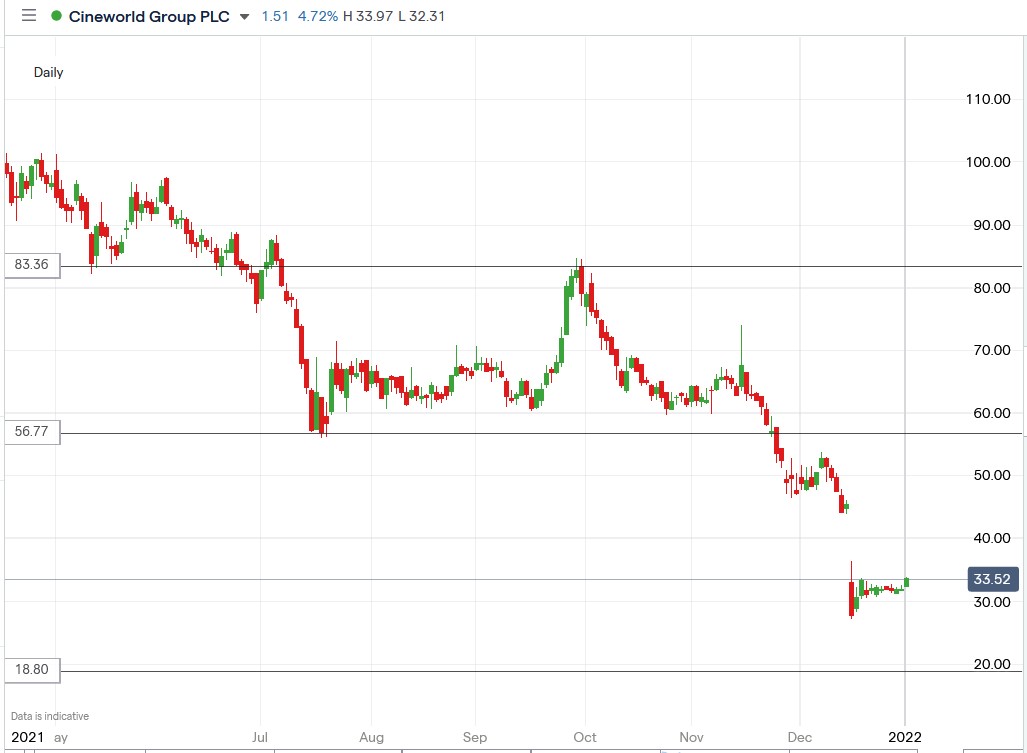 Cineworld shares edged 6.5% higher to trade at 33.91p, rising from Friday's closing price of 31.84p.
Should You Invest in Cineworld Shares?
One of the most frequently asked questions we receive is, "what stocks are best to buy right now?" It's a wide-ranging question, but one that we have answered… Our AskTraders stock analysts regularly review the market and compile a list of which companies you should be adding to your portfolio, including short and longer-term positions. Here are the best stocks to buy right now.